Negotiating + Financing
How to get a mortgage when buying a new or pre-construction condo
Developers work with preferred lenders to offer mortgage financing
You can always shop around as you get closer to the closing time
Banks may require a certain number of units sold before lending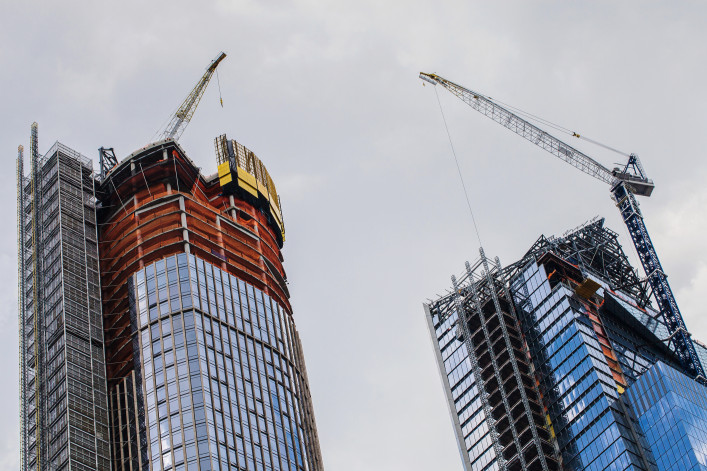 Christa Boaz/iStock/Getty Images Plus via Getty Images
Let's say you want to buy a new development condo but you need a mortgage in order to make it happen. This scenario isn't uncommon, but most lenders won't let you get a mortgage on an apartment where fewer than 15 percent of the units are under contract. Some banks have even higher thresholds of 50 percent. 
So how can you take advantage of early-bird pricing on a new development or be one of the first to buy from a sponsor if you need to borrow? You have a few options. 
Condo developers have preferred lenders
In some cases, a developer can get 15 percent of the apartments under contract with all-cash buyers but that's not always the case. Once the developer hits the 15 percent benchmark, the building will be declared effective and have the official sign-off from the attorney general, at which point your mortgage options increase. 
The avenue for buyers wanting to borrow before the building is officially signed off by the attorney general or before 50 percent of the units are sold is to use the developer's preferred lender. 
A preferred lender is typically a bank—sometimes two or three banks—that are confident in the developer's vision and even though the building may still be under construction, will line up mortgages before the condo meets Fannie Mae specifications (more on this below). 
Many buildings have several preferred lenders for a new building, says Melissa Cohn, regional vice president of William Raveis Mortgage. 
These preferred lenders are often big well-known banks—Chase, Citizens Bank, First Republic, and Wells Fargo, to name a few.
You can still shop around as you get closer to closing
Even so, the preferred lender route isn't your only option if you are buying pre-construction or before the building meets the requirements of government entities Fannie Mae and Freddie Mac. 
One option is to use the preferred lender to get qualified, and get your commitment letter. In this way, you know you have financing. "Then as you get closer to closing, you can shop around," says attorney Shaun Pappas, a partner at Starr Associates. 
Some lenders are more flexible than others. "There are a number of lenders that work through mortgage brokers and bankers who are willing to lend in new buildings before they are 50 percent sold, especially for jumbo loans," Cohn says. 
Jumbo loans are larger than conforming loans and aren't backed by Fannie Mae and Freddie Mac, so lenders have flexibility to offer mortgages in buildings that are less than 50 percent sold or don't otherwise meet the guidelines for lending in a condo.
The options for smaller, conforming loans are fewer but also available, Cohn says. 
Be aware of lender caveats to your financing 
If you choose not to use the preferred lender, an important consideration is the bank's requirements for the building in order to allow you to close. Your commitment letter will typically say that based on your finances, the bank is happy to lend to you assuming the building meets certain benchmarks. 
This might include a certain percentage of the apartments being under contract (as mentioned) or a certain percentage of units having actually closed. Another condition might be that the amenity spaces are finished and operational. 
"Developers are not going to wait—especially if the contract is non-contingent—until your lender's requirements are met, to notice your closing," Pappas says. 
The issue here is that these elements—sales and amenity spaces—are often out of your control. This is why lenders send out questionnaires as they gear up to a closing. Pappas says, most developers will work with buyers that decide to go with a lender other than the preferred one, as long as it's within reason. This might mean waiting a month or two until the requirements are met, but not a year, he says. 
It's possible you might also be able to work with your lender to get waivers on some of these issues but you need to be aware this could be something to deal with as you go to close.
Preferred lender rates are usually competitive
Mortgage rates from banks vary a bit but the preferred lenders are usually well-recognized so, your rate will usually be competitive. 
Jumbo loans typically have higher rates than conforming ones and your rate will vary depending on whether it's fixed or adjustable. There are ways to lower your rate, like putting a higher down payment on the apartment. You might also be eligible for a rate discount if you move funds to the bank you want to use, whether it's the preferred lender or another bank. 
All the more reason to consider all your options.
"No matter where you buy—or the presale of the building—it's more important than ever to shop around," Cohn says. 
Brick Underground articles occasionally include the expertise of, or information about, advertising partners when relevant to the story. We will never promote an advertiser's product without making the relationship clear to our readers.