If you're on the hunt to buy a New York City apartment, you may have come across condo or co-op buildings that also have apartments to rent—both under the same roof.
With hybrid condo-rental buildings, you have developers who may be hedging their bets against a downturn in the sales market by also having rental apartments. Or they may be obligated to have some of those rentals: Condo developers who receive tax breaks have to set aside 20 percent of rental apartments as affordable housing. And some co-op buildings will have rentals if they have not been fully converted—when these rentals go on the market they are called "sponsor apartments."
So should you buy a place in a building with a mix of apartments? And what do you need to know about the financial stability of a hybrid building? Santiago Steele of Citi Habitats and Stephen Kliegerman of Halstead explore these questions and more in this week's Buy Curious.
The question:
I've been considering purchasing an apartment in a building that offers both condos for sale and apartments for rent. Are there any cons to buying in this kind of combo building? Why would a developer have a mix like this?
The reality:
A mix can give a developer protection from a downturn—"such as the one we are seeing right now—by keeping cash flow coming in from the rentals," Steele says. "Typically, when the sales market is weak, the rental market is strong. This gives the developer the best of both possible worlds."
Kliegerman adds that a developer might choose to do this "to reduce the total number of units for sale. The more units you have to sell the longer your sales cycle. By reducing the number of sales in a project, the developer creates more demand."
At the same time, having a mix can enable a developer to have a larger number of units so a building can maintain more amenities, he says.
What NYC buildings have both sales and rentals?
There are quite a few, including Downtown Brooklyn's 388 Bridge Street, a condo-rental hybrid with 234 rental units and 144 condos, as well as amenities that include an attended lobby, a gym, a rooftop viewing terrace, and a media room; Chelsea's The Caledonia, which has 190 condos and 288 rental units, and a full-time doorman, concierge services, a playroom, a garden, and a gym; Lincoln Square's The Aldyn, a 40-story building that's part condo, part-rental, and offers a 24-hour doorman/concierge, on-site parking, an indoor playroom for kids, and a 40,000-square-foot athletic club and spa; and Brooklyn's The Greenpoint, which has 95 condos and more than 350 rentals.
There's also Lincoln Square's Waterline Square, a three-building complex with condo and rental residences; Murray Hill's One United Nations Park, which has 148 condos and 408 rentals; and Sutton Place's 252 East 57th St., a 65-story condo and rental development.
How are the units different for renters?
According to Kliegerman, the apartments are usually similar but the finishes in condos are a notch or two above rentals in the same building. You're more likely to find brand-name appliances in the kitchens and fancier tiles in the bathrooms. Condo layouts may be larger as well. You're also more likely to find rentals on the lower floors, with condos on the upper floors, where the views and better and there's less noise, he says.
That means rentals can have obstructed views and lack of direct sunlight, Steele says.
Are renters in these types of buildings treated any differently?
Renters may be asked to pay an amenity fee in order to use some or all of the amenities. In a condo/co-op, that fee is typically built into the monthly common charge or maintenance. Some buildings have separate amenity spaces for owners and renters, or some exclusive amenities for owners. And some buildings with affordable units notoriously have "poor doors," separate entrances for tenants, which were built before the city banned them in 2015.
Is renting a way to test out the building before you buy there? 
Yes, it's great way to test out the location, amenities, and management style of a building before buying.
"Renting in a hybrid is a good way for a buyer who may be new to an area, new to the city, or just trying to decide how they want to live their life to experience a property prior to committing to purchase," Kliegerman says.
Is it tough to get a mortgage?
For new construction, lenders often won't issue mortgages unless the building is already at least 51 percent sold. Some banks are stricter than others about which kinds of properties they will make loans for.
Another factor to consider is the strength of the brand-name of the developer and the building itself. "Established builders and marquee buildings are seen as safer to lend to," Steele says.
Steele adds that you might need to get a jumbo loan. These requires a higher credit score, a bigger down payment, and more documentation than a conventional loan. The good news here is that rates have come down and are sometimes even lower than regular mortgages, called conforming loans.
Are there any other downsides?
One consideration is a perception that renters won't care for their properties the same way that owners do, and that renters won't respect the common areas as much as the condo owners in the buildings will, Kliegerman says.
But the greatest downside, he says, is that "if you are an investor you now have a large number of units in your building that would compete with you when you want to rent your unit."
Check out these units that are in buildings offering both sales and rental apartments.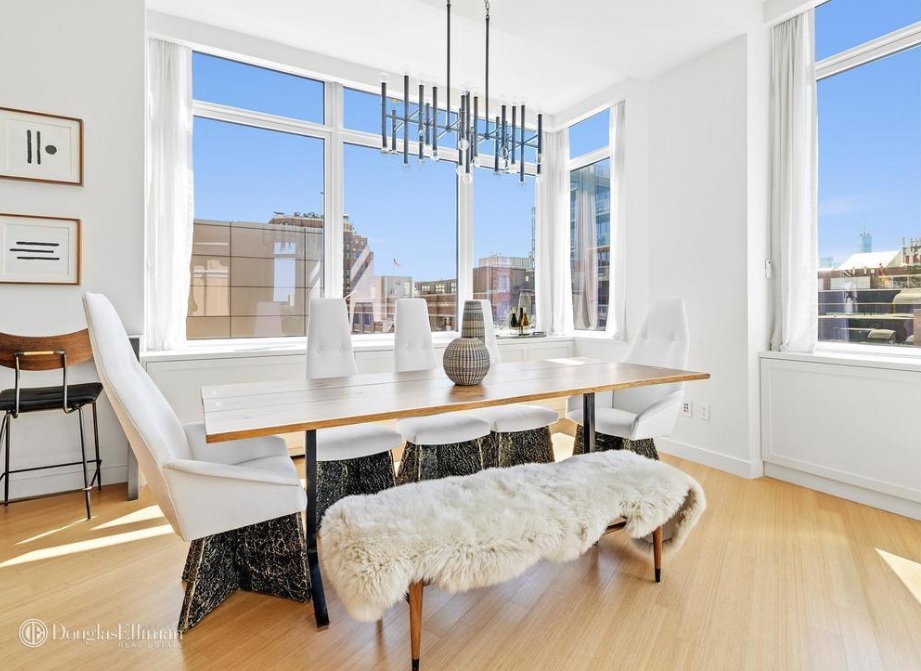 Following a recent $295,000 price drop, this 2,476-square-foot, four-bedroom, three-and-a-half-bath corner unit (also pictured at top) is now asking $5,000,000. Features include an open windowed kitchen with a breakfast bar, a separate dining area, a corner living room, a media room/den, a laundry room, 11-foot ceilings, a temperature-controlled wine cellar, multi-zone central air, electronic window shades, stripped bamboo flooring, radiant-heated floors in every bathroom, and lots of closets/storage space. It's located in the Caledonia, an eco-friendly condo building with a 24-hour doorman and concierge, an on-site resident manager, an Equinox health and fitness center with a separate entrance for residents, children's playroom, terrace with BBQ areas, conference room, garden, lounge, a pet spa, and parking garage. Common charges are $2,583 a month. Taxes are $2,275 a month.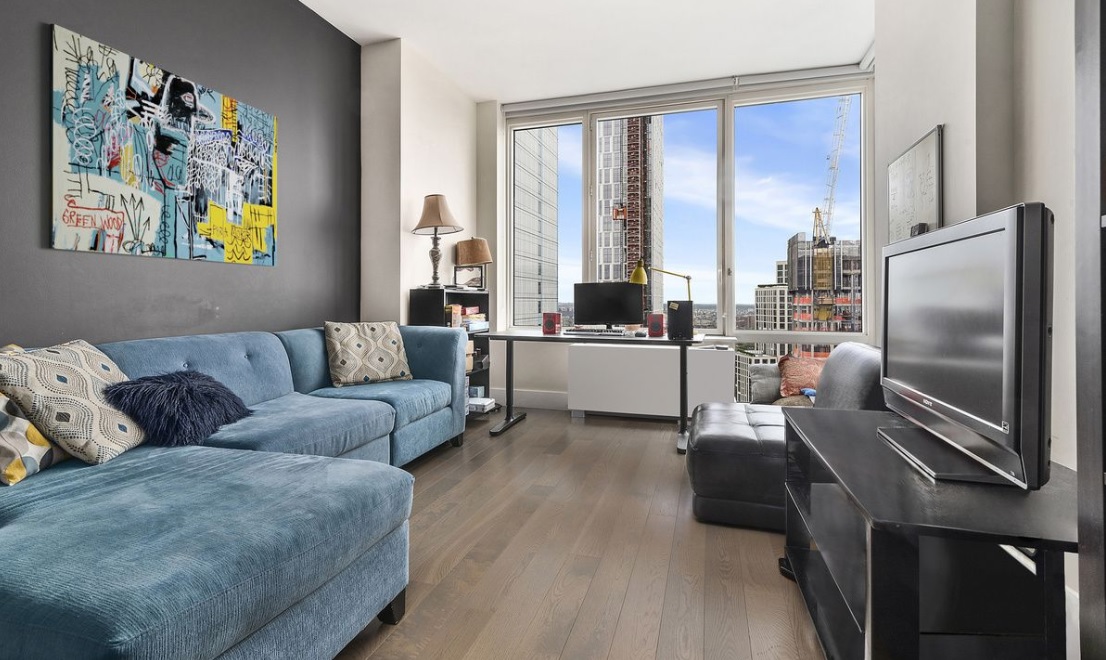 Listed for $1,050,000, this 783-square-foot, one-bedroom, one-bath condo has 10-foot ceilings, wide oak floors, a home office that can be used as a second bedroom, stainless steel appliances, and in-unit laundry. It's located in a condo building with a 24-hour doorman, a valet, maid service, gym, residents' lounge, children's playroom, pet spa, and 5,000 square feet of outdoor space that includes a playground and a grill deck. Owners can access a Sky Lounge with views of the Empire State Building. Common charges are $818 a month. Taxes are $34 a month.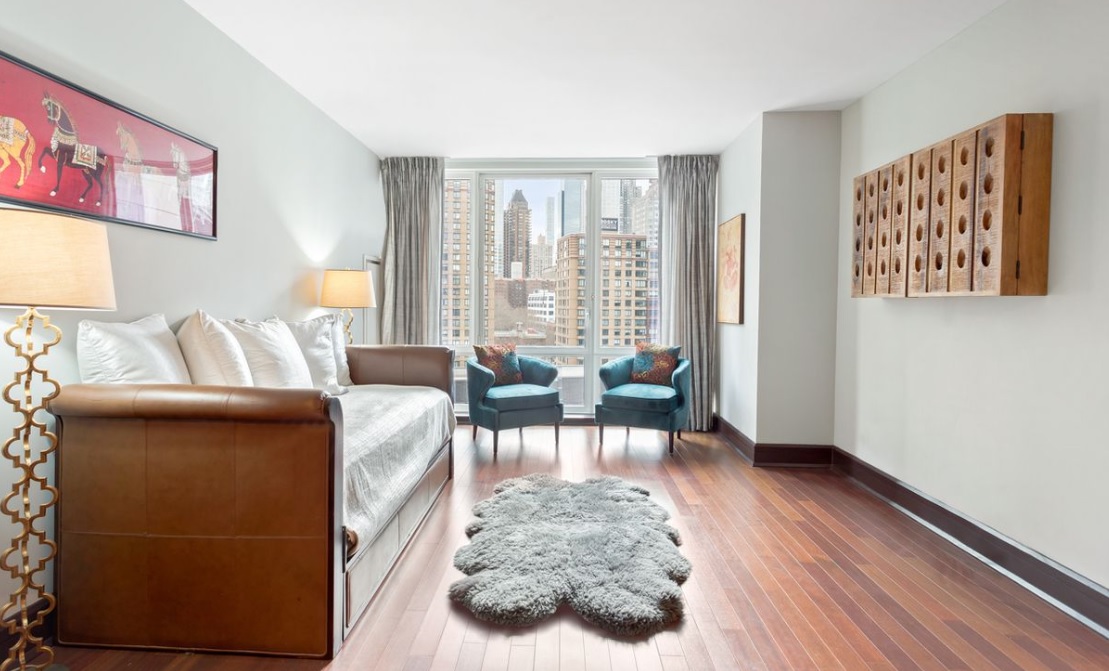 Priced at $1,295,000, this 732-square-foot, one-bedroom, one-bath condo has an entry foyer, an open kitchen, floor-to-ceiling windows in the living room and master bedroom, high ceilings, in-unit laundry, and a walk-in closet in the bedroom. It's located in The Aldyn, a condo building with a La Palestra athletic club on the premises offering 40,000 square feet of amenities, including a fitness center with yoga, Pilates, personal training, 75-foot swimming pool and hot tub, indoor rock climbing wall, full basketball court, squash court, bowling alley, game room, club lounge, golf simulator, and a private landscaped garden. Common charges are $623 a month. Taxes are $806 a month.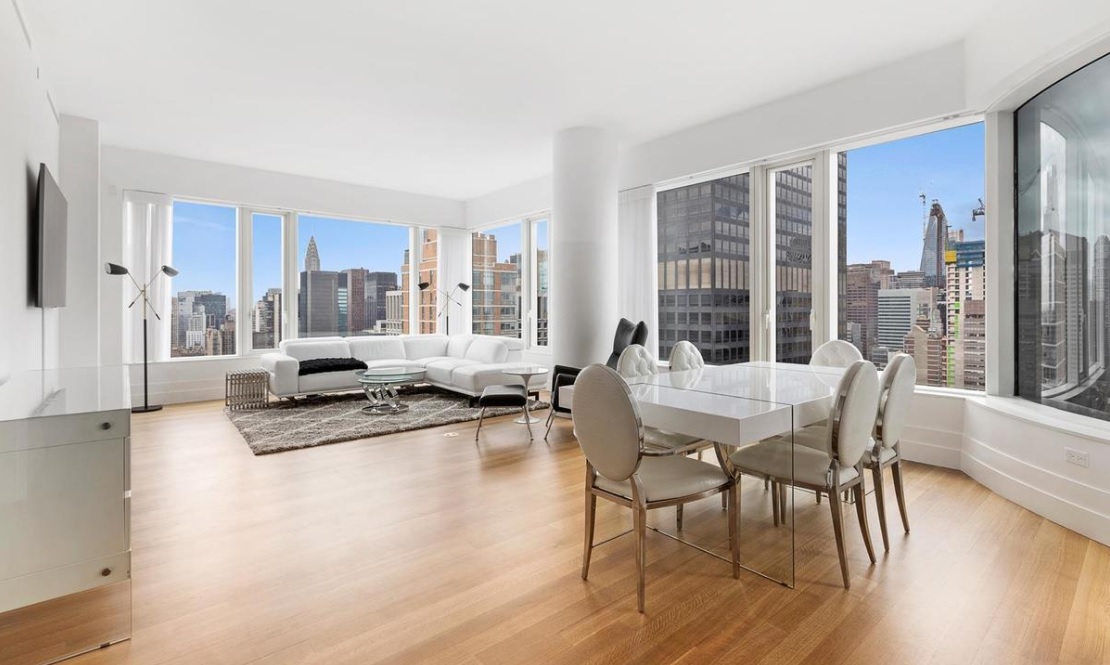 Following a $215,000 price drop, this 1,736-square-foot, two-bedroom, two-and-a-half-bath condo unit is now listed for $4,485,000. There's a large foyer, high ceilings, white oak floors, a ceiling-hung HVAC system, a washer and dryer, walnut cabinetry and radiant heat flooring in the bathrooms. It's located in a condo building with a 75-foot indoor swimming pool, spa, fitness center, terrace, library, screening room, billiards room, lounge with a grand piano, children's playroom, dog play space, bike room, and concierge services. There are also furnished guest suites available for visitors. The price includes an on-site automated parking space. Common charges are $3,267 a month. Taxes are $1,946 a month.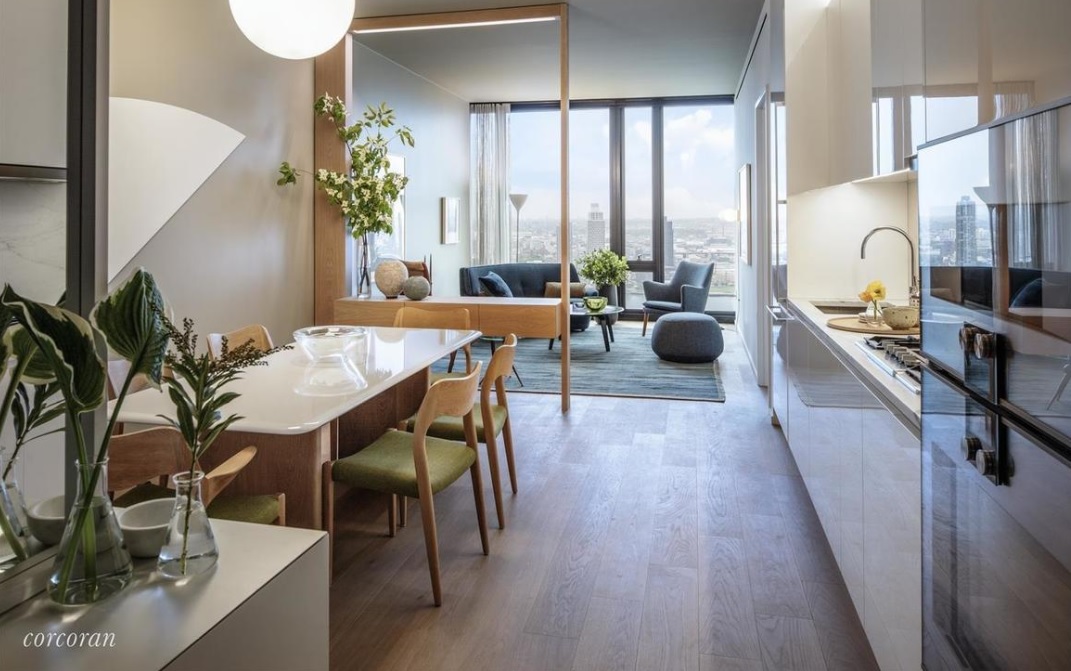 Features of this $1,385,000 760-square-foot one-bedroom, one-bath unit include nine-foot ceilings, floor-to-ceiling windows, white oak floors, an open kitchen with marble counters, and a built-in Crestron smart home system that regulates temperature, lighting, and motorized window shades. It's in One United Nations Park, a condo building with an on-site parking garage, concierge services, a 70-foot indoor lap pool, fitness center with a private training studio, billiards and games lounge, catering kitchen, screening room, playroom, and club lounge for residents. Common charges are $1,019 a month. Taxes are $1,257 a month.
Brick Underground articles occasionally include the expertise of, or information about, advertising partners when relevant to the story. We will never promote an advertiser's product without making the relationship clear to our readers.