The Search
3 NYC housing voucher holders say they're being ghosted by agents unwilling to rent to them
Discrimination against renters using a voucher as rent payment is illegal but still appears widespread
Renters say they're told the unit is 'no longer available' or 'vouchers aren't accepted in nice areas'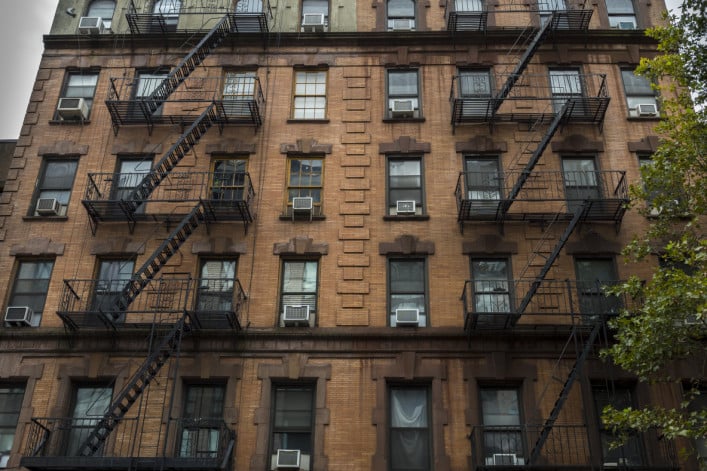 Eric Diaz has been looking for an apartment for himself and his nine-year-old son for just under five months. Despite reaching out to the agents of hundreds of buildings and touring maybe 40 units, he says agents have ghosted him left and right. And while they always give a different reason, he suspects it's because he plans to pay for his apartment with a housing voucher.
"There's no definitive way to suggest that someone is doing something discriminatory," Diaz says. "They're fully aware of what they're doing, they're just tiptoeing around it and manipulating the situation so that there's no consequences on their end."
Diaz is one of the thousands of New Yorkers who use CityFHEPS—a voucher program that covers a tenant's rent. CityFHEPS, which has served 26,000 households since 2018, benefits those making below 200 percent of the federal poverty line who are facing eviction or homelessness.
But in addition to criticism that renters face discrimination, the program has faced delays in processing applications and staffing shortages in the city agencies meant to administer it. 
---
[Editor's Note: This story is part of a new series exploring housing voucher programs in NYC. You can also read our other stories on how to make sense of your voucher paperwork, how to rent an apartment with a voucher, how to report discrimination online, and how agents should treat voucher holders.]
---
It is illegal for a landlord to refuse to accept a CityFHEPS voucher, or any other form of rental assistance, under New York City's Human Rights Law, and voucher holders can report discrimination to the NYC Commission on Human Rights through this online form, by calling 212-416-0197, or by calling 311 and asking for "human rights," according to a spokesperson for the Department of Social Services (DSS), which administers CityFHEPS through its Human Resources Administration.
While the law is on his side, Diaz says searching for an apartment with his $2,387 voucher has been more difficult than he ever could have imagined. 
"I don't know how they expect anyone, let alone someone who is receiving under poverty-level wages and who is homeless, to even get stable back on their feet," Diaz continues. "I was born and raised in New York, I graduated from school, I went to college…I'm family oriented, I have a son with special needs, and I've never made excuses. I just need a little help."
The NYC Housing Authority (NYCHA), did not respond to a request for comment. 
More complicated than he ever expected
Diaz is eager to move, having spent the "longest eight months of his life" in a domestic violence shelter in the Bronx. The native New Yorker is not only working as a home care provider for his mother and taking care of his son, who has cerebral palsy and epilepsy, but he's spending long hours trying to find a one-bedroom apartment. 
"I never thought that looking for an apartment would be so exhausting and so stressful," Diaz says. "I always looked at it…as something that's going to get you a better quality of life and permanent housing, which everyone deserves."
Diaz recalls going to a viewing of an apartment he liked this summer, and giving the agent his information so he could apply. But after initially reaching out to the agent, he didn't hear back. 
A few days later, Diaz texted to ask about applying, but the agent said the landlord wanted to show the apartment again before accepting applications. The earliest Diaz could apply was the next week, but when he texted the agent on a Monday, the agent said someone had already submitted an application.
He says agents and landlords' unwillingness to accept his CityFHEPS voucher impedes his search, which isn't made any easier by NYC's lack of affordable housing. Manhattan's median rent rose in June to $4,300 per month in June, and rents have plateaued at record highs this year.
"The voucher is what slows things down," Diaz says. "This is a problem that a lot of people, not just me, are facing. It's not my fault that the average one bedroom in Manhattan right now is absurd."
Apartments available online, but not IRL
Another renter, Geraldine Ferreras, has also spent long hours searching for an apartment. She lives in a studio in the Bronx with her two-year-old daughter and newborn twins, and is looking for a Manhattan two bedroom to be closer to her parents. 
She has a Section 8 Housing Choice Voucher from CVR New York, a Westchester-based public housing authority that allows renters to find apartments in Westchester County, the Bronx and Queens, according to a spokesperson for CVR. Ferreras says she got special permission to use her voucher on Manhattan properties through a process known as "porting" a voucher.
She says she's reached out to agents who will say an apartment is unavailable, even if it's listed online.
"I don't know if they are lying or don't want to work with me," Ferreras says. "There's been times that I do reach out and they say it's no longer available, but the listing is still up online. Sometimes they will say they didn't take it down, or they forgot to take it down."
Not welcome in the neighborhood
Meanwhile, Angelica Ortiz, another Housing Choice Voucher-holder, says agents have been more direct in turning her away.
"I've gone to brokers, and they say, 'Oh you're looking in nice areas. They're not going to take Section 8 vouchers. They don't accept that around here,'" Ortiz says. "I just think wow, that's absurd."
Ortiz is looking for a two or three bedroom with her voucher of $2,696 (for a unit that includes utilities). She currently lives in one of the city's domestic violence shelters with her two daughters—one who just graduated high school and a two-year-old—after relocating from Virginia this summer. 
Ortiz has used a Section 8 voucher for the past six years in Virginia, which she ported to NYC in June. In Virginia, Ortiz says she was able to find an apartment within a month. But with her current voucher expiring in October, she's worried she won't be able to find a unit in NYC.
"It's very discouraging," Ortiz says. "It feels like [agents] are judging me. They don't give me a home, and they're not helping. I feel like I'm going to lose my voucher. I don't know what to do next." 
Long hours, little reward
NYCHA Section 8 voucher-holders can apply for an extension within 30 days of the expiration date of their voucher through NYCHA's self-service portal, or by calling NYCHA's customer contact center at 718-707-7771, according to agency guidance from last year. Still, Ortiz, Ferreras, and Diaz would all prefer to find apartments as soon as possible.
Ortiz says she's searching for a new apartment every day, and Ferreras estimates she spends three hours a day looking for apartments on listing sites like StreetEasy, RentHop, Zillow, and by talking to building supers. She's had to balance her search on top of her responsibilities as a parent and her job in a Harlem dermatology clinic. 
"I didn't think it was going to be this complicated to look for an apartment with a voucher," Ferreras says. "It is secured money. If I was a landlord, I would want secured money." 
Even agents say they get jerked around. Deborah Peters, an agent at Keller Williams NYC, tried to help Ferreras, Diaz, and another voucher client find an apartment. She says a landlord's agent once referred her to a specific department within their firm that deals with vouchers, but she couldn't reach that department—and doesn't know if it actually existed in the first place.
"We actually do not get past the listing agents, because the listing agents have to submit the application and they're not even allowing the voucher tenant to apply," Peters says. 
Letter of the law
NYC Human Rights Law protects tenants from discrimination against paying for an apartment with any "lawful source of income"—including housing vouchers like Section 8 Housing Choice and CityFHEPS. 
Diaz and Ferreras have been documenting their apartment-hunting experiences in case they want to take action. Voucher holders who feel they have been discriminated against can file claims with the State Division on Human Rights and the NYC Commission on Human Rights. (If you think you've been discriminated against for using a housing voucher, check out Brick's best advice on what to do here.) 
Despite the law, the amount of time it takes to get an apartment inspected and approved by the city disincentivizes landlords and brokers to accept vouchers, Peters says. Both CityFHEPS and Section 8 voucher holders need to have their apartments inspected to make sure it meets the minimum safety standards, slowing down the process of securing a lease.  
"Within two weeks on average, a person can apply and move into an apartment," Peters says. "So why would the landlord keep an apartment vacant for three months hoping for approval from the city if they have all these other people who are ready to rent? It's very competitive." 
A spoonful of sugar
There are some incentives for landlords willing to worth with a voucher holder's timeline. DSS offers one month's additional rent to landlords who hold an apartment for a voucher holder and will pay a broker fee of up to 15 percent of the annual rent. Landlords can score an additional two month's rent if they lease to a CityFHEPS voucher holder in certain more expensive zip codes, DSS announced in June.  
The city council has also attempted to make CityFHEPS more accessible to renters, passing a bill earlier this summer to eliminate a requirement that a person spend at least 90 days in a homeless shelter to access city housing vouchers. Mayor Eric Adams signed an emergency rule doing the same thing last month, resulting in more than 500 households getting connected to a CityFHEPS voucher in the first few weeks after the order, according to a spokesperson for DSS. 
As for the city's landlords, a lack of information about the city's voucher programs may be leading them to stonewall would-be-tenants, says Brian Hourigan, a managing director at real estate firm Bond New York. 
"Sometimes it helps to take the time to offer some information about today's voucher requirements," Hourigan says. "We have found on numerous occasions that simply informing, educating, and enlightening our landlord and management company partners on their rights and responsibilities throughout this process overcomes their initial confusion or objections."
In reality, voucher programs can be hugely beneficial towards a landlord, Peters says. 
"It's guaranteed income, so you can literally figure out your cash flow and everything" Peters says. "The average tenant can flake on you, stop paying rent, and it takes a long time to take them to court and recover your money. Whereas the government does not default."
Except when it does.
Never say never
A Harlem landlord accused the DSS of failing to make rent payments on behalf of CityFHEPS voucher holders in a handful of eviction cases filed in February, The City reported. Payment delays are something Diaz worries is making landlords more hesitant to rent to him.
"It's a business, that's what it all boils down to," Diaz says. "Time is money to them."
But time is even more important to Diaz, who is eager to find an apartment before his voucher expires at the end of August. Peters says she's working on finding landlords and brokers that will take on voucher-holders, but wishes it was easier to identify those that follow the law—and those that want to do the right thing. 
"I'm hoping we can find landlords who are willing to rent and who will reach out," Peters says. "We need help to get these people housed."
Brick Underground articles occasionally include the expertise of, or information about, advertising partners when relevant to the story. We will never promote an advertiser's product without making the relationship clear to our readers.