Affordable Housing
How to make sense of your CityFHEPS voucher paperwork
Know what utilities you are responsible for paying because that will change what you can rent
You can rent a larger place than what you're allotted if it meets your CityFHEPS maximum payment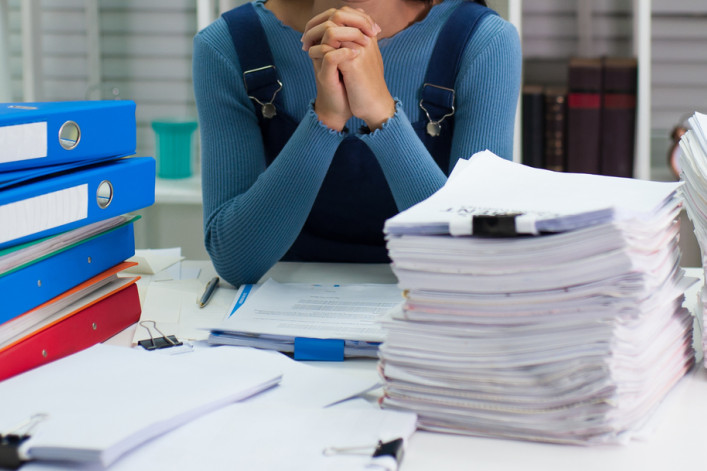 Renting an apartment with a housing voucher can be a Herculean task, fraught with piles of paperwork and discrimination. For tenants new to voucher programs such as CityFHEPS, just understanding some of that paperwork can prove complex.
CityFHEPS—a New York City benefit that covers some or all of a tenant's rent—assists those making at or below 200 percent of the federal poverty line who are facing homelessness or eviction in certain cases. It and its predecessor programs have placed more than 58,000 households in apartments since 2014, and demand for CityFHEPS has only grown since the pandemic, says Melissa Mowery, a senior vice president at CAMBA, a nonprofit known as a "hombase" that helps voucher-holders navigate CityFHEPS.
"It's really overwhelming," Mowery says. "People are struggling because wages are not going up at the rate of housing costs and we have a housing stock problem here in New York City."
---
[Editor's Note: This story is part of a new series exploring housing voucher programs in NYC. You can also read our other stories on bias against voucher holders, how to rent an apartment with a voucher, how to report discrimination online, and how real estate agents should treat voucher holders.]
---
Navigating CityFHEPS is far from intuitive, says Jack Newton, the director of public benefits at Legal Services NYC. To apply, tenants need to produce mountains of paperwork—such as birth certificates, social security cards, current leases, pay stubs, documents of other public benefits—to a homebase. (If a renter doesn't have some of these documents, they can still begin an application, Mowery says).
After the Human Resources Administration (HRA) reviews your application, a tenant receives a shopping letter—a document outlining what kind of apartment they can rent and what they can afford. But interpreting a shopping letter can be confusing for tenants, landlords, and even advocates because the amount of rent the city will cover changes based on the size of the apartment and its utilities, Newton says.
"[There are] landlords who will just look at the top line and say, this is the amount of rent I can get and that's what I'm getting, without paying any attention to if that includes all utilities," Newton says.
If you're new to the CityFHEPS program, read on for some advice on how to understand your shopping letter.
What documents do I even have?
After the HRA reviews your application and determines you may be eligible for CityPHEPS, the agency sends you two documents: a shopping letter and a household share letter. 
Your shopping letter shows the highest monthly rent CityFHEPS will partially or totally cover, what kind of apartment you can rent, the documents needed from your landlord or broker, and where landlords and brokers can find information about incentives for renting to a voucher holder.
It also comes with an expiration date, usually four months or a year after it was issued. If you don't find housing before it expires, you would have to get a new letter, says Joscelyn Truitt, the vice president of empowerment at RiseBoro, another homebase provider.
"[You] need to be aware of when the shopping letter expires," Truitt says. "You get a certain amount of time to use your shopping letter so you have to be diligent."
Here's an example of what a shopping letter looks like for a family with children.
You should also receive a household share letter outlining your potential rent supplement, how much you will have to pay, and why you are eligible for CityFHEPS. It's intended for your eyes only, because it's not a landlord's business to know how much you're contributing to the rent or why you qualify for the program, says a spokesperson from the Department of Social Services, the city agency that oversees CityFHEPS. 
If a landlord is asking how much you will be paying towards your rent, it could be a sign of income discrimination: The illegal practice of refusing to select tenants because of how they plan on paying rent, says Marcia Hargrove, the director of RiseBoro's Brownsville homebase.
"When the landlord starts saying, 'I want to see your share letter because I want to know what your portion is,' that's a red flag for me," Hargrove says. "It is a source of income discrimination for landlords to want to know who is paying what, because [they] don't want a client who pays a portion or don't want public assistance."
Here's an example of what a household share looks like for a family with children using CityFHEPS. 
Neither the household share letter or the shopping letter is a voucher. The voucher itself is a document you and your landlord receives when your apartment has been approved by HRA to receive CityFHEPS payments, Hargrove says.
Your voucher will be more detailed and include a monthly breakdown of your rent, the number of people in your family, your household gross income, how much CityFHEPS is paying and how much you or your public assistance program will contribute towards rent. 
Understanding how the payment standards work
Your shopping letter will include the maximum amount of rent you can rent an apartment for at the top of the document.
For example, if you're approved by HRA to look for a two-bedroom apartment, you can rent one for no more than $2,696 if all the utilities are included in the rent. Keep in mind, that's less than the median rent for a two-bedroom in Manhattan ($5,200), Brooklyn ($4,200), and Northwest Queens ($5,290), for July 2023.
Your maximum rent only refers to apartments where all utilities are included. In her experience at Riseboro, Hargrove estimates that only around 30 percent of landlords cover utility costs in their rent. 
For apartments where not all utilities are included, the maximum rent you can take an apartment for is reduced. And the math isn't exactly easy, says Susan Bahn, a senior staff attorney at The Legal Aid Society.
"It's a complicated process for pro se [self-represented] people," Bahn says. "It's a learning process to get our advocates up to speed on counting bedrooms, looking at the utilities, who counts in the apartment."
For example, if you're looking for a two-bedroom apartment where you will be paying for cooking gas and electricity, CityFHEPS will pay up to $2,555 per month, not the $2,696 maximum, according to the CityFHEPS payment standards.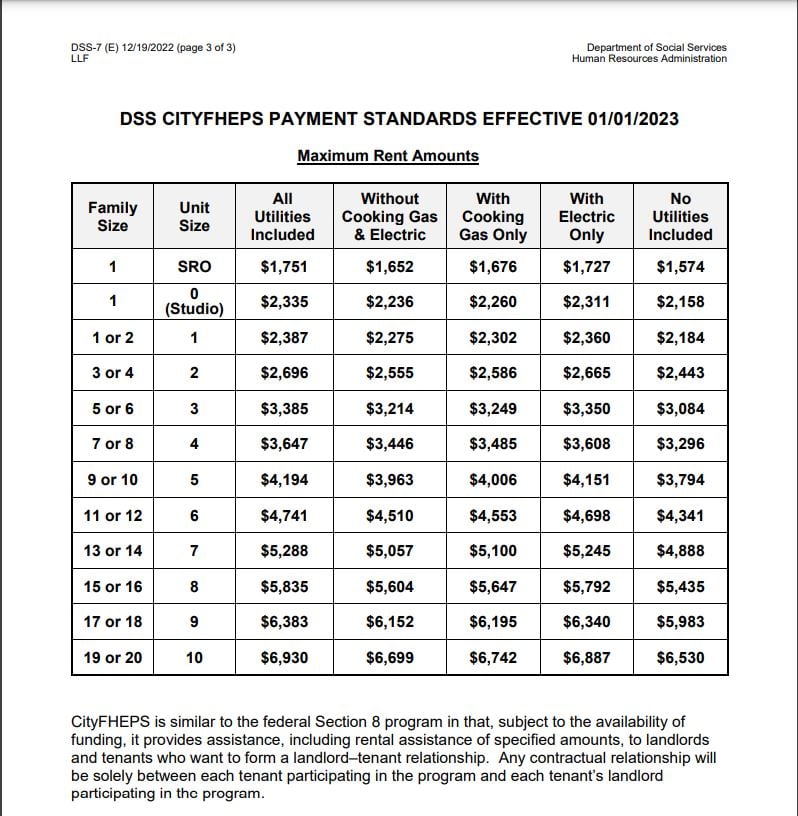 The tenant currently covers the cost of utilities under the program, either themselves or through separate benefits, according to a DSS spokesperson. But by early next year, a tenant's contribution towards rent—also known as their household share—will be reduced by an amount equal to their heat, hot water, electric, and gas bill after the DSS upgrades its payment processing system, according to the spokesperson. Tenants will still have to consider the cost of utilities to find the maximum rent they can afford.
"We are very much looking forward to implementing new modifications to our subsidy payment system that will ensure that the utility allowance is passed directly to our clients," Nicholas Jacobelli, associate press secretary at DSS. "Throughout the history of our rental assistance programs, it has been a challenge to directly assist clients with utility expenses through these subsidies, but at a time when landlords continue to find new ways to separate out utilities and put them into a tenant's name, this will be a meaningful and client-centered change to the CityFHEPS program."
Renting more for your dollar, not less
Your shopping letter should also outline how many bedrooms you can rent under the program. If you decide to rent an apartment with fewer bedrooms than you are approved for, CityFHEPS will only pay the maximum rent allocated to that number of bedrooms. 
"You cannot go over the voucher amount, period." Hargrove says. "If you get a 10-bedroom for the price of your voucher, you could take it—if the landlord is willing to rent for that price. But you cannot go over the voucher amount. And you cannot take a smaller apartment for your voucher amount."
For example, if your shopping letter allows you to rent a three-bedroom unit (with a maximum payment standard of $3,385) but you take a two bedroom instead, DSS will at most pay $2,696 per month. 
If you were approved for a two-bed, but find a three-bedroom apartment for less than the two-bedroom's maximum rent, you can still take the three bedroom. Just don't forget to include the cost of utilities when considering what you can afford. 
Brick Underground articles occasionally include the expertise of, or information about, advertising partners when relevant to the story. We will never promote an advertiser's product without making the relationship clear to our readers.