Affordable Housing
Renting with a voucher: How to get an apartment in NYC if you're using Section 8 or CityFHEPS
Keep multiple copies of your documents for apartment showings and rental applications
Document any discrimination by saving texts and emails and recording your telephone calls
Work with a case manager if you're in a shelter or contact a 'homebase' using the city's search tool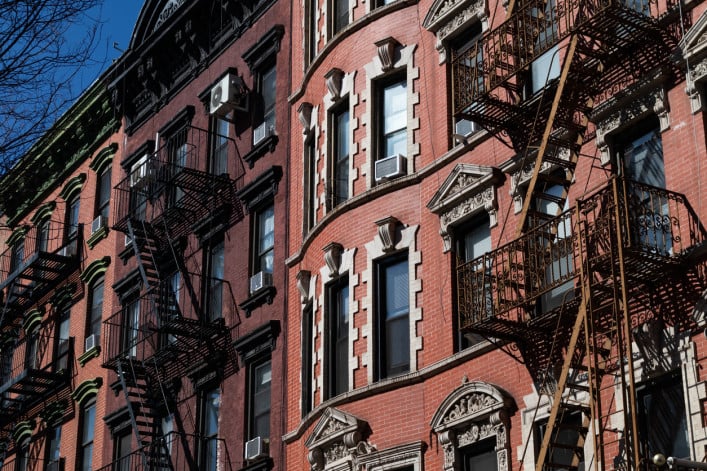 New York City's rental market can feel overwhelming for even the most seasoned apartment hunter. For a New Yorker trying to rent with a housing voucher, it can feel almost impossible.
"Unless you know the right people or someone who really wants to help, it's hard," says Geraldine Ferreras, a New Yorker and mother of three who has been looking for an apartment with a Section 8 Housing Choice Voucher since April. 
Discrimination against a tenant based on how they plan to pay rent is illegal under NYC's Human Rights Law, but three voucher holders that Brick talked to say real estate agents have been unwilling to rent to them, or unwilling to respond to them at all. When a renter does find an apartment, the amount of paperwork that a renter and landlord are required to provide can become an added challenge, says Jack Newton, the director of public benefits at Legal Services NYC.
How a voucher program works depends on the type of voucher and whether the person using it wants to remain in their apartment, in their community, or is looking to relocate from a shelter. But in general, keeping multiple copies of your documents, seeking out additional help from nonprofits, and knowing your rights can help you land an apartment with a voucher. Read on for some advice from housing advocates and renters themselves. 
---
[Editor's Note: This story is part of a new series exploring housing voucher programs in NYC. You can also read our other stories on bias against voucher holders, how to make sense of your voucher paperwork, how to report discrimination online, and how agents should treat voucher holders.]
---
1. Have your documents ready
For both the voucher and apartment application process, you're going to need a lot of paperwork.
CityFHEPS, a NYC voucher program administered by the Department of Social Services (DSS), covers a tenant's rent if they make 200 percent of the federal poverty line or less and are facing eviction or homelessness, in certain circumstances. 
Those that make it through the application process, which includes meeting with a DSS-approved nonprofit called a "homebase" to determine eligibility, then need to submit a laundry list of documents to get an apartment approved.
"The amount of documents you need is complete insanity," Newton says. "And some are difficult to get because you're relying on a landlord to some degree."
You will need your lease, your shopping letter—the document that spells out what type and price of apartment you can afford—and documents from your landlord proving they own the apartment, detailing the utilities provided and more, according to the NYC Human Resources Administration, a division of DSS.
Section 8 requires similar types of paperwork, including a request for tenancy approval, a lead-based paint disclosure, a tax form from the landlord, and other documentation, according to the NYC Housing Authority (NYCHA), one of the city's public housing authorities that administered the federally-funded Section 8 program. 
Not only is it crucial to collect these documents for your application to a voucher program, it's a good idea to keep copies for apartment showings, meetings with potential landlords, and in case the city requests multiple copies. 
"I've seen cases where folks have had to send the same document multiple times," says Jay Martin, executive director of landlord association the Community Housing Improvement Program (CHIP), which refers voucher holders to landlords and brokers. "Any documentation that you have copies of, or scanned, always cuts down on the concern of when physical copies need to be emailed and faxed."
Section 8 voucher holders are required to show their voucher to a landlord to prove they can rent through the Section 8 program, but should not give their voucher to anyone, NYCHA cautions. 
Coming to an apartment showing with proof that you have a voucher can help speed up the application process, says Joseph T., a landlord of six apartments in Dyker Heights and Bay Ridge, Brooklyn, who spoke with Brick Underground under the condition that we do not use his last name. He currently rents to one voucher-holder, and recommends tenants come prepared with a pre-filled rental application, since his applications are free to fill out online. 
"You have to be prepared," T. says. "I've had some people come [to showings] that really knocked it out of the park, where they had every piece of paperwork that I could want, and some people just showed up and said they had a voucher."
2. Work with your case manager, if you have one
If you're staying in a shelter, you should have a case manager or housing specialist who can help you find out if you are eligible for CityFHEPS and apply, according to the city. Eric Diaz, who works with a case manager at a Bronx shelter while searching for an apartment with a CityFHEPS voucher, says it's crucial to be patient.
"You need to understand these people are human too. They're not robots," Diaz says. "There are times where you might have to do more than you might want to—whether it's reaching out a second time or just making sure they received something—because they are also overwhelmed."
3. Seek additional help
If you're not in a shelter but need help staying in your community, you can go to a homebase, which screens New Yorkers for their CityFHEPS eligibility and helps them apply for CityFHEPS. You can find your nearest homebase using the city's search tool. Section 8 voucher holders can call 311 and ask for Section 8 assistance, or call NYCHA's customer contact center at 718-707-7771, according to the city.
Homebases can also help with eviction prevention, short-term emergency funding, and landlord-tenant mediation, according to the NYC Human Resources Administration (HRA). But homebases also face a backlog of cases and a shortage of staff, says Susan Bahn, a senior staff attorney at The Legal Aid Society.
"Since the pandemic, the homebases are totally overwhelmed," Bahn says. "For people in the community, it can be very hard to get to a homebase, and then sometimes they don't get an appointment for as long as six months though it varies with different homebases."
To search for housing yourself, you can also look for rent-stabilized apartments—units that may be more affordable because rent increases are capped at a certain percentage each year. You can go to Who Owns What in NYC to identify rent-stabilized apartments in your zip code, search the Division of Homes and Community Renewal by zip code, and apply for rent-stabilized apartments under the city's affordable housing lottery. (Just make sure to check the income eligibility requirements.)
CHIP's Martin also recommends real estate firm Bohemia Realty Group as a resource for renters, and says CHIP often refers would-be-tenants to Bohemia for help with an apartment search. Voucher holders can contact CHIP here to get referred to a landlord or agency, though Martin says CHIP tends to get more requests than it can handle. 
Lastly, The Legal Aid Society and Legal Services NYC are processing a handful of CityFHEPS applications for existing clients facing eviction in housing court, though it's yet unclear as to whether the HRA will expand the pilot program. Newton says the program has handled around 100 cases since it began on April 4th.
4. If you suspect discrimination, get evidence
It is illegal for a landlord or agent to discriminate against a would-be-renter based on their source of income, including CityFHEPS and Section 8. But landlords and agents have still ghosted renters, or told them certain neighborhoods don't take voucher tenants, Brick Underground recently reported.
"I would like [people] to know that this is not right," says Angelica Ortiz, a mother of two looking for an apartment with a Housing Choice Voucher. "We are getting discriminated [against] or judged automatically as if we don't have income, or that we're not worthy to have a home in their eyes."
Sometimes that discrimination can be hard to spot, says Vicki Been, the Judge Edward Weinfeld Professor of Law at New York University's School of Law and the former deputy mayor for housing and economic development under ex-Mayor Bill de Blasio. 
"There may be cases in which you have evidence from what the landlord or landlord's agent said, but sometimes it's a lot more subtle than that," Been says. "They won't say we don't take vouchers. They will just say, 'I'm sorry, that apartment is no longer available.'"
Been recommends gathering as much evidence as possible. You can collect written communications, like texts and emails, and record phone calls that you are a part of within New York state. The nonprofit Unlock NYC offers its own online reporting tool here. Users can report discrimination to the NYC Commission on Human Rights or Unlock NYC's database, which maps alleged discrimination.
You can report discrimination to State Division on Human Rights, the NYC Commission on Human Rights online or via phone at 212-416-0197, or call 311 and ask for "human rights." (You can also check out Brick's best advice on what to do here.) 
5. Don't give up
Searching for an apartment with a voucher can be demoralizing and time consuming. But it's important to keep looking. 
Many voucher-holders have found apartments through city programs. The DSS has placed more than 58,000 households with CityFHEPS and its predecessor programs since 2014, according to a spokesperson from the department. More than 25,000 owners currently participate in the Section 8 program the NYCHA administered in NYC. 
"Keep on looking, keep searching, and keep reaching out to people and don't give up," Ferreras says. "At the end of the day something will pop up. There's always that one person willing to help."
Brick Underground articles occasionally include the expertise of, or information about, advertising partners when relevant to the story. We will never promote an advertiser's product without making the relationship clear to our readers.