The Market
Manhattan median rent falls short of a record in June: Is this a 'blip' or the start of a trend?
Median rent for Manhattan rose to $4,300 last month, the second highest on record
Manhattan median rent was down by 2.2 percent in June compared to May
Gary Malin of The Corcoran Group says renters are at 'their financial breaking point'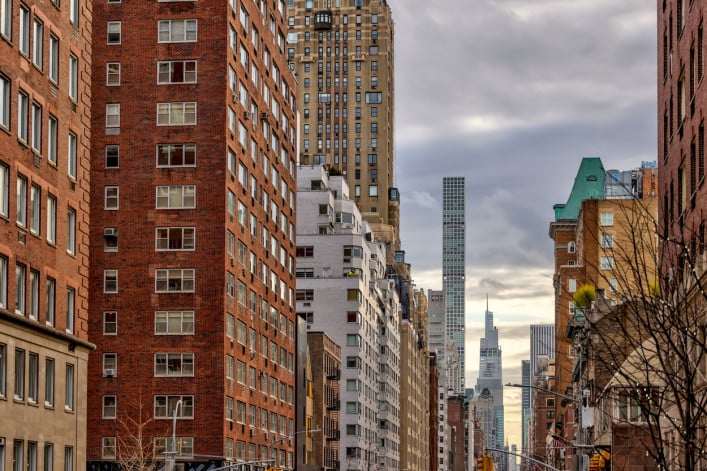 For the first time in three months, Manhattan median rent did not reach a new record last month. But renters aren't getting any breathing room, at least not yet.
Manhattan's median rent rose in June on a year-over year basis to the second highest on record, up 6.2 percent to $4,300, according to the most recent Elliman Report for Manhattan, Brooklyn, and Queens rental markets.
On a monthly basis, there was a drop: Manhattan median rent was down by 2.2 percent in June compared to May ($4,395). You might be surprised to see Manhattan's rent drop from May to June. Could this be the start of a trend—or just a blip?
Jonathan Miller, president and CEO of appraisal firm Miller Samuel and author of the report, sees it as a blip.
"We're in peak rental season and still have a couple of months to go," Miller says. The number of renters signing new leases for Manhattan apartments is on the rise, an indication that rents could still set new records in July and August, he says.
In addition, there may be another interest rate increase in July. Rate hikes ultimately put pressure on the rental market because would-be buyers get spooked by higher mortgage rates and decide to rent instead.
Renters are at their 'breaking point'
One COO thinks Manhattan rents may have met their upper limit.
"When it comes to Manhattan rentals, a lot of tenants are at their financial breaking point," says Gary Malin, chief operating officer at The Corcoran Group, which also released a Manhattan rental report for June. 
"Rents remain plateaued at record highs and there is a lot of 'churn' in the market," he says, referring to apartment turnover. He notes the vacancy rate is at the highest level since June 2021, "but available units are finding new residents quickly."
'Bite the bullet' or find a new place
Renters with leases up for renewal have a tough decision, Malin says, because most face rent increases.
They "need to decide if they want to bite the bullet and accept the new rate or attempt to find a new, less-expensive apartment" in prime rental season, where they also face competition from would-be buyers who are renting for now.
"The market has to find its true footing, but for now it's a stand-off between renters and landlords. Someone is going to have to blink, it's just a matter of when," Malin says.
When will NYC rents come down?
Miller doesn't see NYC rents coming down significantly unless there's a major event like a recession with serious job loss (economists have been predicting a recession for the past six months that has yet to arrive). Still, a recession is not something most renters would root for: You can't pay your rent without a paycheck.
Miller points out that bidding wars still account for one in five Manhattan rental deals and 15 percent of renters are paying above what landlords are asking.
His take on rents in the near future: "We will either see higher rents or rents remaining stable. We're not going to see meaningful declines in rent."
Brooklyn and Queens rental markets
In Brooklyn, the median rent in June reached a new high for the third consecutive month, according to the Elliman Report, rising 7.8 percent to $3,557 compared to the previous year.
New lease signings declined annually for the second time in three months, and listings were down year over year for the first time in seven months.
For Queens, median rent hit a new high in June for the second time in three months, rising 19 percent to $3,573 compared to the previous year.
New lease signings were down annually for the third, consecutive month, the report said.
Brick Underground articles occasionally include the expertise of, or information about, advertising partners when relevant to the story. We will never promote an advertiser's product without making the relationship clear to our readers.