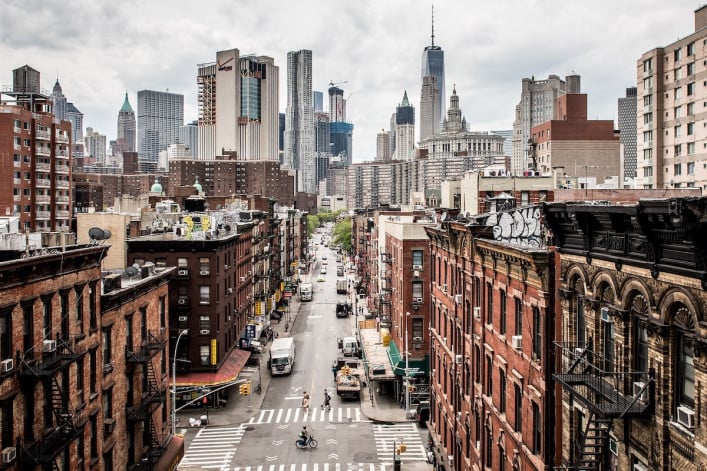 There are a lot of vacant rental apartments in New York City right now, and if you're hunting for a new place, you have likely encountered landlords who are offering deals to entice renters to sign a lease. 
One of the deals that becomes more prevalent when markets are slow is a two-year lease, which can net you more freebies, also called concessions. For example, a landlord may offer you one month free on a one-year lease, or two months free on a two-year lease. Signing a two-year lease will lock in the amount of rent you pay and protect you from increases—a nice perk, especially if the city goes back to normal and rents start climbing again.
---
[Editor's note: This article was originally published in 2019. It has been updated with new information for October 2020.]
---
But if you're worried about your job, or loss of hours, you might be hesitating to sign a two-year lease.
If the landlord doesn't mention a two-year lease, you should ask for it. You can explain why you want to stay long term, for example if you really like the apartment or its location, and that you cannot see yourself moving in one year. 
Pro Tip:
To rent an apartment in New York City, most landlords require you to earn an annual salary of at least 40 to 45 times the monthly rent. If you don't—or if you're an international employed person, self-employed, non-employed with assets, retired, or an international student or US student—you'll need to find a guarantor for your lease who earns at least 80 times the monthly rent and lives in New York, New Jersey or Connecticut. Or you can turn to Insurent Lease Guaranty. Accepted at more than9,000 buildings across the city representing over 825,000 apartments, Insurent Lease Guaranty is a quick and easy way to get the apartment you want. Click here to learn more.
Tiga McLoyd, a broker at Corcoran, says that record-high vacancies have made the city a renter's market. "I'd be surprised to see a landlord balk at a two-year lease because they need to fill their apartments, especially now that we're in the off-season months."
If you're considering signing a two-year lease right now, keep reading for some of the pros and cons of doing so in today's rental market.
Pros of a signing two-year lease
The main perk that comes with signing a two-year lease is avoiding the inevitable rent increase, which can usually range from 1 percent to 1.5 percent. (Here are tips for negotiating with your landlord if your lease is up during the pandemic).
"It's sort of like locking in a mortgage rate," says Karen Stone, broker at Sotheby's. Although she notes that it's unlikely that things will  bounce back to normal where landlords can hike rent significantly in just one year.
Stone says that some landlords are offering 16- or 18-month leases, instead of two years. For example, one Manhattan landlord offered a renter a 16-month lease to lock in a tenant through at least next spring, she says. That's because landlords might not want to lock you in for a second year with a lower rent.
Another advantage of signing a two-year lease is the convenience of not having to move in a year. If you don't want to deal with the hassles and costs of moving, a two-year lease is a good option, especially if you're in an apartment that you might be able to afford without concessions since free months aren't included after your first year.
You might also get better concessions if you sign a two year lease too. You can find deals like this at large luxury developments, that have a lot of inventory to fill. If you do get a couple of months free when signing a two-year lease, consider how much you're paying in gross rent, which is what you pay in rent without any concessions.
(If you're unfamiliar, "net effective rent" is what you would pay each month if the amount you save from your "free month(s)" was spread throughout the term of your lease. But be warned: that's not how it usually works. Instead, you get your free month(s)—your lease tells you when—and what you actually pay each month, is a higher "gross rent." Need help with the math? Check out Brick Underground's Gross Rent Calculator, below.) 
Brick Underground's
Gross Rent Calculator
What's this?
Some New York City landlords offer a free month (or more) at the beginning or end of a lease. The advertised rent is the net effective rent.  The net effective rent is less than the amount you will actually have to pay --- known as your gross rent --- during your non-free months.
Brick Underground's Gross Rent Calculator enables you to easily calculate your gross rent, make quick apples-to-apples comparisons between apartments and avoid expensive surprises. All you'll need to figure out your gross rent is 1) the net effective rent, 2) the length of your lease, and 3) how many free months your landlord is offering.  [Hint: Bookmark this page for easy reference!]
To learn more about net effective versus gross rents, read What does 'net effective rent' mean?.
Months
If the landlord is offering partial months free, enter it with a decimal point. For example, 6 weeks free rent should be entered as 1.5 months.
Cons of a signing two-year lease
The biggest disadvantage of signing a two-year lease in New York City is the commitment. With a potential second wave of Covid-19 looming, and a presidential election just weeks away, it's hard to tell what the city will be like in the coming months—and years. 
If you discover your neighbors are noisy, your commute is longer than you initially thought, or you think you might want to move somewhere else if you lose your job or it becomes permanently remote, you're likely stuck for the long haul.
You do have one option though: McLoyd says that he has seen renters sign two-year leases recently, but they often request a lease-break, or opt-out, clause. "Tenants want to know that if they get furloughed or laid-off, the landlord will let them off of the hook," he says.
There are variations of this, but they allow you to move out before the end of your lease, if certain stipulations are met, without penalty.
If you think a two-year lease will work for you, the good news is that there's options. "[Renters] have so many options right now if they want to lock in something long term," Stone says.
—Earlier versions of this article contained reporting and writing by Nikki M. Mascali 
Brick Underground articles occasionally include the expertise of, or information about, advertising partners when relevant to the story. We will never promote an advertiser's product without making the relationship clear to our readers.