The Market
More tenants chose to renew in August as rents for new leases in NYC hit record highs
New lease signings and listings plunge in a sign that more NYC renters are choosing to stay put
In Manhattan, median rent ($4,400) and net effective median rent ($4,370) remain at all-time highs
Brooklyn lease signings dropped 40.5 percent year over year, the fourth decline in five months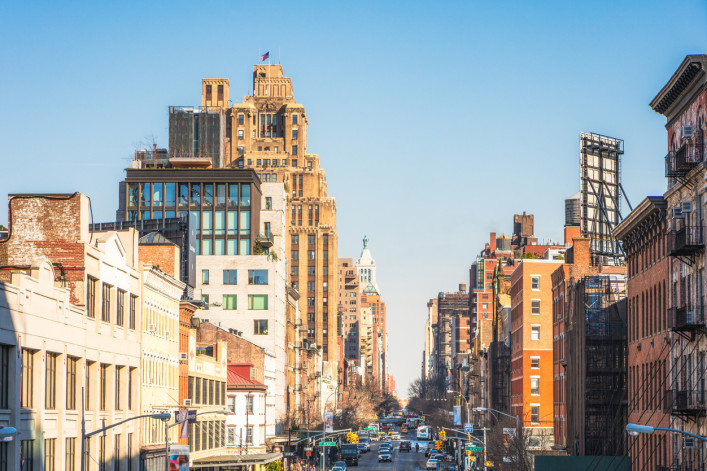 One again, far fewer renters in Manhattan, Brooklyn and Queens signed new leases last month compared to a year ago. This occurred as new listings plunged in those three boroughs. Taken together, it's a sign that renters chose to renew their leases rather than take their chances in the rental market.
High rents mean renters had a hard time finding a deal: Rents for new leases continue to set records and concessions are minimal according to the August edition of the Elliman Report for the Manhattan, Brooklyn, and Queens rental markets.
In Manhattan, median rent ($4,400) and net effective median rent ($4,370) remained at all-time highs for the fifth time in six months, according to the report. However, August's median rent was the same in July, according to the Elliman Report.
When discussing the July rental market, Jonathan Miller, president and CEO of appraisal firm Miller Samuel and the author of the report, predicted that rents have hit an "affordability threshold," noting "leasing activity slipped when we would expect it to rise." 
August is when leasing is at its peak (see chart above) no matter what market, with the exception of the pandemic. However this market saw a drop in new signed leases compared to the previous year, a continuation of the trend seen in July.
But Miller says this doesn't mean rents are going to fall dramatically. Instead, he expects fewer sharp increases that have characterized the New York City rental market in the past four years.
For context, he points out that Manhattan rents are up 25.7 percent compared to August 2019, before the pandemic.
"The growth in rents in this four-year period has been a roller coaster," Miller says.
Renters chose renewals over moving
New leases fell 14 percent in Manhattan last month compared to August 2022, the second month in which they fell year over year, a sign that renters chose to renew their lease, which means fewer apartments hit the market.
"This is the first month in 2023 that we saw inventory fall," Miller says. "I think renewals are choking off new leases."
In addition, the market share of new leases that come with a concession like owner-paid broker fee or free months, was down to 9.3 percent, "the lowest market share we've tracked since September 2015," Miller says.
One-year leases outnumber two-year leases
But for renters who did sign new leases, the majority appear to be betting on rents falling in the future.
Length of lease terms, another metric that Miller tracks, hints at the direction that renters think rents are trending. If renters think rents are going to rise, they'll lock in a lower rent by signing a two-year lease.
The pattern for the past four months has been split close (but not exactly) at 50-50 between one- and two-year leases (the numbers don't add up to 100 percent because there are some other lease lengths in the mix).
The percentage of renters signing new leases for one-year shot up to 54.7 percent in June, 69.9 percent in July, and 67.5 percent in August.
Renters are under the perception that rents are no longer going to rise and if they are going to fall, they don't want to be locked into a two-year lease, Miller says.
Rents in Brooklyn and Queens hit new records
The average rent for new leases in Brooklyn ($4,398) last month was 10.6 percent higher than August 2022 and represents a new record. The median rent for new leases in Brooklyn ($3,850) was the second highest on record.
Lease signings dropped 40.5 percent year over year. It was the fourth decline in five months, and listings fell by more than half to "well below pre-pandemic levels," as per the Elliman Report.
In Queens, the average rent per square foot ($65.43), average rent ($4,287), and median rent ($3,900) all rose year over year to record highs last month. New lease signings fell 46.1 percent compared to the previous year, the fifth time there's been a sharp decline, according to the report.
The Corcoran Group also released its Manhattan and Brooklyn rental market reports for August.
Gary Malin, COO of Corcoran, noted that median rent climbed in both boroughs. He pointed to the steep rise in median rents for Manhattan studios since the dark days of the pandemic.  
"On average, renters in the borough are now paying 37 percent more for a studio than they did during August 2020—the peak of the 'Covid-deal' era," Malin says.
"This rise could be the result of seasonal demand related to the start of college for students, or a new job for post-grads. It will be interesting to see if this trend continues as we enter fall," he adds.  
MNS Real Estate also released their August 2023 rental market reports for Manhattan, Brooklyn, Queens, and the Bronx. The reports drill down into the rental market by apartment size and neighborhood.
Some notable findings for August include the largest month-over-month increase, which was in the East Village, where rents for doorman studios saw a 10.7 increase in rent from $3,887 to $4,304. The largest month-over-month decrease occurred in Tribeca, where rents for non-doorman one bedrooms fell 9.5 percent, from $6,299 to $5,700. 
Brick Underground articles occasionally include the expertise of, or information about, advertising partners when relevant to the story. We will never promote an advertiser's product without making the relationship clear to our readers.