A lot of digital ink has been spilled on how to choose roommates you will get along with, but your relationship with your landlord is also important. That's especially true when you live downstairs (or upstairs) from the owner. 
Landlords are going to be especially choosy in these situations because, from their perspective, you are living in their home. You may have to tread more carefully when it comes to noise, guests, and trash removal when you are under their watchful eye. 
But there are benefits too. Often smaller buildings like these are better maintained and problems addressed quickly. It's very easy to get the landlord's attention when you're just one flight of stairs away. And if you're a good fit, a landlord will want to keep you, maybe offering a multi-year lease or not raising the rent when it is time to renew.
All of this should be in mind when considering this basement-level, two-bedroom Stuyvesant Heights apartment, 917 Jefferson Ave., #2, in a family-owned building with the landlord living there. The apartment has been recently gut renovated and has a lot to recommend it. There's a washer/dryer, wall ACs, dishwasher, microwave, and wood floors.
The median asking rent for a two bedroom in this neighborhood is $2,355, so this apartment is a bit higher with a gross rent of $2,492 for an 18-month lease with one month free (there was a small price drop recently). There's also no fee—in fact, the listing says, rather emphatically, "no brokers."
One thing to pay attention to: One of the bedrooms has a dimension of less than 8 feet, so it is not legal size.
Stuyvesant Heights is a neighborhood with impressive architecture. It's a 10-minute walk to the J train at Halsey Street and a 12-minute walk to the A and C trains at Ralph Avenue. There's a wide variety of casual restaurants in the area, serving French, Southern, Israeli, Mexican, soul, Caribbean, Indian, Chinese and vegan food.
So how would you feel living downstairs from the owner here?
As always, when weighing New York City apartment listings, we turn to our Take It Or Leave It experts: Constantine Valhouli, founder of real estate research and analytics firm NeighborhoodX, freelance writer Lambeth Hochwald, and myself.
But first, here are pictures of the apartment.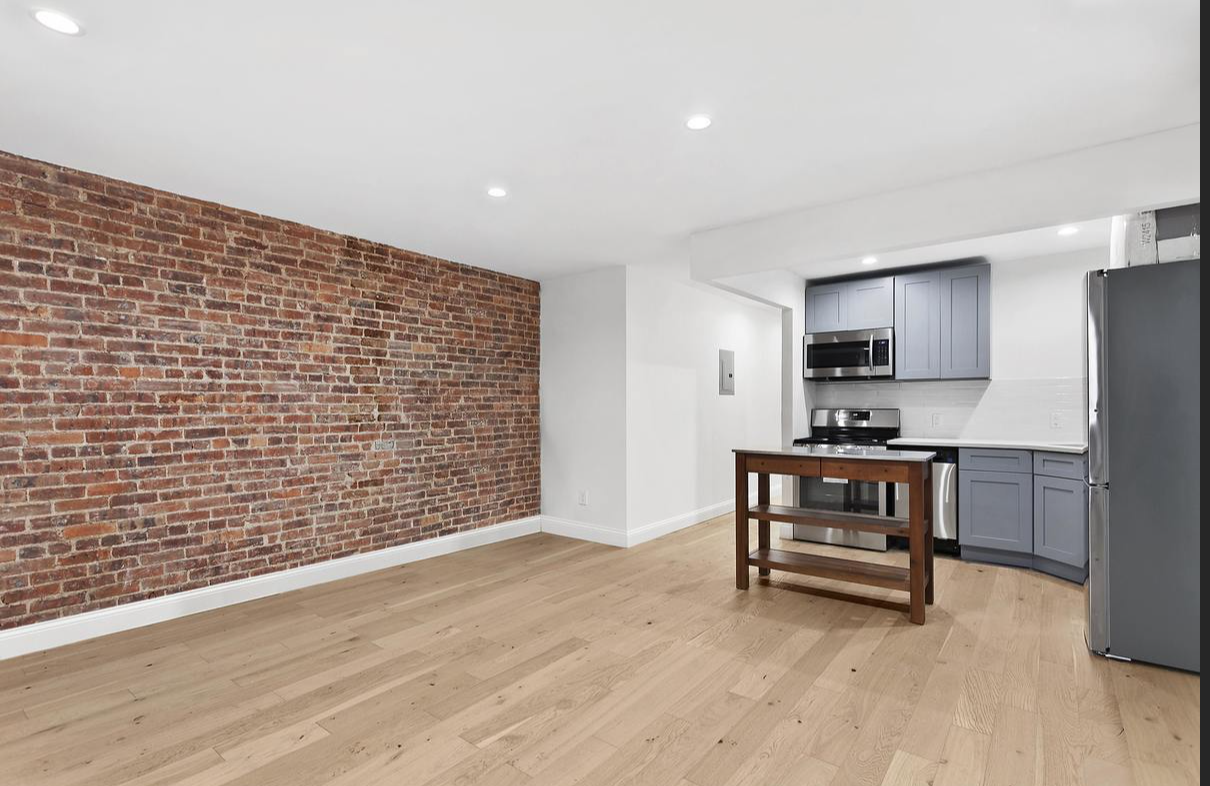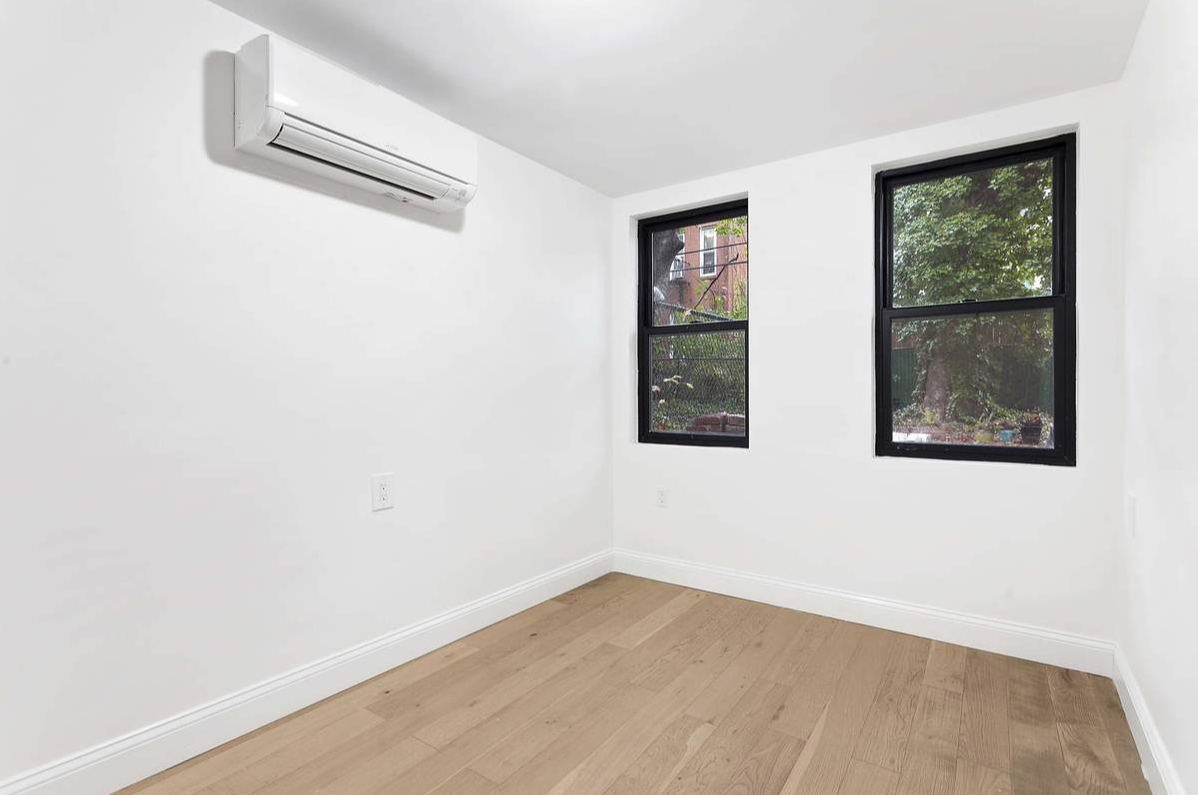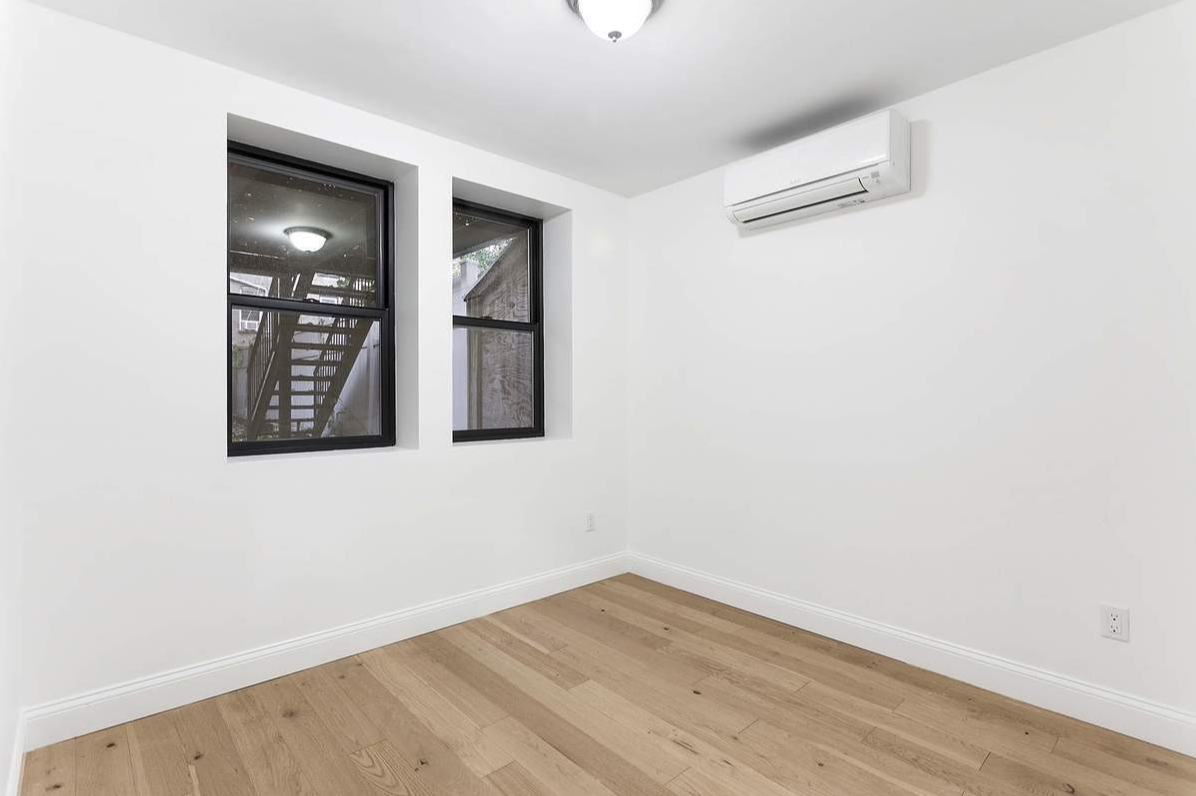 Pros and cons
"While it's very cool to live in a gorgeous, well-maintained brownstone, especially one that has such a thoughtfully done reno, I'm worried that if you rent this place your only neighbor will be...your landlord...the owner who lives upstairs." —Lambeth Hochwald
"On one hand: washer/dryer in unit, and air conditioning, too. We're willing to put up with a lot, just for those two. On the other hand: your neighbor is your landlord. This is one of those times when personal chemistry can be really important—almost a case of each party interviewing the other. Is either the tenant or landlord an amateur drummer or bagpiper? Do their hobbies include breeding dogs? What is the noise situation like for the rental unit (since the landlord may not be too keen on being told they need to put down more area rugs.)"—Constantine Valhouli 
"I think the quality of the renovation and fact that you get appliances that you don't always find in a rental is a really good sign of an owner who really cares about this place. One con is that too-small bedroom, and the fact that it is being marketed and priced as a bedroom when it is really not up to code—this signals the owner either doesn't know or doesn't care what the legal requirement is, and both attitudes are concerning." —Jennifer White Karp
Whom it's perfect for 
"The quietest of all couples who will never have parties, never have their TV on too loud, etc. Hey maybe the owner is very cool but you're still living in his/her house." —Hochwald
"Not brokers, clearly. (The emphatic "No brokers" is a bit unclear, however. Does this mean no brokerage fee from the landlord? No co-brokerage? Or the landlord doesn't even want brokers as tenants?)"  —Valhouli
"A pair that's looking to try out this kind of townhouse living without the commitment of owning, and is ready to leave more anonymous, larger rental buildings behind." —White Karp
Take it or leave it
LEAVE IT "I also don't like that this unit is basically a very expensive lower level/basement pad. I truly think you can do better." —Hochwald
TAKE IT "Because come the first 100-degree day you'll be the Alpha Cat, watching your laundry spin and enjoying the air conditioning in your bathing suit, while your friends are at the Laundromat."—Valhouli
TAKE IT "While this apartment is on the lower level, it is mostly above grade. I think you'd be hard pressed to find an 'under the stairs' apartment this nice—most owners simply do not put this much into these basement apartments." —White Karp