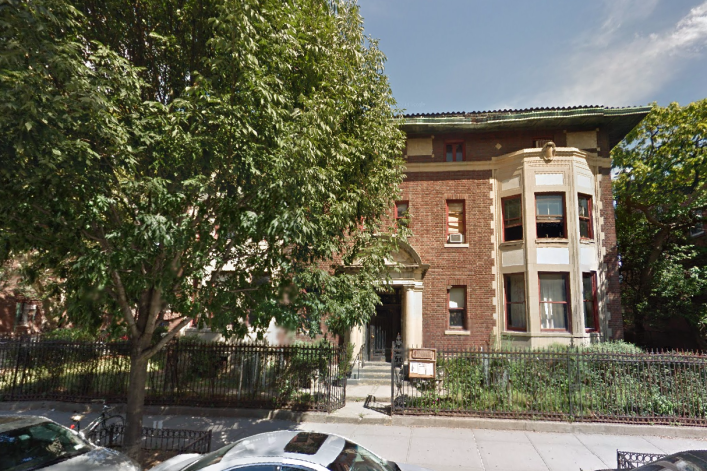 It often feels like you can't walk more than a block in NYC without running into something named after Dutch colonist Peter Stuyvesant, and this is doubly true in Bedford-Stuyvesant, which also contains an eastern subsection, Stuyvesant Heights. 
Aside from the well-known (and recently expanded) Stuyvesant Heights historic district, Stuy Heights encompasses a huge swath of the neighborhood, including the Bushwick-bordering northern section. For this edition of Take Five, we dig into its history: 
1. The name isn't broker-ese
While skeptical Brooklynites are correct to side-eye made-up neighborhood names like "Stuyshwick" and "East Bushwick," there's authentic historical weight in the case of Bed-Stuy's subdivisions. "Actually, Bed-Stuy is the made up name," says Halstead agent Morgan Munsey, who primarily works with historic properties in the neighborhood. "Stuyvesant Heights is older than that." Indeed, the Bedford-Stuyvesant moniker didn't come about until the late 1890s, as a combination of two adjacent neighborhoods, Bedford and Stuyvesant Heights. (Indeed, Bed-Stuy as a whole technically consists of four sub-neighborhoods; Bedford, Stuyvesant Heights, Weeksville, and Ocean Hill.) "[The creation of Stuyvesant Heights] was an organic thing of, 'What do we call this area being built,'" says Brownstone Detectives founder (and Bed-Stuy resident) Brian Hartig. "People wanted to show off—they had money, and wanted to be able to live in a place that sounded like Brooklyn Heights." 
Pro Tip:
Did you know you can receive a buyer's rebate from your broker? With Prevu, you'll receive a rebate of two-thirds of the commission paid to the buyer's broker at closing.  On a $1.5 million Brooklyn condo, you'd pocket up to $30,000. Click here to learn about Prevu's Smart Buyer Rebate.
That said, the borders of Stuy Heights—other than those of the historic district (below)—are still a matter of some debate. "Brokers spread it out a little farther east when they need to, and bring it back in the rest of the time," says Hartig. According to StreetEasy's map (above), the area's southern border is at Tompkins, extending to Flushing and Broadway to the north, and Atlantic and Howard to the south and east. 

2. The neighborhood's home to some serious architectural cred
​"Stuyvesant Heights was a fancy neighborhood to live in, just as much as Park Slope or Brooklyn Heights," says Munsey. "Though compared to Bedford—which was old money, WASP-y, Dutch—Stuyvesant Heights was more new money; German and Irish residents who had done well, and could make their houses just as grand." Many of these new residents went so far as to build themselves mansions and villas, and while most of the neighborhood has given way to the more typical rowhouse style, remnants of that 19th century grandeur—like the Awkwaaba mansion (above), which now functions as a B&B—can still be found if you know where to look. Another example: the former Otto Seidenberger House at 375 Stuyvesant Ave, a renaissance revival-style 1860 home that now houses community events.
The area is also packed with houses designed by famed Swedish architect Magnus Dahlander, whose work played a huge role in the aesthetics of Brooklyn's brownstone neighborhoods. (You can read more about him on Brownstoner and Save Bedford-Stuyvesant). In fact, a 1911 Brooklyn Daily Eagle article about the neighborhood's increasingly tony reputation contained the following enthusiastic, albeit strangely anonymous, rave:
"An enthusiastic visitor to the region says: 'No part of the borough seems to me to afford more attractions as a place of residence. There is sufficient park space to make a most charming breathing spot, a better location for houses could not be found, and apparently no pains have been spared in making desirable houses for those who seek the advantages offered by two family houses as investments and places in which to live. [...] The situation and surroundings of Stuyvesant Heights seem to me unsurpassed.'"
3. There's a classic TV connection...
Though beloved '50s sitcom The Honeymooners took place in Bensonhurst, the show also featured a nod to star Jackie Gleason's Stuy Heights upbringing. Ralph and Alice Kramden's address is shown as 328 Chauncey, the same as that of the house in which Gleason had grown up. "He was a personality in the area, and got his start jumping onstage at a local amateur night," says Hartig. The callback to the neighborhood may have turned into a mixed blessing, however: according to a 1997 piece in the Daily News, residents at 328 Chauncey were still fielding visits (and fan mail) from Gleason-obsessed strangers, decades after the end of the show's run.
4. ...as well as a notorious criminal connection
One less beloved—but at the time, equally famous—local figure: Martha Place, the Stuyvesant Heights-based "giantess" who gained dubious notoriety as the first female to be sentenced to the electric chair in New York State. As chronicled on Brownstone Detectives, Place, who stood a little over six-and-a-half feet tall, had apparently gone "off her trolley" in a fit of jealousy and attacked her husband and step-daughter with an axe. Needless to say, her family's home on Hancock street became a tabloid fixture for months to come.
5. There's more to the street names than you'd guess
Aside from the Stuyvesant moniker, the names of notable New Yorkers are woven into the streetscape of the entire neighborhood. "When [city planners] laid out the grid for Brooklyn, in the area that would become Bed-Stuy, they named the streets after governors and revolutionary war heroes," explains Hartig. East- and west-bound roadways like Marcy, Tompkins, and Lewis are named after former governors, while major avenues like Hancock, Jefferson, and Gates bear the names of revolutionary war heroes. One major change that's been made along the way: There used to be a Yates Avenue in the neighborhood, as well, but thanks to constant mix-ups with nearby Gates, it was changed at some point to Sumner. Since then, it's been changed again to Marcus Garvey, but Munsey notes, "You'll often hear older residents in the area call it Sumner."
Related:
The Bed-Stuy Blog: Why the neighborhood needs better bagels, but will never be "the next Williamsburg"
Curious about your townhouse's (maybe sordid) history? Call in a detective
How a Bed-Stuy townhouse owner turned an illegal SRO into a $6 million mansion
The 24 best NYC neighborhood blogs: 2015 edition
9 of our favorite historic NYC streets worth exploring
Brick Underground articles occasionally include the expertise of, or information about, advertising partners when relevant to the story. We will never promote an advertiser's product without making the relationship clear to our readers.