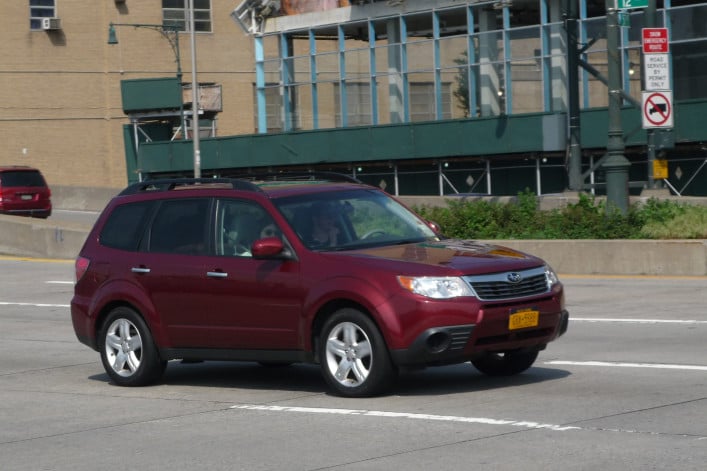 It's now been about two months since my husband and I bought our 2011 Subaru Forester and joined the small group of New Yorkers who own cars. (According to the city's Economic Development Corporation, only 23 percent of Manhattanites have cars.)
This isn't the first time we've owned a car. About 10 years ago, before we had children, we had a Mitsubishi Outlander which I religiously moved from one side of the street to the other twice a week as part of the city's alternate-side parking rules. (I'd time my weekly Fairway trips to street cleaning, since the Harlem Fairway has a parking lot and I could shop and be back to park once the street cleaner had just finished our block.) But after getting rid of the car and subsequently having two children, I swore I wouldn't buy another one unless we could park it in a lot. The idea of spending at least three hours a week either sitting in my car or moving my car seemed impossible.
[Editor's note: This story was originally published in August, 2017.]
For the past eight or so years we relied on ZipCars to transport us on day trips or weekends away, but thanks to a combination of high rates (for ZipCar as well as other rental cars for longer periods of time), and the fact that, as a family of four, we often like to escape the city entirely on weekends, when it can be tricky to find an available car, it was time to take the plunge.
Just two months after buying our Subaru (pictured below), I can safely say it has changed my life for the better. I typically dislike summer in the city with kids, but with a car, we've been able to escape and explore greener pastures most weekends—we've already gone to a fish farm on Long Island, fruit picking in New Jersey and spent a weekend in Mystic, Connecticut. We have plans to travel even more in August.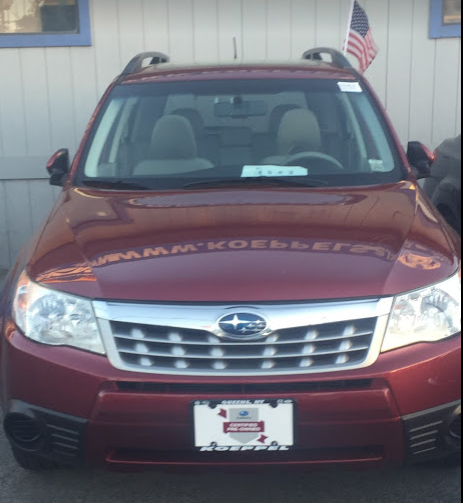 But like everything in New York City, owning a car here has its intricacies. Below, four facts I've learned in my two months as a semi-regular driver.
1. To park on a budget, find the right neighborhood
We live in Yorkville, and even have a garage in our building, but by parking in East Harlem we were able to save 50 percent on our monthly parking fees, paying a relatively inexpensive $225 a month. (BestParking.com is a good site for finding inexpensive spots like I did.)
While I realize that people anywhere but New York would think it's truly insane to have your car parked in a parking lot that's over a mile from where you live, keep in mind that we've saved over $200 a month doing it this way. And thanks to the genius of Via, it only costs us $10 roundtrip each time we need to get to and from our car. Sometimes I walk from our apartment on East 80th; that way I save money and gain a workout.
2. Use your car like a closet on wheels
There are certain things that my family of four simply doesn't have room for in our two-bedroom apartment: Among them are large car seats, extra shovels and pails for the beach and a charcoal barbecue my husband likes to use when he goes camping.  Those things now live in the trunk of my car and my bedroom is less cluttered. Can I get a "hallelujah"?
3. Fill up on gas outside the city 
Manhattan's gas stations are few and far between (condo developers often choose to build on these valuable—and relatively large—pieces of land), and it's almost always less expensive to buy gas outside the city. Plus, it's less crowded and in New Jersey,  and they do the pumping for you. Talk about the lap of luxury.
4. Summer is an excellent time to take the leap
Part of the reason we bought a car was because we hope to take more ski trips in the winter, but we also knew we wanted one to help us escape the hot and humid city on summer weekends. Considering the fact that we often spent a couple of thousands of dollars each summer on rental cars and train tickets, the day-to-day costs of owning a car don't feel insurmountable.
Also, while I haven't tried this, I've heard from other car owners that some garages in the city will give discounts for summer-only parkers, since many of their regular customers are away (with their cars) for much of the summer, and some permanent spots are left vacant.  And even street parking in the summer is slightly less awful because of those weekend travelers.
Need more info before you take the leap?  
Owning a car in the city isn't for everyone, of course. Park Slope Parents breaks down the pros and cons (and opinions in between), while Jalopnik also has its very own guide to owning a car in a city that isn't exactly designed for car-owners (tips include the fact that mirrors are your best friend while driving in NYC, and I'd have to agree). On the other end of the spectrum, Complex has compiled 10 reasons why owning a car in NYC sucks. They argue that the traffic, the taxi drivers and expensive parking tickets make it a deal-breaker. I get that, of course, but for now, thanks to our uptown parking spot, and the emptiness of the city in the summer, I've found that the pros outweigh the cons... which is actually how I feel more generally about living in New York City.
Brick Underground articles occasionally include the expertise of, or information about, advertising partners when relevant to the story. We will never promote an advertiser's product without making the relationship clear to our readers.