Best of Brick
Uber, Lyft, Gett, Juno, and Via: Which of these 5 NYC taxi alternatives is right for you?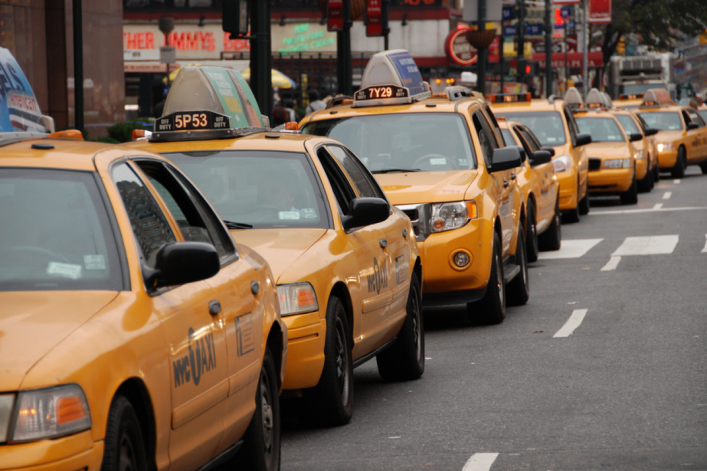 Between yellow taxis, green cabs, gypsy cabs, and a never-ending proliferation of car hailing startups, New Yorkers have never been more spoiled for choice when it  comes to catching a cab.
But not all rides are worth the hail, and startups can be notoriously glitchy. With that in mind, we tested out four of the city's most prominent app-based car services. See below to find out how they (ahem) fared.
[Note: Interestingly, both Gett and Uber have actually LOWERED their fees since this story was first published in July 2015 (it was updated in August 2016 to reflect new pricing, and most recently Nobvember 14, 2016 to include the recently launched car service Juno.]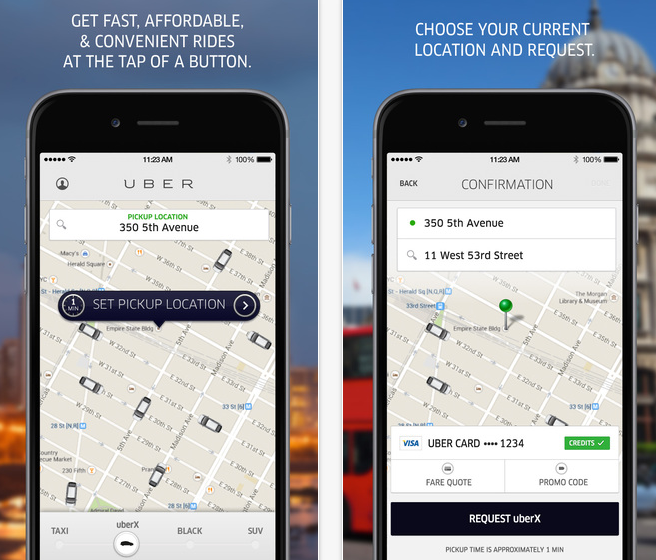 ​Price: It varies; UberX has $2.55 baseline fare and is 35 cents/minute after that; UberXL has a base of $3.85 and then costs 50 cents a minute; UberBlack has a base of $7 and is 65 cents a minute; and UberSUV has a base of $14 and a per-minute rate of 80 cents. There's also UberTaxi—which simply flags down a regular yellow or green cab for you—and UberPool, which matches you with another nearby rider going in the same direction so that you can split the fare. That one's $2.55 baseline and 35 cents/minute but split (the cheapest option). And from  7- 10 a.m. and 5- 8 p.m. on Mondays through Fridays, all UberPool rides are $5 below 125th Street.
The lowdown: Easily the most famous car-hailing app out there, Uber is also one of the most ubiquitous; we've never opened the app and not been able to track down a nearby cab. They've gotten rafts of negative press for bad behavior on the parts of the company's founders—as well as their drivers—but that doesn't seem to have slowed them down. Supposedly, there are now more Ubers on the road than classic yellow cabs in NYC. And an added plus for those of us who travel a lot: Uber is everywhere, and if you have the app downloaded, you can use it across the world.
The experience: Uber can be polarizing, but that said, the service is hard to beat. The drivers we've had have always been efficient and polite and seemed happy with their jobs. More to the point, they all have GPS, so you're spared the irritation of getting in a late night cab only to find out the driver has, apparently, never been to Brooklyn before. Having the app hooked up to your credit card—and automatically charged—is dangerous for our budgets, but undeniably convenient.
Two caveats: First, while one of our editors primarily uses the app to hail UberTaxis, she frequently finds that the drivers cancel when they're supposedly en route, presumably to pick up fares they find along the way. Second: if you're calling up a cab during inclement whether or prime Saturday night hours, be sure to check for surge pricing (the app will tell you if it's in effect) before piling yourself into a cab and waking up to an insane overcharge. It's been known to happen.
The bottom line: We'll admit that there's a reason Uber's such a juggernaut: it's fast, reliable, and convenient.
Number of stars (out of 5): * * * *
​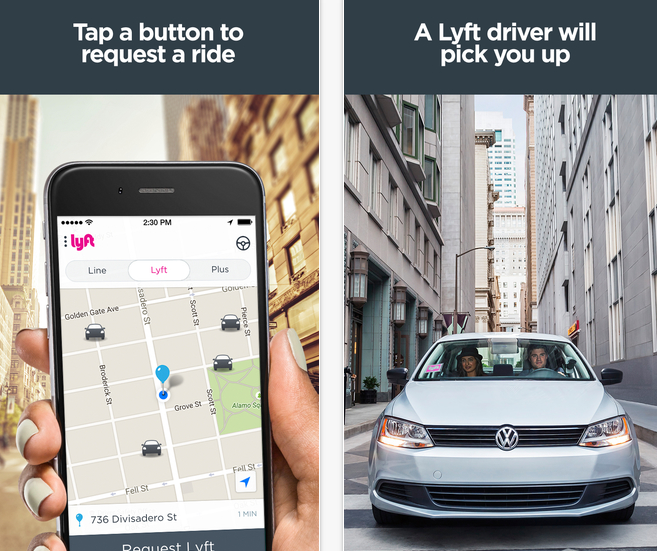 ​Price: $2.50 baseline charge, then 35 cents a minute or $1.79 per miles. There's an $8 minimum for rides (like Uber), and occasional surge time "plus pricing" that costs $5.50 at the base, 50 cents per minute, and $2.97 per mile. Lyft also has a shared taxi option, known as Lyft Line, which is $2.50 baseline and 35 cents per minute, wiht a minimum of $6.  (Special offer for new Lyft riders: Click here to receive a $50 Lyft credit). 
The lowdown: Probably Uber's biggest competitor, Lyft works essentially the same way: download the app, see a map of nearby cars, request a ride, see a driver's name, rating, and ETA, then be on your way. Similar to Uber, your credit card is hooked up to the app, so there's no hassle with payment other than selecting the tip amount.
The experience: In theory, this service is ideal. (And Lyft is generous with coupons for first-time users and users who refer friends, so you can milk a lot of free rides out of the service if you play your cards right.) In practice, though, when our tester really needed a Lyft — late at night in the middle of Brooklyn — there were almost never any cars available and, often, exorbitant surge pricing in place. In fairness, though, we once heard from a friend of a dreamy Lyft driver who escorted her to her destination with complimentary bottled water and pretzel M&Ms, so the experience is variable.
The bottom line:  If you can actually track down a car, and aren't on the hunt during a surge time, this makes for a solid Uber alternative.
Number of stars (out of 5): * * *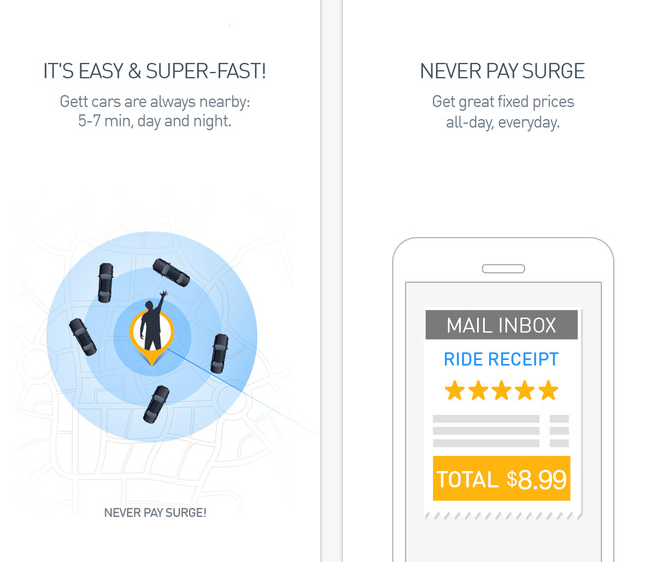 Price: The company's currently offering $10 for any ride in Manhattan south of 110th Street — a relative bargain — but if your trip rings in under that threshold, you pay the lower price. Tips can be pre-set for zero percent to 20 percent; tolls are extra. The driver waits for free for three minutes, and you'll be charged $1/min after that. An extra stop costs $5. Best yet, there's no surge pricing—ever. 
The lowdown: Active in 30-plus cities around the globe (Tel Aviv, London, and Moscow included), Gett, which used to go by GetTaxi, arrived in NYC in 2013, though its recent $10 deal has raised its profile lately. According to the New York Post, it has a fleet of 4,000 vehicles serving NYC.
The experience: The $10 pricing is enough of a lure on its own, but we also tracked down a coupon for a $20 discount off the first trip (thanks, Google!). After two unsuccessful attempts to summon a car — there were no takers nearby — we eventually tracked one down, though with about a 10-minute wait, which included a two-minute extension). Still, at least the app informs you beforehand how much the trip will cost. Ride hailed, the app's screen showed a map with an icon detailing where the car was, who was driving, and a timer that ran down the minutes until the car shows up; depending on your mood, it's a feature that is either frustrating — A two-minute extension? Can you just get (or, rather, "gett") here already? — or soothing, as long as you're not in a hurry.
Nonetheless, it was a pleasant trip all around: The car was clean, the driver professional (he told us that he "really liked" Gett and felt fairly compensated; on a related note, he also said Gett has decided not to cut drivers' compensation despite the $10-a-trip promotion), and the checkout process quick and easy (like Uber, the app tallies everything and charges your credit card). 
Bottom line:
 The service's fixed price simplifies the process (and removes the specter of surge-pricing resentment from the entire transaction). Still, it doesn't always get a car to you fast, and sometimes no G-cars, as they've been called, are available at all. Ergo, if you don't mind what can be a leisurely wait, or there happens to be a car nearby, Gett is a no-brainer; that $10 deal alone makes the service worth a try.  
Number of stars (out of 5): * * * *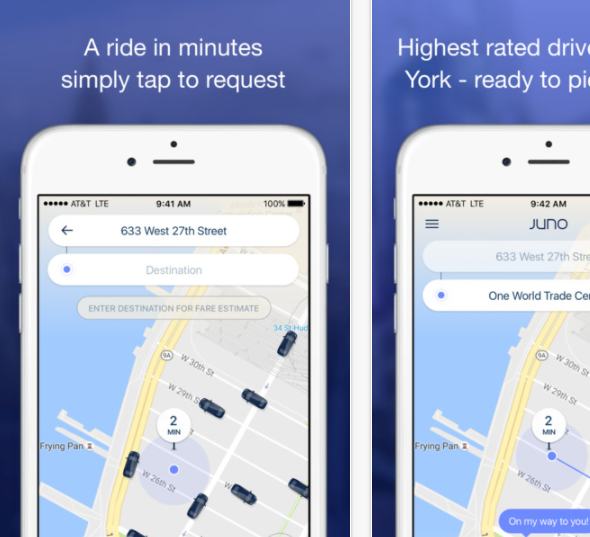 Price: At press time, Juno is in beta mode in NYC, meaning a 35 percent discount for new users on all rides. There's also an $8 ride minimum, and a base fare of $2.55, plus distance and time charges after that. There are also higher-priced "Lux" and SUV options, and tipping is encouraged on all three.
The lowdown: As the newest kid on the block (as of this writing), Juno hangs its hat on being the most customer and driver-friendly service in the game—hence their slogan, "a better ridesharing service." Their pricing is roughly comparable with Lyft and Uber, but there's no surge pricing. (However, there's also no option for cheaper ride sharing options along the lines of Uber Pool and Lyft Line; Juno admits that not having ride-pooling is popular with their drivers, but may be a turnoff to budget-minded riders.)
Juno takes a far smaller commission than similar services, putting more money in drivers' pockets (they take 10 percent, about a third of what other firms do). They also give drivers the option to own a small stake in the company. And for riders, there's a 24-hour assistance hotline, a far cry from the help options on most comparable apps.
The experience: While we've anecdotally heard reports that there aren't enough drivers yet on Juno, when we tried it out on a recent Saturday night, there were plenty of cars available, and our driver arrived within a few minutes. The service was professional and efficient (and the pricing roughly comparable to what we've paid for the same route on other services). Plus, at the end of your ride, Juno sends you an email "from your driver" telling you exactly how much extra money they earned since you opted for Juno in lieu of, say, Uber or Lyft, a nice little extra if you're hoping to feel virtuous.
Bottom line:
 Unless you're a devotee of ride sharing apps like Via, Juno offers high-quality service at the same price as other apps, and with the knowledge that you'll be helping your driver earn a better living. It's a very welcome new addition to the city's transportation scene. 
Number of stars (out of 5): * * * *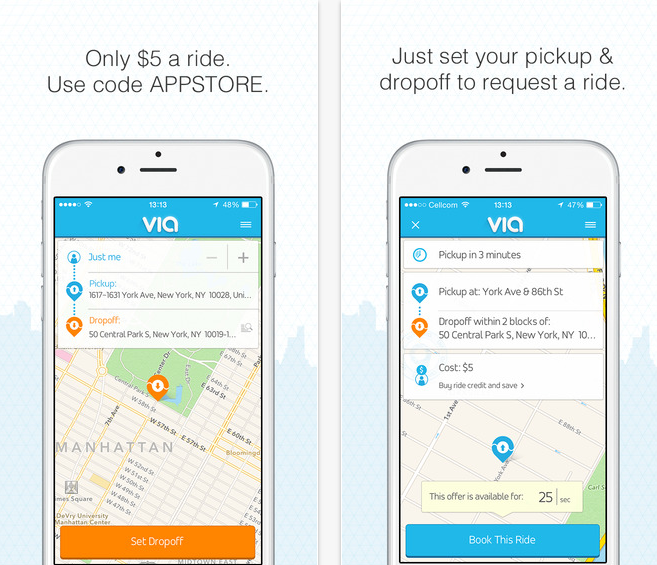 Price: $5 (plus a 44-cent tax) per ride; $2.50 for each additional person. Note: You have to purchase Ride Credits in increments of $25 or $50. You can enable auto-refill so that each time you drop below $10, the credits will automatically refill. If you use up all of your credits and take a ride, it will be at $7 plus tax. However, if you have $3 in credits remaining and take a ride, the $3 will be deducted and you'll only be charged the extra $2 and tax. Also, no tips.
The lowdown: This cab-share service started in Yorkville, a section of the Upper East Side that's far from the subway; and it used to only run at rush hour. It has since expanded its location and times. It now runs anywhere in Manhattan below 125th Street, from 6 a.m. to midnight during the week, Saturdays 10 a.m. to midnight and Sundays 10 a.m. to 9 p.m. (8 p,m. and later, and weekend pricing: $5.95 per ride).  They also recently announced flat rates from JFK and LaGuardia airports ( $39.95 + tax and applicable tolls for JFK, $24.95 + tax and applicable tolls for LaGuardia, plus $5 per additional passengers). You'll share with anywhere from zero to four people in one car (depending on how busy they are, and how big the car is — there are SUVs and regular-sized cars). The service doesn't pick you up in front of your location, but on a nearby corner. The average wait time is about five minutes, slightly longer during rush hour. If the car gets there before you do, they'll wait for two minutes then contact you before taking off.
The experience: This service is a godsend for those of us who live far from the subway (but still in Manhattan), and it's almost always cheaper than a yellow cab. That said, during morning and evening rush hour it can be a long wait and can take longer than the subway for sure. There is also a somewhat awkward "should we or shouldn't we talk?" factor with other passengers. However, when you do ride from uptown to downtown after rush hour around 8 p.m. you're highly likely to be alone in the cab, and $5 is unbeatable for that trip! 
Bottom line: We use Via all the time, as long as we're not in a big rush to get somewhere. Just prepare to add a few extra minutes to your trip thanks to all the pick-ups. But considering it'll only cost $2.25 more than the subway (and you can avoid waiting in the hot subway stations this summer), we're kind of hooked. We're also wondering when the first Via marriage will take place.​
Number of stars (out of 5): * * * *
**This article was first published on November 15, 2016.**
Brick Underground articles occasionally include the expertise of, or information about, advertising partners when relevant to the story. We will never promote an advertiser's product without making the relationship clear to our readers.