Investing
Renting out an investment property? Here's how to find a reliable tenant
Screening applicants is more important than ever given changes in NYC rent laws
Timing is key: Rental listings get the most action during the first week they are up
Posting online is still the best way to drive exposure, whether on your own or through an agent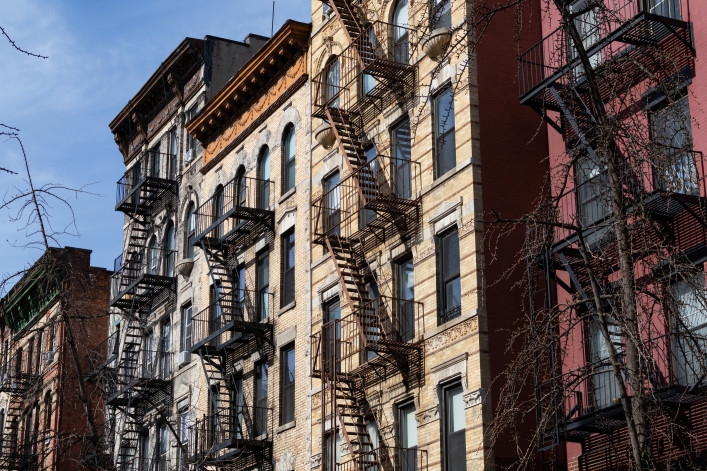 James Andrews/iStock/Getty Images Plus via Getty Images
If you've purchased an apartment or townhouse in New York City to rent out, it can be a solid investment—but only if you find reliable tenants. The same goes if you've outgrown your space and are looking to rent it out in the current white-hot rental market rather than selling in the sluggish sales market. 
Either way, as a first-time landlord in NYC, navigating the rental landscape can seem daunting. Should you work with a broker or handle the listing yourself? What are the most reputable search websites? What types of information should you require? 
Besides protecting your property, finding a tenant who is financially and otherwise responsible will save you the hassle of dealing with disputes later on. NYC law is notoriously pro-tenant and recent changes have only strengthened that stance.
Plus it's hard to have a problem tenant removed. "Landlords are not in the business of evicting people. It's the last thing we want to do," says Arik Lipshitz, CEO of DSA Management Group. "The only way to prevent evictions is to screen applicants properly before they move in. It's more important now than ever."
As such, "the rental process in NYC is different than in other parts of the country as there are often approval processes by the building (depending on the property), which often include a credit check and processing fees for the potential tenant," says Julia Hoagland, a broker at Compass. 
And renting an apartment involves more than just posting a classified ad. You'll want to be strategic about pricing and marketing it to get the best ROI—and having your screening protocol figured out before listing so you don't miss out on qualified renters. 
Because in addition to location, timing is key in real estate. So the following guidance starts with the rules and tools and then covers ways to reach your target audience—all with the goal of landing the best possible tenant.
What can you consider when reviewing applicants?
Given the regulatory landscape, many leasing agents and landlords require applicants to provide a fairly thorough dossier—pay stubs, bank statements, tax returns, proof of employment or other funds (for gig workers), and personal and professional reference letters. They also impose a 40 times the monthly rent rule as a way of ensuring financial viability. 
That said, Dan Kandinov, an agent at Corcoran who works with small landlords, developers, and individual investors on rentals, says the 40 times rent rule shouldn't be black or white. "If someone is making 35 times the rent but has a good amount in savings, I think that should be taken into account along with landlord reference letters and all the rest," he says.
A credit check is also a must. "Our application includes a credit check and proof of income primarily, with credit being the most important in our view," Lipshitz says. "We prefer the low-income/high-credit applicant to the high-income/low-credit applicant." 
Scott Harris, an agent at Brown Harris Stevens, says they run a credit check and look at bank statements and the first two pages of tax returns. "This is a small hurdle, and it usually gives us enough data to know that your tenant is qualified and isn't going to be difficult."
And now that landlords can no longer reject a tenant solely because of information from the NYC housing court, you may want to follow their lead by relying more on criminal background checks and reference letters from previous landlords, especially since rental payment histories are not part of a credit check. 
Landlords are no longer able to collect a security deposit plus the first month's rent upfront, either, heightening the need for greater financial scrutiny. 
"Before the new rental laws, students and international renters might be stuck paying multiple months upfront," Kandinov says. Now he advises asking for a guarantor, typically someone with 80 times the rent in income "but we need to look at the whole application to make a decision." If that's not viable, he suggests pointing applicants to third-party guarantors like Insurent (fyi a Brick sponsor), which guarantees the leases at no cost to you.
 
You'll want to beware of renters who put applications on more than one property to avoid losing out on rentals—and then back out at the last minute since there's nothing at stake, says Erin Wheelock, an agent at Keller Williams New York City.  
She also reports that a lot of renters are asking for a right of renewal as a way of staving off steep rent hikes (in the wake of the pandemic) but recommends that any such renewal will be explicitly based on mutual consent  "The last thing you want is to end up being stuck with a tenant who was a nightmare. Weigh the pros and cons of having the same tenant at X price for two years but make sure the language is that you get to decide after the first year in case that person ends up causing trouble."
If you are considering listing on Airbnb, know that NYC requires a minimum stay of 30 days and that's only when the host (i.e., you) are present during that stay. That said, if you qualify, Wheelock says it's often the best way to recoup your purchase price and more.
How to go about listing the rental on your own
As with anything else in life, networking is often the safest bet—spread the word among your trusted friends and relatives and anyone else to see if they know of anyone who is looking for a rental in the city. Post it on your social media feeds. 
Otherwise, Harris says that posting online is the best way to go. StreetEasy is by far the most popular among landlords and brokers (and renters). The platform is easy to use and includes a free floorplan and 3D tour (through its affiliation with Zillow). It costs $185 for your ad to appear for two weeks, $250 if you want your ad to be a featured listing). 
Many NYC renters swear by RentHop (which per the website has 500,000 monthly visitors and generates 150,000 monthly leads). The basic a la carte plan is $20 for a seven-day listing. Landlords like being able to see an interested renter's full contact info, including maximum budget and preferred amenities.
The New York Times real estate classifieds cost $288 for a basic six-line ady to appear in the Sunday edition or $400 for Friday through Sunday (they no longer run classifieds online). You will need to send your listing to [email protected] by Thursday at 2 p.m. to be included in that weekend's paper. 
If free sounds about right, you can list your rental on Craigslist, though scam stories persist and the onus is on you to suss out who's legit or not. 
Facebook Marketplace also costs nothing but at least you can rely on the public forum to weed out ne'er-do-wells. Plus there are groups such as Apartments and Rooms to Rent in NYC and NYC Sublets & Apartments that target people looking solely in the city.
Other free sites include CityRealty (for up to two listings), which claims to reach 10,000 potential renters. 
Once you have interested renters, you can hire a screening company (such as TSC or American Apartment Owners Association) to run credit checks to see if they meet your standards, but you can only ask the tenant to reimburse you $20.
How brokers might help reach a broader audience
"The good thing about being a landlord in NYC right now is that the market is pretty fast-paced for rentals, so using an agent is basically free right now," Wheelock says. (That's because for now, the tenants are typically the ones paying the fee, though you can always offer to cover the fee and give your apartment the edge in a slower market..) 
For sure, a good agent will know how to describe your property to garner attention and take photos to show it in the best light. You'll also be tapping into a much greater audience.
"By hiring a broker, your property will be listed in the NYC brokerage network via RLS, which would give it more exposure as opposed to just listing it on public sites like StreetEasy, Facebook, or Craigslist," Hoagland says.  
What's more, if you are working with the same agent who helped you buy the property, that person can have their ears open earlier in looking for potential renters, Wheelock says.
This is important because according to Kandinov, once you go to market, you'll get the most action within the first week and therefore want to maximize your exposure right off the bat. "And what better way to capitalize on that than by being on every other real estate website rather than just one, and that's not including personal contacts, previous renters, and brokers who are helping clients on the other end of the deal?"
For example, he's listing the third floor of a Soho townhouse and notifying his entire rental pool right away rather than wait to get the listing up on StreetEasy or Realtor or Hotpads "and get it in front of as many people as possible with the click of a button." 
Know that exposure drives the price, too, "and in my experience investors are looking for the highest possible price," he says. As such, Kandinov (and other agents) say they can advise on pricing and marketing. 
How brokers can help do with screening
The other layer is finding the perfect tenant and all the pros Brick spoke to say this is where the rubber meets the road. "A lot of landlords don't want to be the person that's interacting hands-on with the tenants; they'd rather have a third party asking the questions and getting the answers," Wheelock says, adding that a good agent will collect a bio and a few little tidbits and terms from the tenant and then provide the big picture so you can make the best decision for yourself." 
Kandinov echoes that idea: "Our clients are busy New Yorkers who don't want to deal with running applications and prefer that we do that for them and make sure everything checks out before offering the lease—especially in NYC where it's tough to be a landlord."
And as Hoagland points out, first-time landlords are not likely to know what due diligence would be required. "If a buyer/owner were to hire us to list their property, we would work with prospective tenants and their brokers to qualify them for the approval processes, as well as work with the building's managing agent to ensure we are following all the rules in terms of documentation. This usually comes without a 'price' to the owner as it is customary in NYC for the tenant to pay the commission." 
Or as Harris puts it: "We will help you set up the unit so it gets maximum price per month, and we'll advise you on all matters for the length of the lease. We aren't managers, but we add value from A to Z—and we usually get paid by the tenants!" 
Ongoing assistance with lease renewals is another perk of working with a broker. Kandinov says this is a regular part of his services—as is selling the property should you decide to do that, too.
The upshot
If you are still considering going it alone after reaching this point, by all means trust your instincts. This is particularly true if you are able to find a tenant through word-of-mouth and by someone who can vouch for them. Still, running a credit check is always advised (this is a business transaction) as is establishing a baseline income or savings threshold that will safely cover the monthly rent—and deciding how you want to go about checking that (e.g., bank statements, tax returns, and/or a letter of employment). 
But if you prefer to delegate the screening to a third party, that's a path taken by many landlords—and you'll be leaning into pricing and marketing expertise at the same time. 
Whether you hand-pick the tenant or work with an agent, the ultimate decision rests with you, so go with your gut. 
Brick Underground articles occasionally include the expertise of, or information about, advertising partners when relevant to the story. We will never promote an advertiser's product without making the relationship clear to our readers.