Nobody's entirely sure what "Weehawken" means—suggested translations of the name, which is thought to have derived from the language of the Lenni-Lenape Native Americans, include "maize land," "place of gulls," and "rocks that look like trees."
No matter what the meaning, most people know the 1.4-square-mile Jersey town as the place where Aaron Burr and Alexander Hamilton had their famed fatal duel. These days, however, it's becoming known as a cheaper alternative for buyers who've been priced out of New York City, but want to live close enough to the city for a quick commute.
In this week's Buy Curious, Sharon Shahanian of Halstead and Karen Kostiw of Warburg Realty and Elite Realtors of New Jersey tell you everything you ought to know about the place where Lin-Manuel Miranda's muse fought his last fight, including where you should live, how much you'll pay, and where to shop.
The question:
I've been hearing good things about Weehawken, New Jersey, and was wondering if I should to move there to save money. Can you tell me a little more about it?
The reality:
"As Manhattan becomes a prohibitively expensive place to live, and with Brooklyn not far behind, more and more New Yorkers are heading over the river," Kostiw says. "New rental, condo buildings, restaurants, hotels, and community parks have transformed the Weehawken waterfront."
Pro Tip:
Wondering whether Weehawken is a good fit for your budget, commute and lifestyle?  Triplemint's Gold Coast Guides are standing by to answer your questions. They'll help you figure out whether Weehawken, Jersey City, Hobken or another Gold Coast town makes the most sense for you, and show you apartments that fit your needs.  Click here to speak to a Triplemint Gold Coast Guide or view apartments online. >>
Where is it?
Weehawken, which is the western terminus of the Lincoln Tunnel, is located on the western shore of the Hudson River along the southern end of the New Jersey Palisades across from midtown Manhattan.
The township is bordered by Hoboken to the south, the Hudson River to the east, West New York to the north, and Union to the west.
Why would NYers want to move to Weehawken?
First, Weehawken offers "the best views of Manhattan on this side of the River," Shahanian says. "This is true from Weehawken Bluffs, all along Boulevard East and on River Road."
Another thing that makes Weehawken so desirable is its proximity to Manhattan. "It is a straight shot to the Lincoln Tunnel by bus, and buses go back and forth through the tunnel at all times," she says. Commuters also have the option of a ferry, or they can take the Light Rail to the Hoboken PATH station.
Many also like the fact that Weehawken has less of an urban feel than New York City and nearby Hoboken and Jersey City. Local officials have long opposed the high-rise construction to preserve the township's beautiful Manhattan views.
Where in Weehawken should you live?
There are tons of neighborhoods to choose from in Weehawken, each with its own distinctive personality.
The Uptown area is where most of Weehawken's commercial activity takes place, mostly on Park Avenue. Uptown includes Kingswood Bluff (aka "The Bluff"), which is located at the edge of the cliffs, and offers unobstructed views of Manhattan.
The Heights—the area above the Lincoln Tunnel entrance—is characterized by two- and three-family houses.
The Waterfront area is being developed with new condos, rental buildings, parks, and restaurants. It has "ultra-luxe or newer construction," Shahanian says.
And the Shades, along the southern waterfront, is a small neighborhood that has a mix of new housing and older homes that are being updated.
Who lives here?
According to the 2010 U.S. Census, Weehawken's population was 12,554—a 7 percent decline from the 13,501 counted in the 2000 Census.
Residents include families, singles, and couples who've moved to the more affordable area as they've been priced out of New York City, as well as "the old-timers who have been here all along and are watching the change," Shahanian says.
What's housing and pricing like?
A search of Zillow shows that there are 142 homes currently for sale in Weehawken, ranging from a six-bedroom house at 1-11 Hamilton Ave. that's asking $6,600,000 to a one-bedroom co-op, 875 Blvd. East #9, for $149,900.
As for rentals, there are 304 up for grabs in Weehawken, ranging from a $15,000-a-month 4,635-square-foot seven-bedroom Victorian home at 765 Blvd. East to a two bedroom, 3400 Park Ave., # 6, for $1,331 a month.
Large properties can go for over $3 million, while smaller studio condos will be priced under $200,000.
The median list price for a condo in Weehawken is $1,472,000, according to BuzzBuzzHomes, an online real estate database for new residential developments.
"There is great value in  compared to New York City," Shahanian says.
Is there a lot of new development? 
Not nearly as much as Hoboken or Jersey City, but there is some.
Per BuzzBuzzHomes, there are six new developments in Weehawken, a mix of high-rise and low-rise buildings that are either planned, currently being constructed, or recently completed. Of these, three are condo buildings, one is an apartment development, one is a townhouse development, and one is a single-family home.
New developments include Henley on Hudson, a waterfront property with resort-like amenities that include a 6,000-square-foot clubhouse with a fitness center with a yoga/Pilates room and an outdoor pool, a children's playroom, a club room, a theater, and a gaming lounge; and the Avora, a 184-unit condo building that was completed last year. It has a club room with a catering kitchen and bar, a multi-purpose sports simulator for golf, hockey, baseball, and basketball, and a sundeck with a pool.
What's the transportation situation?
There are lots of transportation options available in Weehawken, including New Jersey Transit buses, NY Waterway Ferries, and the Hudson-Bergen Light Rail, which provides Weehawken residents with transportation to Hoboken, Jersey City, and Bayonne, where they can access PATH trains, NJ Transit Rail, and more.
There's also a free waterfront shuttle that takes residents between upper Weehawken and the waterfront area during rush hours.
"You can easily commute into Midtown Manhattan in less than half an hour," Shahanian says.
What is there to do?
You can take a stroll in Hamilton Park, which offers great views of the New York City skyline, as well as benches and a gorgeous lawn, or Old Glory Park, a small landscaped area that also offers wonderful views of NYC and the Hudson River.
Lovers of the great outdoors will also want to visit Weehawken's Waterfront Park and Recreation Center, located along the Hudson River. The park has two small playgrounds (one of which is exclusively for toddlers) and the Hudson River Walk. Recreation facilities include a soccer field, two softball fields, three tennis courts, and a track.
History buffs will want to check out the Alexander Hamilton Monument on Hamilton Avenue, adjacent to Hamilton Park, to learn more about the former Secretary of the Treasury's death at the hands of then-vice president Aaron Burr.
You can also check out the 9/11 memorial, which marks the site where approximately 60,000 people were evacuated by ferry from Manhattan to Weehawken, where they received medical attention, water, and food following the World Trade Center attacks.
What's the restaurant/nightlife situation?
Weehawken has "amazing restaurants and bars with views that make you feel like you have left town on vacation," Kostiw says.
Popular seafood places include Chart House, known for its Mac Nut Mahi; and Molos Restaurant, a Greek and Mediterranean-inspired eatery.
Want more options? Check out the House of 'Que, which serves up Austin-style barbecue and features live bands and karaoke; and Jack Austin's, where you can eat a variety of comfort foods, like steaks and burgers.
Pizza fans have a few options to choose from, including Charlie's Pizza Café, Romano Pizza, and Monetti's Pizza.
As for nightlife, Kostiw describes the Weehawken scene as "quiet and serene. Residents looking for more lively action need to go to neighboring Hoboken or across the river to Manhattan."
That said, Weehawken does have a few bars where you can get your drink on in the area, including Hudson Blue Bar and View, which serves a selection of craft cocktails, beer, and wine, in addition to a menu of Asian/American fusion cuisine; and NoHu Rooftop Bar and Restaurant, where you can get cocktails and small plates.
How about grocery stores?
A Whole Foods opened a Weehawken location in July, which Shahanian calls a "game-changer" for the township.
There are also a few small markets and specialty stores, including Moe's Deli and Grocery and Nueva Imagen Grocery.
Check out these listings in Weehawken: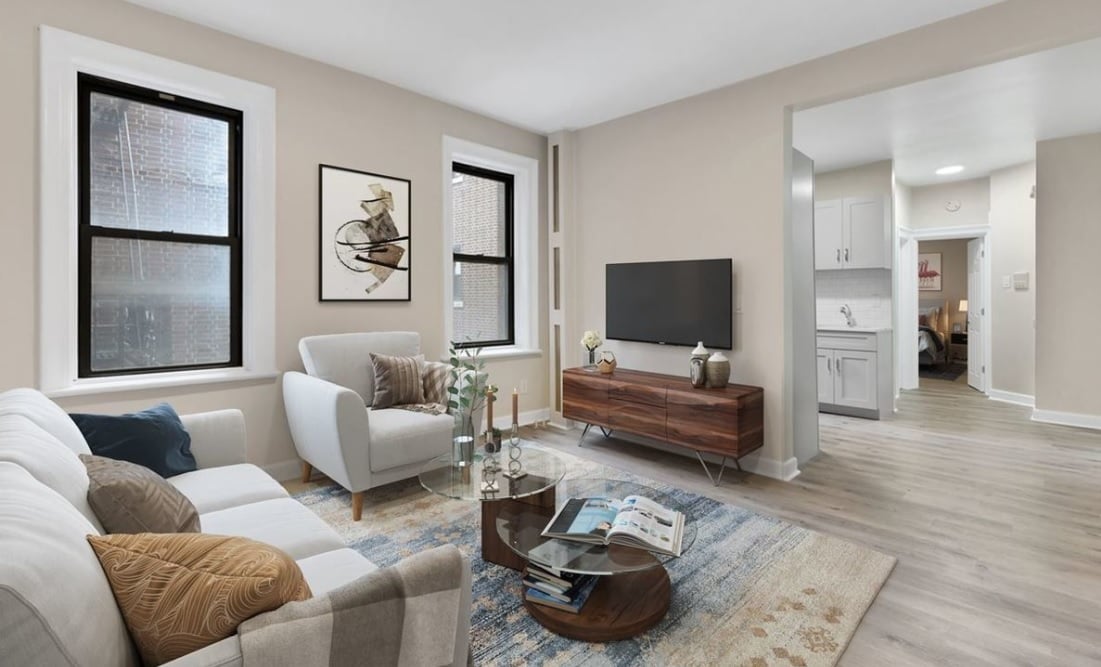 This 595-square-foot, one-bedroom, one-bath unit (also pictured top) was recently renovated, and has a kitchen with new stainless steel appliances, new flooring, and a bathroom with a walk-in rainfall shower. It's listed for $249,900, and is located in Riverview, a prewar building with a marble lobby, super, elevator, laundry room, and courtyard with a BBQ grill.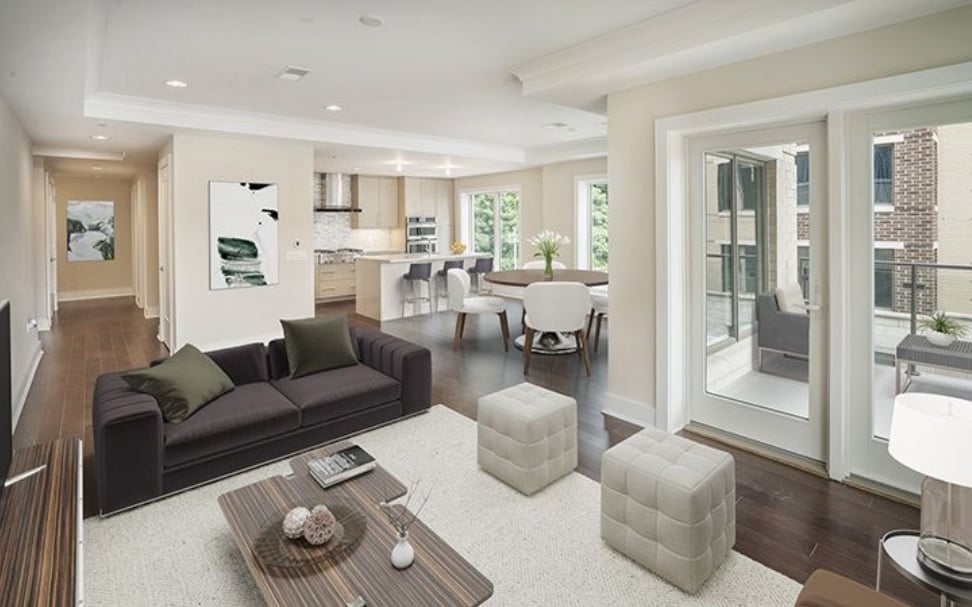 Listed for $1,049,000, this 1,591-square-foot, two-bedroom, two-bath condo has a formal dining room, breakfast nook, Spanish hickory wood flooring, recessed lighting in the master bedroom and main living area, a gourmet kitchen with a French door fridge and quartz countertops, and in-unit laundry. It's in the Henley on Hudson complex, a new construction building along the waterfront.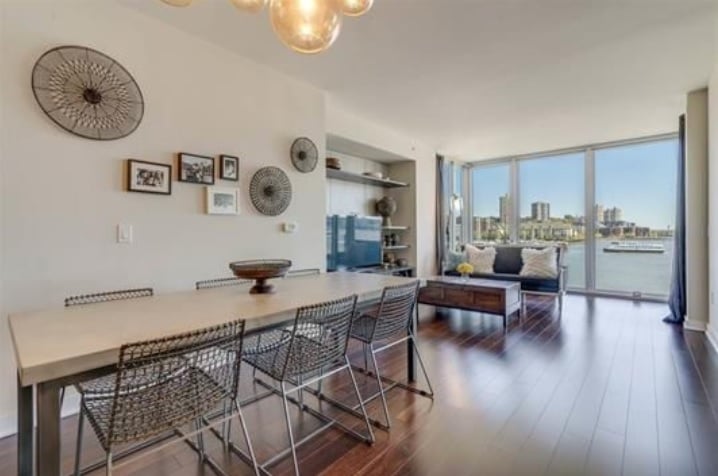 Priced at $975,000, this 1,222-square-foot, two-bedroom, two-bath condo has Brazilian chestnut floors, a private terrace, and a kitchen with professional-grade appliances and custom cabinetry. It's in the Avenue Collection complex. Amenities include a 24-hour doorman, concierge services, a fitness center with a sauna and yoga room, an open lawn, lounge areas, a social room with a catering kitchen, an enclosed parking garage, and a conference room. Common charges are $1,010 a month.
Listed for $6,600,000, this six-bedroom house has four full baths and two half-baths, a two-story front entrance with Doric columns, ornate working fireplaces, extensive moldings carved in gold applique, stained glass windows, hand-painted ceiling frescoes, marble floors, and a Tuscan-style wine cellar. There's also a conservatory with a honey onyx floor and wood paneling, a dining room decorated with a coffered and faux painted ceiling with beams of gold applique, and a herringbone wood floor, a country kitchen with two dishwashers and a built-in cappuccino and coffee maker, and a large terrace with river views. In addition, there's a two-bedroom, one-and-a-half-bath apartment with a kitchen on the third floor that has its own entrance.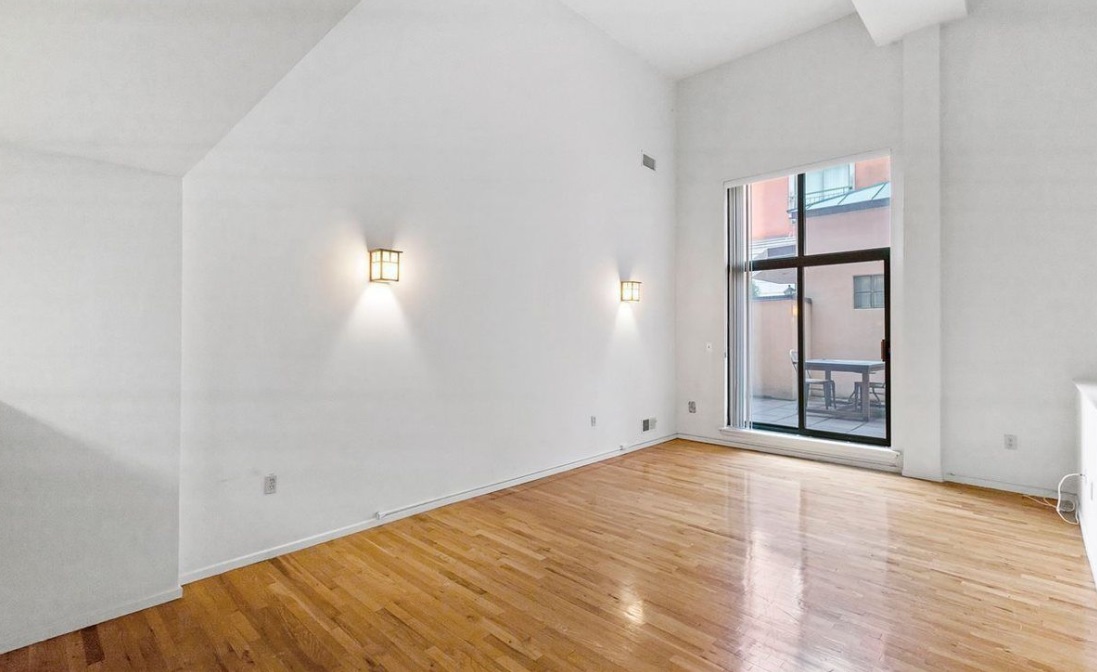 Features of this $425,000, two-bedroom, two-bath condo include hardwood floors, an open layout, vaulted ceilings, and a private patio with a natural gas hookup for a grill. It's in Gregory Commons, a condo building with a doorman, a pool, a gym, a common courtyard, and parking.
Brick Underground articles occasionally include the expertise of, or information about, advertising partners when relevant to the story. We will never promote an advertiser's product without making the relationship clear to our readers.