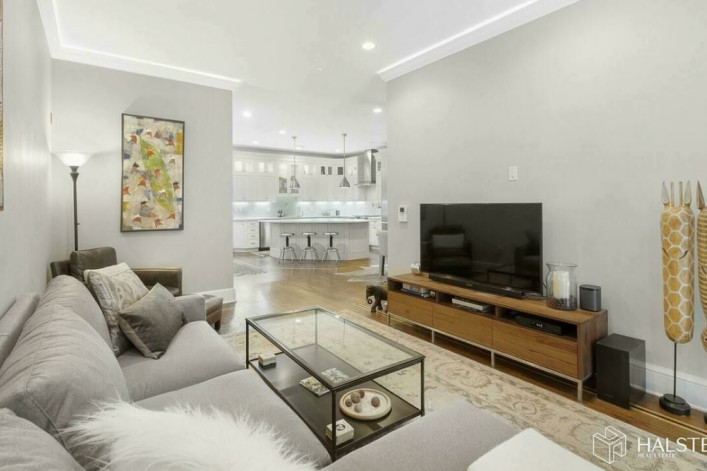 Close to Manhattan and easily accessible by public transportation, Jersey City is a good alternative for buyers who are priced out of New York City.
In the last decade, Jersey City has experienced a development boom that's given rise to new condo and rental buildings (most of which are more affordable than what you find in Manhattan), as well as new restaurants, bars, and shopping, making it an attractive option for New Yorkers looking to trade up, and those who couldn't afford to live in NYC to begin with.
In this week's Buy Curious, Dale Fior of Halstead and Karen Kostiw of Warburg Realty and Elite Realtors of New Jersey tell you everything you ever wanted to know about Jersey City, including which neighborhood is right for you, what there is to do in the area, and how much you can expect to pay.
The question:
I've been thinking about making the move from Manhattan to Jersey City to save some cash. What can you tell me about it?
The reality:
"Jersey City continues to be transformed by new development and a rich restaurant/culture scene," Kostiw says. "While the aggressive urban renewal began in the 1980s along the Jersey City waterfront and Downtown districts, it has exploded this past decade, and now other areas are beginning to benefit."
Why would New Yorkers want to move to Jersey City?
You get good value in Jersey City's waterfront area, Newport, as well Downtown, and Jersey City Heights where there's been new development, says Fior. 
Newport has new condos, and lots of rental buildings as well, including Ellipse, Aquablu, East Hampton, and Laguna.
Pro Tip:
Wondering whether Jersey City is a good fit for your budget, commute and lifestyle?  Triplemint's Gold Coast Guides are standing by to answer your questions. They'll help you figure out whether Jersey City, Hoboken, Weehawken or another Gold Coast town makes the most sense for you, and show you apartments that fit your needs.  Click here to speak to a Triplemint Gold Coast Guide or view apartments online. >>
"With more new development coming in Jersey City's Downtown area, there are plenty of new options available for both sale and rent." And compared to New York City, your cost of living is lower and you pay less in income taxes, and avoid New York City's tax.
Kostiw adds that in addition to lots of new buildings, Jersey City's close proximity to NYC, as well as its "vibrant arts and dining scene" are a definite draw for young folks.
Where in Jersey City should you live?
"Jersey City is as sprawling as it is diverse, encompassing many neighborhoods that each have so much character," Kostiw says.
The Historic Downtown area is a mix of restored brownstones, as well as new condo buildings and some retail (mostly on Grove Street). This area includes the historic neighborhoods of Paulus Hook, Hamilton Park, Harsimus Cove, and Van Vorst Park.
Newport is considered to be part of Downtown by most locals, but many feel that it should be considered a neighborhood all its own since it's very different from the rest of Downtown. This area is largely made up of high-rise condo buildings and office towers.
Bergen-Lafayette is characterized by brownstones, row houses, prewar buildings, Victorian homes, and converted industrial spaces.
Next up is Greenville, which is still considered the roughest part of the city, but is slowly being redeveloped. Located on the southern tip of the city, it's home to single-family homes built in the early 1900s, as well as the Country Village development, a planned community built in the 1960s that has two-family detached and attached houses. The newest development in the area is Port Liberté, a gated waterfront community.
Then there's the Heights, which is so called because it's located atop the Palisades (in the northern part of the city) overlooking Hoboken. Primarily a residential area, the neighborhood offers Victorian and Edwardian homes, as well as newer two-family and three-family houses and condo conversions.
Just west of Downtown is Journal Square, named after the Jersey Journal, which is headquartered here. The nabe is also home to Hudson County Community College, as well as the county's courthouse and administration buildings. This area is mostly made up of historic brownstones and prewar buildings, but has recently experienced some new construction, including the soaring Journal Squared rental development.
Other Jersey City nabes include McGinley Square, which is close to both Downtown and Journal Square; West Bergen, which is nicknamed "Suburbia in the City" because of its proximity to City College; the Powerhouse Arts District, which has conversions alongside new construction with an industrial aesthetic; and Exchange Place, which is often referred to as "Wall Street West" due to the large concentration of financial companies that have offices there.
Who lives here?
According to the Census Bureau, Jersey City's population as of 2018 was 265,549, and saw an increase of around 9.4 percent from the 2010 U.S. Census (when the population numbered 247,597), the largest population increase of any city in New Jersey since 2010.
Jersey City has undergone quite a transformation in the makeup of its residents, according to our experts. Residents who grew up there often remain in the area. But newcomers have been coming in in droves.
"Millennials continue to stream into the Jersey City area for the lively nightlife scene and the ability to keep their housing expenses budget close to the 30 percent a month gross income target," Kostiw says. The area is gaining families priced out of NYC.
Fior adds that newcomers have also been arriving from other countries "looking to invest in the little city outside New York City."
Is there a lot of new development?
Per BuzzBuzzHomes, an online real estate database for new residential developments, there are "172 new home developments in Jersey City, a mix of high-rise and low-rise that are planned, under construction, or recently completed." Of these, 148 are condos and 23 are apartment developments.
Here's what you'll find: The Powerhouse Arts District's 10 Provost Street, a 28-story condo from Toll Brothers City Living with tons of amenities, including a pet spa, a dog run, a rooftop pool, a fitness center with a yoga room, and the Sky Lounge, which has an outdoor terrace with seating, a fire pit, and a TV; The Lively at 321 Warren St., also in the Powerhouse Arts District, which has a rooftop pool, a dog run, a yoga studio, a fitness center, and more; and Downtown's 79-story 99 Hudson Street, from Perkins Eastman, which, upon completion, will be the tallest tower in New Jersey.
What's pricing like?
According to Fior, apartments built within the last one or two years—or desirable full-service amenities buildings—will cost approximately $600 to $900 per square foot, while apartments in new construction (meaning they've just finished being built) will be more, over $1,000 per square foot.
Older properties are usually priced closer to $600 to $800 per square foot, he says. "For the best value pricing, look for newer construction, but not necessarily brand new," he says.
What's transportation like?
"Transportation is quick and easy," Fior says, noting that there are tons of options for commuters.
There are many PATH subway stations, with stops at Grove Street, Newport, and Exchange Place that'll have you in NYC in 15 to 20 minutes.
The NJ Transit system is a state-owned public transportation system that serves New Jersey, as well as parts of New York and Pennsylvania. It operates bus, light rail, and commuter rail services throughout the state.
The Hudson-Bergen Light Rail has 13 stations in Jersey City, and has a number of convenient connections to NJ Transit rail.
There are also NY Waterway Ferries (which can get you to Midtown, Downtown, and the Financial District), and Port Authority buses (with approximately 20 bus routes serving Jersey City).
Finally, Jersey City recently announced that it would be partnering with Via, a transportation company headquartered in NYC, to bring a new shuttle system to locations throughout Jersey City.
What is there to do?
Outdoorsy types will enjoy the many local parks, including the 1,212-acre Liberty State Park, which offers views of the Manhattan skyline, Ellis Island, and the Statue of Liberty, and is home to the historic Central Railroad of New Jersey Terminal; and J. Owen Grundy Park pier and pavilion in Exchange Place, which also has impressive skyline views.
Families will enjoy the Liberty Science Center, a 300,000-square-foot learning center in Liberty State Park that has, among other things, the largest planetarium in the Western Hemisphere, 12 exhibition halls, live animal collections with 110 species, giant aquariums, and a tornado-force wind simulator.
History buffs should be sure to check out the Newkirk House, a two-floor Dutch home that was built around 1690 and is one of the oldest standing structures in Jersey City; and the Van Wagenen House (aka the Apple Tree House), which was built in 1750, and is thought to have been the site of a meeting between George Washington and the Marquis de Lafayette in 1779. It got its nickname because an apple orchard and cider press were once located on the property.
And music lovers will appreciate White Eagle Hall, a music, theater, and dining venue located in a restored historic building in the Downtown area; and Montgomery Hall, a music venue within walking distance of the Exchange Place PATH station.
What's the nightlife situation?
"Jersey City has a vibrant restaurant scene along the Downtown Hudson River Waterfront," Kostiw says, adding that the recent expansion in other areas of Jersey City mean new dining options that are worth exploring.
Listen to live music at the Historic Downtown area's South House Bar and Restaurant, which serves "simple Southern" food and "farm-to-glass" specialty crafted cocktails in a venue with brick walls and exposed beams.
Also Downtown is Skinner's Loft, a family-owned American bistro near the Grove Street PATH station.
Madame Claude Bis is a bit hard to find—and down a flight of stairs—but Kostiw says many feel it's worth the trek to this French bistro, which offers live jazz music on Tuesday and Thursday nights.
Laico's in Greenville is an Italian restaurant that has served its tried-and-true dishes alongside newer offerings since it was opened by the Laico family in 1972.
And Corto, in the Heights, is a newer space with an old-school Italian feel and wood tables and chairs made locally.
As for nightspots, popular locales include The RoofTop at Exchange Place, where you can order from a vast menu of cocktails while enjoying views of the Manhattan skyline and the Statue of Liberty; Departed Soles Brewing Company in the Power Arts District, which has tons of craft beers, including some that are gluten free; and Zeppelin Hall, an authentic European-style beer garden that has over 100 European imports and U.S. craft beers.
How about grocery stores?
There are lots to choose from, such as Hudson Green Market, ShopRite of Metro Plaza, and ACME.
Specialty shops also abound, including Van Hook Cheese, a family-owned cheese and specialty grocery store Downtown; Prato Bakery, an Italian café that serves Tuscan delicacies; the Philippine Bread House, a Filipino bakery with a menu of traditional breads and cakes, as well as a separate hot lunch counter; and Moloney's Meat Market, an old-fashioned, family-owned butcher shop.
In addition, Whole Foods is planning on opening a 47,542-square-foot storefront on the corner of Washington Street and Columbus Drive near the Grove Street PATH station in 2020.
Check out these Jersey apartments: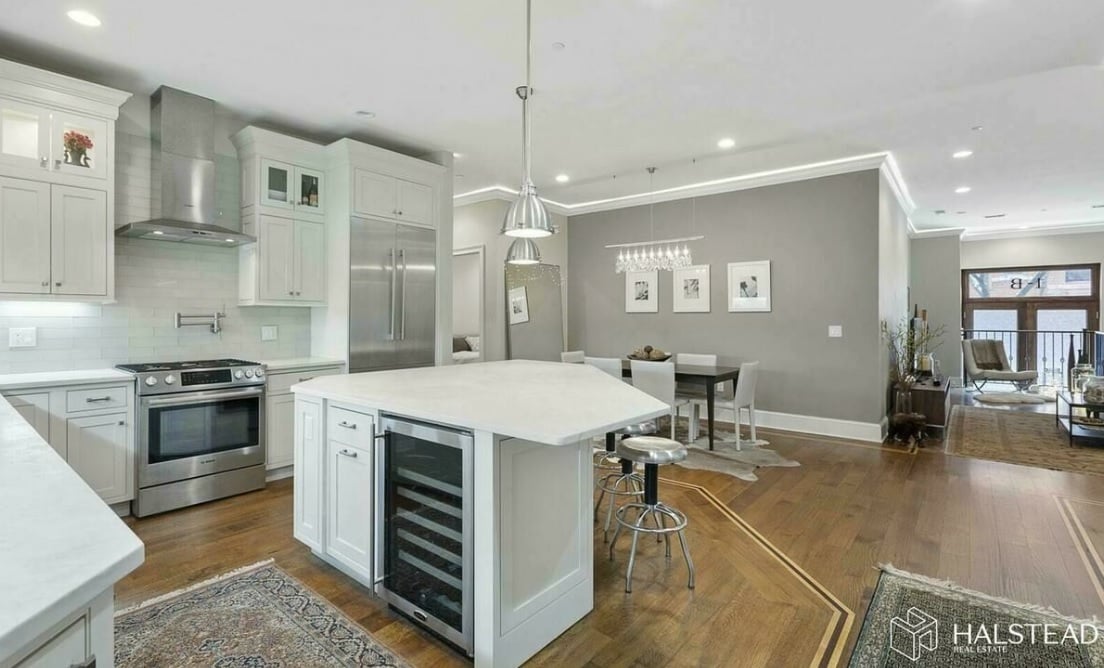 Listed for $1,375,000, this 1,490-square-foot, three-bedroom, two-bath condo (also pictured top) has a wraparound floor plan, a private double-door entrance, a sunken foyer, white maple cabinets a wine fridge, 10-foot ceilings, oak floors, crown molding, central air and heating with a Nest thermostat, and in-unit laundry. It's in The Gannon, a condo building with a roof deck, a pet-friendly common yard, and bike storage. Common charges are $580 a month. Taxes are $1,309 a month. The apartment also comes with a parking space in the building's garage.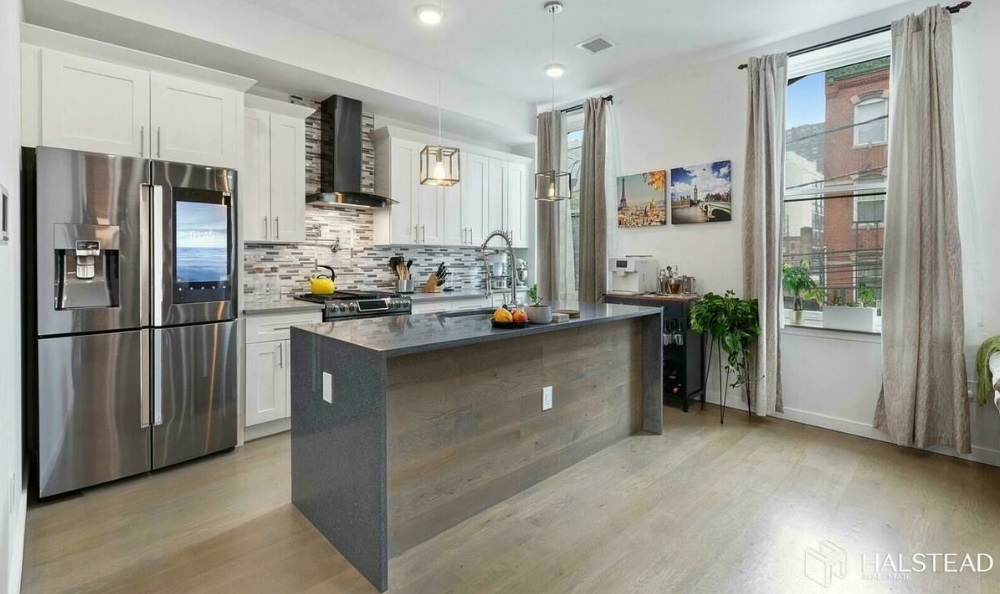 Priced at $810,000, this 1,008-square-foot, two-bedroom, two-bath unit has an open living space with exposed brick, high ceilings, and oak floors, a custom kitchen with stainless steel appliances, in-unit laundry, central air and heat, a Nest thermostat, and a new intercom system with keyless entry. There's also an additional storage space and parking available for rent next door. Common charges are $454 a month. Taxes are $793 a month.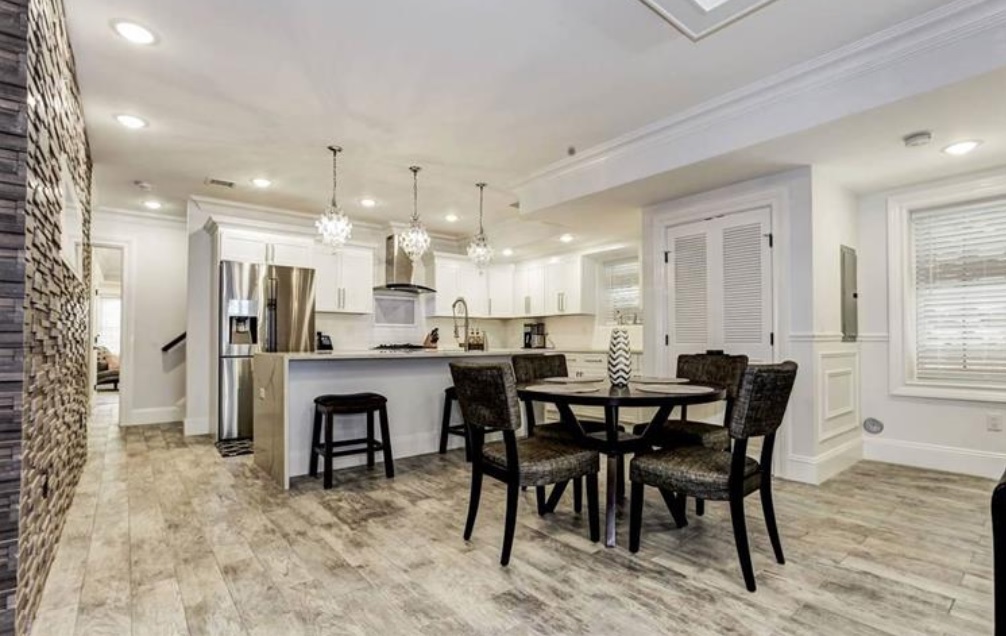 Features of this $699,000 two-bedroom, three-bath condo include coffered ceilings, wainscoting, crown molding, stone accent walls, tiled and hardwood floors, an open terrace, a waterfall marble island, two electric fireplaces, and a private backyard. Common charges are $200 a month. Taxes are $689 a month.
Listed for $299,000, this 906-square-foot, one-bedroom, one-bath corner condo unit has 13-foot ceilings, hardwood floors, stainless steel appliances, and lots of closets. It's in The Beacon, a condo building with a doorman, a pool, a gym, an outdoor terrace, a game room, a spa, and a valet (for a fee).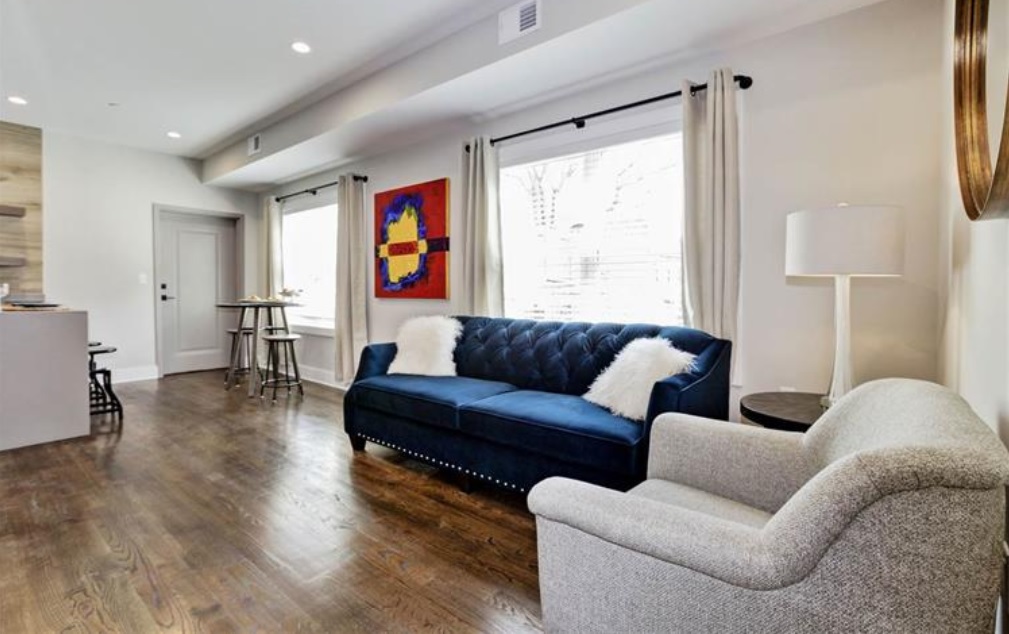 The price of this two-bedroom, two-bath condo recently dropped by $100,000 and is now $889,000. There's a gourmet kitchen with Caesarstone counters and stainless steel appliances, and in-unit laundry. It's in a new construction four-unit boutique building with a private rooftop deck. Common charges are $391 a month. Taxes are $793 a month. The home includes a 10-year new construction guarantee and a five-year tax abatement.
Brick Underground articles occasionally include the expertise of, or information about, advertising partners when relevant to the story. We will never promote an advertiser's product without making the relationship clear to our readers.