Buy Curious
What you need to know about living in Sunnyside, Queens, where you'll find a small town feel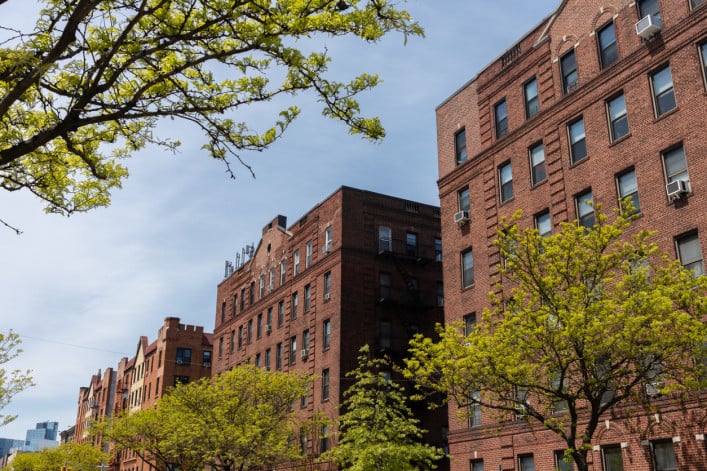 The western Queens neighborhood of Sunnyside, where the Ramones got their start, singer Perry Como and actor James Caan grew up, and the shopkeepers know your name, is a multicultural neighborhood that combines big-city living with a small-town sense of community.
The tiny community—its population, according to the 2010 census, is only a little over 63,000—may not have the name recognition of its neighbors such as Long Island City and Astoria, but its central location puts it in the thick of things.
In this week's Buy Curious, Amy FitzGerald, broker and owner of Welcome Home Real Estate, and Linda Santini-Tripodis, a broker at Merit Group & Associates, fill us in on what's happening in Sunnyside.
The question:
I've heard that Sunnyside is inexpensive and a nice place to live, but I don't know whether it would be exciting enough for me. What can you tell me about it?
The reality:
"It has a lot of amenities of its own," FitzGerald says. "What it doesn't have within its borders can be accessed because it's close to everything and everything is easy to get to. In terms of home prices, there are still some good deals to be found," she says.
"We're small—we've never been on the map," Santini-Tripodis says, adding that the under-the-radar vibe is one of the community's most attractive features.          
Where is it?
Sunnyside is bounded by Hunters Point and Long Island City on the west, Astoria on the north, Woodside on the east and Maspeth on the south.
Why would NYers want to move to Sunnyside?
Proximity and price are driving people to the community.
"We are only five stops from Manhattan," Santini-Tripodis says. "Astoria is in front of us, Brooklyn is in back. The biggest thing clients from Brooklyn and Manhattan tell me is that they love the commute to the city."
They also like the fact that "when compared with other places in Western Queens such as Long Island City and Astoria as well as Brooklyn and Manhattan, you get more bang for your buck in both sales and rentals in Sunnyside," FitzGerald says, including "more space for your dollar."
FitzGerald notes that Sunnyside has something for everyone: "It's a haven for foodies, dog owners, and families, it offers lush green spaces and family-friendly hangouts and is an escape for young families and young professionals."
Where in Sunnyside should you live?
The neighborhood is divided north and south by Queens Boulevard.
The north side, which encompasses 43rd, 39th and Skillman avenues, includes Sunnyside Gardens, a 1920s English garden community that has some 700 one-, two- and three-family houses on its leafy streets. Each house has a private garden, and there's a common garden courtyard.
Houses on the south side of the boulevard don't have the gardens, but they do have backyards and/or parking spaces. The houses here, FitzGerald says, are a little newer—they were built in the 1930s and 1940s—and are slightly larger than those in the Gardens.
What are housing and pricing like?
There's not much on the sales market: There are 52 co-ops, condos, and single-family houses for sale in Sunnyside, according to StreetEasy.
The community attracts not only people in their 20s and 30s, but also families and a diverse array of nationalities, Santini-Tripodis says.
In addition to the one-, two- and three-family houses, there is a selection of co-ops, generally built in the 1920s through the 1940s, that are in six-story elevator buildings throughout the neighborhood. The co-op Sunnyside Towers, which was built in 1961, is the only building in the neighborhood with a swimming pool.
Noting that it's a seller's market for turnkey properties, FitzGerald says that single-family houses are typically priced at $1.1 million to $1.4 million and that the record price, $1.56 million, was set in March 2022 for a home in Sunnyside Gardens.
Two-family houses command $1.3 million to $1.6 million, and three families, which are rare and generally don't come on the market because they are considered such good investments, are $1.5 million to $1.8 million. In each category, FitzGerald says, the upper price is for a house that is renovated, and the lower price is for one that needs a substantial amount of work.
Co-op prices run $350,000 to $500 for one bedrooms and $500,000 to $600,000 for two bedrooms. Condos, which range from $600,000 to $800,000 for one- and two-bedroom units, are not prevalent. 
There are lots of rental opportunities, FitzGerald says, ranging from mixed-use walkups with the apartment above a store to elevator buildings with live-in superintendents. Studios typically run $1,400 to $1,650; one bedrooms go for $1,800 to $2,200, and two bedrooms start at $2,500. House rentals, which are rare, can be $4,000 for a three-bedroom building.
"The prices of all types of housing in the two sections—north and south—are comparable," FitzGerald says. "One side is not more desirable than another; it just depends upon what you're looking for."
Is there a lot of new development? 
There are very few new developments. One of the newer buildings is The Phoenix Condominium, which was built in 2006. A new, as-yet-unnamed boutique complex of 25 condos on 45th Street between 43rd Avenue and Skillman Avenue is being built. The one-bedroom and two-bedroom units, which include some parking spaces, are supposed to be ready for occupancy in fall 2023, FitzGerald says.
What's the transportation situation?
The No. 7 subway line serves Sunnyside, stopping at 33rd Street-Rawson Street, 40th Street-Lowery Street and 46th Street-Bliss Street; it takes about 15 minutes to reach midtown Manhattan and Grand Central Station. The Q32, Q39, Q60, Q104 and B24 buses run through the community. The Long Island Rail Road may be accessed in Woodside.
What is there to do?
"People love the neighborhood for its quietness, green spaces, and access to amenities," FitzGerald says.
For example: There are several parks, including the L/Cpl. Thomas P. Noonan Playground, Torsney Playground, and Joe Sabba Park; Sunnyside Library hosts lectures and events; and there's a farmer's market every Saturday.
The Thalia Spanish Theatre, the first and only bilingual theater in Queens, hosts English and Spanish performances of plays, musicals and dance shows.
The attractions and amenities of other neighborhoods, FitzGerald says, are only minutes away.
What's the restaurant/nightlife situation?
There are three commercial corridors in Sunnyside, each with its own personality.
On the south side on 48th Avenue, there are a variety of restaurants, including De Mole, which is known for its authentic Mexican menu; Bolivian Llama Party, which offers, as its name indicates, Bolivian fare; I Love Paraguay, which specializes in the dishes from the country its named for; and Cemitas El Tigre, which is known for its 10-layer Mexican sandwiches as well as tacos, burritos, and beer.
Along Queens Boulevard, there are SoleLuna, which features homemade pastas and other Italian classics, and its sister, Sotto Le Stelle, which serves wood-fired pizzas. The coffee and sandwich café Brookside Market "has a nice backyard and people go there to work from home," FitzGerald says.
Popular bars include the community-minded Maggie Mae's, which recently hosted a fundraiser for Ukraine; and 43 Bar & Grill, a sports sipping spot.
Skillman Avenue is home to The Skillman, which serves American fare; Claret, a wine bar and pizza restaurant; Sanger Hall, a 2018 establishment that offers brunch and burgers; and P.J. Horgan's, an Irish bar, restaurant, and pub.
In that area you can also find The Alcove, a gastropub and tapas bar, which FitzGerald says is one of the community's most popular spots; and Belo, an Argentinian steakhouse under the same ownership.
How about grocery stores?
In addition to several small markets, such as Butcher Block, which is near Queens Boulevard and imports Irish and British goods, Sunnyside residents can shop at Food Universe Marketplace, Key Food, Associated and Food Dynasty.
If living in Sunnyside interests you, check out these current sales listings.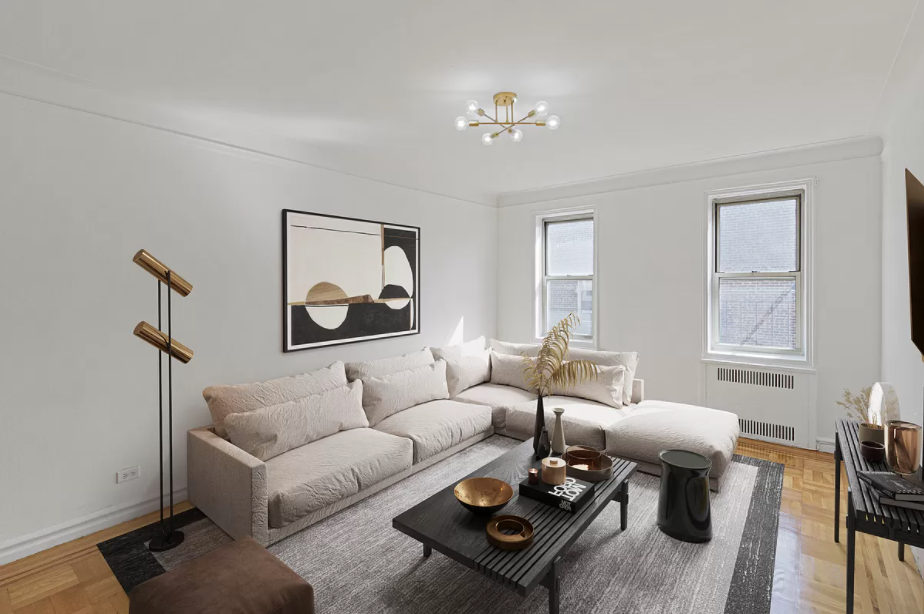 Listed for $438,000, this newly renovated one-bedroom co-op on the top floor of the six-story Commons building is on a tree-lined street. The prewar building is pet friendly and has a courtyard with benches and a garden, elevators and a live-in superintendent. The unit has hardwood floors, stainless steel kitchen appliances, and windows in every room.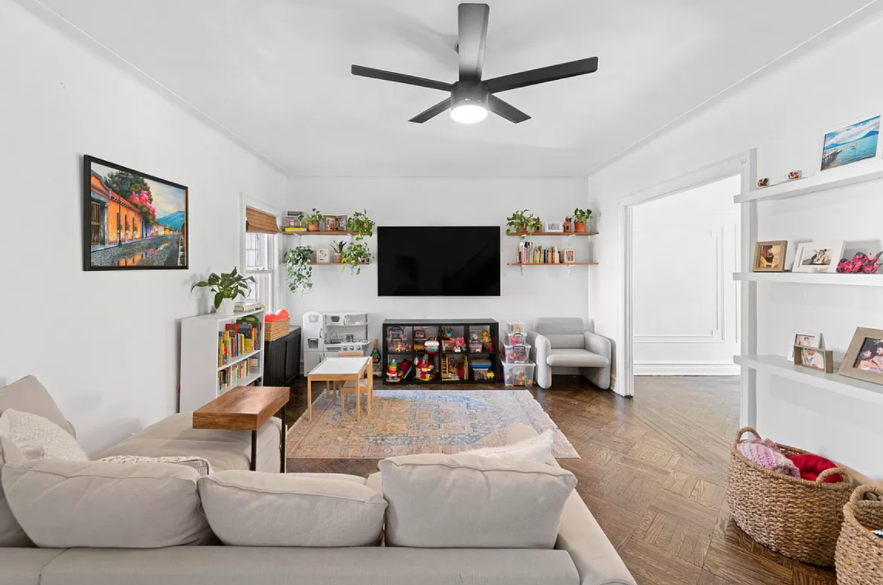 This two-story, single-family, 1,550-square-foot house, which was built in 1940, is listed for $995,000. It has three bedrooms, a two-car garage, a new central heating and air-conditioning system, a new roof, a new front patio and a new extension with a laundry room, and a second full bathroom.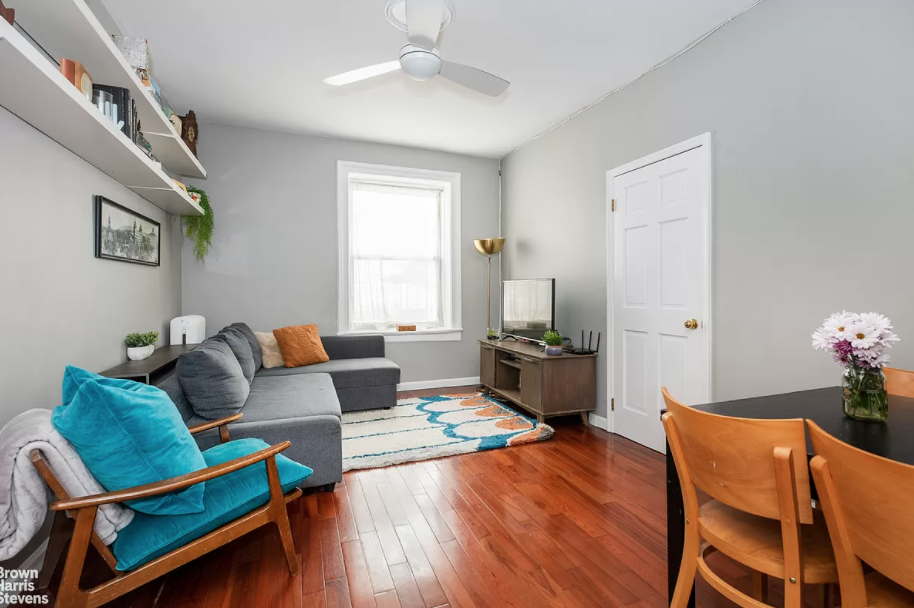 In a six-story 1920s building across from the subway, this three-bedroom, one-bathroom co-op is listed for $610,000. The gated building, which is pet friendly, has a live-in super, a garden and a laundry room on the first floor. The recently updated 950-square-foot unit, on the second floor, has hardwood floors and ceiling fans.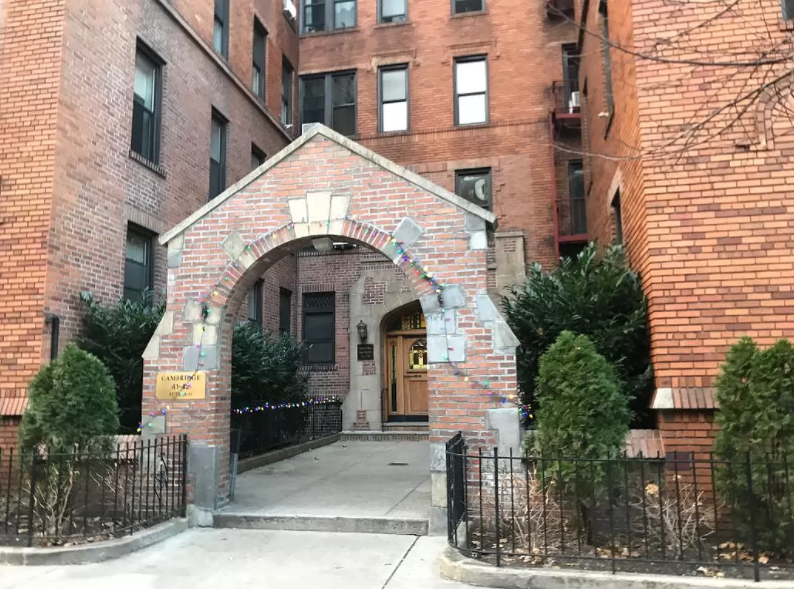 In the six-story Cambridge building, which was erected in 1931 and has 94 units, this three-room co-op has one bedroom and one bathroom. On the market for $355,000, it has a living room/dining room/kitchen combination, hardwood floors, and high ceilings.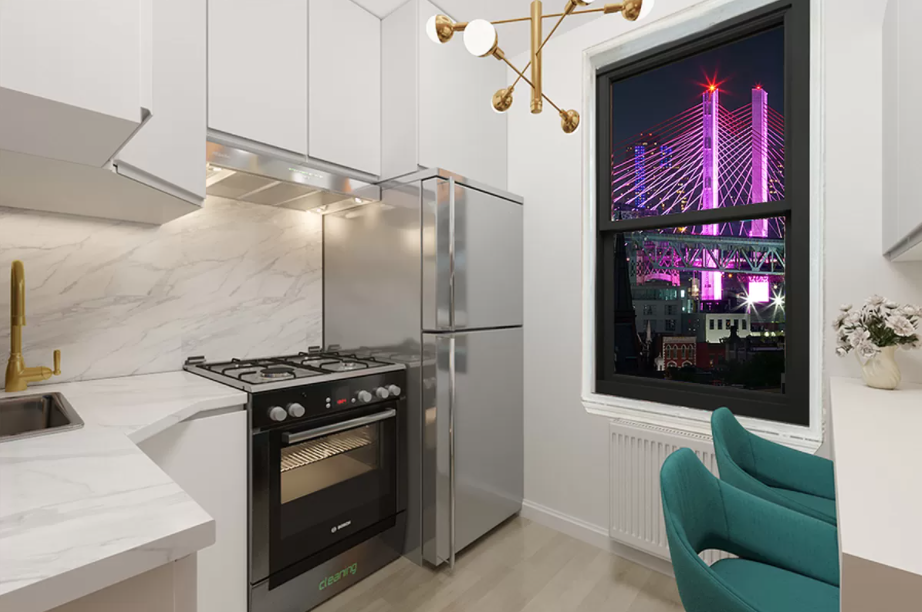 This top-floor co-op, in a 1961 building, is listed for $305,000. In addition to views of the Manhattan and Brooklyn skylines from the bedroom and living room, the three-room unit has new windows and has been freshly painted. The 51-unit, six-story building has a live-in super, a laundry room and a community backyard.
Nancy A. Ruhling is a freelance writer based in New York City.
Brick Underground articles occasionally include the expertise of, or information about, advertising partners when relevant to the story. We will never promote an advertiser's product without making the relationship clear to our readers.