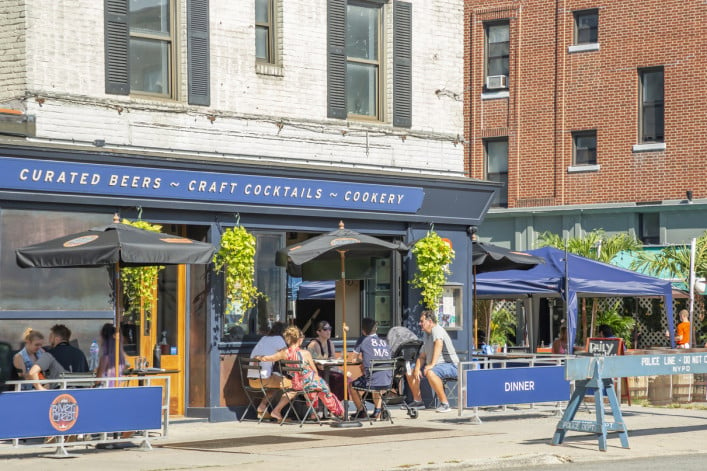 The northwest Queens community of Astoria—home of TV-sitcom character Archie Bunker, the Steinway & Sons piano factory, and the birthplace of the Bareburger restaurant chain and the brewery SingleCut Beersmiths—is one of the most ethnically diverse areas in the city.
Brokers describe it as yes, you guessed it—a melting pot—reflected in a broad array of cuisines in the neighborhood's restaurants.
In this week's Buy Curious, George Halvatzis, broker and founder of Halvatzis Realty, and Dillon DePinto, an agent at Amorelli Realty, tell you everything you need to know about living in Astoria.
The question:
Everyone keeps saying that Astoria is one of the cheaper places in the boroughs to live. What can tell me about it?
The reality:
"It's definitely more affordable than Manhattan and Brooklyn, and you get more space for your dollar," Halvatzis says, adding that the main draw is that "it's really close to Manhattan."
Where is it?
Astoria, which is bisected east and west by the Grand Central Parkway, is roughly considered to be bounded on the north by the East River, on the south by 36th and 37th avenues, on the west by the East River and on the east by LaGuardia Airport, Hazen Street, and 50th and 51st streets.
Why would NYers want to move to Astoria?
"There's a United Nations mix of people here and an influx of young families," Halvatzis says. "We're also becoming a definite food destination. Our demographics are shifting—we are becoming hip and cool."
"It's a melting pot of many different cultures—Spanish, Asian, Arab, Greek, Italian, Korean, Chinese, Japanese—that offers a little bit of everything," DePinto says.
Where in Astoria should you live?
There are several neighborhoods in Astoria. Ditmars, which runs along the boulevard of the same name, is primarily residential with commercial corridors on 31st Street and on Steinway Street.
Upper Ditmars, which is also called Astoria Heights, is the area around Ditmars Boulevard near LaGuardia Airport. Halvatzis notes that "there's a better chance of getting a larger house or a detached house here." He adds that it's farther from public transportation—you have to take a bus to get to the subway.
The 30th Avenue/Broadway area is known for its bars, restaurants, and nightlife.
What are housing and pricing like?
"Astoria has a whole menu of housing to choose from—co-ops, condos, owner-occupied one-, two-, three-, four-, and six-family houses," Halvatzis says.
Although most of the housing is century-old row houses, there are some semi-detached and detached homes. Some of the original single-family homes have been converted to two-family and even three-family houses.
"Astoria has always been a working-class area," Halvatzis says. "It's not like brownstone Brooklyn, which was built for a more affluent class."
Right now, it's a seller's market: Inventory is low (StreetEasy shows only 139 condos, co-ops, and single-family homes on the market), demand is high and prices are escalating.
Prices generally start at $900,000 for a single-family, two-bedroom home, according to Halvaztis, who adds that single-family homes with three bedrooms typically sell for $1.1 million to $1.4 million, depending on location and condition.
Pro Tip:
Whether you decide to buy a co-op or condo, did you know you can receive a buyer's rebate from your broker? Buying with Prevu you'll pocket a rebate of two-thirds of the commission paid to the buyer's broker at closing. On a $1.5 million condo, you'd receive up to $30,000. Click here to learn about Prevu's Smart Buyer Rebate.
"One-families are selling at all-time highs, even higher than a lot of two- and three-families, which used to bring the highest prices," Halvatzis says. "The young professionals who are moving here do not want to be landlords. And the fixer-upper used to be in, but now the fixed house is in."
The highest price for a home in Astoria, he says, was set in December 2019, when a 2,068-square-foot, detached renovated duplex with a 30-by-100-foot lot, a two-car garage, four bedrooms and three-and-a-half bathrooms sold for a record $2.85 million. "It was spectacular," he says. "It looked Manhattan-esque."
Houses go quickly, he says, noting that "properly priced" one-families that are listed at "true market value" generally are swept up in a week or two and that two-families typically find buyers in two weeks to a month.
New one-bedroom condos generally start in the mid-$600,000s, according to DePinto, and run up to $1.3 million to $1.4 million.
At the brand-new, uber-luxurious The Rowan, which is on 31st Street near the Ditmars subway stop, condos are selling for $1.565 million to $2.295 million. There are only three of the 46 units left in the six-story building.
Co-ops, which are in older developments, generally sell for $250,000 to $550,000, DePinto adds.
As for rentals, one-bedrooms are $1,700 to $2,200, two bedrooms run $2,200 to $2,800, and three bedrooms command $2,600 to $3,500, DePinto says.
Is there a lot of new development?
"There is a good amount of new condo development happening," DePinto says. "There aren't any mega-developments. They are boutique luxury condos of six to 16 units, and some even go up to 50 to 60 units. It's nice—you feel like you're living in your own home, not like a hotel."
What's the transportation situation?
The N and the W trains run through Astoria and the M and R stop at 36th Street, Steinway Street, and 46th Street.
The bus lines M60-SBS, Q100, Q102, Q18, Q19, and Q69 run in or near Astoria.
What is there to do?
The 60-acre Astoria Park, which borders the East River and was recently updated, has a swimming pool, tennis courts, a bocce court, track and fitness equipment, and a skateboard park. During the summer, it hosts movie screenings and live concerts.
 Nearby, under the Triborough Bridge, there's a recently opened $1 million dog-run.
Another gathering spot is Athens Square Park, which in a nod to one of Astoria's major immigrant groups, features statues of Greek figures and a playground.
The Museum of the Moving Image, which also has a cinema that shows independent and art films, is another favorite destination.
There are several comedy clubs, including Q.E.D. and Grove 34.
 What's the restaurant/nightlife situation?
From the Souvlaki Lady, who sells her kebabs from a truck near the Ditmars stop, to the fine-dining Italian cuisine of Trattoria L'Incontro, Astoria offers a wide variety of culinary choices.
"You can get just about every ethnic food you can think of—Greek, Italian, Thai, Japanese," Halvatzis says.
The 30th Avenue/Broadway corridor is nightlife central. Dining spots include the Bel-Aire Diner, which is open 24/7 and turned its parking lot into a drive-in movie theater during the pandemic; King of Falafel & Shawarma, which is as well known for its exuberant owner as it is for its namesake dishes; the Greek restaurant Ovelia; Sugar Freak, which specializes in Southern comfort food; and the newly opened Bellucci's Pizzeria; and sushi specialist Kondo.
For drinks, locals head to Bar Dalia, Maggie Hall's, and Judy & Punch. 
Mike's Diner; the Greek restaurants Taverna Kyclades and Agnanti; and Bohemian Hall, which has an outdoor beer garden, are longtime favorites in the Ditmars section.
How about grocery stores?
Key Food, CTown, and Trade Fair are the major supermarkets.
There are also a number of smaller markets.
"One of my favorites is United Brothers Fruit Markets on 30th Avenue," says DePinto, adding that it's a main reason he moved to Astoria. "It reminds me of Europe—people are talking, music is playing."
At the Ditmars stop, there are few options since the closure of Key Food at the end of 2020 to make way for the construction of a nearly 100,000-square-foot Target store. Residents can shop at Lidl, which is not easily accessible without a car, Trade Fair, which is six blocks from the subway, or Berry Fresh Farm, which is 12 blocks from the train.
The Rowan will have a supermarket, as will the new Target, which is set to open in January 2023.
If living in Astoria interests you, check out these current sales listings.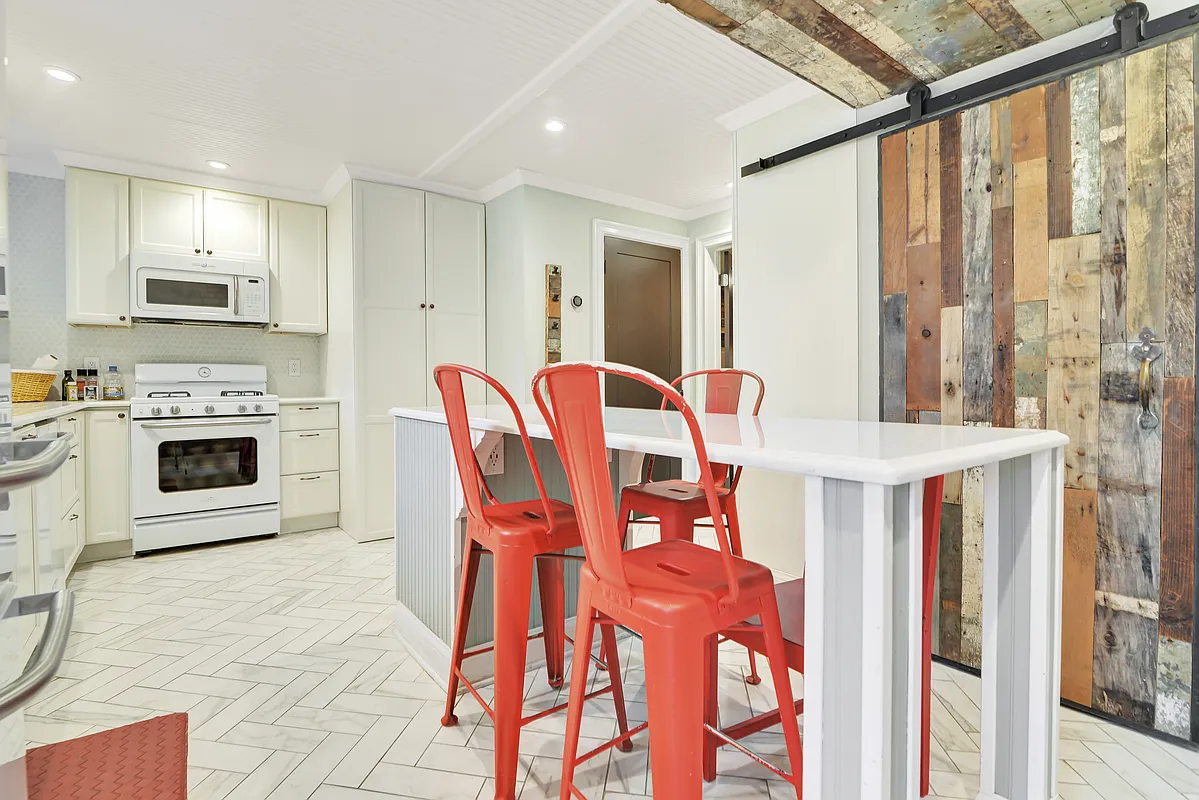 Listed for $1.129 million, this three-bedroom, two-bathroom single-story, single-family home close to Astoria Park is 1,200 square feet. Its kitchen, which includes a washer and dryer, has been recently renovated, as have the two bathrooms. Other features of the 1940 home include parquet floors, exposed brick walls and a fireplace.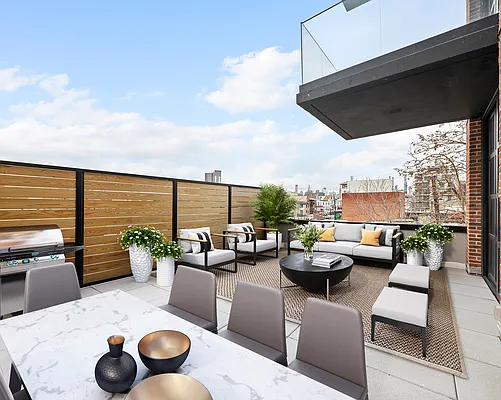 This condo, listed for $880,000, is in The Candle Factory, a seven-story, renovated 1940 building that has 32 one-bedroom units. Each unit has double-paned casement windows, stainless steel kitchen appliances, central air conditioning, LED lighting, a built-in washer and dryer and radiant heating in the bathroom floors. The building, a former candlestick factory, has a hand-laid brick façade and private heated parking on the second floor.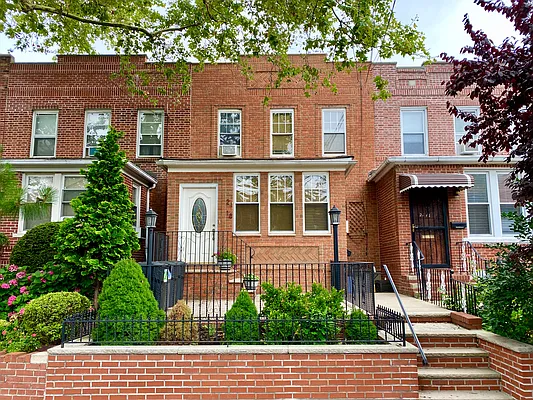 In the Ditmars section, this 1,800-square-foot, one-family attached brick home is listed for $1.278 million. It has three bedrooms and two bathrooms. Recently renovated, it has a new kitchen with a central island and a glassed-in walk shower and a Jacuzzi. There is an attached garage and wooden deck in the backyard.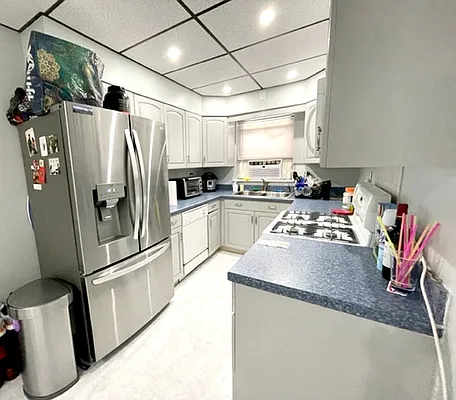 Listed for $1.399 million, this two-story, two-family semi-detached home in the Ditmars-Steinway area, which was built in 1930, has six bedrooms and two bathrooms. There is a two-car garage in back plus two extra parking spaces on the property. The kitchens and bathrooms have been renovated, and the floors are parquet.
This two-bedroom, single-family, 1,500-square foot home in the Ditmars area is listed for $1.095 million. It has 1.5 baths, a dining room, a front yard, a raised sit-outside covered patio and a rear driveway for parking. The two-story home, which dates to 1930, is on a 16-by-100-foot lot. The kitchen and the half bath have been updated.
Nancy A. Ruhling is a freelance writer based in New York City.
Brick Underground articles occasionally include the expertise of, or information about, advertising partners when relevant to the story. We will never promote an advertiser's product without making the relationship clear to our readers.