Yonkers, the largest city in Westchester, has been undergoing a revitalization over the past decade. The once-sleepy city on the Hudson with a blue-collar, industrial vibe has seen a wave of development, including new construction and factories converted to apartments. In this week's Buy Curious, Debbie Valentino of Houlihan Lawrence and Staci Zampa of Douglas Elliman tell you everything you ever wanted to know about what some call New York City's "sixth borough."
The question:
I keep hearing good things about Yonkers. What's the story there? How expensive is the real estate? What is there to do there?
The reality:
Yonkers is sometimes referred to as NYC's 'sixth borough' because of its proximity to the city, says Zampa. It was once primarily an industrial city, where the Otis Elevator Company opened the world's first elevator factory. But these days, that gritty vibe is long gone.
"The past decade has seen a transformation of the city's downtown, with a new train station, a library, four-star restaurants, and luxury apartments along its waterfront," Zampa says.
"We are also seeing many of the old historic buildings being put to new uses," Valentino says, noting that the onetime Otis Elevator buildings are now home to Yonkers iPark, bio-tech and Internet companies. The former Alexander Smith and Sons Carpet Mills complex, vacant for many years, is now the newly designated Carpet Mills Arts District (CMAD), home to hundreds of artist studios; and the old Boyce Thompson Agricultural Institute now houses offices, retail and restaurants.
This new development and the downtown's resurgence are drawing renters and buyers from NYC.
"As more and more people find themselves getting priced out of Manhattan and other boroughs, Yonkers has become a welcome alternative for commuting professionals," Zampa says. "You get much more value for your housing money."
Where is it?
Located just north of the Bronx, the city of Yonkers, in Westchester County, is 20 square miles—18 square miles of land and 2 square miles of water.  
The Bronx River divides it from Mount Vernon, Tuckahoe, Eastchester, Bronxville, and Scarsdale to the east. Greenburgh lies to the north. The Hudson River lies to the west. And the Riverdale, Woodlawn, and Wakefield areas of the Bronx are to the south.
"There are walkable, highly urbanized parts of Yonkers that [make you] feel like you're in the Bronx or Upper Manhattan, other sections offer the quintessential suburban experience with bustling shopping centers and manicured lawns, and still others that are surprisingly quiet and pastoral in their vibe," Zampa says.
Who lives here?
As of the 2010 U.S. Census, Yonkers was home to 195,976 people—55.8 percent white, 34.7 percent Hispanic or Latino, 18.7 percent African-American, 5.9 percent Asian, 0.7 percent Native American, 0.1 percent Pacific Islander, 14.7 percent from other races, and 4.1 percent from two or more races.
There are nearly 200,000 residents, and Yonkers is host to over 100 cultures and nationalities. According to the Yonkers website, nearly 46 percent of residents speak another language. In addition to a large Hispanic population (largely made up of people of Dominican or Puerto Rican heritage) and a sizable African-American community, the city is home to many Irish-Americans, and hosts one of the oldest St. Patrick's Day parades in the U.S.
There are also a substantial number of Italian-Americans and folks of Portuguese descent in the area, as well as a large Slavic community (with immigrants from Poland, Ukraine, Russia, and Yugoslavia, among other locales), and an Arab enclave (with folks hailing from Jordan, Palestine, and Lebanon).  
What types of housing are available?
Many of the residential buildings in Yonkers are rentals, including the huge Hudson Park complex, a 16-acre development on the water, which is comprised of three existing buildings that are currently being renovated. A fourth is also being built. Residents will have access to a fitness center, a pet supply store, dog daycare, and clubhouse with a business center, among other amenities.
There's also Soyo Lofts downtown, which offers a fitness center, storage, and a lounge; River Tides, which has a pool with a sun deck, spa, 24-hour concierge, and indoor reserved garage parking; and Modera, which has a residents' lounge, valet dry cleaning, landscaped courtyard with outdoor grills, and a rooftop sundeck.
"Rental buildings that come with loads of amenities seem to be drawing people out of the city and into Yonkers," Zampa observes. "There's more inventory available as you hit the higher price points."
There are a range of housing options if you are looking to buy.
"Yonkers has 38 distinct neighborhoods offering single-family, multi-family, cooperative apartments, and condominium housing opportunities at all different price points, from $125,000 all the way up to $3,000,000," Valentino says.
What's pricing like?
The average sales price for January to June 2018 (including co-ops, condos, and single-family homes in Yonkers) was $326,934, according to Jonathan Miller, president and CEO of Miller Samuel, a real estate appraisal and consulting firm. That's up 2.8 percent from that same period in 2013, when the average price was $318,001.
"Currently, there are more potential buyers than there are homes as the housing inventory [is] low," says Valentino. "Over the last six months, the median single-family home price was $500,000. The median co-op one-bedroom apartment was $120,000. And the median co-op two-bedroom apartment was $192,000."
Zampa says one-bedroom condos go for around $300,000, two bedrooms go for $450,000, and three bedrooms are $750,000 and up.
Prices for a three-bedroom single-family house will start at $350,000, and prices for a four bedroom will start at $450,000.
As for rentals, "units start at $2,000 for a two bedroom and go up from there," says Valentino.
What's the transportation situation?
Metro-North trains stop at a few stops in the city along the Hudson line, including the main Yonkers stop, where folks can also catch Amtrak trains. The commute to Grand Central takes about 40 minutes.
The county's Bee-Line bus system also runs throughout the city.
What is there to do?
Lots, according to Zampa, who says that the city is "home to many cultural treasures."
Among them is the Hudson River Museum, a complex housing art galleries, history and science exhibits, and a planetarium; Untermyer Gardens, a 43-acre landscaped park with a walled garden, a rock garden, and a sundial garden, among other green spaces; and the Science Barge, a floating urban farm that grows crops in a hydroponic greenhouse and has been docked in Yonkers for a decade.
"For those feeling lucky, Empire City Casino offers the thrill of slots, table games, and half-mile harness racing," says Zampa.
And for kids, there's Legoland Discovery Center, which has two rides, 10 build-and-play zones, and a 4D cinema.
What's the restaurant/nightlife situation?
"Yonkers has enjoyed a slow but steady renaissance of its restaurant scene," Zampa says.
Well-known places include X2O Xaviars on the Hudson, a glass-enclosed eatery from famed chef and restaurateur Peter X. Kelly that serves globally-influenced American fare, and where "you can find residents and celebrities eating side by side," Valentino says.
Other popular hotspots include Dolphin, a modern seafood joint with patio seating, Italian bistros Zuppa and Fortina, and Cuban restaurant La Bella Havana.
In addition, "there are many small ethnic restaurants scattered throughout Yonkers, as well as many national chains, such as Olive Garden, The Cheesecake Factory, and Applebee's," Valentino says.
How about grocery stores?
Several supermarket chains can be found throughout the city, including ACME, ShopRite, Stop & Shop, Key Food, Foodtown, Asian grocery store H Mart, Whole Foods, and Stew Leonard's.
Small, independently owned shops for produce, fish, and ethnic specialties also abound.
Check out these listings in Yonkers: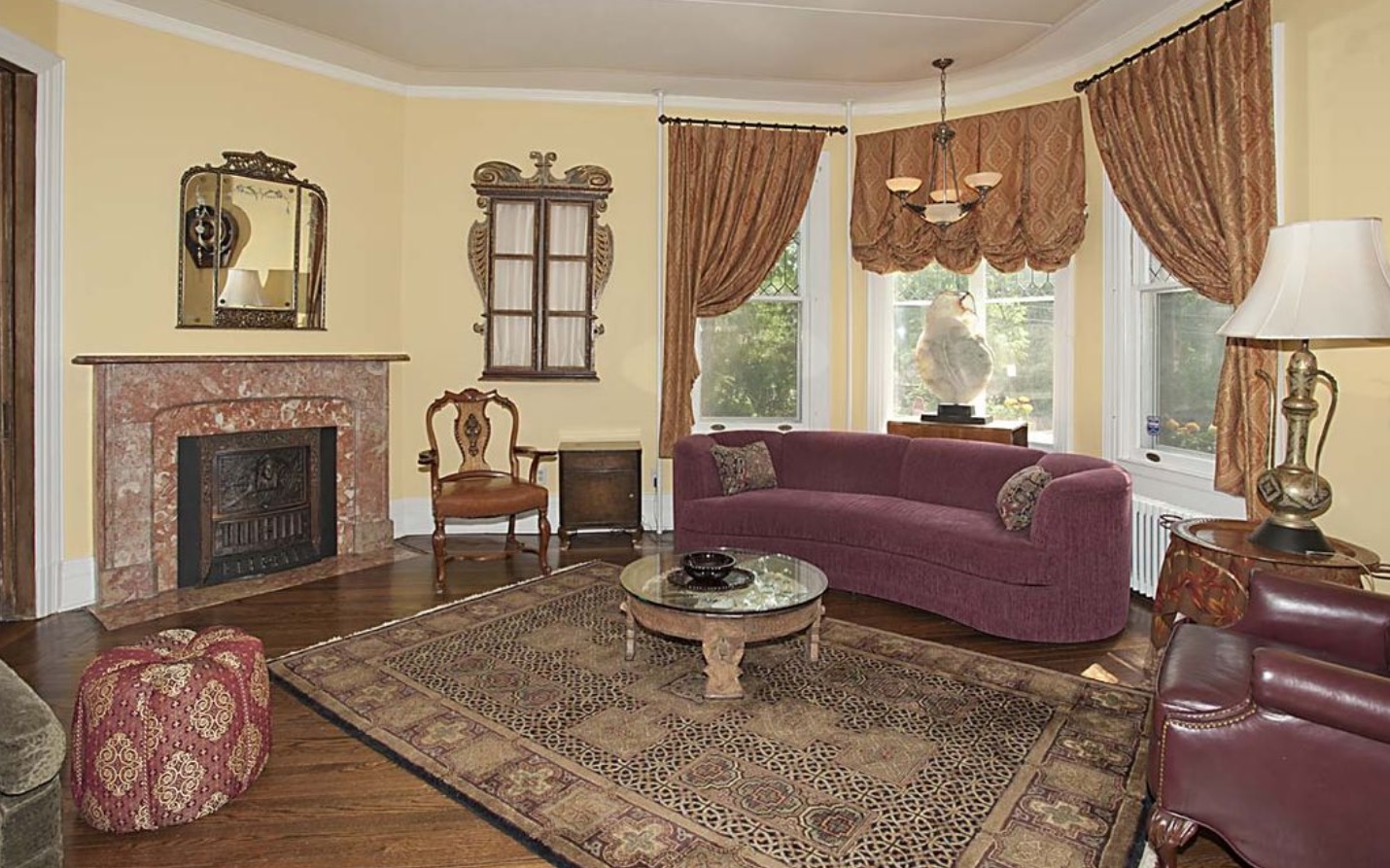 This restored $739,000 five-bedroom, three-and-a-half-bath Victorian (also pictured at top) has a circular porch, a turret, and a candle-snuffer roof. There are oak entry doors, crown moldings, paneling with dentil molding, oak floors with an inlaid border, fireplaces in both the living room and parlor, two ovens in the kitchen, and a butler's pantry with a marble countertop, a second sink, and second dishwasher. There's also an above-grade basement, backyard, professional-grade home theater, and central air.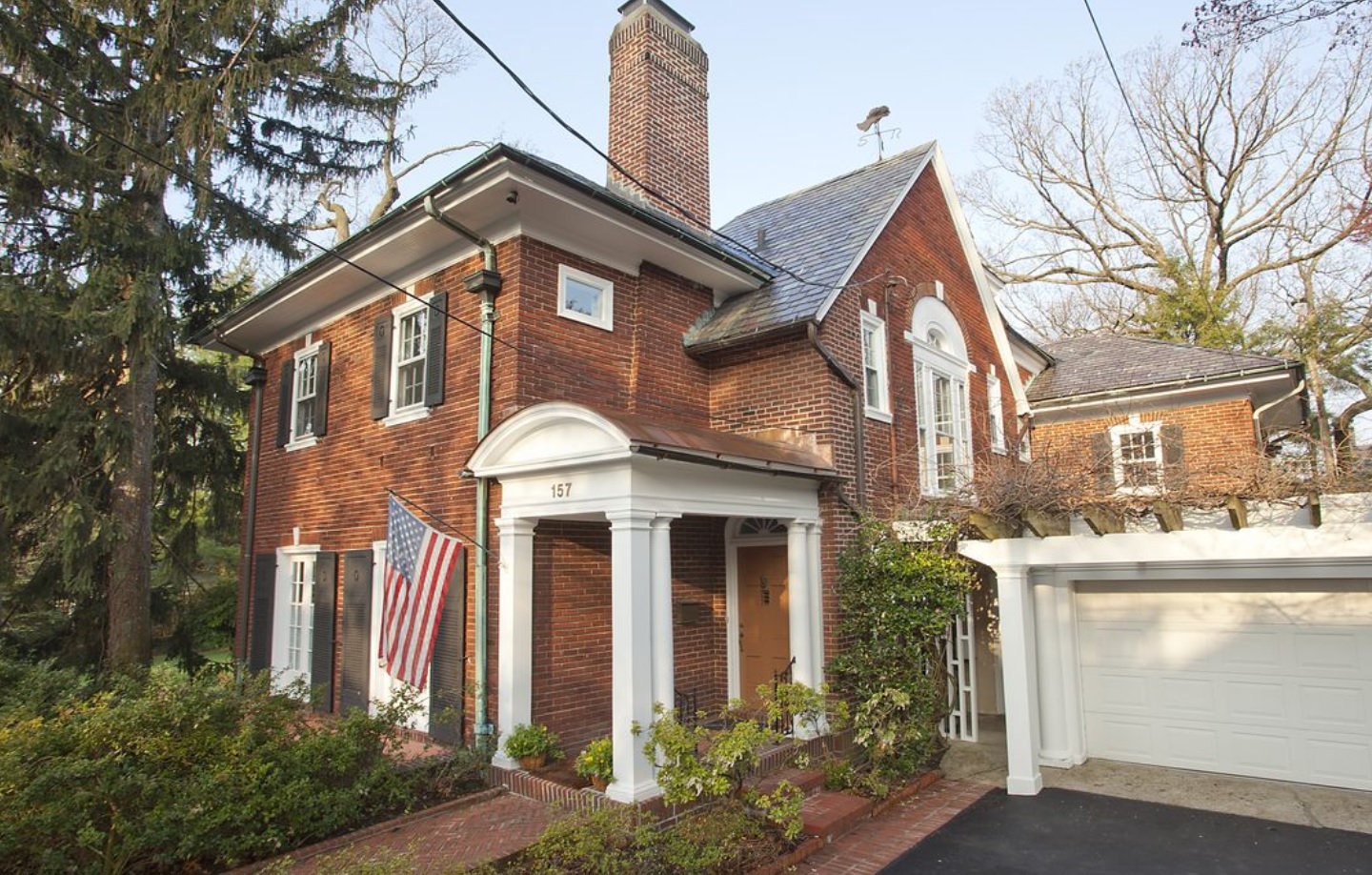 Listed for $999,000, this five-bedroom brick Colonial has five full bathrooms and one half-bath, elaborate crown moldings on the first floor, curved cove ceilings on the second floor, and bordered oak floors, picture frame moldings, and French doors throughout the home. There's also a living room with a fireplace and built-ins, a den, a dining room with two corner china cabinets, a side yard, walk-out basement, terrace, and stainless steel appliances and a breakfast bar in the kitchen.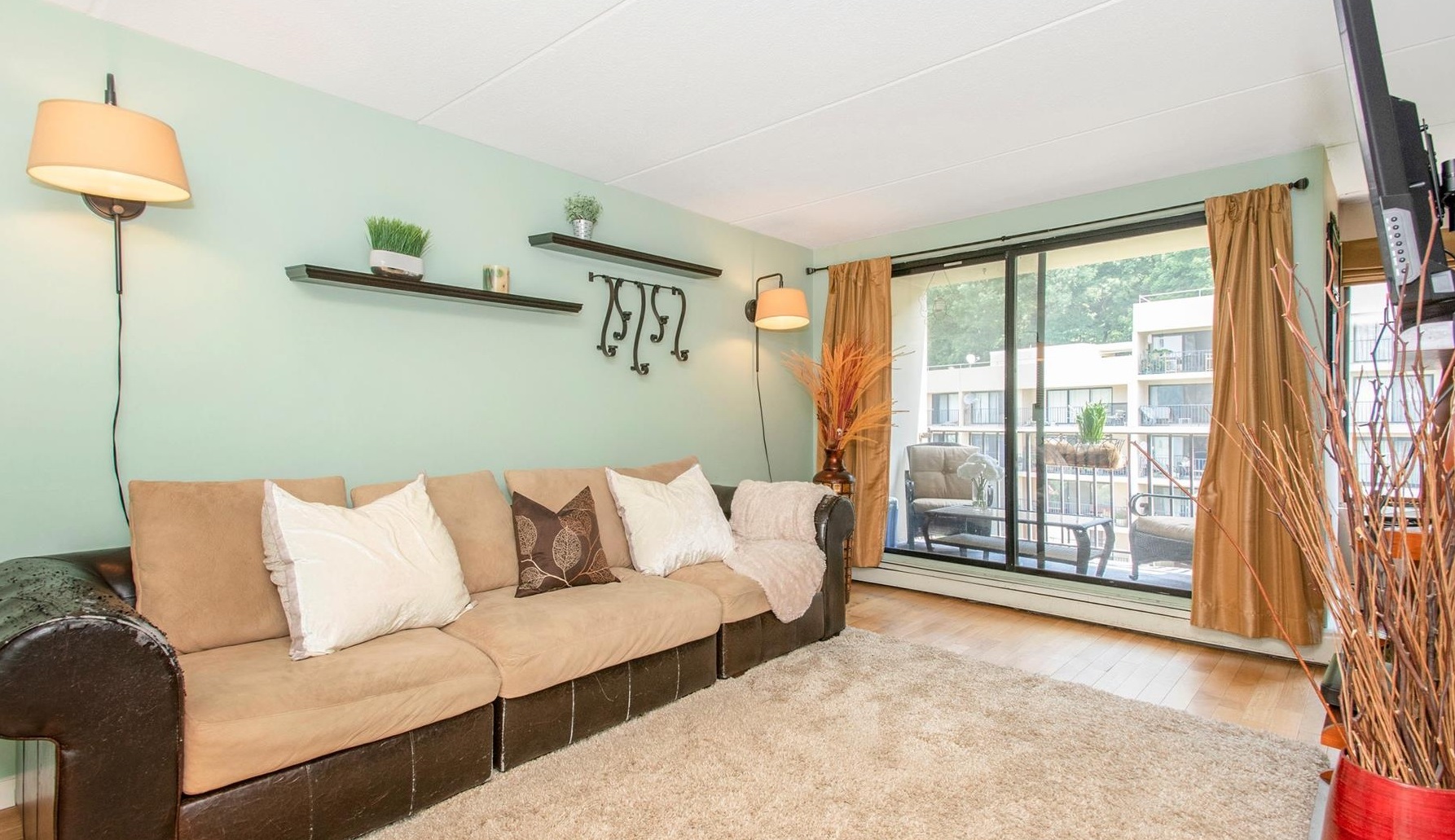 Listed for $437,500, this two-bedroom, two-bath condo has hardwood floors, and an in-unit washer/dryer. Building amenities at the pet-friendly Riverview Club include a 24-hour doorman, a renovated lobby, pool, sundeck, 24-hour fitness center, club room with a fireplace, valet dry cleaning services, bike rack, and indoor parking. Common charges are $618 a month.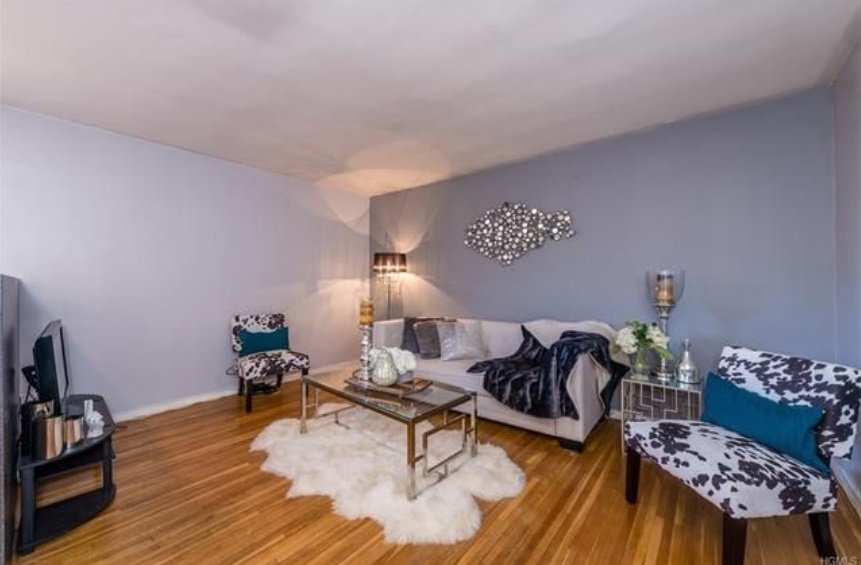 This recently painted 700-square-foot one-bedroom, one-bath co-op has an open floor plan with lots of light and decent-sized rooms. Maintenance is $517 a month. It's listed for $119,000.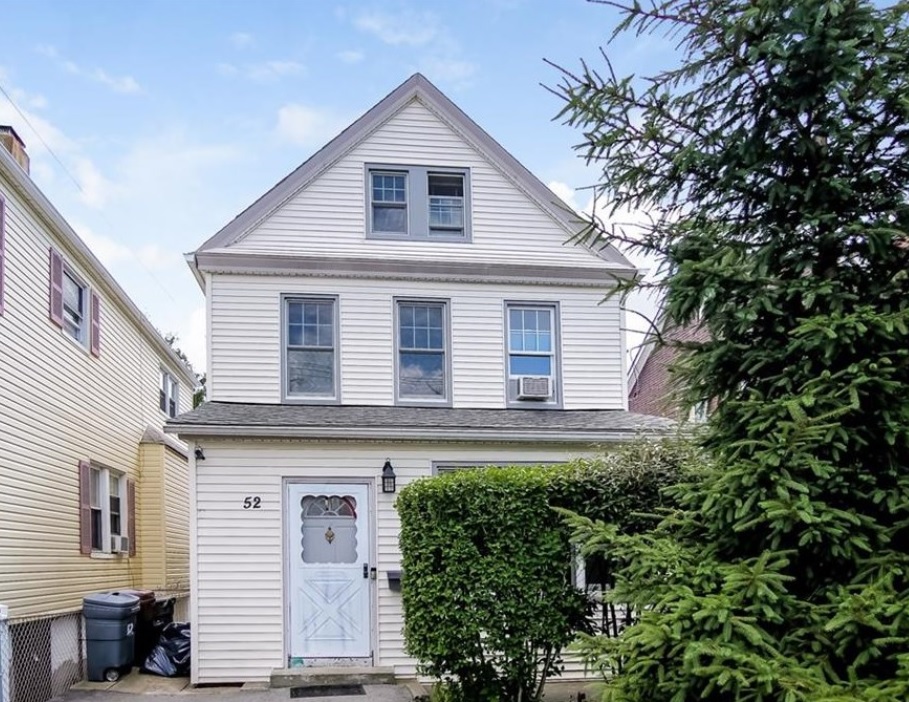 The first floor of this three-bedroom, one-and-a-half-bath single-family house has a large living room, an eat-in kitchen with access to a deck, a dining room, and a half-bath. The second level is where all three bedrooms and a full bathroom are located. There's also a finished attic, two bonus rooms, a backyard, and a driveway that can fit up to three cars. It's listed for $435,000.
Brick Underground articles occasionally include the expertise of, or information about, advertising partners when relevant to the story. We will never promote an advertiser's product without making the relationship clear to our readers.