Looking for a neighborhood that's a mix of urban and suburban and still under an hour by subway from Manhattan? Try Forest Hills, Queens. The neighborhood is storied but unpretentious, with a bustling center and leafy side streets, and a dizzying variety of houses and apartments, from humble co-ops to storybook mansions. 
In this week's Buy Curious, Howard Glick of Citi Habitats, Edith Nanazia of BOND New York, and Karina de Rojas-Kosinov of Mdrn. Residential tell you everything you need to know about the area.
The question
What can you tell me about Forest Hills? What does it cost to live there? What kind of real estate is available?
The reality
"Forest Hills offers a unique juxtaposition: cosmopolitan chic clothed in the bucolic serenity of a suburb," Glick says. "As such, it has always enjoyed steady and enduring popularity, almost flying under the radar as other neighborhoods have taken spikes in popularity with their development and subsequent price inflation."
Where is it?
Forest Hills is bordered by Rego Park, Middle Village, Kew Gardens, and Flushing Meadows Corona Park.
The Long Island Expressway runs along the northern border. Union Turnpike forms the southern one. Grand Central Parkway is the eastern edge, and 67th Avenue, Selfridge Street, and 102nd Street make up the western boundary. Fancy Forest Hills Gardens, just south of the Long Island Rail Road station, is a private development of single-family houses built in the early 20th century. Nearby Van Court and Cord Meyer in northern Forest Hills are also known for their low-density, residential vibe.
Who lives here?
As of the 2010 census, Forest Hill's population was 86,364. It's 58.3 percent white, 24.2 percent Asian, 12.4 percent Hispanic, and 2.5 percent African American.
The neighborhood has many Jewish residents, and Cord Meyer and neighboring Rego Park are home to one of the largest populations of Bukharian Jews in the world outside of Israel.
Professionals priced out of Manhattan and Brooklyn are among those drawn to the neighborhood.
"People are attracted to the neighborhood for its convenient access to Midtown, its sophisticated yet comfortable atmosphere, and the extremely large, well-priced apartments," Glick says.
Many young families have also moved to Forest Hills because of its school district, de Rojas-Kosinov says.
What types of housing are available?
The housing stock in Forest Hills is a mix of houses and co-op buildings. According to Glick, "the neighborhood developed most actively from the 1930s through the 1950s, accounting for the proliferation of large prewar buildings that define the look of the area. The neighborhood skyline is punctuated by some high-rise development that occurred in the late '50s and early '60s." Those latter buildings are a mix of rentals and co-ops, with a few condominiums sprinkled in.
Then, there are the houses. They are mostly Tudors and colonials, including detached, semi-attached, and attached homes. Forest Hills Gardens is characterized by formal mansions—mostly Tudors and colonials. The neighboring Van Court area has similar, but smaller and more modestly priced homes. And the Cord Meyer section is also made up of single-family houses, including Cape Cods and Tudors, plus new, bigger houses, many built to accommodate large Bukharian Jewish families.
What's pricing like?          
The average sales price thus far in 2018 is $667,402, according to appraiser Jonathan Miller of Miller Samuel. That's up 21.1 percent from 2017 when the average price was $551,234, and up 58 percent from 2013, when the average price was $422,311.
A search of StreetEasy shows 258 properties currently for sale in Forest Hills, ranging from a $4,599,000 seven-bedroom house at 36 Wendover Rd. to a $145,000 studio co-op, #6D, at 76-26 113th St. Glick says that in his experience prices for co-op studios typically begin at around $175,000; one bedrooms go for around $225,000; and two bedrooms cost $325,000.
As for condos, pricing for studios begins at around $480,000, one bedrooms start at $550,000, and two bedrooms start at $800,000.
"Modern buildings with better amenity packages price appreciably higher, with one bedroom units opening at over $1 million," he says.
Houses in Forest Hills start at around $1 million for attached homes. Detached homes go for as much as $3 to $4 million. Glick says that pricing in the Gardens is "typically higher, with the more stately properties regularly going for four or more million dollars."
What's the transportation situation?
Forest Hills is served by four subway lines (E, F, R, and M), all of which run along Queens Boulevard. You can get to Midtown via the E and F express trains in 25-35 minutes.
The QM4 express bus runs to Midtown in about an hour. And the LIRR can get you to Penn Station in about 15 minutes.
What is there to do?
It's not trendy, but there's plenty going on in the area. The Westside Tennis Club is a private tennis club with 38 courts and a junior Olympic-sized swimming pool. The club is home to Forest Hills Stadium, a 14,000-seat outdoor tennis stadium and concert venue.
There's also the Community House, located in the Forest Hills Gardens section, which has an indoor pool, and offers an array of classes for kids and adults, including martial arts, water aerobics, yoga, and Zumba.
Forest Hills is also flanked on two sides by major city parks. Forest Park is an athlete's delight with softball and baseball fields, tennis, bocce, and handball courts, and a 110-acre golf course, while Flushing Meadows Corona Park, the largest park in Queens, contains the Queens Zoo, the Queens Museum, the New York Hall of Science, and Citi Field.
What's the restaurant/nightlife situation?
"Forest Hills offers a concentrated and eclectic mix of restaurants, mostly centered along Austin Street and Queens Boulevard," Glick says.
He's partial to Cabana, which offers "Nuevo Latino" food; Tuscan Hills, which serves up Northern Italian eats; Forest Hills Station House, a gastropub with lots of craft beers on tap; and La Boulangerie, a French bakery where the pastries "taste as if they were produced closer to the Seine than the East River," according to Glick.
Nanazia is a fan of Jack and Nellie's, a wine bar with a rustic vibe; Nick's Pizza, known for its brick oven pizza; and Buenos Aires Tango Bar & Grill, which has live tango shows on the weekends.
How about grocery stores?
Forest Hills has plenty of large supermarkets to choose from, including a Foodtown, a Key Food, and a C-Town. There are also a number of green grocers in the area, and Austin Street is home to the seafood store Forest Hills Fishery. Forest Hills also has its own farmers market every Sunday. It's held near the post office, and includes free cooking demonstrations and activities for kids, in addition to all the fruits and veggies.
Curiosity piqued? Check out these houses and apartments for sale in Forest Hills: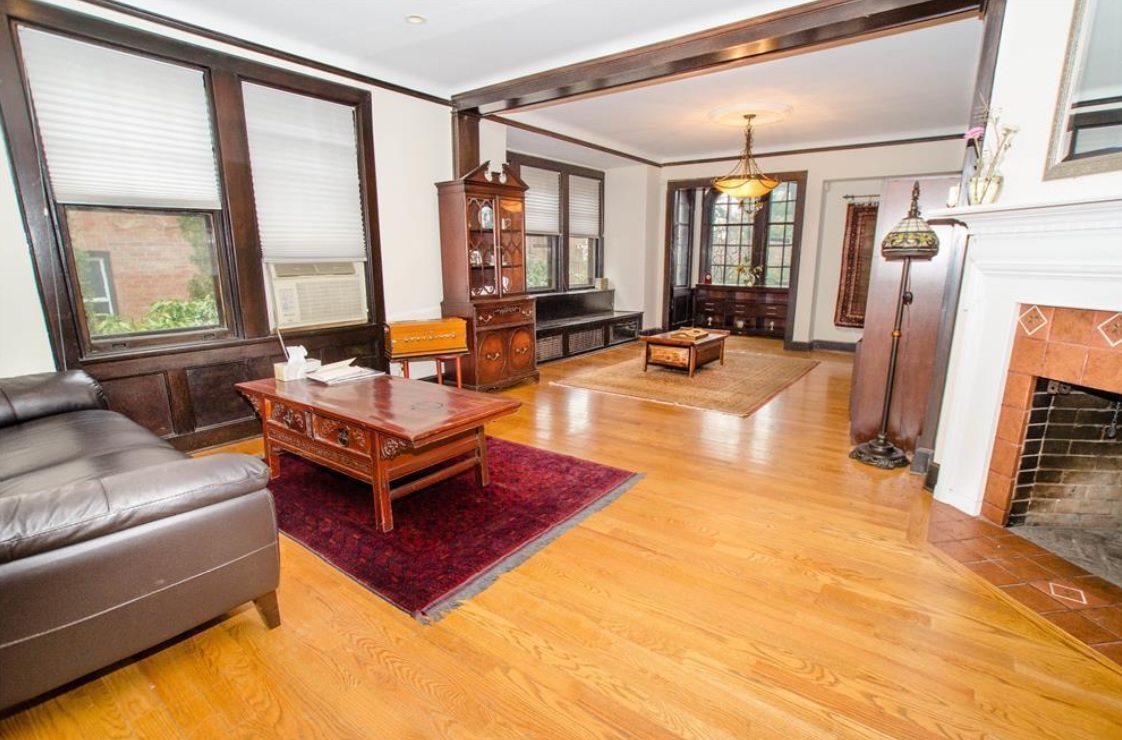 This fully detached four bedroom house in Forest Hills Gardens (also shown at top) is listed for $1,980,000. The first floor of the colonial style brick house has a large living room with a working fireplace, a dining room looking out over the garden, a kitchen, and a half-bath. The second floor has the master bedroom with a walk-in closet, another bedroom with a full en-suite bathroom, and a walk-in closet. The third floor has another two bedrooms and a half bathroom. There's also a renovated basement with a full bathroom, five storage closets, a storage room, and laundry. Taxes are $955 a month.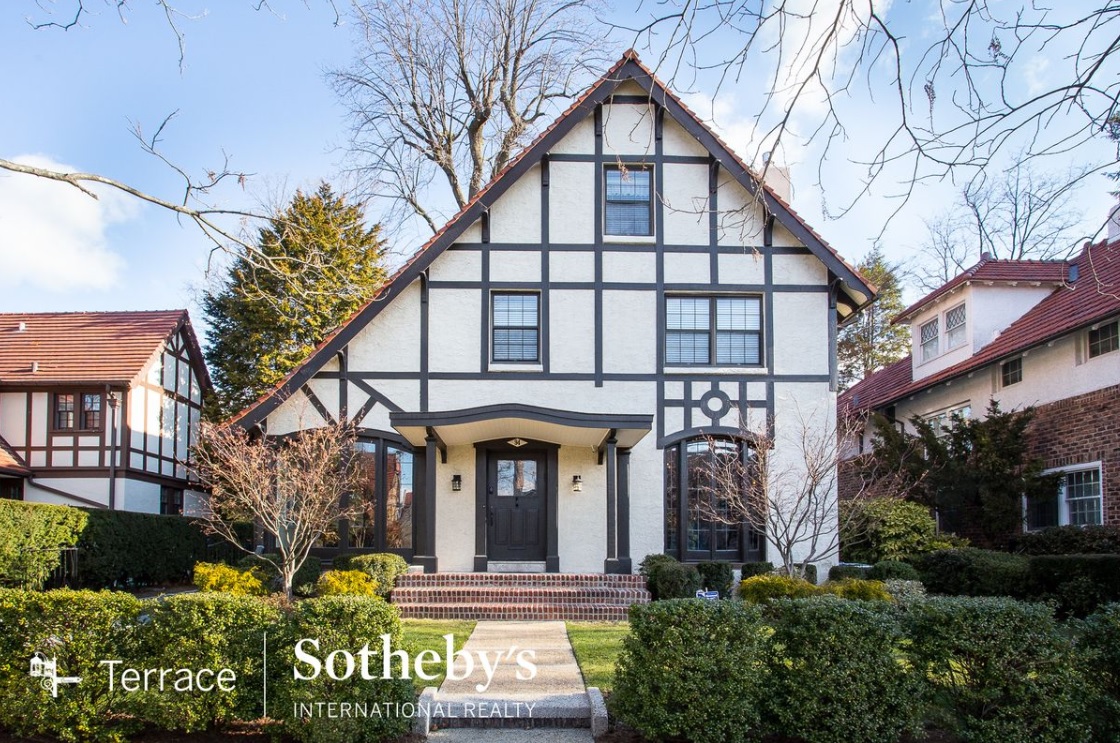 Also in Forest Hills Gardens, this 3,885-square-foot five-bedroom, four-and-a-half bath Tudor is listed for $3,800,000. The first floor features a living room with a gas fireplace and restored arched French doors, a dining room with sliding doors that lead to a patio, an eat-in kitchen with custom cabinetry, and a sunroom. The private quarters are spread out over the two upper levels. There's also a finished basement with a home theater, a children's play area, a gym room, a full bathroom with a steam shower, a storage room with customized shelves, and a laundry room. The house also has central air conditioning and a one-car detached garage. Taxes are $1,193 a month.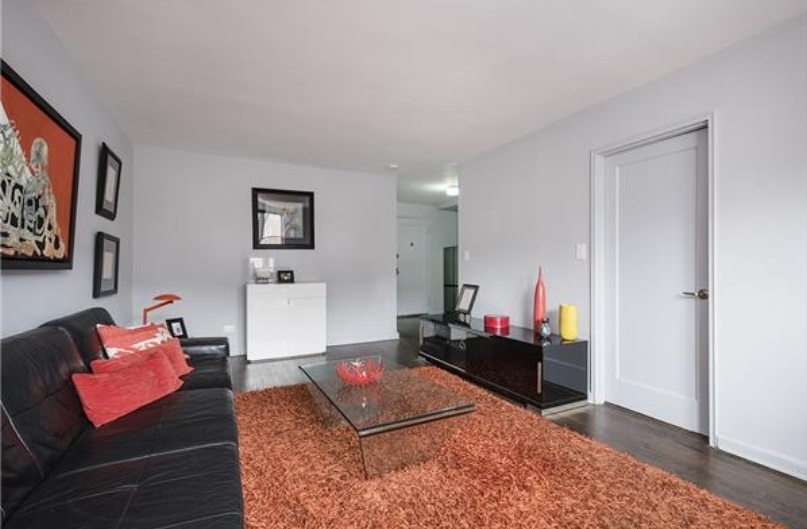 Listed for $185,000, this studio co-op has stainless-steel kitchen appliances, renovated closets, a windowed bathroom, and wood floors. The building is pet-friendly, with a live-in super and a laundry room. Maintenance is $416 a month.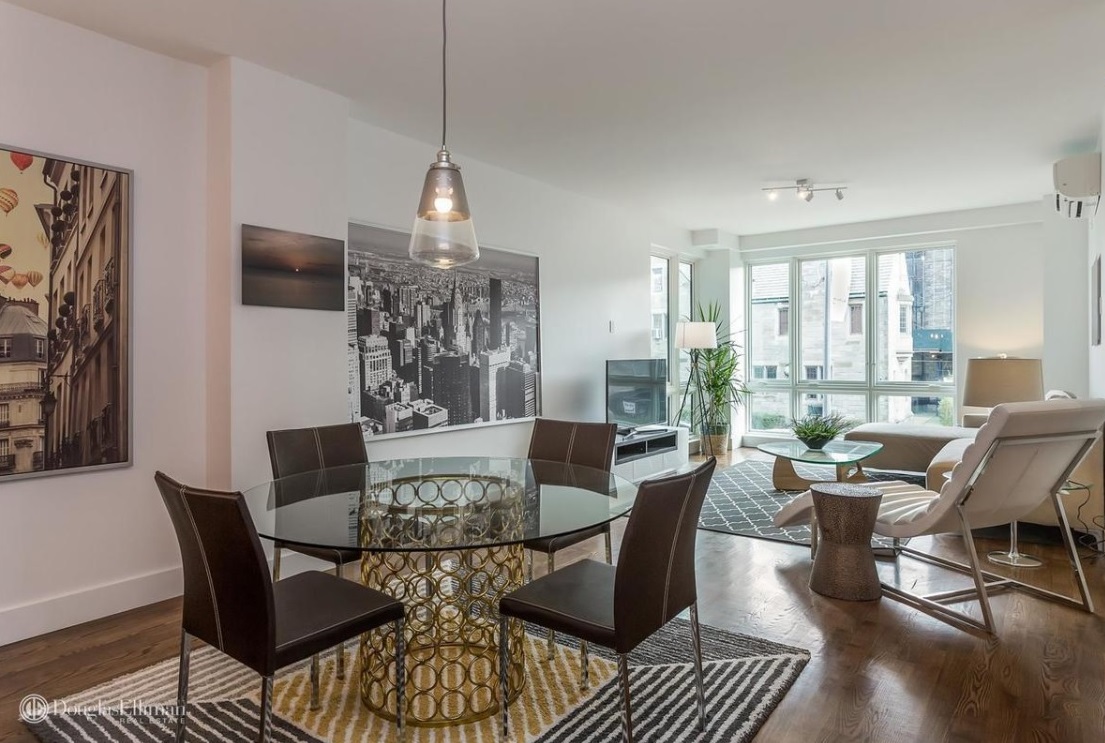 Priced at $749,000, this 699-square-foot, one-bedroom condo has high ceilings, oversized windows, solid oak flooring, and an in-unit washer and dryer. It's in the Sunrise, a pet-friendly building with a doorman and an elevator.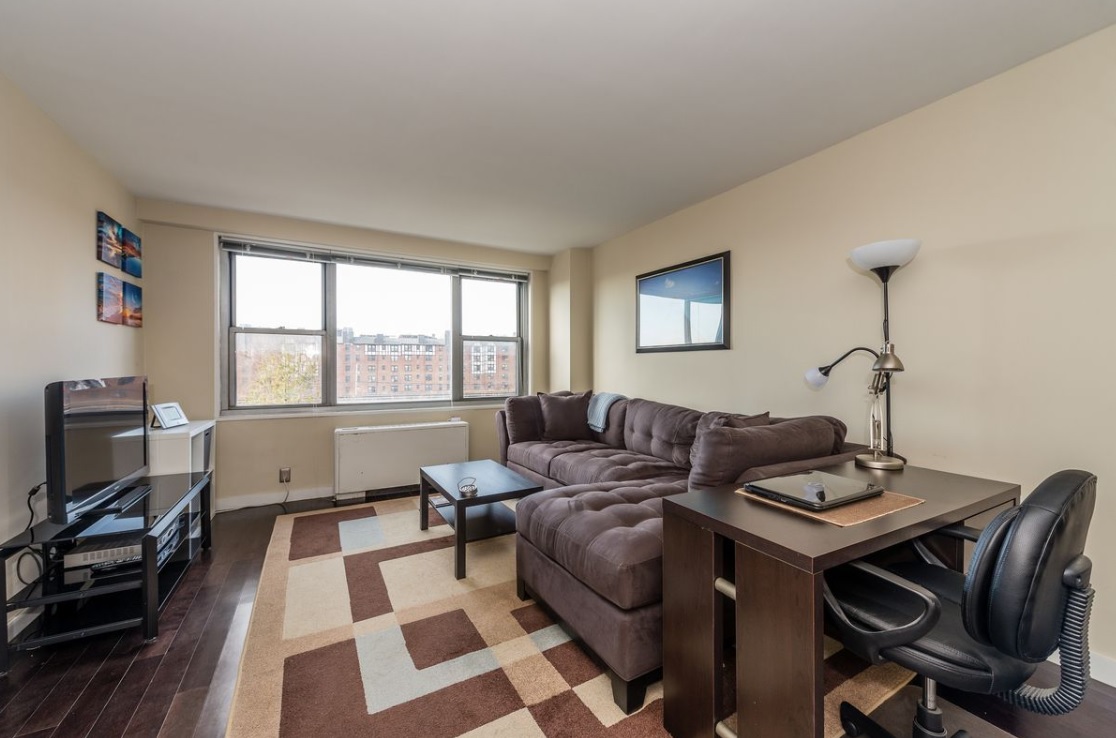 This one-bedroom co-op has an updated kitchen with new cabinets and stainless steel appliances as well as a renovated bathroom. It's listed for $299,000. The apartment is in Gerard Towers, a cat-friendly, 25-story building with a 24-hour doorman, a seasonal heated pool, a fitness center, a children's playroom, bike and storage rooms, and valet parking. Maintenance is $677 a month.
Brick Underground articles occasionally include the expertise of, or information about, advertising partners when relevant to the story. We will never promote an advertiser's product without making the relationship clear to our readers.