Buy Curious
What you need to know about living in Forest Hills, a village-like place in the middle of Queens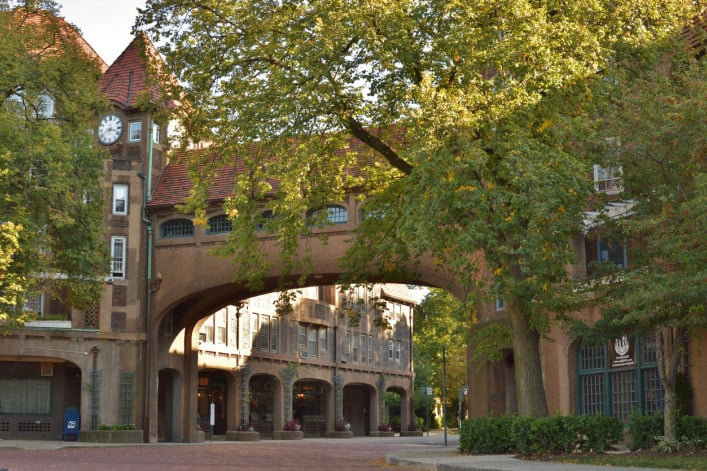 The central Queens community of Forest Hills, where Spider-Man hung his web and where Simon met Garfunkel, has a big-city feel in a quasi-suburban setting.
It's a place that embodies contradictions, managing to stay off the radar despite being smack in the middle of the borough.
In this week's Buy Curious, GiGi Malek, a real estate agent with Daniel Gale Sotheby's International Realty, and Aaron Ram, a licensed associate broker with RE/MAX City Square, give you the scoop on Forest Hills.
The question:
I keep hearing people talking about Forest Hills, and I've seen pictures of that really cool-looking clock tower, but I don't know anything about it. What's it like to live there?
The reality:
"I'm not surprised because it used to be a secret place," Malek says. "People used to come into my office and say, 'I never knew this existed.' But now it's becoming more popular among young people."
Where is it?
A dozen miles from Manhattan, Forest Hills is bounded by Corona on the north, Rego Park and Glendale on the west, Forest Park on the south, Kew Gardens on the southeast and Flushing Meadows-Corona Park on the east.
The community is bisected north and south by Queens Boulevard. The north side has apartment and co-op buildings and newer, larger homes. The south section primarily is made up of single-family homes.
Why would NYers want to move to Forest Hills?
Malek, who works in the south section, says that nearly all of her clients come from Manhattan, Brooklyn, Long Island City, Jackson Heights, and Astoria. "You get more for your money than in Manhattan, Brooklyn, and Long Island City," she says. "You get more space, more green space. You also get a garage, a basement, a backyard, and space to park."
The "excellent, top-rated public schools," she adds, are another draw for young families who flock to the area.
"Forest Hills is like a little village," she says. "You can hear the birds in the morning, and there are trees everywhere. It feels like a country oasis."
The area also is attractive, Ram adds, because of its central location: "You can get any place you want to go quickly."
Where in Forest Hills should you live?
Forest Hills Gardens, which Malek says has "a fairy-tale" look and which has been recognized as one of America's oldest planned communities, is the area's most iconic section. Its historic architecture is governed by what she calls "stringent restrictions." Set on 175 acres, housing options here range from tiny, attached townhouses to mansions.
Van Court, a smaller area adjacent to the Gardens, is subject to fewer architectural restrictions, she adds, and has detached brick or stucco homes.
Cord Meyer, a neighborhood on the north side of Forest Hills, consists of about three dozen primarily co-ops that were originally built as rental apartments. There also is a section of single-family homes.
What are housing and pricing like?
There are 367 condos, co-ops, and houses on the market in Forest Hills, according to StreetEasy.
The south section and vicinity feature single-family homes, attached townhouses, and a few apartment buildings. Most of the homes are in the Tudor style and date from 1920 to the 1940s.
Prices for single-family homes start at $1 million to $1.1 million for a 1,700-square-foot house with a basement, backyard, garage, and parking space, Malek says, adding that they top out at $4 million, the neighborhood's record sales price, for the "Tudor and Norman-style castles and grand mansions."
She notes that most of the homes need to be updated "because people stay forever. If they move, it's either to upgrade or downsize in Forest Hills."
Although it's generally a seller's market, Malek says, "I feel like the value of Forest Hills hasn't caught up to popular neighbors such as Brooklyn, Long Island City, and Manhattan. But since it's been discovered, prices are rising more and more."
Properties have been selling on the first day of listing; on average, they stay on the market only seven days, she says.
"There are bidding wars with inspections done in 24 hours and contracts signed the same day," she says. "I had one client who is being relocated to New York who flew in for the day, bid, did the inspection by FaceTime the next day and signed the same evening. It's been insane."
On the north side, single-family Tudor-style homes from the 1940s through the 1960s that are on 50-by-100-foot lots generally sell for $1.4 million to $1.6 million, Ram says, adding that prices can go up to $4 million for large new-construction Mediterranean-style houses that replace tear-downs.
Co-ops, which date from the 1940s through the 1960s, are $180,000 to $250,000 for a studio; $275,000 to $450,000 for a one bedroom; $380,000 to $500,000 for a two bedroom, one bathroom; and $500,000 to $700,000 for a two-bedroom, two-bathroom unit. Three-bedroom units with two baths, which Ram says are rare, command $700,000 to $900,000.
Pro Tip:
Did you know you can receive a buyer's rebate from your broker? With Prevu, you'll receive a rebate of two-thirds of the commission paid to the buyer's broker at closing. On a $1 million condo in NYC, you'd pocket up to $20,000. Click here to learn about Prevu's Smart Buyer Rebate.
 The most expensive co-ops, Ram adds, have doormen, gyms, and toddler rooms.
Rents are $1,600 to $2,200 for a studio; $1,800 to $2,600 for a one bedroom and $2,500 to $3,500 for a two bedroom, Ram says. Three bedrooms, which are scarce, typically are $2,800 to $4,000, he adds.
He notes that the prices of co-ops and apartments rise as they get closer to the center of the community.
"Homes are selling quickly on the north side," he says. "There is a seven-month absorption rate for co-ops and a five-month absorption rate for single-family homes."
He adds that this is a good time to "take advantage of the co-op market; for $300 grand, you can get a 750-square-foot one bedroom. You can't go wrong—you will own your own home and be in Queens, which is one of the most diverse areas in America and probably the world."
Is there a lot of new development? 
In the south section, there is virtually no new residential development, Malek says, because tear-downs are not permitted, and there's no more space to build.
There is some development in the north section, Ram says, but it is confined mostly to Austin Street, where the air rights allow single-story retail shops to be topped with condo complexes. "Because of zoning limits," he says, "that's where new development will occur in the future, too."
What's the transportation situation?
Forest Hills is a transportation hub. The E, F, M, and R trains run through it, as do 20 bus lines. The community also has two Long Island Rail Road commuter lines – one at the Forest Hills station, the other at the nearby Kew Gardens station—and it takes about 15 minutes to reach Manhattan.
It's a 20-minute drive to the LaGuardia and JFK airports, and there's quick access to the Long Island Expressway, the Jackie Robinson Parkway, and the Grand Central Parkway.
What is there to do?
The 538-acre Forest Park, the 10th-largest green space in New York City and the third largest in Queens, offers a variety of activities, including horseback riding (Forest Hills has its own stable), and has a band shell, playgrounds, a carousel, a pond, spots to barbeque, two dog runs, a golf course, and a nature center.
The block-size Yellowstone Municipal Park has a playground, basketball courts and a dog run.
Nature trails from Forest Hills lead to Flushing Meadows-Corona Park.
The West Side Tennis Club, which also serves as a concert venue, has 38 tennis courts and a junior Olympic-size swimming pool.
"The concerts are a great place for neighbors to meet and have dinner," Malek says. "You can sit outside and watch the sunsets. This is the best place to see them. There's always a party or an event every week, ranging from trivia night to New Year's Eve celebrations."
The women's and men's clubs, which are open to everyone, are great places to socialize, she adds.
The family-owned Cinemart Cinemas, which shows first-run as well as art-house films, has a café that's popular with locals.
What's the restaurant/nightlife situation?
Austin Street, the main commercial corridor, is filled with major chain stores such as Banana Republic, Victoria's Secret and Gap, as well as a variety of bars and restaurants that include 5 Burro Café, which serves Mexican fare and what Malek says are "great Margaritas," and OBA Grill, which has a Mediterranean menu.
Metropolitan Avenue, where Malek says that locals stop to chat, features several iconic establishments. They include Dee's Wood Fired Pizza & Kitchen, Eddie's Sweet Shop, which is an old-fashioned soda fountain; Nick's Bistro, which serves classic Greek cuisine; Aigner Chocolates, which makes gourmet Austrian chocolate; and Alberto, which Malek says serves "the best Italian food."
At Station Square, which has a small number of shops, there are what Malek refers to as "three hidden gems."
"Dirty Pierre's, a dive bar/restaurant, has the best food and Sangria in town," she says. "Jade Eatery & Lounge has great fusion Asian/Indian food and a koi pond and Buddha statues that are lit up in purples and pinks, and Prince Tea House serves tea in English teapots."
Ram adds a fourth: the gastropub Forest Hills Station House. "It has a younger vibe," he says. "And a good selection of beer and whiskey and food. You won't be disappointed."
In the north section, there is a diverse selection of eating options. Salute and Nadezhda serve kosher Uzbek dishes; Memories of Shanghai and Xin Taste Lan Zhou Hand Pull Noodle offer Chinese dishes, and Tamashii Ramen has a Japanese menu.
How about grocery stores?
There are several options in the south section. At the Foodtown on Queens Boulevard, "David, the owner, always comes out to say hello," Malek says. "And Angie's Market on Metropolitan Avenue is family run—Peter, the owner, is always there, and it has a parking lot."
There's a Trader Joe's on the border of Forest Hills and Rego Park near Home Depot. Natural Fruit & Vegetable is in the center of the community. In the north section, residents shop at Key Food, CTown, Foodtown and Food Universe.
Check out these listings in Forest Hills: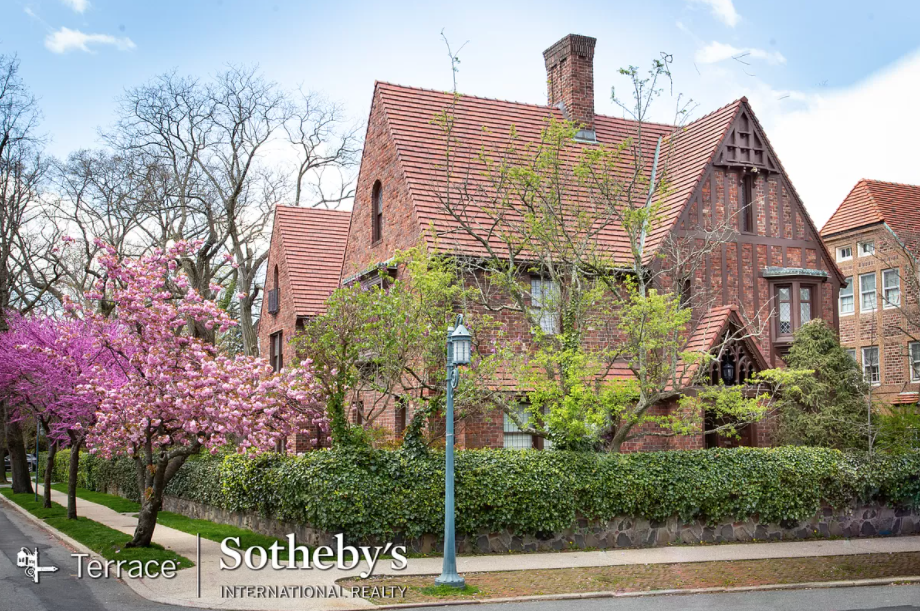 Designed by architect Grosvenor Atterbury, who is known for designing The Metropolitan Museum of Art's American Wing and the Parrish Art Museum in Water Mill, this 1920 Tudor at the entrance to Forest Hills Gardens is listed for $3.95 million. The 6,128-square-foot house has seven bedrooms, five full bathrooms, one half bath, four fireplaces, leaded-glass windows, and a two-car garage.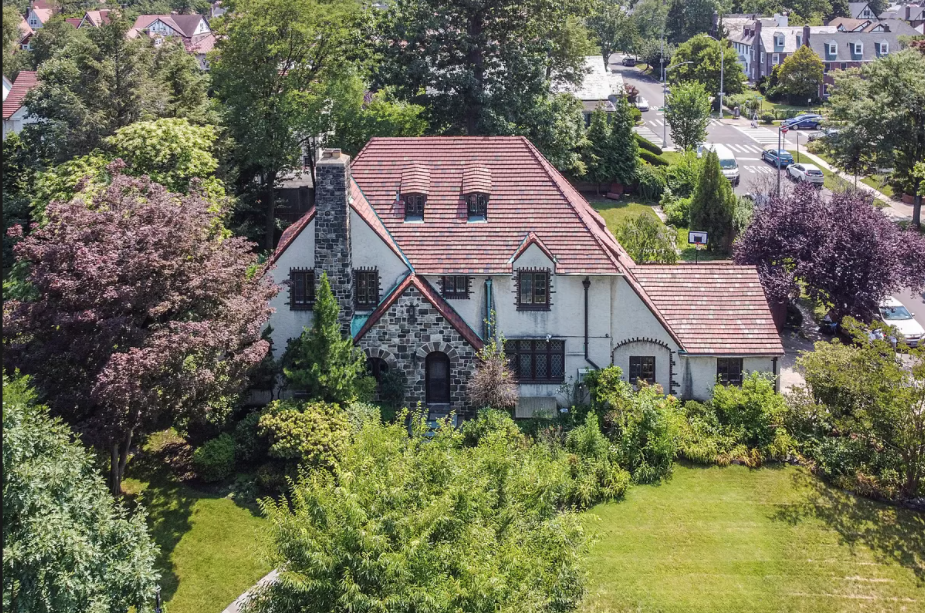 Listed for $3.48 million, this 4,060-square-foot residence was built in 1920. Set on nearly a quarter of an acre, the recently updated, three-floor house has five bedrooms, three full bathrooms, two half baths, leaded-glass windows, a private terrace, wood-burning fireplaces, a wine cellar, and two-car heated garage.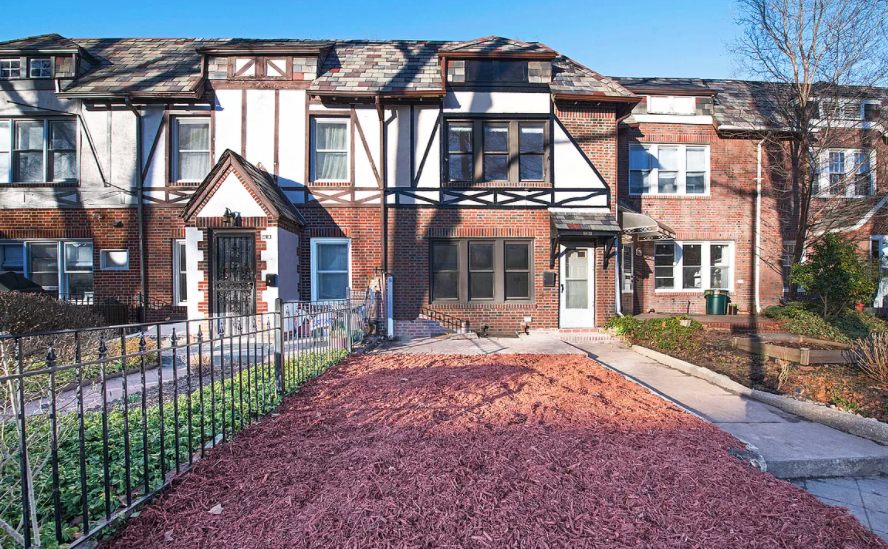 This two-story single-family townhouse, which is in the Forest Hills signature Tudor style, is listed for $990,000. In addition to three bedrooms, one full bathroom and a half bath, the house, which dates to 1945, and according to the listing needs extensive renovation. It includes a space to park a car.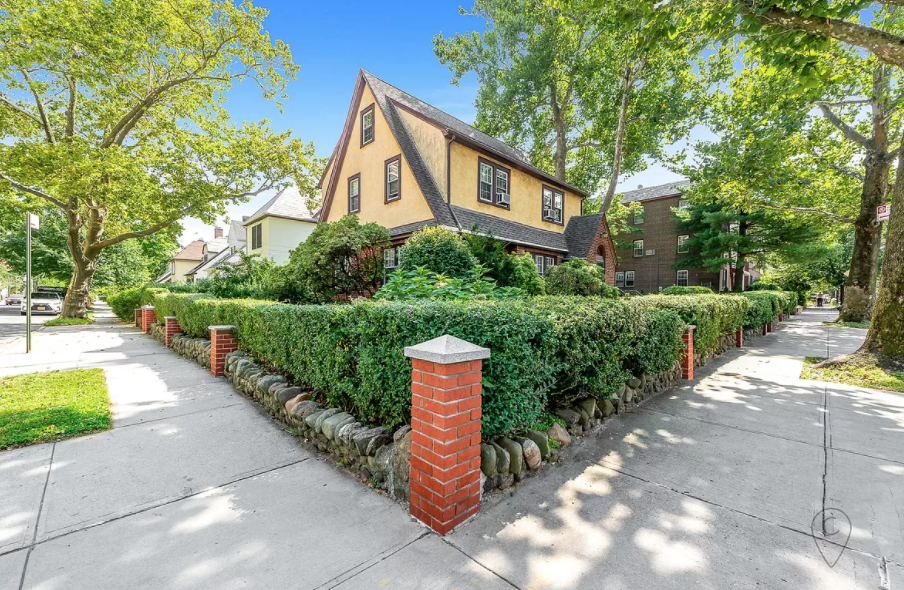 In the Van Court section of Forest Hills, this Colonial-style house, listed for $1.599 million, is on a corner lot, a rarity. Built in 1940, it has four bedrooms, two full bathrooms, a half bath, a wood-burning fireplace flanked by built-in bookcases, a screened-in porch in the private backyard, and a two-car garage.
Listed for $1.595 million, this 1,200-square-foot corner condo in The BLVD, which is on Queens Boulevard, has two bedrooms, two bathrooms, two balconies, a custom kitchen with marble countertops, and a primary suite with a walk-in closet. Building amenities include a roof deck, lounge, business center, courtyard, gym, and on-site parking.
Nancy A. Ruhling is a freelance-writer based in New York City.
Brick Underground articles occasionally include the expertise of, or information about, advertising partners when relevant to the story. We will never promote an advertiser's product without making the relationship clear to our readers.