Buy Curious
What to know about buying in Spuyten Duyvil, a hidden gem with green spaces, swanky buildings, and affordable river views
Scarce single-families start at $750,000 for fixer-uppers and top out around $6 million
Most co-ops run from $150,000 for a one bedroom to $700,000 for a four bedroom
The northwestern Bronx community of Spuyten Duyvil, where innovative sculptor Alexander Calder lived for a year while growing up, is a small, largely residential area that's known for its waterfront views, serene parks, and limits on new development.
Its fancy Dutch appellation, variously translated as "Spouting Devil," "Spewing Devil," or even "Spinning Devil," comes from the creek of the same name.
In this week's Buy Curious, Geoffrey Weiss, an agent at Compass, and Chanda Colón, an agent at Douglas Elliman, give us the inside story on Spuyten Duyvil.
The question:
I've heard that Spuyten Duyvil is one of the higher-priced sections of the Bronx. Are there any bargains to be had?
The reality: 
It all depends on what you're looking for, according to Weiss. Single-family houses, which are scarce and don't come on the market frequently, can be expensive, though co-ops can be more affordable and available. "The co-op buildings are large, so there tends to be a lot of turnover," he says.
Colón adds that housing prices are far less expensive than those in Manhattan, and it has high-rises that "can easily pass for luxury towers in Manhattan. It's a hidden gem. Very few New York City residents are familiar with the neighborhood."
Where is it?
Spuyten Duyvil is bounded on the north by Riverdale (some people consider Spuyten Duyvil to be a part of Riverdale while others vehemently disagree), on the south by the Spuyten Duyvil Creek, on the east by Kingsbridge and Marble Hill, and on the west by the Hudson River.
Why would NYers want to move to Spuyten Duyvil?
"Compared with Manhattan and Brooklyn, prices in Spuyten Duyvil are still much cheaper," Weiss says. "And you have a good shot at being able to afford something with a river view."
He adds that the swift commute to Manhattan—it takes about 25 minutes on Metro-North—and the large number of parks make Spuyten Duyvil attractive to young professionals.
Colón notes that the abundance of green spaces in a city setting and Spuyten Duyvil's spirited sense of community are other attractions. "You have high-rises with concierge service and doormen and historical homes that have a Westchester vibe," she says.
Where in Spuyten Duyvil should you live?
There are no named sections of Spuyten Duyvil, but the Henry Hudson Parkway divides the community in half from east and west.
The west side of the parkway commands higher prices because it has bigger luxury co-op buildings on the waterfront. "These are the most desirable properties in the neighborhood," Colón says.
The east side has more single-family houses, which can be more costly than many of the co-ops. "This section is a little closer to Central Riverdale and its shops and restaurants," she says.  
What are housing and pricing like?
Spuyten Duyvil is pretty much a seller's market, especially for single-family houses, Weiss says, adding that with co-ops, because there's a lot more inventory, buyers "have their pick and will pass them by if they are overpriced."
There are 100 single-family houses, condos, and co-ops in Spuyten Duyvil, according to StreetEasy, which Weiss says "is not a ton of inventory."
He breaks down the pricing as follows: Single families can start as low as $750,000 for a house that needs to be gut-renovated and range up to $5 million and $6 million.
Co-op prices start at around $150,000 to $200,000 for a one-bedroom unit. Two bedrooms generally are $250,000 to $350,000, and four bedrooms with two baths typically command $700,000 or $800,000 to $1 million. Condos are much rarer but are similar in price. 
One of the prime co-ops is Villa Charlotte Bronte, which has only 17 units and dates to the 1920s. Set on a hill over the Hudson River, it has views of the Palisades. StreetEasy shows only one unit, which is listed for $1.349 million and under contract.
Most of the other co-op buildings, including The Winston Churchill and Presidential, are large and date to the 1960s and 1970s.
Single-family properties date from the 1900s to the 1920s, and there are some townhouses built in the 1960s, 1970s, and early 2000s.
Is there a lot of new development?
Because Spuyten Duyvil is in a Special Natural Area District (SNAD), zoning restrictions have kept new development at a minimum, Colón notes, explaining that "the department of city planning asserts tight control over development in SNADs to protect their unique historical sites and sensitive ecological features."
In fact, the only new residential construction, Weiss says, is for rental buildings such as The Henry, a six-story luxury project completed in 2022 with 55 units.
What's the transportation situation?
There is no direct subway service in Spuyten Duyvil, but the No. 1 train in neighboring Kingsbridge is a 15- to 20-minute walk away.
The BXM1 and BXM2 express buses go to and from Manhattan, and the Metro-North Railroad runs to Grand Central Station and Westchester County.
Residents can drive to Manhattan on the Henry Hudson Parkway.
What is there to do?
There are four main green spaces.
Seton Park, a dog-friendly area, has baseball, football, and soccer fields, tennis and basketball courts, and playgrounds.
Henry Hudson Park has areas for dogs, baseball fields, basketball and handball courts, playgrounds, and spray showers.
Ewen Park, which is defined by a long stairway that connects Kingsbridge and Riverdale, has wooded areas, picnic spots, a dog run, playground, and basketball courts.
Spuyten Duyvil Playground has playgrounds, of course, as well as basketball courts and spray showers.
The Club of Riverdale, in The Century rental apartment complex, is a fitness center with indoor swimming pool that offers membership to residents and non-residents of the building.
What's the restaurant/nightlife situation?
"The neighborhood does not have a nightlife, however, there are local bars and restaurants found within walking distance in Central Riverdale," Colón says.
Knolls Crescent, a tiny commercial corner of the community, has a couple of take-out restaurants, including the longtime favorite Siam Square Thai Cuisine.
Another takeout option is Famous Pizza Express.
For other restaurants, residents head not only to Riverdale but also to Kingsbridge and Inwood, which are also are within walking distance.
How about grocery stores?
Ben's Market is the only grocery store in Spuyten Duyvil.
Check out these listings in Spuyten Duyvil.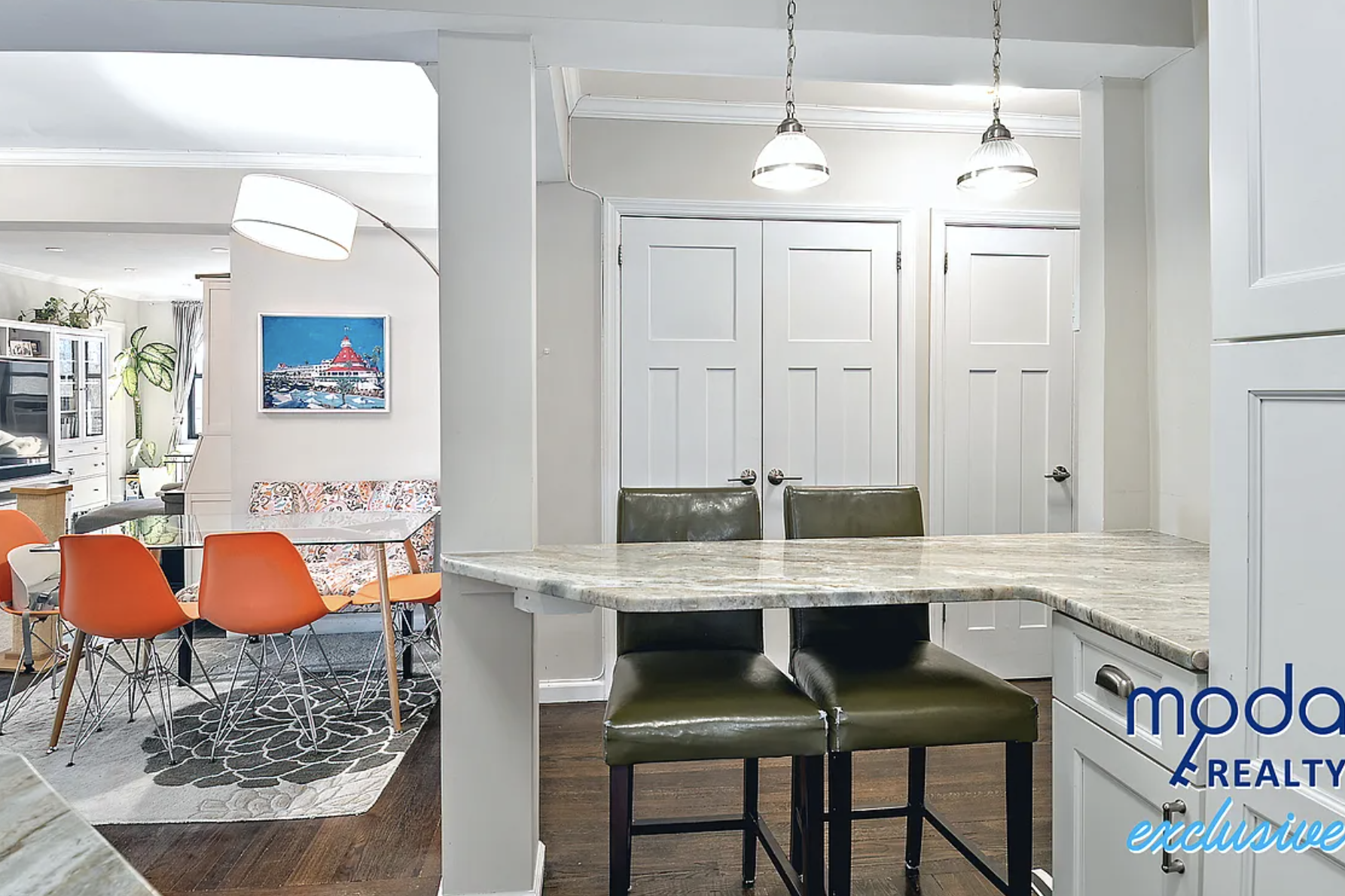 This 1,400-square-foot co-op, on the market for $599,000, has three bedrooms, two baths, oak floors, solid-wood doors, crown and base moldings, a private terrace, and river views. The renovated kitchen features stainless steel appliances, granite countertops, a dishwasher, and breakfast bar; the en-suite bath has also been updated. The circa-1959 Burton, a luxury elevator building with 142 units on seven stories, has a live-in super, part-time doorman, bicycle storage, a gym and parking. Pets are allowed.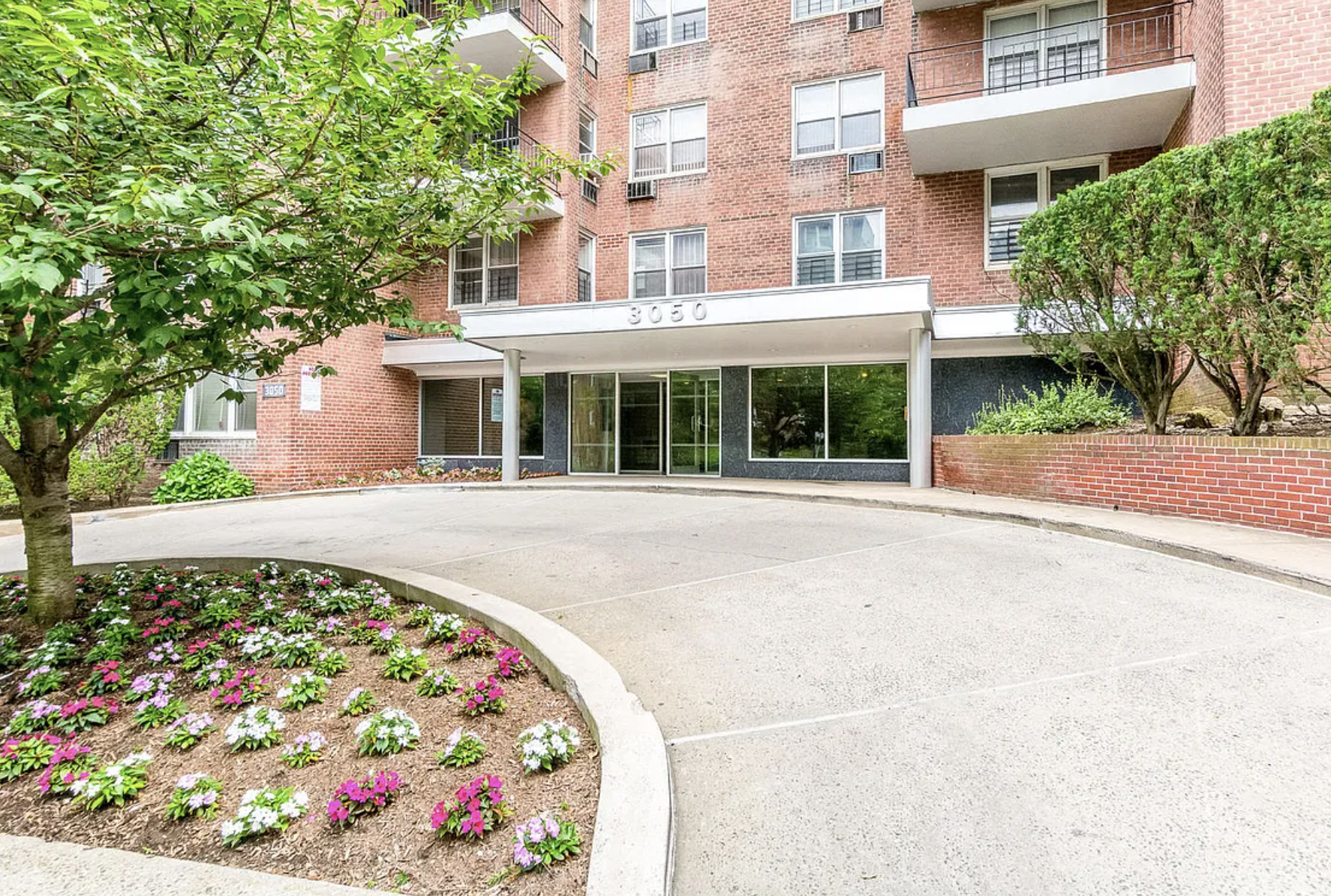 Listed for $479,000, this 1,400-square-foot co-op has two bedrooms, two baths, a corner terrace, walk-in custom closets in the primary bedroom, 9-foot ceilings, wood floors, four in-wall digital air conditioners, and a new eat-in kitchen with granite countertops, stainless steel appliances, and a dishwasher. Tangiers, a pet-friendy eight-story building, was erected in 1958 and features 73 units, a doorman, live-in super, bike room, storage, and indoor parking.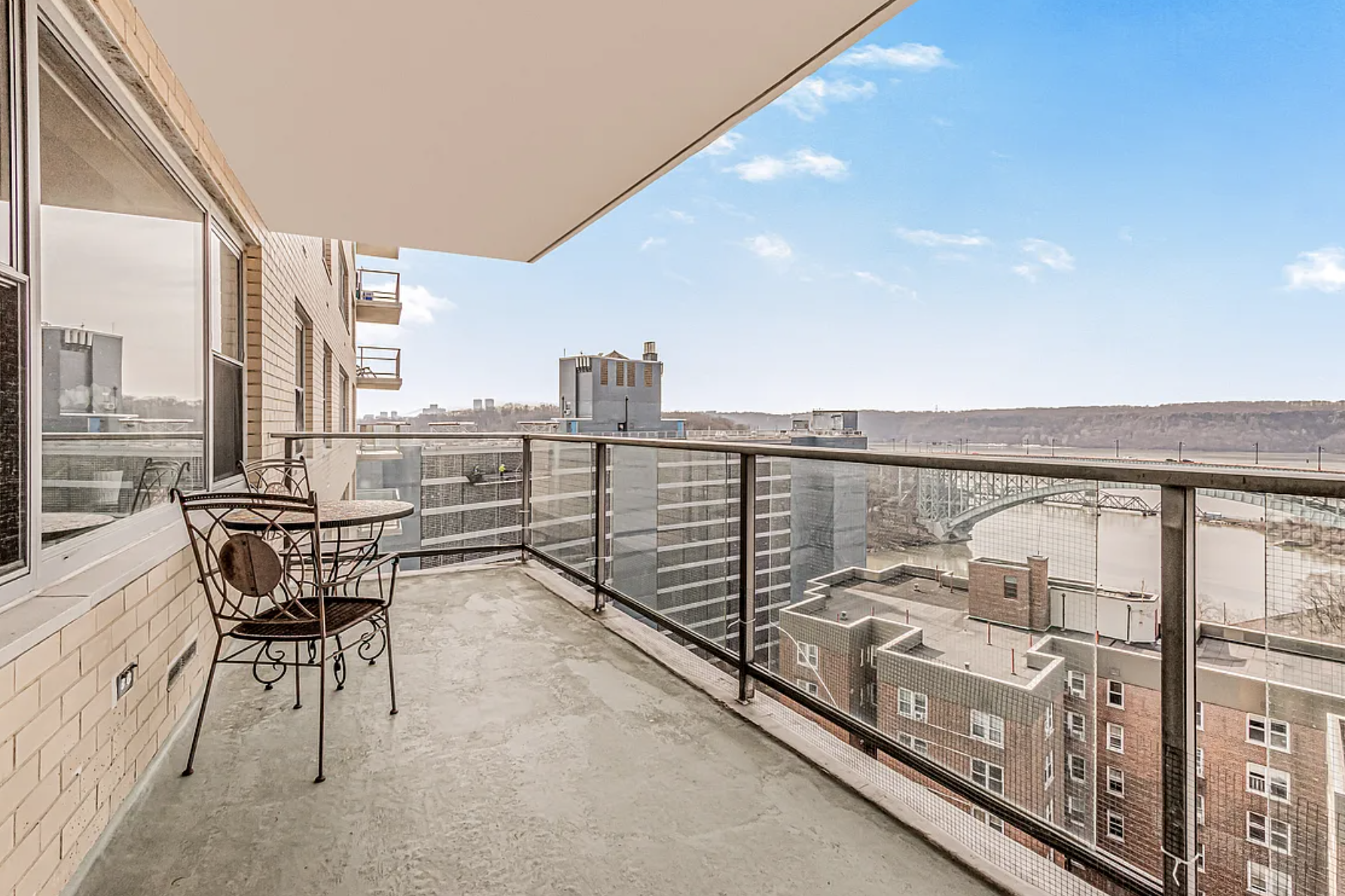 Located in The Winston Churchill, this 1,450-square-foot renovated co-op is asking $685,000. It has two bedrooms, two baths, an eat-in kitchen with a dishwasher, parquet floors, and a 19-foot terrace. Amenities of the pet-friendly building, which dates to 1967 and has 339 units on 20 stories, include a doorman, gym, indoor pool, bike room, community room, indoor and outdoor playgrounds, and parking.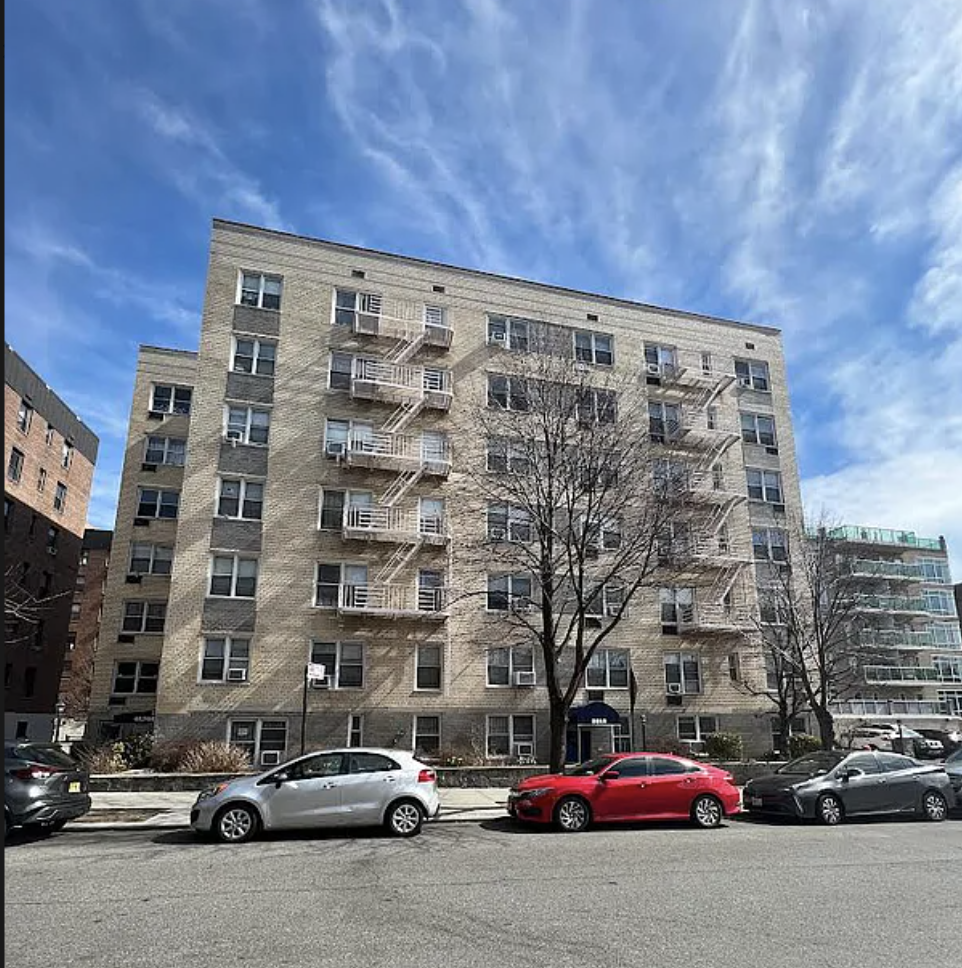 This 850-square-foot two-bedroom, one-bath co-op is listed for $234,900 and features wood and parquet floors plus a new kitchen with quartz countertops. The six-story, 45-unit building, which dates to 1962, comes with a live-in super, laundry room, courtyard with an outdoor grill, and wait-listed parking.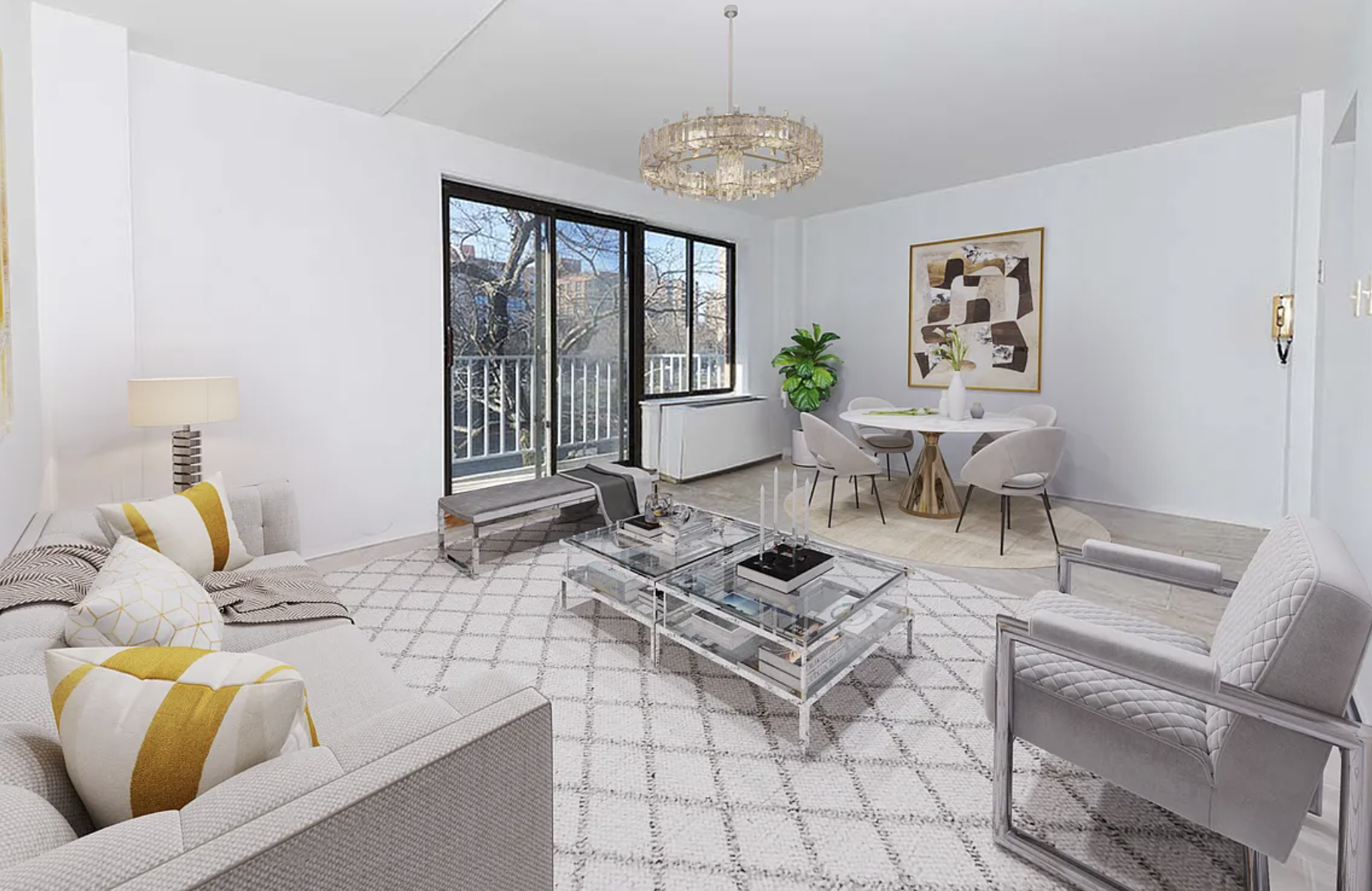 Part of Netherland Terrace, this 750-square-foot condo has one bedroom, a marble bath, ceramic floor tile, and a balcony. It's listed for $375,000. The building, opened in 1988, has 15 units total on six stories, a laundry room, and wait-listed indoor and outdoor parking.
Nancy A. Ruhling is a freelance writer based in New York City.
Brick Underground articles occasionally include the expertise of, or information about, advertising partners when relevant to the story. We will never promote an advertiser's product without making the relationship clear to our readers.