Buy Curious
What to know about buying in Soundview, the Bronx, where affordable housing options and ferry service attract municipal workers
Two-bedroom co-ops cost under $400,000, condos run $450,000 to $600,000
Prices are rising but are still less what you typically pay for living near the waterfront
The South Bronx community of Soundview—which, inexplicably, produced U.S. Supreme Court Justice Sonia Sotomayor as well as "Son of Sam" serial killer David Berkowitz—is a vibrant waterfront enclave.
In the last decade, the area has undergone a real estate renaissance, with numerous new condo developments and the addition of ferry service, which made its first run here in 2018. 
Amazon is slated to open a fulfillment center here soon, and York Studios has given the community a starring role in numerous TV shows and films.
In this week's Buy Curious, Marithza McFadden, an agent at Keller Williams Realty NYC Group, and Ramona Vicenty, an agent at Corcoran, give us the inside story on Soundview.
The question:
I like the idea of living close to the waterfront, but I assume that Soundview is more expensive than some of the other neighborhoods because of this. What can you tell me about it?
The reality:
The real estate prices in Soundview are comparable to those in the surrounding communities, such as Parkchester and Castle Hill, Vicenty says, "but the [housing] is different. The condos in Soundview have a townhouse feel, those in Parkchester are more like apartments, and in Castle Hill, the options run more toward single families and multi-families and rental buildings."
McFadden adds that while Soundview has "historically been less expensive, now prices are starting to go up, but they are still lower for people who like townhouse condos or condos by the water."
Where is it?
On the Clason Point peninsula, Soundview is bounded on the north by the Cross Bronx Expressway, on the south by Lacombe Avenue, on the east by White Plains Road, and on the west by the Bronx River.
Why would NYers want to move to Soundview?
"It's an affordable enclave that offers townhouse living close to the water," Vicenty says. "And with the ferry, which changed the game, you can get to Manhattan in an hour."
McFadden says it's a good option for first-time buyers who want to stop renting. "Many of the residents are employees of New York City and the state and the federal government and when they retire, they downsize and stay," she says. "Their kids come back because of the prices and because they like the neighborhood they grew up in."
Soundview's central location, near the highways, also is an attraction. "It's only a 10- to 15-minute drive to Orchard Beach, which is the Bronx Riviera, and City Island, which is a seafood haven."
Where in Soundview should you live?
Clason Point, which is on the waterfront, is home to the park of the same name.
Harding Park is known for its single-family houses.
Castle Hill, which is right next door but often grouped with Soundview, has condos, co-ops, and multi- and single-family houses.
Shoreham, which is by the water and a short walk to the ferry, has gated condos and single- and multi-family housing.
What are housing and pricing like?
In Soundview, it's still a seller's market, Vicenty says, adding that appropriately priced properties move well. "Anything that's $800,000 to $1 million is going into contract quickly," she says.
Scarce inventory—there are only 23 properties on the market in Soundview, according to OneKey MLS—and high demand is playing into sellers' hands.
Noting that "there's a real mix of housing types," Vicenty says single-family houses average $650,000 to $750,000, and multi-families bring $800,000 to under $1 million.
Co-ops tend to be less expensive than condos: A two-bedroom co-op can be had for less than $400,000, while a condo would bring $450,000 to $600,000.
According to Vicenty, renters have a choice of multi-family houses or apartment buildings. One bedrooms generally are $1,800 to $2,000, two bedrooms run $2,400 to $2,600, three bedrooms are about $3,300, and four bedrooms are $3,600.
Is there a lot of new development? 
There are a few housing projects in the works, McFadden says, adding that an affordable housing community off of Washington Avenue is being developed.
What's the transportation situation?
The No. 6 train runs through Soundview as do the Bx4, Bx4A, Bx5, Bx11, Bx27, Bx36, and Bx39 bus lines. And the NYC Ferry is another option.
What is there to do?
There are several green spaces. Soundview Park, called the "Gateway to the Bronx" because "it's situated where the Bronx River flows into the East River," covers 205 acres and has baseball and soccer fields, basketball and handball courts, a cricket pitch, running track, dog run, walking/biking paths, and a great lawn.
Clason Point Park is on the peninsula and offers swimming and kayaking.
Parque De Los Niños, which offers soccer, baseball, and children's playgrounds, "is packed on the weekends, especially Sundays," McFadden says. "There are food trucks, and people spend the day there."
What's the restaurant/nightlife situation?
The restaurants, many of them fast-food takeouts, reflect the community's diverse population.
Popular spots include Jimbo's Hamburger Palace, the Chinese eatery Golden City, Juices for Life, which sells freshly squeezed fruit and vegetable juices, Jimmy's Grand Café, a 24/7 diner with an American menu, and CEA-LO Cafe, which has soul food and fish and chips.
"Residents who want a sit-down dinner go to Tremont Avenue, which is a 10-minute drive away," McFadden says.
How about grocery stores?
In addition to small markets, there are several supermarkets, including Western Beef, ShopRite, Associated, Fine Fare, and Food Bazaar.
Check out these listings in Soundview.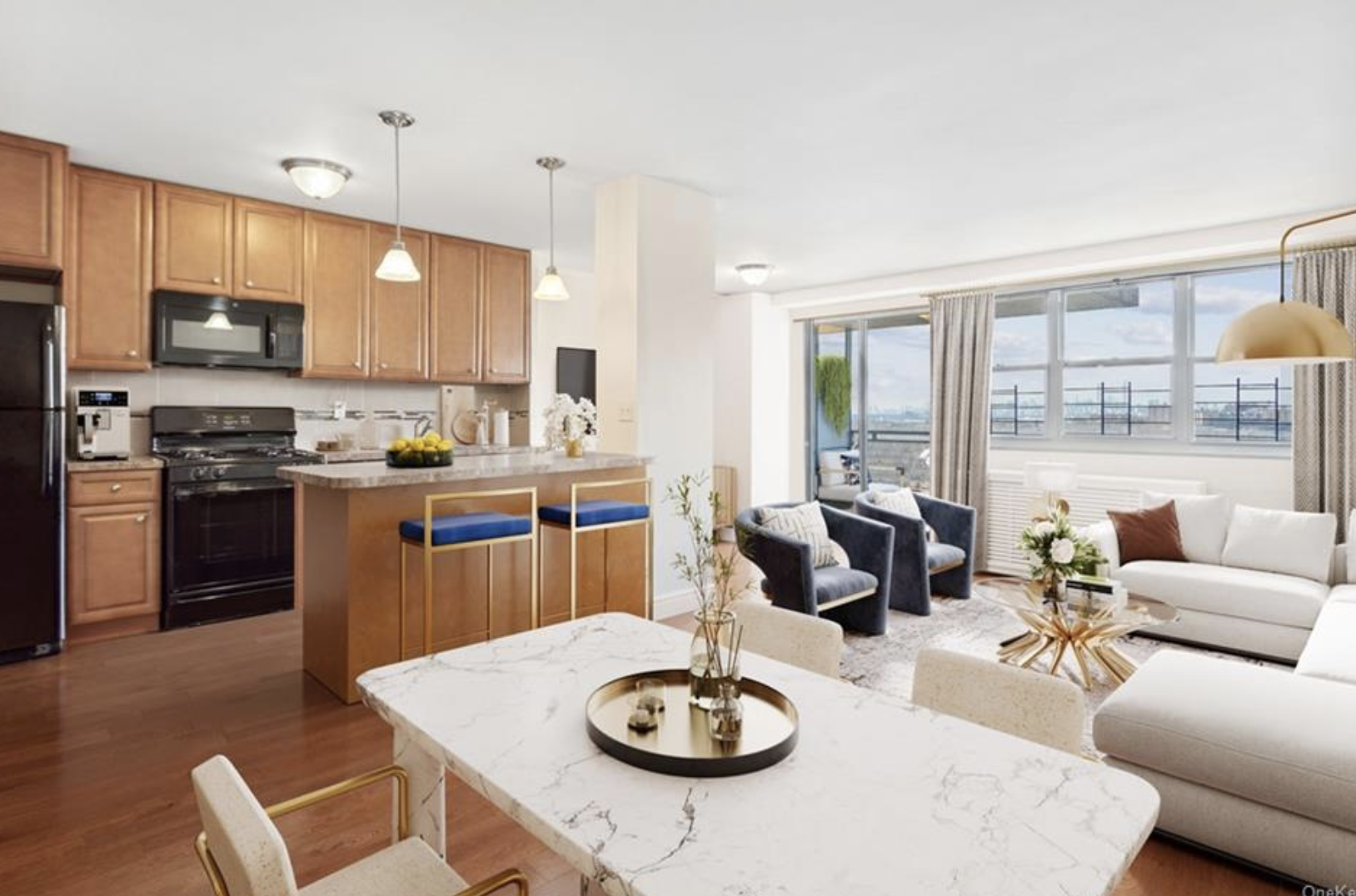 This 10th-floor two-bedroom, one-bath co-op is listed for $365,000 and comes with a balcony. The building, Lafayette Estate, dates to 1962 and has 24/7 security, a laundry room, and on-site parking.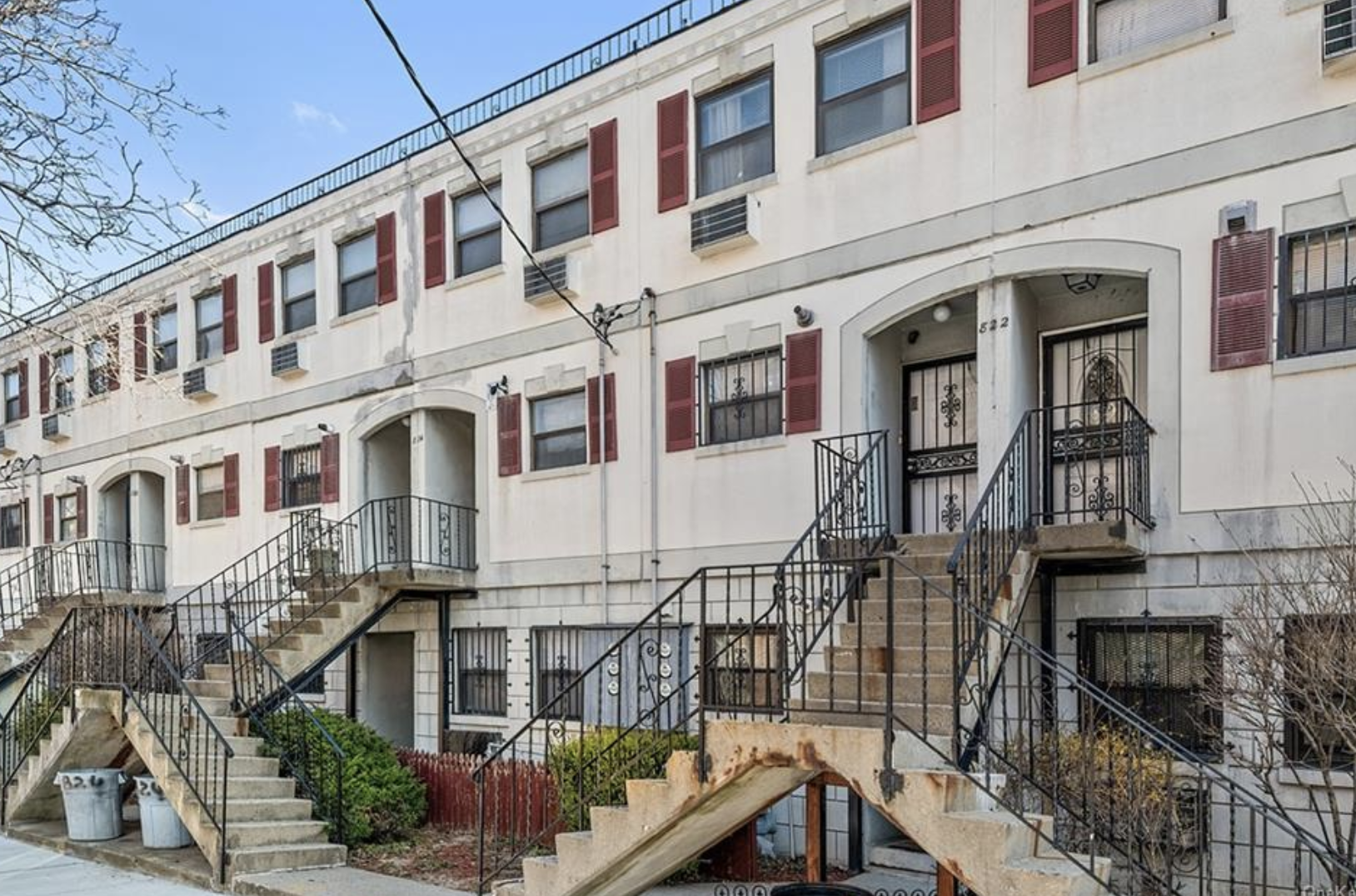 Listed for $329,000, this renovated townhouse condo is in the Leland Gardens complex, which was built in 1988. The 936-square-foot unit has an updated kitchen with stainless steel appliances, a balcony, and an assigned off-site parking spot.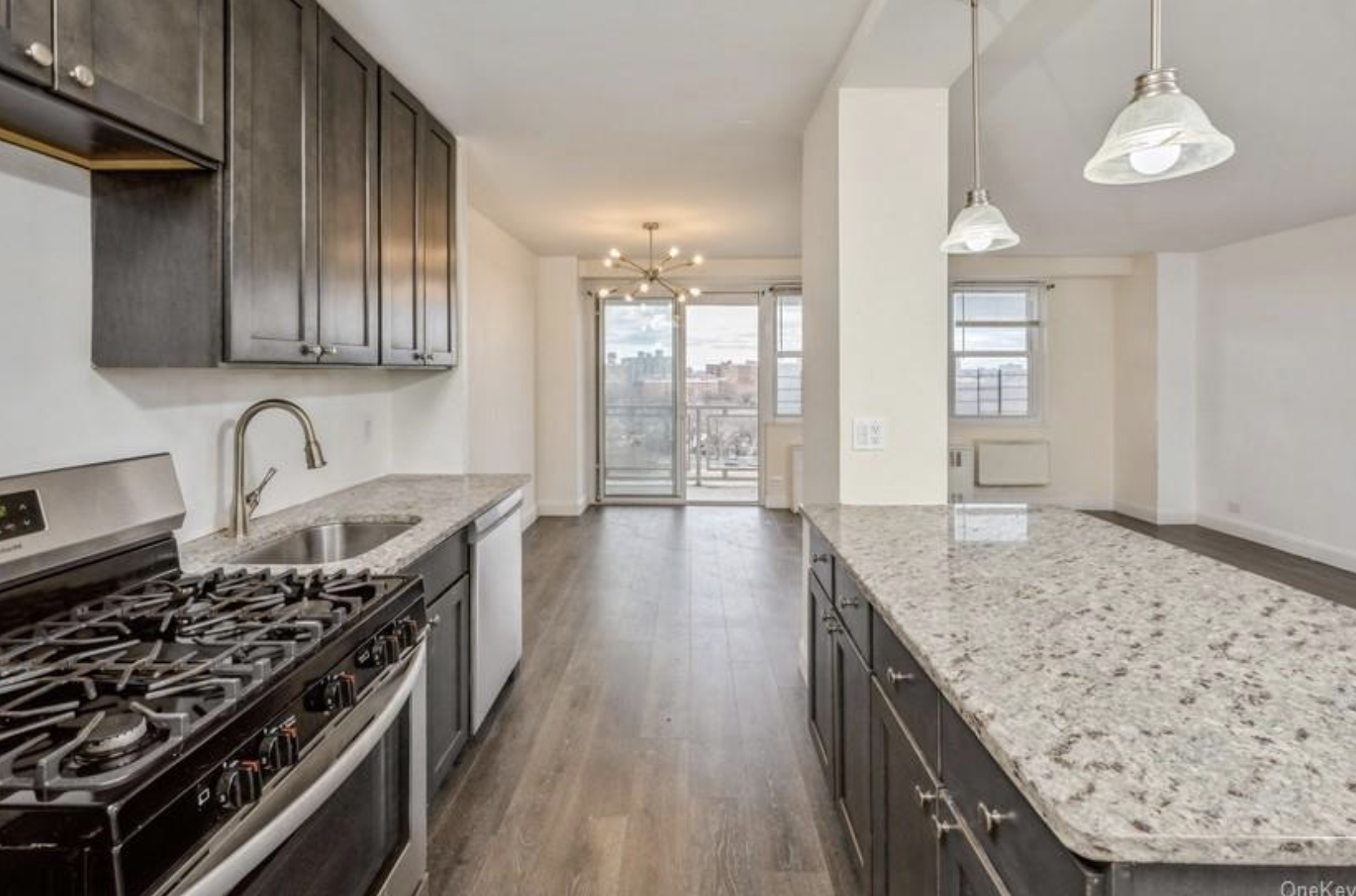 Renovated in 2019, this two-bedroom, one-bath, 900-square-foot co-op has an open-concept kitchen with granite countertops and stainless steel appliances, a walk-in closet, wood floors, a terrace, and views of Soundview Park and the Manhattan skyline. The building features a laundry room, 24/7 security, and the option to rent a parking space. It is asking $325,000.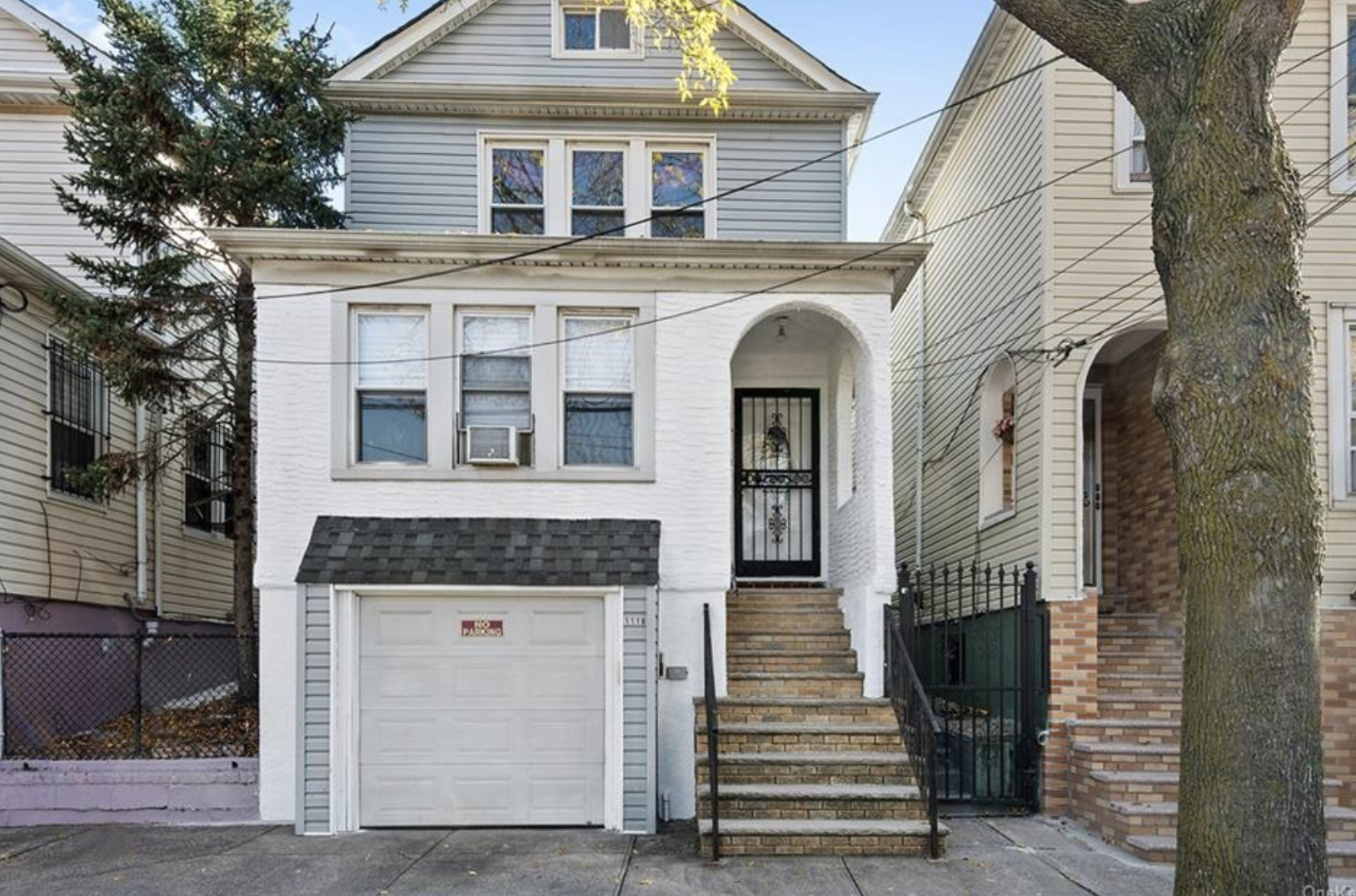 This single-family Colonial has three bedrooms and two baths. The 1,929-square-foot house, built in 1929, also has a formal dining room, an eat-in kitchen, hardwood floors, a deck, backyard, an attached heated garage, and solar panels. It is listed for $799,999.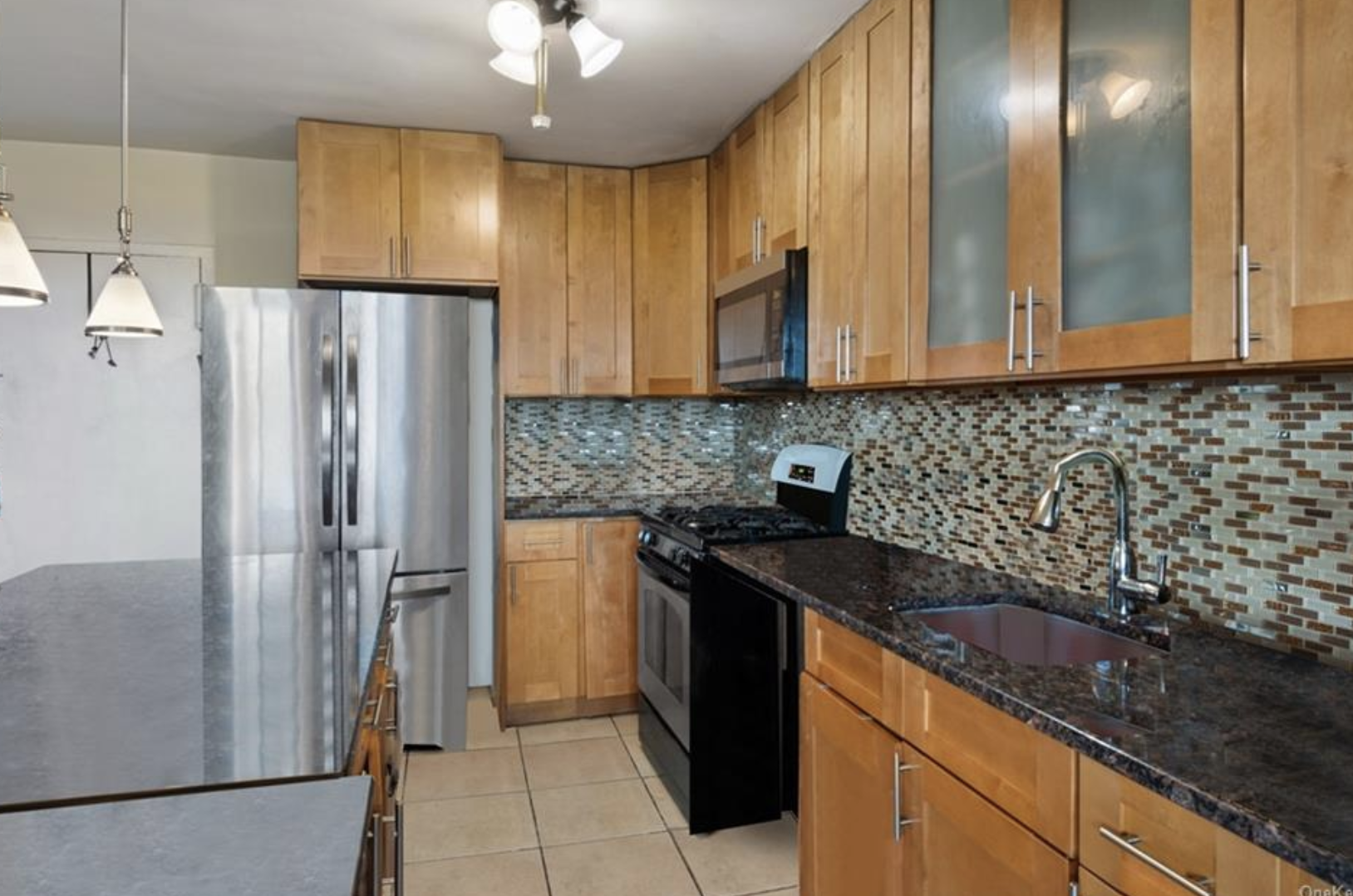 Located in a Lafayette Estates, this two-bedroom, 900-square-foot co-op is on the market for $359,000. The fully renovated unit has a kitchen with stainless steel appliances and granite countertops, walk-in closet, and balcony. The elevator building has 24/7 security, a laundry area, and on-site parking.
Nancy A. Ruhling is a freelance writer based in New York City.
Brick Underground articles occasionally include the expertise of, or information about, advertising partners when relevant to the story. We will never promote an advertiser's product without making the relationship clear to our readers.