Buy Curious
What you need to know about buying an apartment with a basement to use as an office or rec room
New York City apartments are notoriously small, so looking for a place with a basement is one way to get more room.
Apartments with basements are naturally going to be ground-floor units in townhouses or brownstones, although they exist in newer developments, as well. And you can use the extra space in a variety of ways—a home office, laundry room, playroom, or storage.
And while a basement—essentially a second floor—will add to the cost of the apartment, you will not pay as much as you would for a duplex on higher floors.
Just note that a bedroom in a basement is typically not considered legal—particularly because it's unsafe to sleep in a place that lacks a window. But if your plan is to use a basement in other ways, you are in the clear.
In this week's Buy Curious, Jacob Henderson of Citi Habitats, and Noemi Bitterman and Alex Lavrenov of Warburg Realty tell you how and where to find these types of units, and what types of issues you'll be likely to face as the owner of a ground-floor apartment.
The question:
I'm interested in getting an apartment in NYC with a separate basement space that I can use as a home office. How should I even begin my search? Where should I look? And how much extra will the basement cost me?
The reality:
If you begin your quest on a site like StreetEasy, search for "cellar," "walk-in apartment," "garden apartment," or simply "basement."
Henderson adds "duplex" to that list. He also suggests looking for unit numbers that indicate ground-floor apartments, such as "1A, 1B, 1R, etc."
When can a basement be used as legal bedroom?
It's possible, if the lower level is in an "English basement," with 50 percent of the basement above ground level. 
For a bedroom to be considered legal in New York City, the length or width has to be eight feet or more and you can't access it by passing through another bedroom. There also needs to be two means of egress, including a window and a door that can be opened from the inside. 
Where can you find apartments with a basement?
You can check both new construction and historic buildings, say our experts.
"Typically, duplex apartments are found in smaller low-to-midrise buildings, so I would focus the search on traditional residential neighborhoods" that have large concentrations of brownstones, Henderson says, explaining that you should look to areas like Murray Hill, Greenwich Village, and the Upper East and West Sides in Manhattan, as well as places like Brooklyn Heights, Greenpoint, Williamsburg, and Park Slope in Brooklyn.
Lavrenov also recommends checking out Bed-Stuy, Crown Heights, Greenwood Heights, and Carroll Gardens in Brooklyn.
Do you have to pay more?
Of course, you will.
"Homes or apartments with basements are more desirable because of the extra space, much like a home with views or private outdoor space [is more desirable]," Bitterman says.  
Henderson adds that the area is not calculated into the apartment's total square footage if 50 percent or more of the basement is below ground. "Regardless, it's still considered a premium to have the additional space—whether it be used as recreational/storage space or an additional bedroom," he says.
What's the fanciest use of a basement you've seen?
I've seen amazing playrooms for kids, home offices, and art studios.," Henderson says. "Often, a basement makes an ideal home theater—with some people creating elaborate set-ups with reclining loungers, tiered seating, and surround sound. It's one use of the space where lack of natural light is actually a plus!"
Lavrenov's seen these types of basements used as extra living rooms, recreational rooms, storage, and laundry rooms, as well.  
What sorts of upgrades do people need to do?
Common upgrades to a basement level, according to Henderson, include fully finishing the space, which involves covering the concrete, brick, or stone walls with a moisture barrier, insulation, and sheet rock, as well as finishing around beams and ceilings. Recessed can lighting is also often added.
"Other upgrades include adding half-bathrooms, tiling floors, and adding ductwork and vents for heating and cooling," Henderson says.
What are the downsides to a basement?
Bugs, rodents, and other pests often plague these units more than higher-level apartments since the ground floor is their first point of entry.
"Potential exposure to leaks/water damage is also a risk associated with these spaces," Henderson says. "With heavy rain, even water-proofed basements can take on water—especially in low-lying or riverfront neighborhoods."
Mold and mildew are other common problems in these types of residences, Lavrenov says.
Check out these units with basements: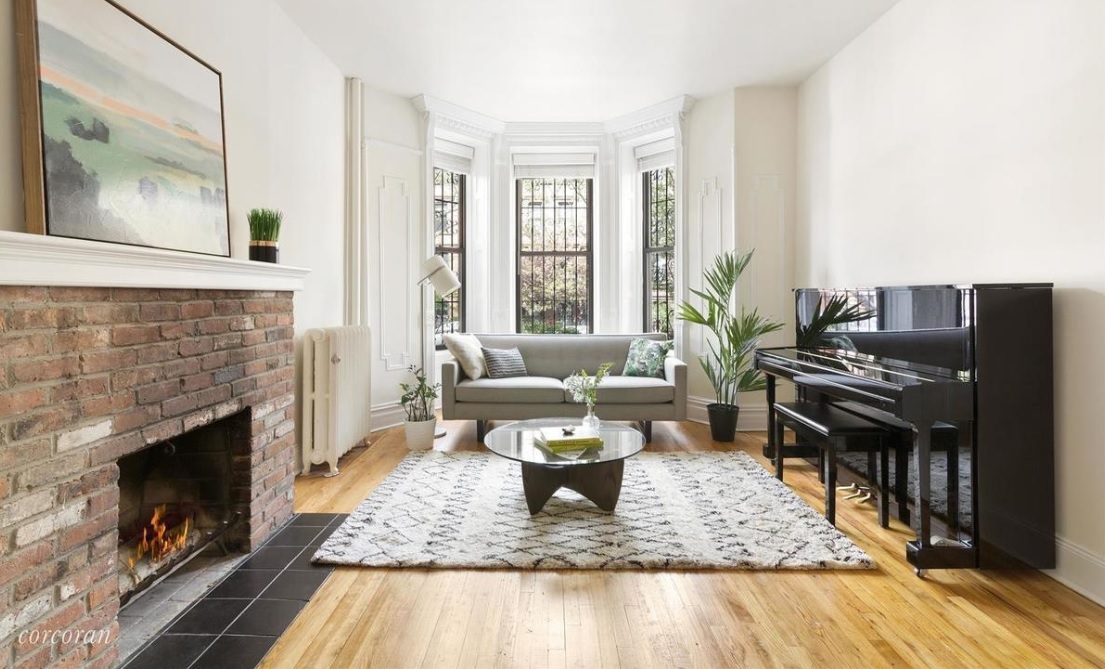 Listed for $1,477,000, this newly renovated, three-bedroom, one-and-a-half-bath co-op (also pictured top) has a private garden, a wood-burning fireplace, high ceilings, hardwood floors, in-unit laundry, stainless steel appliances in the kitchen, and a 400-square-foot bonus room in an English basement that can be incorporated into the apartment or used separately as a home office or studio space. It's located in a four-unit co-op with no underlying mortgage. Maintenance is $780 a month.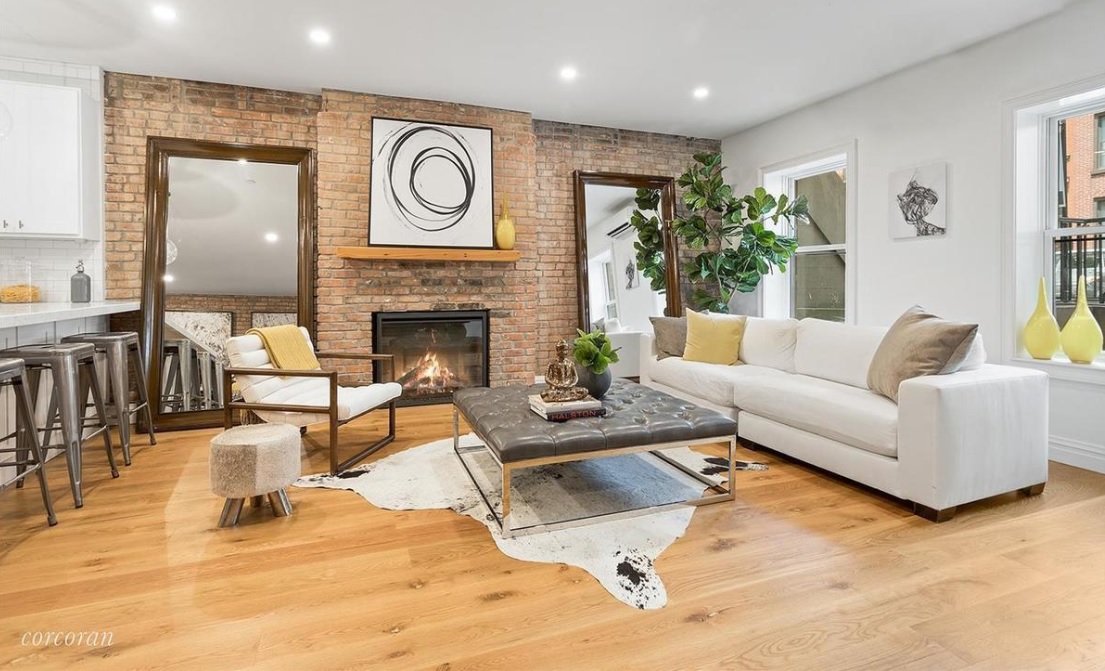 154 Nelson St., #Garden, Carroll Gardens
Priced at $2,250,000, this 1,937-square-foot, two-bedroom, two-and-a-half-bath garden duplex has a mud room with custom built-in storage cupboards, oversized windows, wide-plank oak floors, exposed brick, moldings, working fireplace, and chef's kitchen with stainless steel appliances and a pot filler. Downstairs there's a large entertaining and relaxing space. There's also a private, landscaped backyard. It's in a three-story, four-family home. Common charges are $413 a month. Taxes are $382 a month.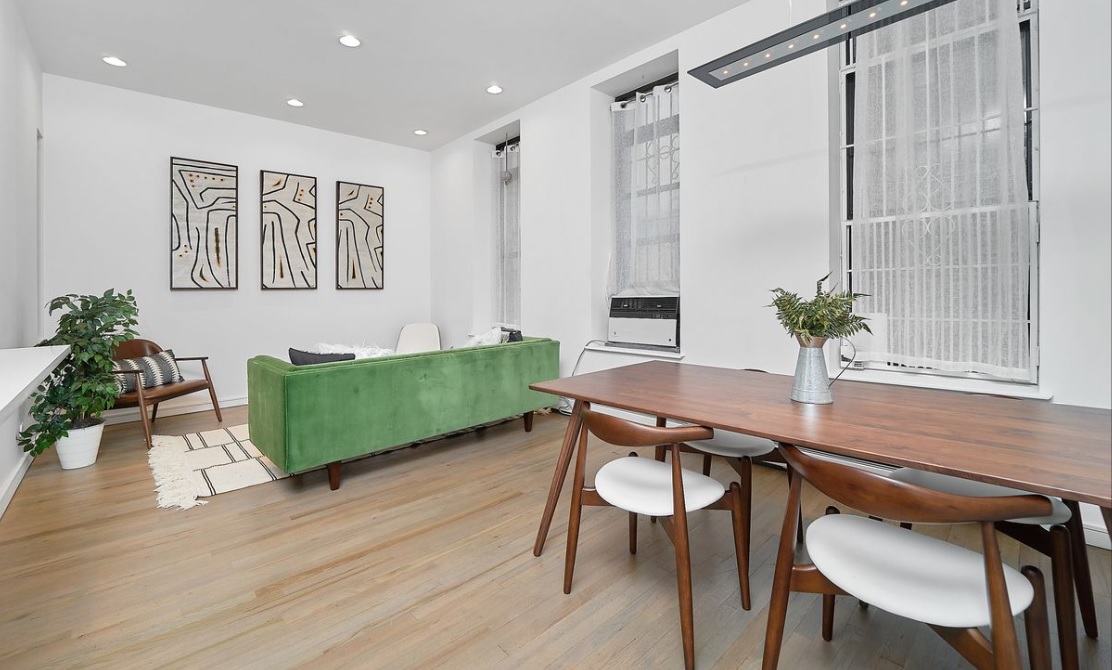 This 1,215-square-foot, two-bedroom, two-bath duplex is located on the parlor and ground floors of the Diego Rivera Condominium. Enter on the top level of the apartment, which has an entry foyer, bedroom, bathroom, open kitchen, living room, and dining room. Downstairs is a great room that could work as an office, media room, playroom, or master bedroom. This lower level—which also has a separate entrance—is where you can also access private outdoor space. It's listed for $1,245,000. Common charges are $1,024 a month. Taxes are $755 a month. The apartment comes with a dedicated storage unit and the building features a common laundry room and a fitness room.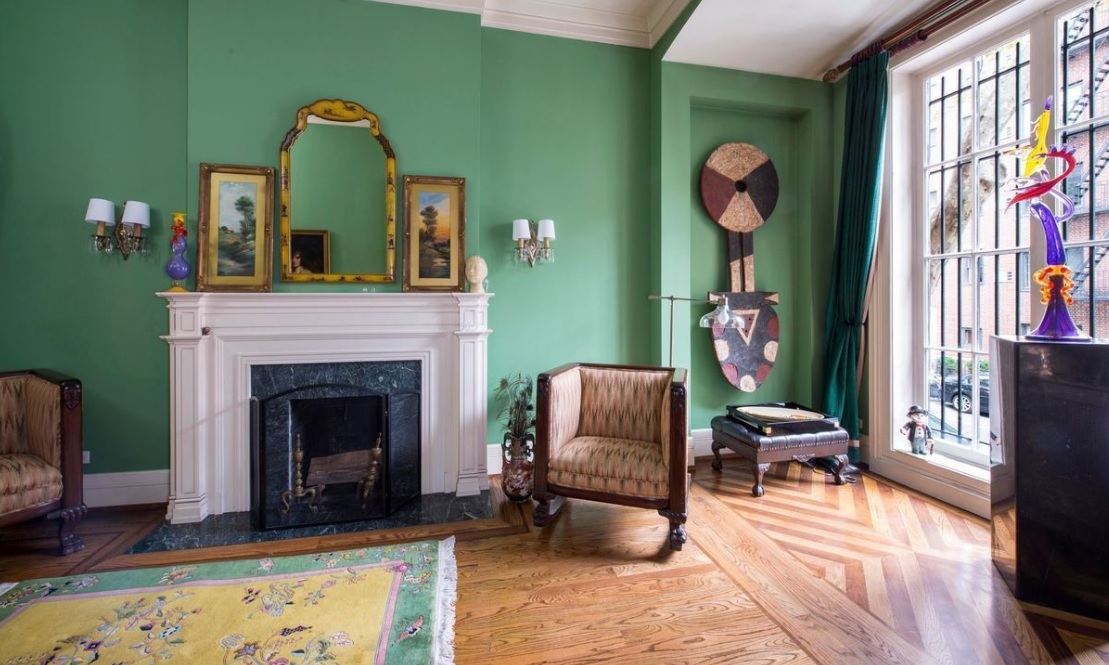 This turn-of-the-century, four-story townhouse  with five bedrooms, and four and a half baths  is asking $5,495,000. The home has hardwood floors, high ceilings, and a skylight at the top of the stairs. There's also an English basement under the stairs that is currently being used as an office, but can be converted to another bedroom. There's also a brick patio, as well as a garden. Taxes are $2,302 a month.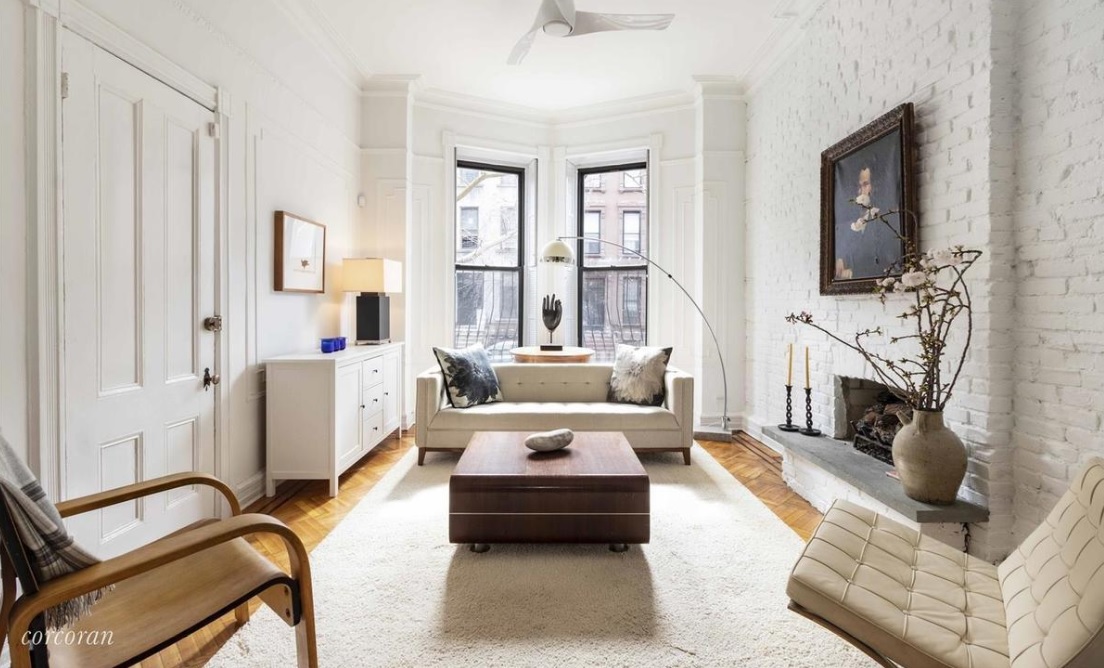 Listed for $4,250,000, this 5,010-square-foot, seven-bedroom, five-bath townhouse has high ceilings, large windows, lots of original details, as well as a garden. With a recently renovated English basement, the home is currently set up as an owner's three-bedroom triplex with one floor for a guest space or playroom, and a three-bedroom top-floor rental. Taxes are $765 a month.
Brick Underground articles occasionally include the expertise of, or information about, advertising partners when relevant to the story. We will never promote an advertiser's product without making the relationship clear to our readers.