One of the best ways to add extra space, not to mention value, to your New York City house or townhouse is right underneath your feet, or a few feet down. We're talking about the basement. You know that dark and dingy space where you stash sports gear and suitcases, and hate to spend much time? It can be made into a place that's welcoming and more usable with laundry rooms, storage, or living spaces.
"Basement renovations are on the rise in NYC as more owners choose to renovate their homes instead of buying something new," says Jean Brownhill, founder and CEO of Sweeten—a free service that matches homeowners with the best vetted general contractors and architects for their renovation, then monitors the project until completion. "We've seen a 53 percent increase in the number of basement renovations posted on our site in the past year."
How much will it cost?
The cost of renovating a basement of a brownstone or single-family house can run about $60,000 to $100,000, or $100 to $150 per square foot, according to the experts at Sweeten. But basements often come with their own set of baggage, and it's not your old suitcases.
Older townhouses, especially in New York City, have basements with lower ceilings, and the remedy for that is to dig down, lowering the floor to achieve a 7-foot minimum height. That can add $50,000 to $100,000 to the cost of the renovation. 
"We see these types of projects all the time," says Brownhill. Based on the scope of work, Sweeten introduces homeowners to general contractors who specialize in the task at hand, whether it's a relatively straightforward renovation or a more elaborate one involving dig outs, plumbing, or creating a basement rental property.
If your stairs need to be replaced, budget $15,000 to $30,000. If an entrance, bathroom or kitchen are being added, those would also increase the cost.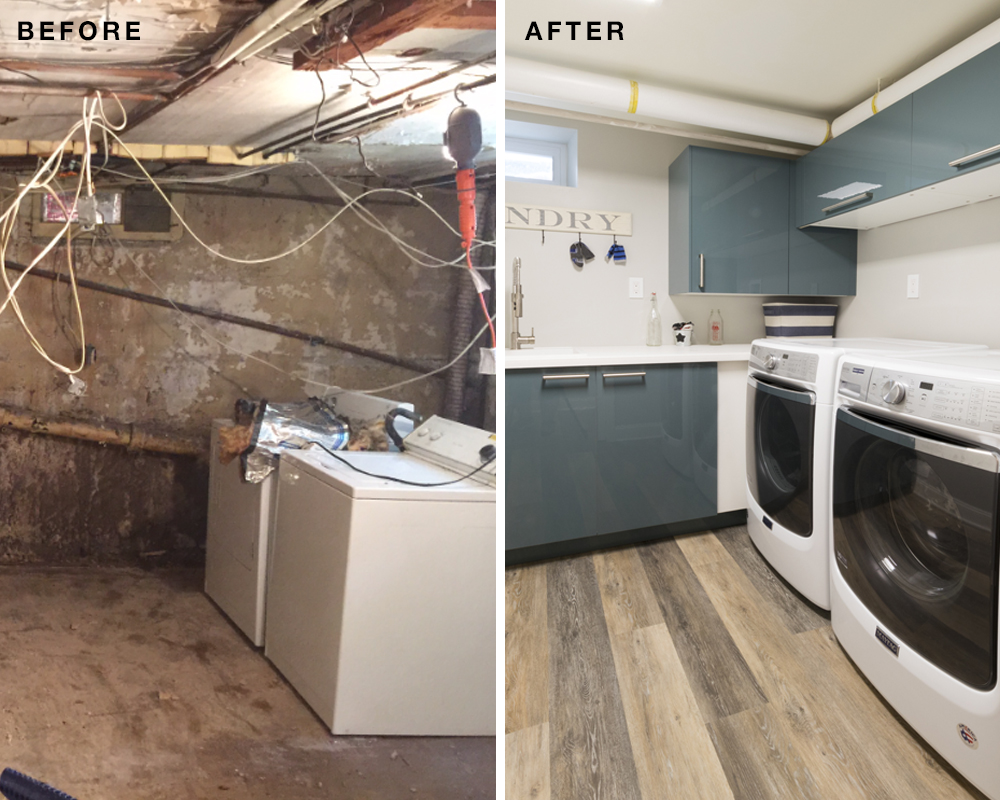 Adding value
One of the prime reasons to renovate a basement is for the value it brings. Carol Wang, a real estate agent at Corcoran, and a past renovator with Sweeten, explains that while there are many variables to consider, below-grade (or below ground level) square footage is typically calculated at 50 percent of the square footage value of above-grade space.
So, for example, a house that is 2,000 square feet at $500 per square foot would be valued at $1,000,000. A 1,000-square-foot finished basement would be calculated at $250 per square foot, adding $250,000 in value. As with any renovation, the value can fluctuate depending on many variables; for example, if the basement is outfitted with floor-to-ceiling custom millwork or other notable amenities, that would bring the price per square foot to the higher end of the estimate, while a bare-bones finished space might be calculated at less than 50 percent of the value of the above-grade space.  
"There is a difference legally between basements and cellars," Wang points out. "A cellar is less than 50 percent above grade, while a basement, which is sometimes called an English basement, usually has some windows at ground level and is at least 50 percent above grade." 
Can I add a bathroom?
"Many owners want to know if they can legally add a full bathroom to a basement, especially if they are adding a guest room or other living space down there," says Brownhill."It depends on what's below the basement—a cellar or slab."  
If it's slab, you will need to dig a trench through it for plumbing, which can be costly, but can be done. You may also consider some measures to prevent flooding, such as bringing in pumps and raising equipment off the floor. Your flooring should ideally be non-porous, or a surface that won't let water pass through.
Can I add a bedroom?
If the space you are making is a bedroom, living room, or rec room, then real estate agents are sometimes inclined to include the square footage in the overall count, even if it's not the typical way to assess square footage, Wang says. "This would raise the home's value by a lot, if you are counting price per square foot."
There are some legal limitations of which you should be aware. If you are changing the use of your building, for example, from single-family to a two-family or adding bedrooms, you should seek approval from the Department of Buildings. And also keep in mind that according to the 2008 New York City Building Code, a legal bedroom that's in a basement must have a minimum of 80 square feet, a minimum ceiling height of 7 feet, at least one window and two means of egress, one of which can be a window.
Once your project is underway, you can start the really exciting part: making plans for how to use your newfound "bonus" space. You can count on enjoying more room to breathe, the knowledge that you've added considerably to the value of your house or apartment, and gained the flexibility to live the way you want—whether that means escaping to a fun new rec room or home gym, showing your visiting in-laws their new living quarters, or soaking up the solitude of a sparkling laundry room.
---
Named "Best Contractor Locator" by New York Magazine and one of  "America's Hottest New Companies" by Inc., Sweeten is an award-winning, free service that matches homeowners with the best general contractors for their renovation, with support from start to finish.
Brick Underground articles occasionally include the expertise of, or information about, advertising partners when relevant to the story. We will never promote an advertiser's product without making the relationship clear to our readers.