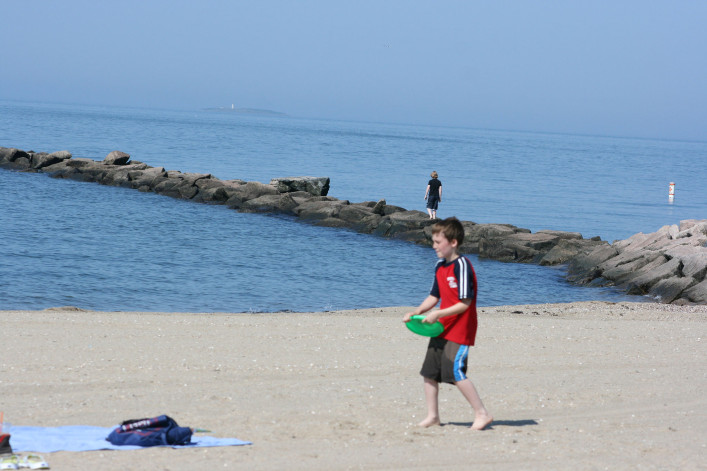 When New Yorkers think "beach," the Hamptons or the Jersey Shore usually come to mind. As for the beaches that line the Connecticut shore? Often overlooked. And yet they're just as much fun, as easy (or easier) to get to,  infinitely less crowded and often dramatically less expensive than the ones on Long Island or in New Jersey.
The basics: Connecticut has 24 towns along its shore, with a necklace of beaches that stretches along the coast of Long Island Sound from New York to Rhode Island. We've chosen four of these towns to profile with the closest, Greenwich, only an hour-and-a-quarter drive from NYC and the furthest, Old Lyme, just over two hours away.
Full disclosure:  Since they're on the Long Island Sound and not the open ocean, Connecticut beaches do not have the dramatic surf or picture-perfect sand dunes that some beach-goers crave. But, they do have calm waters (great for kids), nearby Norman Rockwell-esque towns and lots of attractions including summer theaters, art and history museums, galleries, hiking and biking trails.
Getting there: The towns along the Connecticut shoreline are easily accessible by rail. Metro- North trains that connect to Shoreline East commuter trains in New Haven are the most economical choice—a one-way trip from Grand Central to Old Saybrook, (with a connection in New Haven) costs $28.75. Amtrak trains also stop along the shore but they'll cost more: $48 for the lowest priced seat on that same route, starting off at Penn Station. If you're driving, all of the shore towns are just a few miles off of Route 95.
GREENWICH
The tony town of Greenwich is an easy day trip from the city (via Metro-North) and now it is possible to spend the day at one of the town's beautiful public beaches even if you don't live there. Wondering how tony it is? Take a look at the boats docked at the town marina or stroll down Greenwich Avenue, a mix of upscale chain stores, like Giggle and Lululemon, pricey boutiques and outdoor cafes, such as Terra, a celebrity magnet.
The beaches: Up until recently, the beaches of Greenwich were for residents only, but a few court cases later, that has changed—sort of. To get access to Island Beach, Captains Island Beach and Greenwich Point Beach, you'll need to get a day pass first ($6 or $11 for adults, free for kids) at town hall or the East or West Greenwich Civic Centers (which may be a hassle if you're not coming by car). Parking costs $25 for the day. 
With your pass in hand, take the ferry from the town dock (about three-quarters of a mile from the train station) to Island Beach or Captains Island Beach where you can swim (lifeguard on duty), barbecue, and picnic. Greenwich Point Park has another long, sandy beach where you can spend a day if you get a pass beforehand. This beach has hiking and biking trails and places where you can rent stand-up paddle boards or a kayaks. (There are also places to shower and change.)
Stay a while: For an overnight or weekend stay, splurge at the Delamar Hotel right at the harbor or book a room at the more reasonably priced Hyatt Regency not far from Greenwich Point Park. If you want to rent a beach house for a week or longer, it comes as no surprise that summer rental costs are steeper here than in other Connecticut shore towns. According to  William Raveis realtor Amy Whitlaw, rentals run about $8,000 to $15,000 a month; but for a new house with its own dock or beach access, over $20,000 per month is more like it.
Don't miss: For kids: the Maritime Aquarium, Stamford Museum and Nature Center and the Stepping Stone Museum for Children; for grown ups: the Bruce Museum, hiking at Audubon Park or the Babcock Reserve and summer concerts.
MADISON

Madison, Connecticut, is home to one of the most popular public beaches in the state. Credit: ​Greg Gutbezahl
Considered a suburb of New Haven, Madison is a pristine, walkable town with a Main Street that boasts two businesses that few other small towns can claim: an anti-multiplex movie theater that shows art films and an honest-to-goodness independent bookstore, R.J. Julia, that has been selling books in the same spot for over 25 years. Since Madison is probably too far from New York City for a comfortable back and forth in one day (a two-hour ride from NYC), consider a longer stay.
The beaches: Madison is home to one of the most popular public beaches in the state, Hammonasset Beach State Park, which is open to all. With two miles of beach, wetlands and woodlands and its own nature center, it's a perfect place to walk, bike, kayak, swim and picnic. There are showers and places to change. Weekday parking is $15 for non-Connecticut residents; $23 on weekends and holidays. In nearby Branford, the postage stamp sized Stony Creek Beach is open to the public as well but parking spaces are limited.
Stay a while: Some rentals in Madison are surprisingly inexpensive if you compare them to rentals in Greenwich, the Hamptons or the Jersey Shore. An example: a five-bedroom shingled cottage a two minute walk from a private beach and tennis court: $1,930 per week. Large houses right on the beach with more modern conveniences are available for $8,000-$10,000 per month during the summer.
Don't miss: Nearby Guilford's picture-perfect town green and collection of 17th, 18th and 19th century homes, galleries and restaurants; and the boat ride from Stony Creek to the Thimble Islands, an archipelago of 100 to 365 islands (depending on who's counting and whether it's high or low tide). The largest of the islands has 32 homes, some have only one. The tour boat operators would like you to believe that the islands were once a hotbed of pirate activity and a favorite hang out of Captain Kidd.
OLD SAYBROOK

​

Boats galore in Old Saybrook (a town with its own train station). Credit: John Weiss
Proud of Old Saybrook's 400-year-old pedigree, the residents of this town at the mouth of the Connecticut river have carefully preserved the historic character of their homes and their Main Street. Walk along this wide boulevard past antique stores, clothing boutiques, cafes, restaurants, the town green and one of the newest additions, a performing arts center called "the Kate" by the locals and built to honor the memory of Katherine Hepburn, the town's most beloved resident. One of the best walks in town is straight down Main Street to the Fenwick historic district where Hepburn and her family had a home—one of many rambling, shingled summer cottages built by wealthy families (mostly from Hartford) about 100 years ago.
The beaches: Saybrook's Harvey's Beach is open to all; a $10 fee during the week and a $20 fee on weekends and holidays includes parking and access to the beach with a lifeguard on duty, an ice cream and food truck and bathrooms, showers and changing rooms. Don't expect anything grand, though: It's a small beach with shallow water.
Most of the Saybrook/Westbrook area beaches belong to private beach associations and if you rent at any of these beaches — Cornfield Point, Fenwood, Knollwood, Chalker, West Beach, Grove, Middle Beach, Old Kelsey Point or Chapman Beach — you'll get access to the beach along with your rental. At many of these beaches at low tide, it's possible to walk far from shore on a series of sandbars — fun for kids but not so great for anyone who likes a serious saltwater swim. From year to year, the amount of pebbles/rocks close to shore changes; it all depends on the effect of the previous winter storms, so play it safe and pack swim shoes.
Stay a while: Most of the beach houses in the Old Saybrook area are smallish, sometimes rustic, summer cottages (no washer/dryers or a/cs). Others are more substantial, built or renovated for year-round use, and can even be quite grand, both in size and amenity-wise. Mike Perkins, a local realtor with William Ravies, says that weekly summer rental rates range from $1,200 to $6,000 per week and "some more modern, larger, direct waterfronts can rent for as high as $30,000 per month."
Don't miss: A performance at the Kate with offerings as varied as a Taylor Hicks concert and a performance of "James and the Giant Peach" for kids; a round of mini-golf at Saybrook Point; shopping at the outlets in Westbrook and Clinton; the arts and crafts festival on the town green in July; a hot fudge sundae from James Soda Fountain on Main Street and a lobster or clam roll out on the deck at Bill's Seafood.
OLD LYME
The American impressionist painters who spent their summers at Florence Griswold's boarding house on Lyme Street in the early 20th century chose this town as the perfect spot for their plein air painting. The light, the water, the farms, the homes on Lyme Street—they painted it all. Happily, much of Old Lyme and Lyme Street still looks much as it did when these artists — Childe Hassam, Henry Ward Ranger, even Woodrow Wilson's first wife — painted there 100 years ago.
The beaches: Ten minutes outside of town is a string of private beaches accessible only to renters and owners. But one beach, Sound View, is open to all, deeded to the town more than 100 years ago with the stipulation that it would always remain accessible to the public.  It's a wide beach — 100 feet long — but there's no lifeguard, restroom or changing facilities. There are a couple of bars (with food) right on the beach.
To access one of the private beaches in Old Lyme, you need to be a member of its beach association; temporary membership comes with rentals. White Sands, the town beach (for Old Lyme residents and renters only) is best for kids: there's a lifeguard, bathrooms, a playground and a gazebo for shaded picnics.  Old Lyme beaches are popular (especially with families who come back year after year) but Elizabeth Carlson, owner at Shore and Country Real Estate, says that last-minute planners shouldn't give up hope: Inventory and availability is at the highest during January but you still may be able to find something to rent. "We have new properties that come on board daily and cancellations do occur."
Stay a while: Renting a three- or four-bedroom house on the beach at White Sands will cost from $2,600 to $4,500 per week in July and August, lower in September. Many of the rental cottages date from the late 30's and though they look quaint from the outside, many have been gut renovated and have open, modern interiors. At all of the beaches in the area, there's not much space between houses and not much land around the house—don't expect more than a small back yard with a deck.
Don't miss: The carousel at Soundview; the ice cream at Old Lyme Ice Cream Shoppe; the American Impressionist paintings at the Florence Griswold Museum; a walk around the nearby river towns of Essex and Chester; kayaking on the Connecticut River (rentals at Black Hall Outfitters); a night of drinks dinner and jazz on the lawn at the Old Lyme Inn; the end-of-season Hamburg Country Fair and, on rainy days, matinee movies in nearby Niantic or Waterford.
*** This story was updated on July 7, 2016.
Brick Underground articles occasionally include the expertise of, or information about, advertising partners when relevant to the story. We will never promote an advertiser's product without making the relationship clear to our readers.