Beach
Don't have an oceanside vacation home? Pick a beach club and gain a budget-friendly summer getaway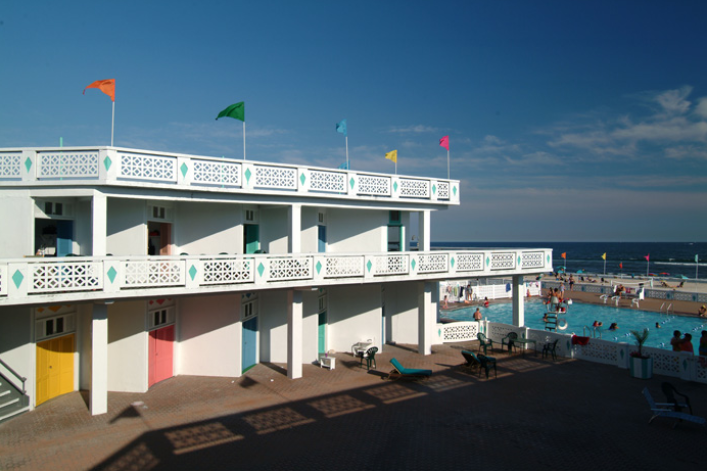 The days are getting warmer, the school year's winding down and your kids need fresh air and room to run, but your building lacks an outdoor area and the neighborhood playgrounds have lost all allure. So, what's a space-challenged New Yorker to do?
You could brave the crowds on Coney Island or dip into the college fund for a week's rental in the Hamptons or, for a price somewhere in between, you can join a beach club. "Summer travel is expensive," says Naomi, F., a mother of two on the Lower East Side, explaining why she opted to join a beach club the last two summers. Just 25 miles from Manhattan, Atlantic Beach, Long Island, is home to a number of clubs that offer acres of sandy beaches, frothy surf, kid-friendly activities by seasonal membership, some since the early 20th century. And while Long Island beach clubs tend to cater to local residents, many attract a third or more of their members from New York City, New Jersey and beyond. Here's what you need to know if you're yearning for an affordable beachside escape:
When and where: Beach club season generally runs from Memorial Day weekend to Labor Day weekend, with a few clubs extending their end dates a week or two into September. Clubs are open daily from 9am to 7 or 8pm, or later. (Note: Some aren't fully operational all seven days of the week until the second half of June when school is out.)
How to get there: Car-equipped city denizens can drive to Atlantic Beach in about the same amount of time it will take to travel the Q train to Coney Island. All club memberships include parking (most by valet) so you won't have to circle to find a spot.
If you don't have a car, you can hop onto the Long Island Railroad to Lawrence, Long Island and catch a cab to most clubs. Unless you already know someone there who can vet the experience for you, your best bet is to visit a couple to check out the accommodations, amenities, members and allover vibe firsthand.
The facilities: One big benefit of a beach club over a day trip to the beach, is the ability to store your stuff somewhere for the entire season. Memberships are a must, as are "accommodations," aka storage that falls into two main categories: cabanas (small studios with or without showers and basic kitchen facilities) and lockers (walk-in closets or dressing rooms with or without showers).
Cabanas tend to be located around the most desirable areas of the club (opposite the ocean, around the pool or sand court) and come with service—a cabana boy (or girl) who will sweep away sand, set up beach chairs and fetch food and drinks for you. Lockers are generally located farther afield and are best for the DIYers who don't need someone to wait on them.
In choosing an accommodation, you may want to consider the age of your kids: Around the sand court for babies and toddlers; the pool for school-aged kids; and opposite the ocean for teenagers and beyond. Since all clubs have restaurants and/or snack bars — Sunny Atlantic and its sister property, The Shores, also offer kitchens that serve kosher food — there's no need to pack food for the day.
The perks: The main attraction is the beach, but most clubs also have swimming pools (some, like Clearwater Beach Club and New Plaza Beach Club have kiddie pools, too)  and sand courts (oversized sandboxes where kids can play while adults lounge on the perimeter). Most clubs also offer some camp-like programing for kids in the form of arts and crafts, sand castle building and organized beach games. Catalina Beach Club, The Sands Beach Club and Silver Point Beach Club operate full-fledged day camps, too. Depending on the club, there may be tennis, baseball, tetherball, an arcade and other kid-friendly pursuits on sight.
Cheaper than a beach house rental: Cost of entry is by seasonal membership and is typically based on level of accommodation, though some clubs like, Sun & Surf Beach Club break up the fee into two: membership and accommodation.
The real estate mantra, "location, location, location," is at play here, too: The more luxurious and closer to the water the accommodation, the more you'll pay (i.e.: a cabana overlooking the water is pricier than a locker at the entrance to the property). Count on spending about $6,000 to $10,000 for a cabana and $2,000 to $4000 on a locker.
Sharing an accommodation is common. If you don't have another family to share with, the clubs will often set you up with one. All memberships include access to the property and the common amenities, like bathrooms, showers, pools, and the restaurant. Food, drinks, beach umbrellas and lounge chairs are typically available a la carte.
Tipping for service is appreciated—and expected: a couple of bucks for drinks and valet each day and a larger sum at the end of the season for those who you ended up depending on more, like the counselor who paid particularly close attention to your kids or the cabana boy who made sure your lounge chair was always exactly where you wanted it.
Related:
Vacation on a budget: The art of the summer share house
Your everything guide to finding a long-term Hamptons rental this summer
No pool? No problem: 6 places in the city worth diving into this summer
Brick Underground articles occasionally include the expertise of, or information about, advertising partners when relevant to the story. We will never promote an advertiser's product without making the relationship clear to our readers.