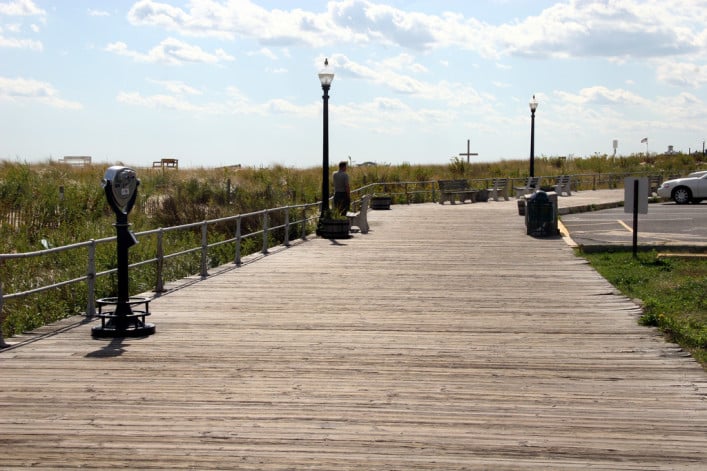 Ever since it premiered in 2009, MTV's infamous reality TV free-for-all Jersey Shore has colored the public perception of, well, the Jersey Shore. But as anyone who has vacationed there can tell you, there's a lot more to the beach towns of NJ than just party houses or sloppy nights on the town at Karma. 
In fact, the Jersey Shore rivals Long Island when it comes to offering a plethora of beach-town options with different personalities and price points to suit your tastes. To shut down the stereotypes once and for all, below, five surprising facts that'll make you want to take your next beach house hunt to Jersey:
There are plenty of options geared towards non-partiers
Though the shore does still offer lots that will appeal to summertime revelers (particularly areas like Seaside Heights, the lively party town where Jersey Shore took place, or the newly nightlife-laden Asbury Park), if you're hoping for a lower-key version of a beach vacation, you've still got plenty of picks.
In fact, some of the most popular Jersey shore towns, like Ocean Grove and Ocean City, are actually dry towns, meaning you can't purchase alcohol within city limits. (Though depending on the place, house parties are still common, and some restaurants let you bring in your own bottle of wine.) There's plenty of historic architecture to go around, from the stately Victorians of Ocean Grove and Lavallette to the kitschy old "Doo-wop style" hotels of the Wildwoods, and in areas like Point Pleasant, boardwalk activities that are geared more towards families than 24-hour party people. (For our guide to Jersey's different shore town options, click here.) 
"In my experience people who go [to the Jersey shore] for the first time are quite surprised at what they've been missing out on," says Beth Readlinger, a Citi Habitats broker who grew up vacationing down the shore. "There are beautiful beaches, parks, bike trails, running trains, fishing piers, and more."
You can make your plans at the last minute
Unlike the Hamptons, where diehard vacationers start locking down their summer rentals as soon as the new year rolls around, in Jersey, you've got much more freedom to play it by ear. "In the Hamptons, people will book it six months out, and tend to go back to the same home or the same neighborhood every year," says Bond New York broker Frank Sorrentino, who also brokers properties along the Jersey Shore. (NB: Sorrentino's brother is none other that Mike "The Situation" Sorrentino of Jersey Shore fame—these days, the family business is real estate.) "Jersey tends to be more like, 'Hey, I need something within the next month."
And because there are so many options (both in terms of towns and price point), renters tend to move around a bit more. "People try to find a good deal, or try out a new location—maybe one year in Cape May for the vineyards and B&Bs, and the next year in Atlantic City for the gambling," he says.
Rentals are available for shorter terms (and less cash)
While sites like Airbnb and VRBO have been changing the market (albeit illegally) in the Hamptons and North Fork, in Long Island's beach towns, the standard model is to rent for a period of at least a month, if not the entire summer. But if you're just looking to get away for a week or two, Jersey might just be your best bet. "A good portion of the homes are owned by families who are renting out their place for the week," says Sorrentino.
There's also a wide range of inventory options, and lower prices than you'd typically find on Long Island. "Week-to-week prices range from $1,000 to $3,500, and anywhere in between," says Mike Loundy, a broker with Seaside Realty who works primarily in the area around Seaside Heights. "You can find a small apartment or a long condo in that price range, or beach houses starting around $4,000 per week."
For larger beach homes, Readlinger tells us, "Prices typically range from $3,000 per week for a basic, no-frills house in Point Pleasant, to $15,000 for prime locations, like an oceanfront home in Bay Head." As a rule, you'll find tonier, more peaceful and Hamptons-esque options in areas like Spring Lake, Manasquat, and Sea Girt, she adds.
In short, there's a huge variety of prices, towns, and housing types to choose from. "Everything [with price] depends on the individual town, proximity to the beach or center of town, and if you're renting during prime months or in the winter," notes Readlinger.
There are still post-Sandy fixer uppers on the market
While much of the shore has recovered from the devastation of Hurricane Sandy, buyers in search of a fixer-upper (or the opportunity to build up a place from scratch) will still find plenty of bargain options.
"A lot of buyers are coming in and doing cash buys of these homes, and either rehabilitating, adding on, or tearing down completely and building from the ground up," says Sorrentino. "Rehab projects that are more for the land and location are priced accordingly—you can buy for between $300,000 to $400,000, and by the time you're done, you could double or triple your investment."
You may even be able to find a cheaper deal than that—a quick scan of one Jersey real estate site turns up Sandy-damaged fixer uppers in areas like Beach Head and Lavallette for under $200,000. Note: If you're interested in going this route, you might have to be an all-cash buyer, as Sorrentino points out, because banks can be wary of lending for severely damaged homes. (You'll also want to factor pricey flood insurance into the purchase.)
Public transportation might be your best bet
For anyone who's ever spent hours in interminable Hamptons weekend traffic, it may be time to head to Jersey. "I would say generally speaking it's tough to commute via car to the Jersey Shore," says Readlinger. "It could take an hour on a good day, or four hours on a bad day." Instead, she notes, New Jersey Transit trains leave from Penn Station and stop in every beach town along the shore all the way down to Point Pleasant. "And from the station there, it's a 10-minute cab ride to anywhere else you want to go," adds Loundy.
Another option if you'd like to do some driving on your vacation: "I have clients who take the train out and then rent a car in town," says Sorrentino, though you'll want to plan ahead of time. (For a start, Avis and Enterprise both have a wide range of options available in different shore towns throughout NJ.) 
If you want to make it even easier (and get some fresh air on the trip), for $45 round trip, a ferry runs during the summer from Battery Park City and East 35th Street all the way to Sandy Hook, New Jersey, one of the state's most popular beach towns.
Brick Underground articles occasionally include the expertise of, or information about, advertising partners when relevant to the story. We will never promote an advertiser's product without making the relationship clear to our readers.