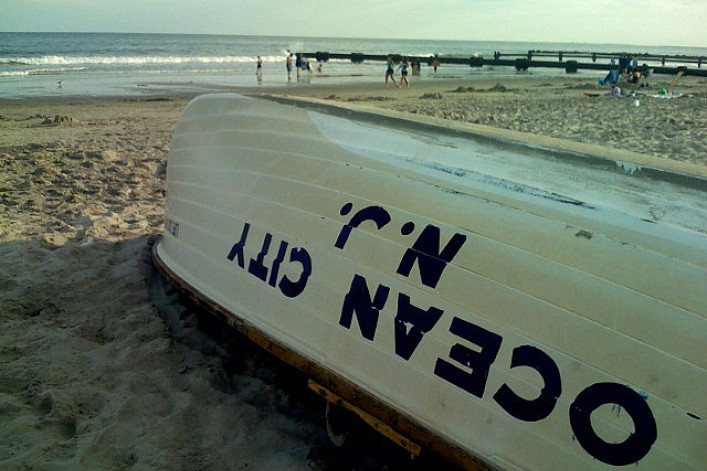 New Jersey might get a bum rap, but I'll be the first to defend our next-door neighbor and the many attractions the state has to offer. For one, Jersey boasts some of the cleanest, widest, sugar-sand beaches you'll find anywhere, not to mention a host of quaint shore towns, each with its own unique identity. Starting with Sandy Hook at the northern tip and stretching south to Cape May, seaside hamlets string along the Jersey coastline, enticing thousands of city slickers to escape NYC each summer for fun in the sun.
Perhaps I'm biased since I vacationed at the Jersey Shore during my childhood. As a youngster, North Wildwood was our family destination for a week every year. And when I was a twentysomething, I savored my annual visits to Sea Isle City and spent time in Stone Harbor and Avalon.
Although many New Yorkers are naturally drawn to the Hamptons, some Jersey and Pennsylvania natives (like myself) prefer to travel to the Garden State for sun and sand excursions. Read on for a look at four coastal resort areas within a few hours' drive of New York City.
Ocean Grove/Asbury Park
Cruise about 60 miles south on the Garden State Parkway and you'll land in Ocean Grove, a seafront enclave brimming with Victorian houses and picturesque streets. According to longtime homeowner and local landlord Gilda Linden, people choose to stay in this nook of the shore because of the "architecture, quiet, and family atmosphere."
Although it's a dry town (OG has an intriguing history as a Christian Camp Meeting Site) and you won't find a lick of liquor within its borders and none is permitted on the beach, Ocean Grove is within a walk or quick bike ride to the not-at-all-dry Asbury Park. (For those who would rather not venture out of Ocean Grove, Linden says, "you can bring your own [bottle] to the restaurants and cafes in town.")
Ocean Grove renters and residents stroll the boardwalk, which connects to bordering Asbury Park. One of the most diverse Jersey Shore towns with a substantial gay population, Asbury Park, is known for its thriving artists community and budding nightlife scene. With an array of bars such as Johnny Mac House of Spirits and Bond Street Bar, as well as the gay hotspot, Paradise Nightclub adjacent to The Empress hotel, life continues after dark in AP. The area boasts a host of live music venues including The Saint and The Stone Pony, where Bruce Springsteen and Jon Bon Jovi got their start. This summer's lineup at the Stone Pony includes Cowboy Mouth on July 25 and the Avett Brothers in August.  
Where Asbury Park has its share of motels mingled with Victorian architecture, you'll find only inns, private homes, and bed & breakfasts in the more tranquil, family-oriented Ocean Grove.
Available on VRBO,  this sprawling Asbury Park home (shown above) has a large backyard, and is asking $2,800 per week. Rentals in the area start in the $100 per night range for a studio, and go up to more than $300 per night for a three-bedroom house. 
Point Pleasant
Another popular beach town with miles of boardwalk and myriad outdoor activities, Point Pleasant promises traditional shore fun for the whole family. Don't be surprised, however, when you discover that this town is known for partying as well as its child-friendliness. From comedy clubs to arcades to good restaurants, you'll never run out of things to do even after the sun has set.
Be sure to take the kids to Jenkinson's Aquarium where you can view creatures from the sea, and also adopt a penguin for $75. Point Pleasant is a viable afternoon away from Ocean Grove as it's only about 10 miles, but according to Linden, with traffic, the drive takes about 30 minutes.
Rent this three-bedroom, one-bath cottage in Point Pleasant for $9,000 in August. It's just one house from the beach. House rentals start around $300 per night and can go up to $500-plus per night depending on location and other amenities.
Ocean City
With eight miles of golden, guarded beaches and 2.5 miles of boardwalk, Ocean City is a beachgoer's dream. Clean and safe (according to Citydata.com, the crime rate is 182.8; the national average is 301.1) beach tags are required, and will set you back $25 for the season and $10 for a week.
Quieter than the Wildwoods, which is another coastal resort area south of OC (more on this later), it's also a dry town. You won't find any alcohol to purchase, and the restaurants do not allow BYOB. Ocean City attracts flocks of families as well as its share of singles, and don't be fooled, a lack of booze for purchase doesn't stop the town's seasonal revelers. You'll likely stumble upon house parties galore should you meander the streets.
Directly over the bridge and only a 10-minute drive, is Somers Point, another shore town with a handful of good eateries and bars. Christine Bertolet (full disclosure, also my mother and a South Jersey frequenter for more than 50 years) recalls driving from Ocean City over the Ninth Street Bridge to eat dinner at the Anchorage Tavern and Restaurant. A local haunt, this joint is known for its fresh seafood, fish soups, local clientele, and oozes Jersey Shore nostalgia through its over-decorated interior, which most loyal patrons find appealing. What's more, Ocean City dwellers appreciate the bars at nearby establishments like the Anchorage, as they do the well-stocked liquor stores just minutes from the island.
Be a hop, skip, and jump from the beach when you rent this pet-friendly condo for $2,250 per week in August. Expect to pay in the $200 per night range for a small one-bedroom condo, and up to $1,000 per night or more for a house with multiple bedrooms and baths.
The Wildwoods
If you prefer the party scene and a game of skeeball, head south on the Garden State Parkway to exit 4B and you'll find yourself in the Wildwoods.
Wildwood proper has long been known as the "wildest" of the three towns, so unless you're in the mood for an all-night drinking bash, I recommend taking a chance on North Wildwood or Wildwood Crest. Both towns are far from dull, and typically offer a more civilized social scene. Throughout the Wildwoods, the beaches are some of the deepest in Jersey, pretty tidy considering the number of people who frequent during the height of the season, and best of all — FREE.
If you've ever been to Coney Island, you'll detect some similarities when you visit the Wildwoods, particularly the diverse crowd — you're bound to notice all ages, shapes, sizes, and colors.
The Wildwoods have the largest selection of Doo-Wop style motels in the country. Constructed in the 1950s and '60s, many of the motels have since been converted to condos while others have been demolished. The colorful, kitschy architecture is an essential part of the character of this section of the shoreline. Motels still intact include The Panoramic (see photo below) at 2101 Surf Avenue and Beach, and the Lollipop at 2301 Atlantic, both in North Wildwood.
The area attracts families as well. My friend, Arlene Gascoine, a longtime Jersey Shore-goer resides in Dubai but originally hails from Philadelphia. Like me, she grew up spending time in Wildwood and still returns during summers as her schedule permits. Even with all the changes since our childhoods, she still likes Wildwood. "It's a great vacay spot," she says. "My kids have traveled the world and still love going there, and look forward to it each and every year for its boardwalk."
Hang your hat in Wildwood Crest at this one-bedroom condo –– just three blocks from the beach –– for $150 per night. Expect to pay in the $100-$150 per night range for a small condo, and up to more than $400 per night to rent a beach house.
Related:
Don't have an oceanside vacation home? Pick a beach club and gain a budget-friendly summer getaway
Connecticut beaches that won't leave you missing the Hamptons
Brick Underground articles occasionally include the expertise of, or information about, advertising partners when relevant to the story. We will never promote an advertiser's product without making the relationship clear to our readers.