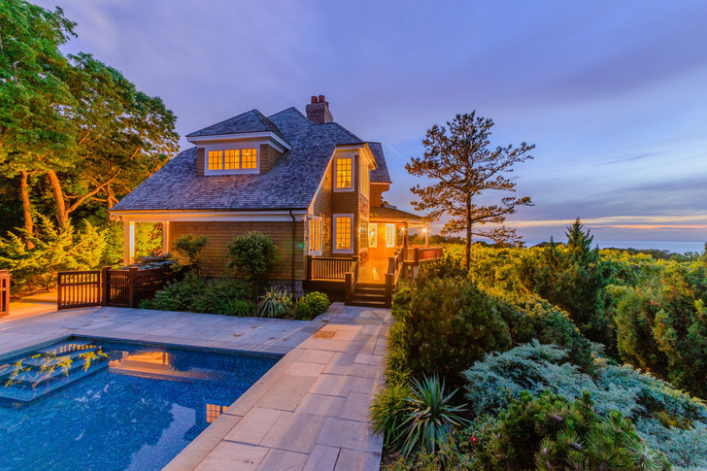 Just about everyone in New York dreams of a seaside escape, and with the Hamptons as expensive and sought-after as ever, Long Island's North Fork has come into its own. Whether you're in the market for a cozy beach shack or a splashy waterfront mansion, guest broker Nicole LaBella of Northfork Waterfront Properties gives us the scoop in this week's Buy Curious.
THE WISH LIST:
I want to buy a vacation home for my family, and every summer I hear more and more about the North Fork. I don't exactly have a Hamptons budget, so I'm intrigued. What kinds of places are available? And what are typical prices like in the area?
THE REALITY:
The North Fork of Long Island has gotten more popular in recent years as a more reasonably priced, laid-back alternative to the over-hyped, ever-expensive South Fork, also known as the Hamptons. (And it doesn't hurt that the North is home to a major concentration of Long Island's growing number of wineries). 
As such, you won't find the kind of bargains you used to even a few years back, but while prices have reached a relatively high plateau, there's a huge range of property available, and you can find a home for anywhere from $350,000 to $7 million. The median sales price in the first quarter of this year was $436,000, a 7 percent drop over the same period the year before, according to Douglas Elliman's most recent market report, but about half the median price in the Hamptons.  
The area's a bit farther flung than the Hamptons, though there are LIRR stops at Riverhead, Mattituck, Southold and Greenport. With plenty of people driving or opting for the Hampton Jitney (which does indeed make stops on both the North and South Forks), ​you may need to brace yourself for weekend traffic.
Know your waterways
As with any waterfront area, you'll always pay more for a home directly on the water, but keep in mind that out here, "the water" doesn't mean the Atlantic Ocean the way it does in the Hamptons. The North Fork is bordered by the comparatively placid Long Island Sound as well as Great Peconic and Little Peconic Bays, as well as a series of smaller waterways. 
As a rule of thumb, houses near the bay are more expensive than those on the sound, where there's a high bluff and you generally need to take stairs down to the water. There are creeks all over the North Fork, too, and these are becoming more popular as a waterfront option where you can also have your own dock with deep water access, and have your boat in your back yard. For the most part, the area is divided up into two main neighborhoods:
Southhold
Probably the area's most upscale and well-known neighborhood, Southhold is located right off its namesake bay. However, the area also extends all the way to the Long Island Sound, and encompasses the smaller hamlets of Cutchogue, East Marion, Mattituck, New Suffolk, Orient, and Peconic.​ Here you'll find more of the luxury Hamptons-style homes, but you can spend less if you take on a more cottage-like place, something that's just a few thousand square feet, or live a little farther from the water.
The area's also a short boat ride from Shelter Island, a popular vacation destination in its own right known for its seafood, peaceful beaches, and acres of protected wetlands (there are also plenty of bike and walking paths for day trippers). In the summers you can catch a ferry to the island from Greenport, one of Southhold's tonier hamlets. 
Riverhead
​You're more likely to get a deal here, but there are also relatively fewer options for houses right on the bay. If you hear anyone talking about Jameson, Aquebogue, or Laurel, these are all part of the same neighborhood, which tends to have more year-round residents than adjacent areas over in the Hamptons, especially as people who have bought vacation homes out here start to retire. 
There are also plenty of houses here bordering Long Island Sound, but also options in the relatively quieter areas surrounding Flanders Bay and Reeves Bay. The neighborhood's at less of a remove from the city than farther out towards Southhold, but with both areas, I-495 is the only way in or out.
If you're currently in the market for a North Fork home:
Southhold 5-bed, 3.5-bath house, $7,500,000: Located a short walk from 368 feet of private beach at 3945 Soundview Avenue (at J Road), this home also features a chef's kitchen, three fireplaces, a four-car garage, and an in-ground pool, as well as a deck with views of the sound.
Cutchogue, 5-bed, 4.5-bath house, $3,895,000: This property at 4680 Wunnewata Road (at the water) has a four-bedroom guest house, as well as a private dock with deep water access to Wunneweta Pond, which leads out into Cutchogue Harbor. Each bedroom comes with its own fireplace, and there's a screened porch for entertaining.
Peconic 4-bed, 2-bath house, $2,450,000: This property is situated on a creek rather than the sound, and includes an antique barn, a 1900s farmhouse, development rights, and over 25 acres of waterfront land.
Peconic 3-bed, 2-bath house, $749,000: A slightly cheaper option near Richmond Creek at 1235 Wells Road (at the water), each room in this house has views of the water, and the property has direct access, as well.
Baiting Hollow 2-bed, 2-bath house, $345,000: This condo unit is located toward the western edge of the North Fork at 807 North Bluffs Drive and the water, and includes amenities like a pool, tennis, private beach, access to a golf course, and a deck with views of Long Island Sound.
Riverhead 6-bed, 4-bath house, $845,000: Located in a wooded area near the water at 58 Linda Lane (between Sandy and Nancy), this property features views of the Sound as well as its own in-ground pool, Jacuzzi, patio, balconies, and a living room with a fireplace.
Related: 
I'm considering buying in Staten Island. What should I know?
The Bronx's seaside oasis: City Island
Buying, renovating or refinancing next year? 5 mortgage trends to watch in 2014 [sponsored]
What 8 first-time buyers wish they had known
Here are the 7 most likely reasons you'll get turned by a co-op board
7 questions to ask about the building before you buy an apartment there [sponsored]
Brick Underground articles occasionally include the expertise of, or information about, advertising partners when relevant to the story. We will never promote an advertiser's product without making the relationship clear to our readers.