The Market
Manhattan has one-third of the priciest zip codes in the U.S. for renters
NYC dominates RentHop's ranking of the top 100 most expensive zip codes for renters
In 2022 Manhattan had 33 of the priciest zip codes in the U.S., up from 27 in 2021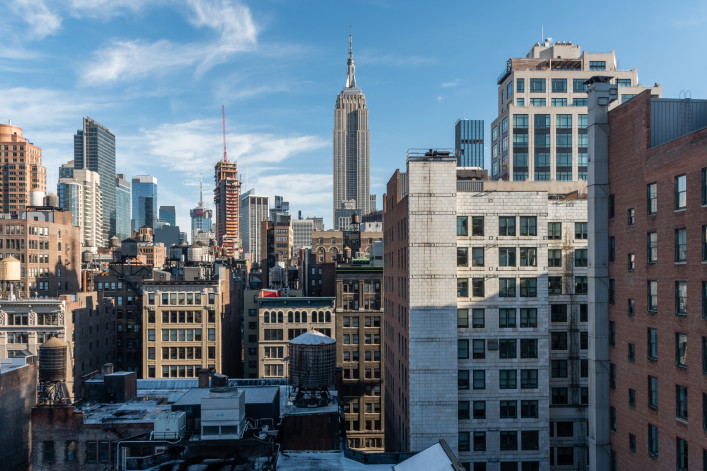 akrassel/iStock/Getty Images Plus via Getty Images
If you rent in New York City, you are in good company. Renters outweigh owners here by two-thirds, an inverse of the national ratio, where two-thirds are owners.
You also pay a lot to rent here—and so do your neighbors, especially if you live in Manhattan, where the median rent exceeded $4,000 for the first time in July, and has hovered close to that height ever since. NYC rents last summer became the most expensive in the U.S., outpacing San Francisco.
With such high rents, and so many renters, it makes sense that historically Manhattan has had a high concentration of the U.S.'s priciest zip codes for renters. And now, despite the aftershocks of the pandemic, Manhattan dominates the latest tally.
RentHop's list of the 100 most expensive zip codes for renters found that NYC was the priciest rental market in 2022 with 38 of the top zip codes, including 33 in Manhattan. This was an increase from 2021, when NYC had 31 of the most expensive zip codes, including 27 in Manhattan.
The top 100 priciest renter zip codes are located in just eight states, RentHop found, with 41 in New York, 30 in California, and 18 in Florida. Los Angeles and its surrounding cities have 14 of the most expensive zip codes for renters, and 5 are in the Boston area.
To create the ranking, RentHop's data scientists pulled over 1.8 million active rental listings across the U.S. from January 1st, 2022 through December 31st, 2022. They looked at the median rents for two-bedroom and one-bedroom units in every zip code in the country. Results were sorted by two-bedroom rents from most expensive to least, because this unit size is the most common. When there was a tie, a zip code's one-bedroom rent was used as a tie-breaker. Listings with single-building zip codes in NYC were excluded.
The priciest NYC zip codes are in Manhattan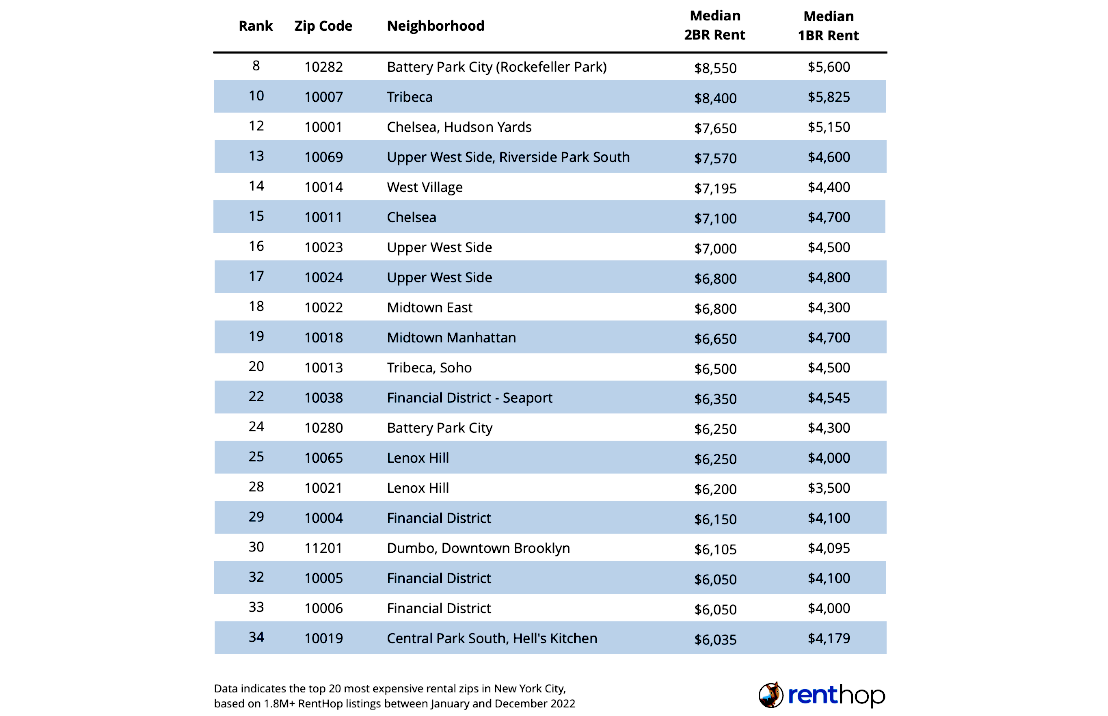 What are the priciest zip codes in the U.S.?
The most expensive rental zip code in the U.S. is 33109 in Fisher Island, Florida, where the median two-bedroom rent was $24,000 in 2022, up from $20,000 in 2021.
Hampton Bays' 11946 zip code on the East End of Long Island took second place again, with a median rent of $12,500 for a two bedroom, down from $15,000 in 2021. Also on the East End, Westhampton's zip code 11978 ranked the sixth-most expensive, with a median two-bedroom rent of $10,250, up from $9,250 in 2021.
The priciest zip codes in NYC for renters are 10282 in Battery Park City (#8) and 10007 in Tribeca (#10), where the median rent for a two bedroom is $8,550 and $8,400. In 2021, the priciest zip codes in NYC were 10069 on the Upper West Side (#9) and 10007 in Tribeca (#10). Median rents for two bedrooms there were $7,066 and $7,012.
Brick Underground articles occasionally include the expertise of, or information about, advertising partners when relevant to the story. We will never promote an advertiser's product without making the relationship clear to our readers.