Roommates + Landlords
Average rent paid by roommates in NYC exceeds $1,500 for the first time
The average rent paid by Manhattan roommates reached $1,784 in the fourth quarter of 2022
Greenpoint roommates saw a 50 percent rent increase compared to the previous year
Elmhurst was the most affordable neighborhood where roommates pay an average of $881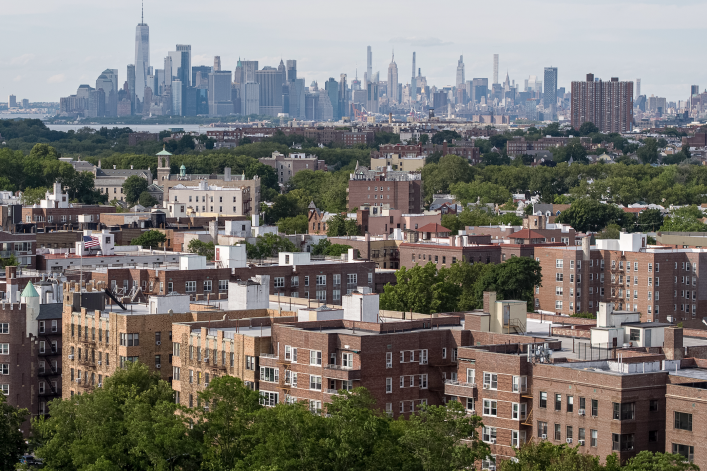 Alex Potemkin/Getty Images
Even though sharing a rental apartment in New York City is typically cheaper than living by yourself, roommates saw their share of the rent go up significantly up as a result of rents hitting record levels in the past six months. According to roommate matching site SpareRoom, the average rent paid by a roommate in the city reached $1,559 in the fourth quarter of 2022 compared to $1,294 the fourth quarter of 2021. That's an increase of 20 percent year over year and it's the first time the average rent paid by a roommate has exceeded $1,500. 
The New York metro area remains the most expensive city in which to rent even if you are sharing a place. The average monthly roommate rent in San Francisco—the second-most expensive city for roommates during the last quarter of 2022—was $1,328. Boston ranks third in the list of most expensive cities for roommates with an average cost per person in a shared apartment of $1,326. 
How much is rent with a roommate in NYC?
Sharing with a roommate can help you meet the steep financial requirements of NYC landlords, namely that you earn 40 times the monthly rent. Even so, average rents for roommates have risen in every NYC borough in the past year, according to SpareRoom's data. Manhattan remains the most expensive place in which to share an apartment—the average monthly roommate rent in the fourth quarter of 2022 was $1,784, up 9 percent year over year.
However, Brooklyn saw the biggest increases for renters who share. The cost for roommates in Brooklyn was up 18 percent year over year to $1,431. Queens saw a 16 percent increase year over year in the average rent for a roommate, from $1,028 to $1,189. Roommates in the Bronx saw increases of 6 percent compared to the previous year, with average monthly roommate rents of $1,004.
Which neighborhood is the most affordable for roommates? 
At the neighborhood level, the place with the biggest increase in rents paid by roommates over the last year was Greenpoint in Brooklyn. The average rent costs there for roommates increased by 50 percent from $1,171 to $1,754. In Manhattan's Gramercy Park, the average rent for roommates increased by 43 percent from $2,051 to $2,936 between the fourth quarters of 2021 and 2022. Clinton Hill and Bay Ridge in Brooklyn as well as Long Island City and Jamaica in Queens all saw rent increases for roommates above 30 percent.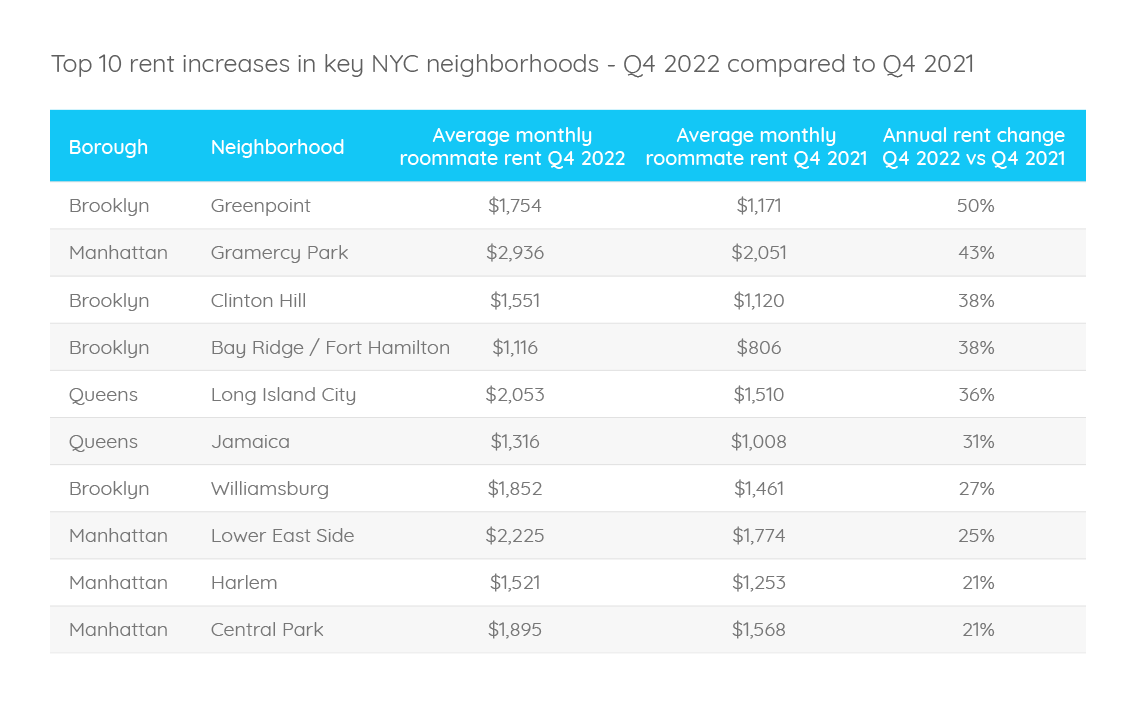 Matt Hutchinson, director of SpareRoom, says the New York metro area is one of the toughest places for roommates. "New York has always been expensive, but we're reaching the point where you start to wonder whether things have finally reached breaking point. How much more can rents really go up by and remain within the reach of the average renter?" he says.
For renters in search of affordability, there are still a few neighborhoods in Queens where you can find accommodation at an average below $1,000 a month if you are sharing with roommates. The average monthly rent paid by a roommate in Elmhurst in the last quarter of 2022 was $881 and in Woodside it was $967.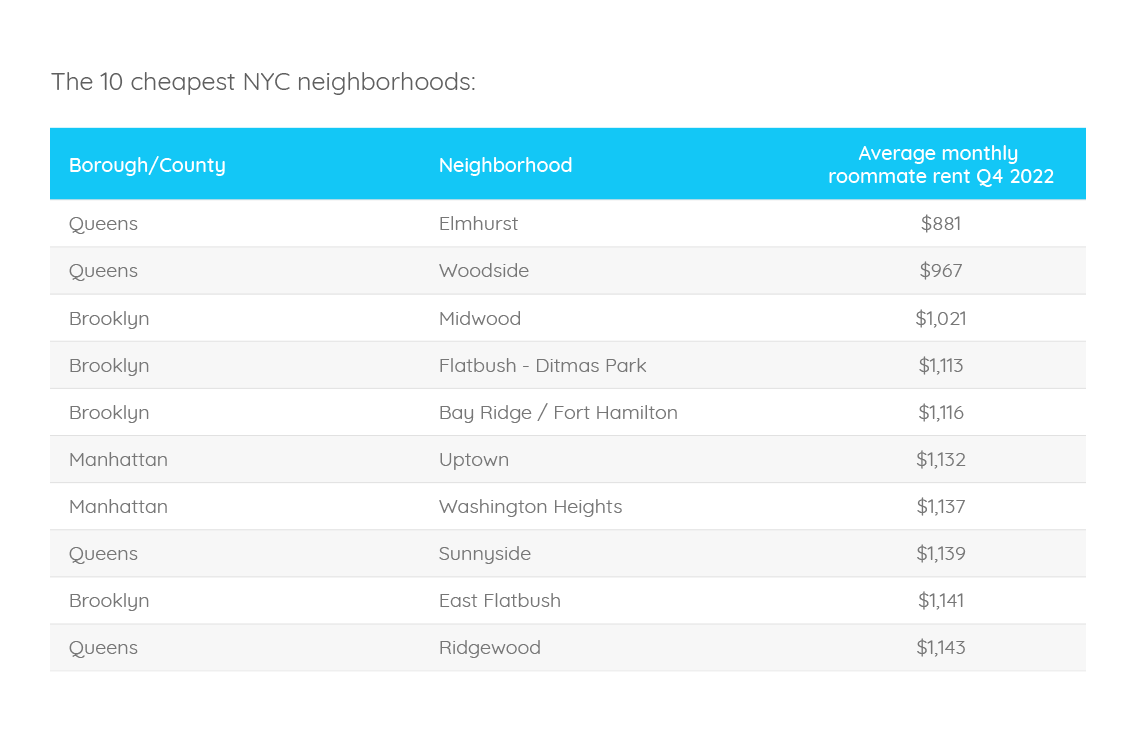 How long Elmhurst and Woodside stay below the average roommate rent threshold of $1,000 remains to be seen. Both neighborhoods were recently listed by StreetEasy as among the 10 most in-demand neighborhoods to watch in 2023. Also on the list of areas to watch was Sunnyside, where average monthly roommate rent in the last quarter was $1,139. 
Brick Underground articles occasionally include the expertise of, or information about, advertising partners when relevant to the story. We will never promote an advertiser's product without making the relationship clear to our readers.