The Search
Need to rent in NYC? Here's what to do before you even start looking at apartments
Save digital copies of bank statements, tax returns, and proof of income
Line up a personal or institutional guarantor or roommates—or both
Check your credit score and hold off doing things that can ding your credit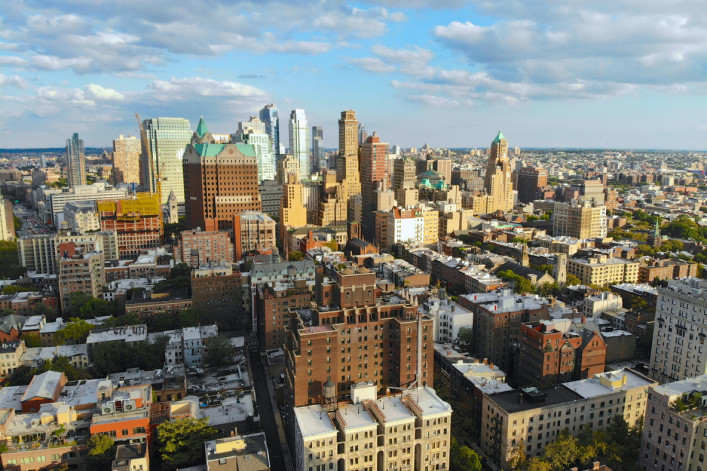 You've decided to move to New York City—congrats! Now you need a place to live. First-time and even seasoned renters will benefit from a refresher on how to get ready to land a rental apartment in the city. After all, the rental market here is tricky—some savvy preparation can help you beat the competition. 
If you're a newcomer, you also need to get your head around some important details, like the typical landlord requirement that you earn an annual income that is 40 times the monthly rent. Ouch. To save yourself too much disappointment when you're looking for a place, here are some essential tips to keep in mind before you even start your search.
1) Check your credit score
First things first, check your credit score. Most NYC landlords will pull a credit report and want to see a minimum credit score range of 675 to 700. This is going to help you when it comes to making your application appealing to a potential landlord.
Your credit report will also include past payment history, the amounts owed, the length of time you've had the lines of credit, how many different types of credit you have, and any new lines of credit you've recently opened. Considering a move to NYC in the next six months? Hold off doing things that can ding your credit, like getting a new card or making a big purchase. 
Pro Tip:
To rent an apartment in New York City, most landlords require you to earn an annual salary of at least 40 to 45 times the monthly rent. If you don't—or if you're an international employed person, self-employed, non-employed with assets, retired, or an international student or U.S. student—you'll need to find a guarantor for your lease who earns at least 80 times the monthly rent and lives in New York, New Jersey, or Connecticut.  Or you can turn to Insurent Lease Guaranty. Accepted at more than 4,700 buildings across the city representing over 475,000 apartments, Insurent Lease Guaranty is a quick and easy way to get the apartment you want. Click here to learn more.
If you're new to the U.S. the advice is different—you need to start building your U.S. credit history (a credit card in a different country is meaningless). Apply for a credit card, make purchases with it, and pay them off regularly. 
Perhaps you have a medical or phone bill you forgot to pay. If it ends up in the hands of a collections agency, that could damage your credit. If there are errors on your credit report, make sure they are corrected and get letters of explanation for any major issues like a lien or bankruptcy. Stay on top of your bills and make sure you haven't maxed out your credit cards. Begin paying off your debts, especially if they exceed 15-30 percent of your available credit.
You can get a free copy of your credit report every 12 months from each credit reporting company: Equifax, Experian, and TransUnion.
2) Get your paperwork in order
Brokers stress the importance of having all your paperwork ready to go before you tour apartments. That means you need to have your most recent tax returns, two recent bank statements, a letter of employment or two recent pay stubs, and a scanned copy of your photo ID, as well as signed agency and fair housing disclosures. 
It makes sense to have these in a digital format so you can quickly email them to an agent.
Pro Tip:
Need help renting the perfect apartment in the perfect neighborhood? Looking for a landlord who is flexible about guarantors, pets, or "flexing" a space with temporary walls? Put your search into the capable hands of The Agency, a tech-savvy real estate brokerage founded by a pair of Yale grads in response to the frustrating apartment-search experiences of classmates and colleagues. The Agency will charge a broker's fee of 10 percent of a year's rent on open listings instead of the usual 12 to 15 percent if you sign up here. Bonus: The agents at The Agency are a delight to deal with.
3) Make a realistic budget
Finding a place to rent involves compromise regardless of your budget—set your expectations accordingly. For example, you might want to live in a building with a doorman but this amenity comes at a premium. Skipping an elevator building in favor of a walk up in order to save money is a right of passage in NYC. Likewise, you may find your budget stretches further in neighborhoods where transit options are fewer or where you are further from the center of the action. Case in point: Inwood is the cheapest place to rent in Manhattan.
Figure out what's most important to you—whether it's size, price, location, or amenities—and then determine where you'd be willing to compromise. You can get a sense of what you can afford by searching listing sites like StreetEasy, and pay close attention to the photos.
If you find yourself holding out for the perfect apartment when you are actively searching, chances are you'll miss out because the apartments you saw at the beginning that were good but didn't quite meet your standards will be snapped up by other renters.
4) Line up a guarantor
If your income doesn't meet the financial requirements of the landlord and you're not planning to live with roommates (where your collective income might more easily meet the landlord's conditions), you will want to line up a guarantor who will promise to pay the rent on your behalf if you default. This reduces the risk for the landlord and makes your application stronger.
Personal guarantors, by far the most common scenario, must show an annual income of at least 80 times the monthly rental each year. This is typically a parent or guardian and most landlords want them to live in the tri-state area. If you don't have a personal guarantor, there are companies, like Brick Underground sponsor Insurent Lease Guaranty, which will act as a guarantor for a fee of 70 to 90 percent of one month's rent. Property owners are increasingly accepting this type of guarantor and anything that reduces the risk for the landlord can strengthen your application. 
5) Find a roommate or two to share with
Sharing with roommates is an obvious solution if your income doesn't meet a landlord's requirements. Check out roommate websites to see which one suits you. Online roommate-matching services are designed to make the process easier and in some cases help you draw up a roommate agreement to reduce potential tension. 
When you share the apartment with others in NYC, everyone on the lease is jointly and severally responsible for the rent payments but the lease won't state who pays how much. For example, the roommate with the en suite bathroom might pay a higher percentage of the rent. A roommate agreement is the place to clarify these issues. 
Ask these 21 questions to prospective roommate candidates, be on the lookout for tell-tale signs of potentially problematic roommates, and keep your radar tuned to common roommate scams. 
6) Get recommendations for reputable brokers
Rather than finding an agent through a listing, try to get a personal recommendation from a friend or your company's relocation office.
If you're using a real estate agent, be sure to get an agreement in writing that the agent will disclose any broker fees paid by the landlord and offset your fee by that amount. Unscrupulous agents can double-dip without disclosing; they may also steer you toward fee-paid apartments, skipping over a potentially better choice for you.  
7) Understand the fees you'll have to pay 
Protections for renters in New York have increased in recent years—for example you can no longer be asked to pay more than one month's rent as a security deposit. The intention here is to reduce the upfront costs of renting in NYC. However, there are other fees you should know about, like the broker fee—a payment to the broker who helps you find the apartment. 
A broker fee is generally equivalent to one month's rent or up to 15 percent of the annual rent—an expense that has frustrated and confounded NYC renters for years. If you work with a broker to help you find an apartment, it's reasonable to expect to pay the fee, but plenty of renters don't engage brokers directly and still end up having to pay this fee—for example when a landlord hires a broker, renters are often still responsible for the fee. The workaround here is to try and find a no-fee rental.
Application fees are capped at $20 for rental buildings, but if you're renting in a co-op or condo building, the board is entitled to charge move-in or sublet fees. 
Brick Underground articles occasionally include the expertise of, or information about, advertising partners when relevant to the story. We will never promote an advertiser's product without making the relationship clear to our readers.