The Market
Demand for doorman buildings keeps NYC rents stubbornly high
The median rent in Manhattan was $4,009, a nominal 0.3 percent decrease compared to September
In Brooklyn, the median rent was $3,497, a few dollars shy of the $3,500 record set in August
The median rent for Manhattan new development reached a record high of $6,500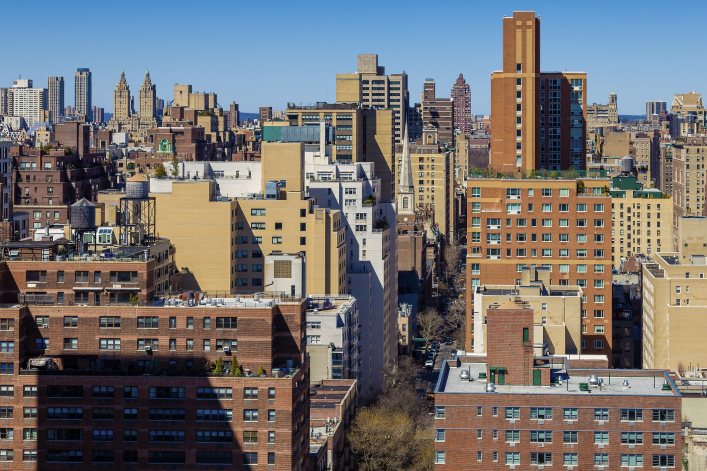 The good news/bad news scenario for New York City renters continues: Rents were essentially flat in October compared to the previous month but still parked near record levels, a trend seen in the past three months. In the luxury rental category however, continued demand is causing rents to spike.
The October edition of the Elliman Report for the Manhattan, Brooklyn, and Queens rent markets shows rents leveled off towards the end of the summer but aren't falling as much as renters would like. In Brooklyn, the median rent reached $3,497, just a few dollars shy of $3,500, the record set in August.
In Manhattan, the net effective median rent—that is, rent with concessions—slipped slightly for the third straight month to $3,964. However this is still a 17.2 percent increase over the same period last year. Similarly the median rent in Manhattan was $4,009, a nominal 0.3 percent decrease over September.
In Queens, the median rent fell to $3,094, a 3.3 percent decline compared to September. In October last year, the median rent in Queens was $2,713.
"The overall market is slightly lower. At the same time, in the luxury market, new records are being set," says Jonathan Miller, president and CEO of appraisal firm Miller Samuel and the author of the report.
More renters sign leases in Manhattan
The median rent for a non-doorman apartment in Manhattan was $3,200, down 3 percent compared to September. Non-doorman apartments represent the lower end of the market but the rent in October was still 20.8 percent higher when compared to the same period last year. It seems renters were eager to take advantage of a moment of leverage: Accompanying the slight declines in Manhattan rents in October was an 11.2 percent increase in the number of new leases signed when compared to the previous month.
Market reports from The Corcoran Group also indicate renters in Manhattan and Brooklyn were spurred to sign new leases. Gary Malin, Corcoran's chief operating officer says, "Pricing is still expensive for many. However, when compared to the highly competitive environment we experienced this summer, apartment seekers have finally gained some relief."
Rents in Brooklyn are, however, still flirting with record highs. The net effective median rent—which includes concessions—rose annually to $3,457 in October, which is the second highest on record. 
The number of apartments available in Brooklyn in October was 3,319 and represents 11 months of declining inventory. With rents high and inventory low, it's no surprise that the market share of bidding wars has accounted for one out of five new leases over the past two years.
In Queens, 387 new leases were signed in October—a 1.6 percent increase compared to September. In addition, the number of available apartments in the borough was 410 in October, a 26.5 percent decrease compared to September. As a result, renters in Queens continue to get fewer deals with the market share of landlords offering concessions, like a month free, declining year over year for the fifteenth consecutive month. 
According to Rent Betta, a website offering no-fee apartments, the median rent for a studio in NYC this past October was $3,583. Splitting an apartment is generally more affordable than renting alone. Case in point: The median rent for a two bedroom was $5,498.
For renters hoping for more significant declines in rents, Miller's message is to be careful what you wish for. "In terms of improvements in meaningful affordability, that seems dependent on a recession at this point," he says.
Rents for luxury apartments continue to set records
One of the big changes ushered in by the pandemic is that luxury rents—the top 10 percent of the market—have continued to reach record highs. Doorman rentals can be seen as a proxy for the high end and the net effective median rent in October increased to $4,937, a new high for the sixth consecutive month—and an increase of 15.8 percent compared to the same period last year. This new record for the net effective median rent for doorman buildings represents a 25.5 percent increase compared to October 2019.
The median rent for new development increased 9.6 percent month over month, reaching a record high of $6,500 and the luxury median rent was $13,000 in October, a 30.1 percent increase compared to the same period last year. This is partly due to increased demand for more space and privacy during the pandemic but can more recently be attributed to rising mortgage rates which is making would-be buyers pivot to the rental market instead of closing on a property.
Millers says this is especially the case with "federal rate increases and policy creating more volatility in the financial markets." That's in addition to other uncertainties like the war in Ukraine, rising food prices, and inflation. The Federal Reserve has also indicated there are more interest rate increases ahead. 
Brick Underground articles occasionally include the expertise of, or information about, advertising partners when relevant to the story. We will never promote an advertiser's product without making the relationship clear to our readers.