The Market
Can NYC apartment hunters finally push back on asking rents now that winter is coming?
There's typically less competition for apartments from November to March
You may be able to negotiate a $3,000 listing in a big building to $2,900
A lease that ends in the winter gives you more leverage at renewal time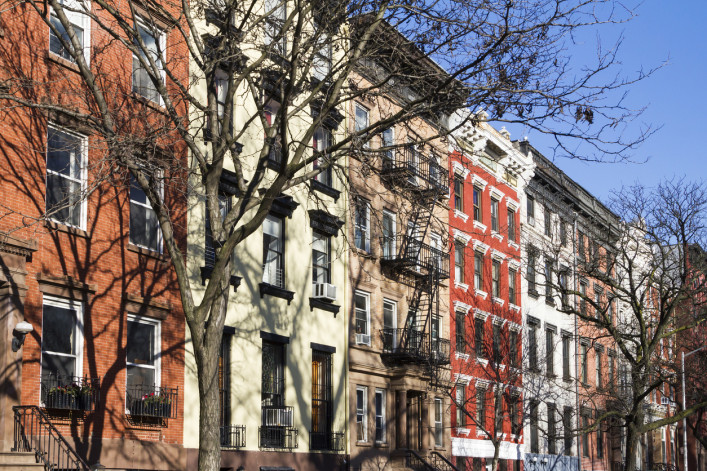 If you're looking for a rental apartment in New York City, you may be relieved to find out that renters have gained an advantage. Rising rents have hit a plateau as the calendar prepares to shift into winter. This means apartment hunters may be able to push back on asking rents for the first time in 18 months. 
November through March are traditionally quieter, less competitive months for the rental market and Manhattan and Brooklyn median rents have finally stopped their upward trajectory—signaling renters acquired some leverage. 
Brick talked to brokers and leasing agents to get their advice on signing a new lease and negotiating rents in the fall and early winter.
1) Make a lower offer towards the end of the year
Citing layoffs and forecasts of a recession, Adam Frisch, principal broker at Mantus Real Estate, has gloomy outlook on the economy and predicts rents will go down. "If tenants don't have to sign a lease now and can wait, in a few months they'll be glad they did," he says. 
His advice is not to be intimidated by how high the rents have been in the recent past. Look at the traffic at the open houses you visit. Six months ago, there could be 20 people or more viewing an apartment at a single open house, those numbers are likely down 75 percent. "Make a lower offer towards the end of the year—there are some people that are already doing that and getting pleasant surprises," Frisch says.  
2) Ask to go month-to-month on your current lease
Frisch is still seeing offers over asking, often because renters are terrified of losing out on yet another apartment. He suggests instead of simply bidding higher, try to extend your current lease by going month to month so you can wait out the market and take advantage of lower rents later.
"Everyone knows rents are going to come down but no one knows by how much," he says. 
If you've set your heart on a specific building, keep track of availability there, says Scotty Elyanow, a broker at Compass. If you lost out on an apartment because someone offered more or had a stronger application, it's likely there could be another apartment available as 12-month leases signed a year ago become vacant. He also suggests having your paperwork ready to go so you can put in an application quickly. 
3) A two-week-old listing is ripe for a discount 
Landlords often take a while to bring their rents down in line with a slowing market. "If the market continues to soften, then landlords might have to be a bit more open-minded," says June Gottlieb, a broker at Coldwell Banker Warburg. Elyanow says for the bigger rental buildings where an apartment has been available for two weeks, you might be able to offer a slightly discounted rent.
For example, for a $3,000 listing, you might be able to get it for $2,900. "The landlord can always say no, but if it's been sitting for two weeks and they don't have any applications—it's definitely ripe to come off a little bit," he says. In the past 18 months, apartments have been snapped up in days, so a two-week old listing as we head into winter could make a landlord nervous.
Gottleib says it all depends on how long a landlord can afford to carry an empty apartment. Landlords typically don't want a lot of vacancies heading into winter because the apartments get more difficult to fill and could then sit empty until the spring. 
4) Try negotiating a rent decrease rather than a concession
Rents are still high, even though we have entered the traditionally quieter season for rentals. Stan Broekhoven, an agent at Keller Williams NYC, says some landlords are offering incentives like a month of free rent to entice prospective renters. "I would caution that these incentives often are not offered when it is time to renew the lease, giving renters an increase on the current rent rate at the end of their lease term," he says. 
Broekhoven says he is seeing some negotiability on rent as demand slows and it's better to negotiate a lower rent than take free rent incentives and then not be able to afford the renewal rate.
6) Pay attention to the lease term
At this time of year, you often see landlords offering 15- or 18-month leases. This is because it's easier for them to rent out an apartment in the spring and summer, when demand is stronger. If your lease is set to renew in the spring or summer of 2024 demand may be higher and your rent may go up accordingly. 
Broekhoven advises trying to "keep your renewal in the low season as it will be easier to negotiate." So try to push for a 12- or 24-month lease rather than a lease term of 15- or 18-months.
7) Make your move before before the spring
While it's tempting to find an apartment on your own, a good agent will be able to find listings that may not be on the market yet, says Kwesi Kwarteng, an agent at Coldwell Banker Warburg. He says he believes rents will increase in the new year (when there's a seasonal advantage for landlords) but not to the levels we've been seeing over the past 18 months. 
"A lot of renters renewed this year because of the high rental rates—in the new year, many will be looking to move, which will drive up demand and inventory," he says.
Brick Underground articles occasionally include the expertise of, or information about, advertising partners when relevant to the story. We will never promote an advertiser's product without making the relationship clear to our readers.