Those who want a quick commute to Manhattan at a lower price have long looked to the New Jersey waterfront. A PATH train or ferry can get a well-placed commuter across the river in as little as eight minutes. But some complexes on the waterfront have become nearly as pricey as their New York City counterparts. The median home price in Weehawken, for example, on the Jersey side of the Lincoln Tunnel, was over $800,000 in 2017, up 25 percent from the year prior.
In 2000, a new light rail line opened connecting several of New Jersey's waterfront towns, and crucially, tying areas that don't have PATH stops and ferry docks to areas that do. The 21-mile Hudson-Bergen Light Rail train runs from North Bergen at the north end, through Weehawken, Hoboken, and Jersey City, and down to Bayonne, across the Kill Van Kull from Staten Island. The light rail costs $2.25 a ride, and though you can't transfer your fare to the PATH train, it's possible to get light rail tickets and passes that include a transfer to local Jersey buses, and the NY Waterway ferry operator and NJ Transit offer a joint monthly pass for the light rail and ferry. The ferry company also offers free connecting buses from the 39th Street dock into different parts of Manhattan.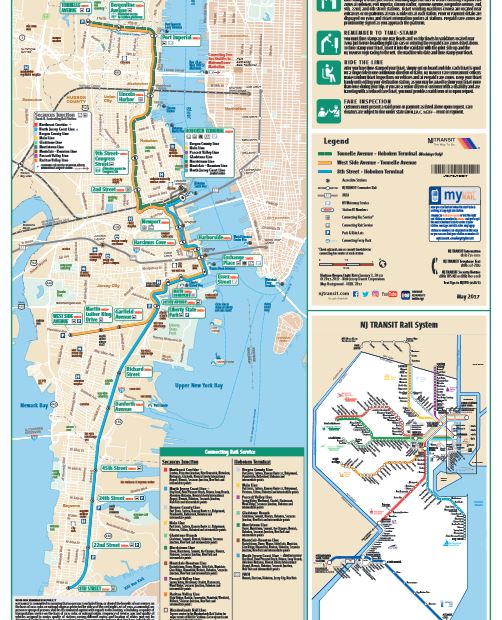 Developers have built thousands of apartments along the light rail line since trains began running, including some with high-end amenities such as a communal pizza oven, roof decks, pools, and barbecues. And there's more to come, with several developments planned near Route 440, on the western side in Jersey City, where a new light rail stop is planned.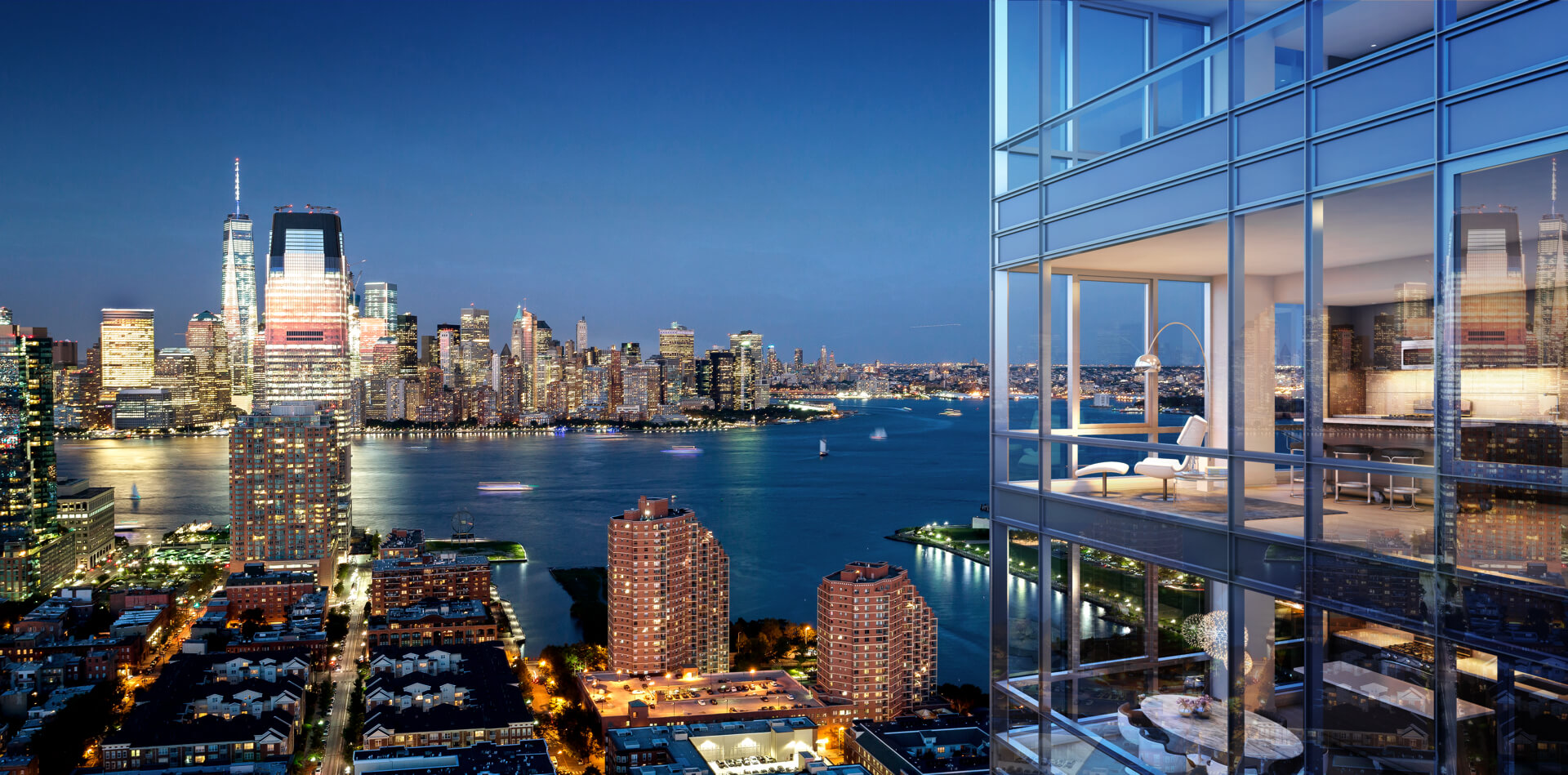 New Jersey transit officials' plans for seven new stations in Hudson and Bergen counties along 10 additional miles of track have been called into question by federal transportation funding cuts proposed by members of the Trump administration, but Jersey planners say they intend to push ahead. Still, there are a lot of existing options for New York renters looking to get more space for their money, and not sacrifice too much on their commute, or do without top-of-the-line amenities. (And for those uninterested in all the bells and whistles of new development, there is always older construction near the new communities that have sprouted up in the last two decades.)
Pro Tip:
Wondering whether Jersey City, Hoboken or another town along the Hudson-Bergen light rail is a good fit for your budget, commute and lifestyle?  Triplemint's Gold Coast Guides are standing by to answer your questions, help you figure out which town makes the most sense for you, and show you apartments that fit your needs. Click here to speak to a Triplemint Gold Coast Guide or view apartments online. >>
Here's just a sampling of the relatively new luxury rental apartments available within walking distance of the Hudson-Bergen Light Rail in New Jersey.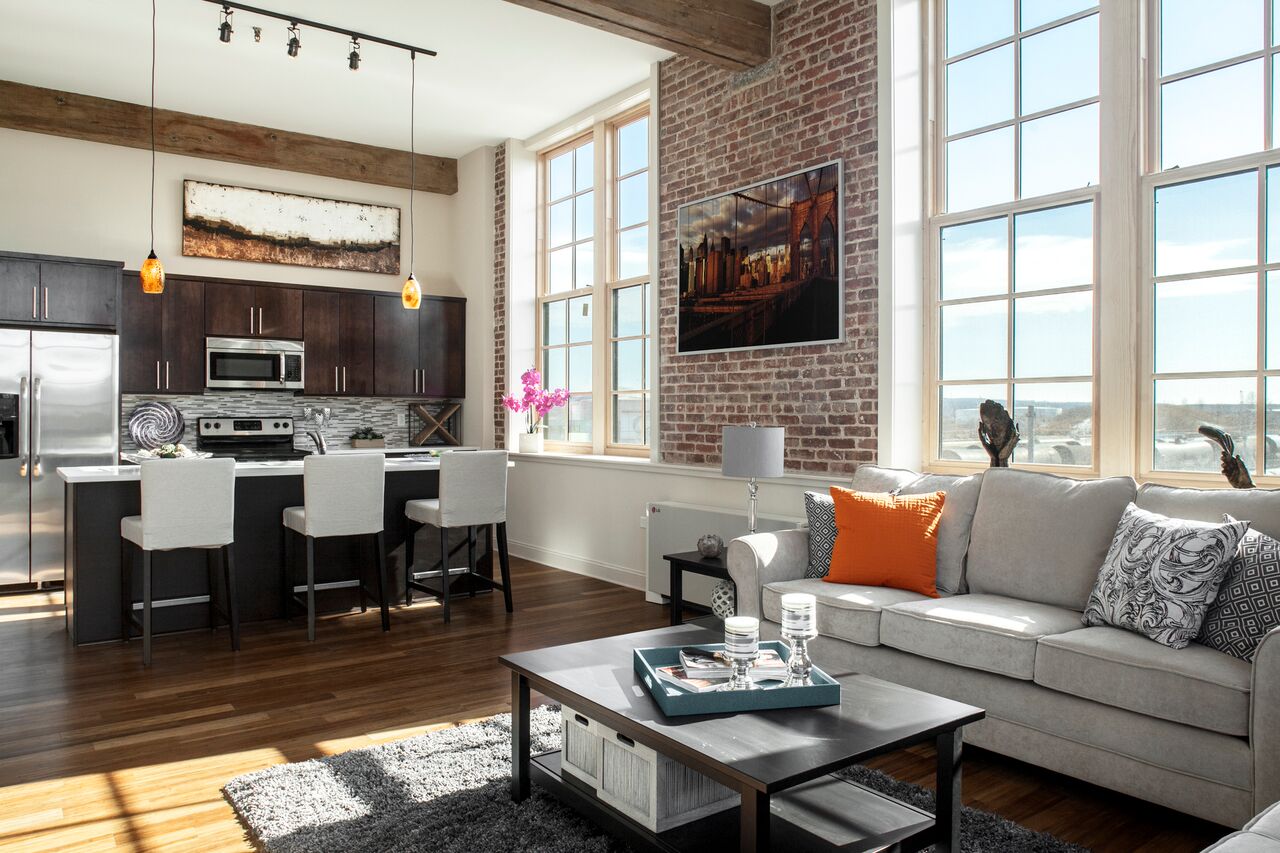 With several new complexes under construction within walking distance of four light rail stations, Bayonne, just south of Jersey City, may be the next Jersey waterfront boomtown. The landscape of Bayonne is largely defined by single-family houses, but in 2009, developers Doug Stern and Leon Cohen began transforming an old Maidenform bra factory in the town into 85 rental apartments. The new building opened as the SilkLofts in 2014. The building is a three-block walk to the 22nd Street light rail station, and is characterized by high ceilings, loft vibes, a gym, onsite parking, and the aforementioned pizza oven.
The owners are asking $1,900 a month for a studio listed now (a two bedroom is pictured above), so the rent is high for the area. Still, the trip to downtown Manhattan by public transit is about 35 minutes, and to Midtown, an hour.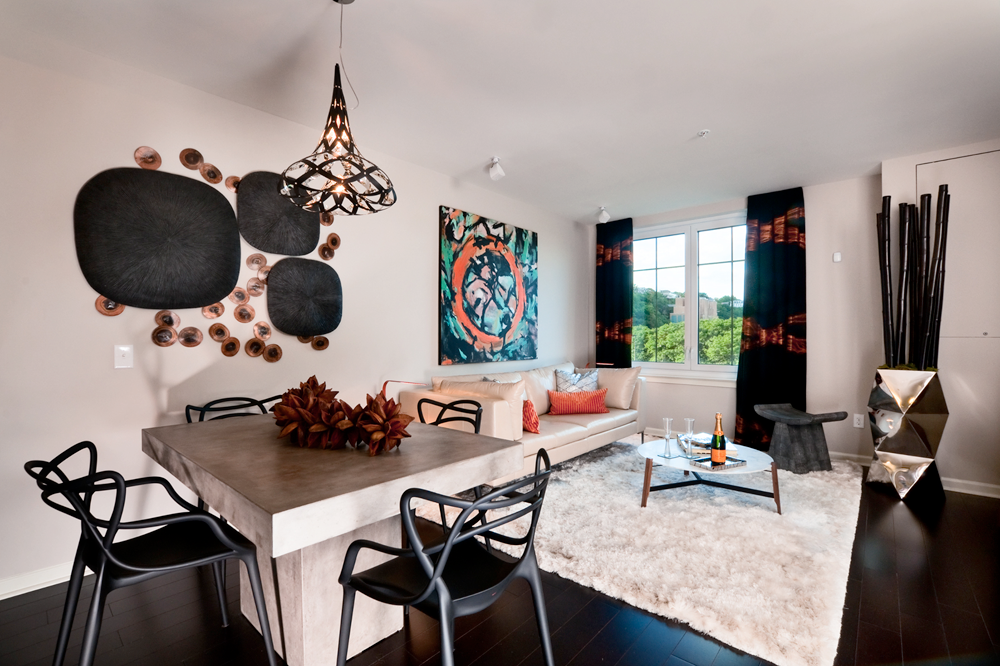 The Estuary, Lincoln Harbor, Weehawken
Located just north of busy Hoboken, the Lincoln Harbor area of Weehawken offers Hudson River views and the option of taking a ferry directly across the river, walking a few blocks to the light rail train to Hoboken, or taking a bus into the Port Authority.
Built in 2014, the Estuary consists of 582 rental apartments ranging from studios to three bedrooms. Pictured is one of the one bedroom apartments, with 782 square feet of floor space. The one bedrooms range in price from about $2,600-$2,900. The trip into Midtown is about 35 minutes, or faster on the ferry, if you're going somewhere on the West Side.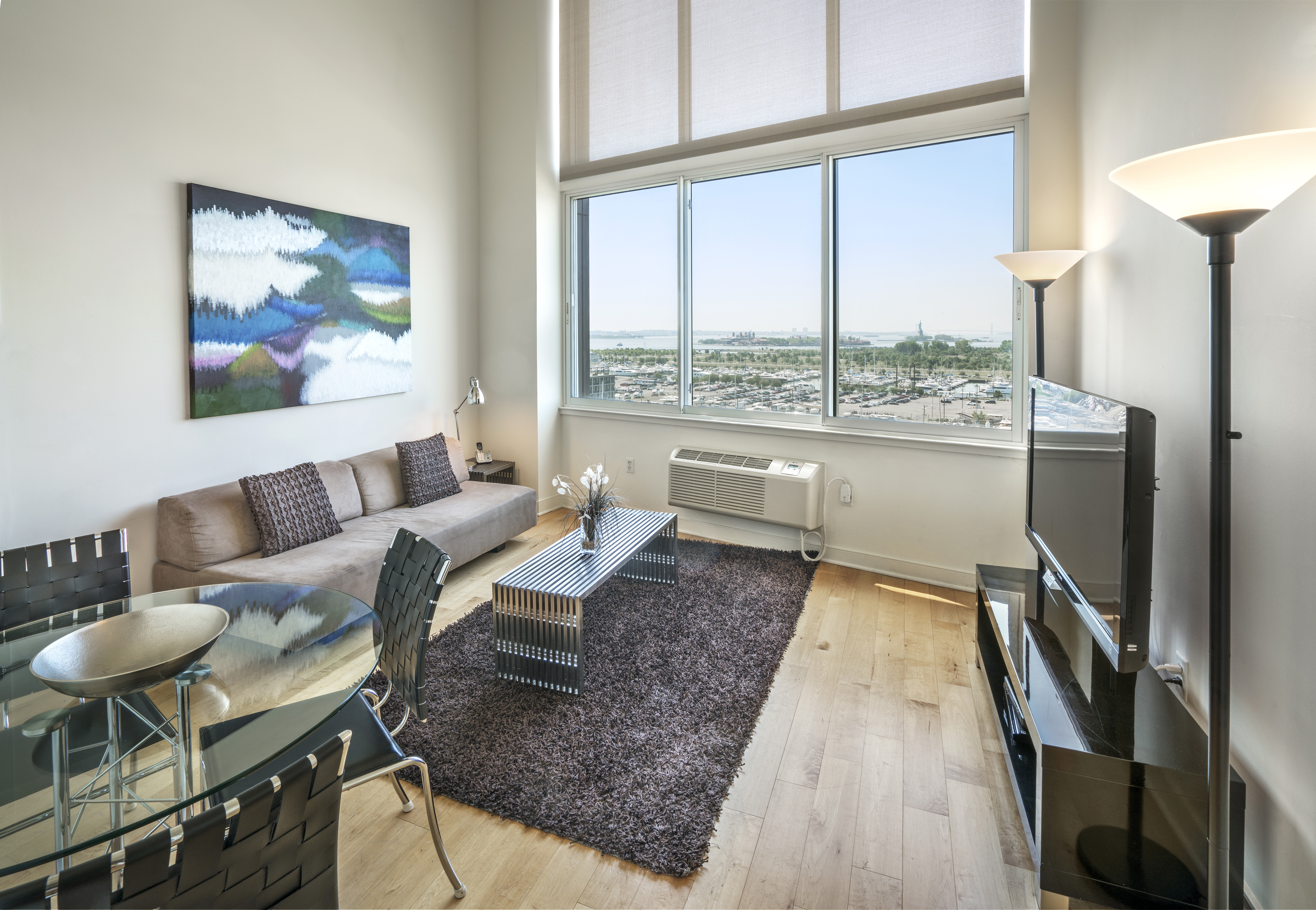 The Zenith, southern Jersey City waterfront
Like its neighbors 30 and 50 Regent Street, the eight-story loft rental building the Zenith is located near Jersey City's southern waterfront, steps from the Jersey Avenue light rail station. The building has concierge services. The apartments range from studios to three bedrooms, some with views of the Statue of Liberty.
Apartments come with soaring ceilings, smart home tech, and washer-dryers. One bedrooms are priced at $2,600-$2,700 a month. The trip by PATH train to lower Manhattan is around 25 minutes, and to Midtown, about 35 minutes.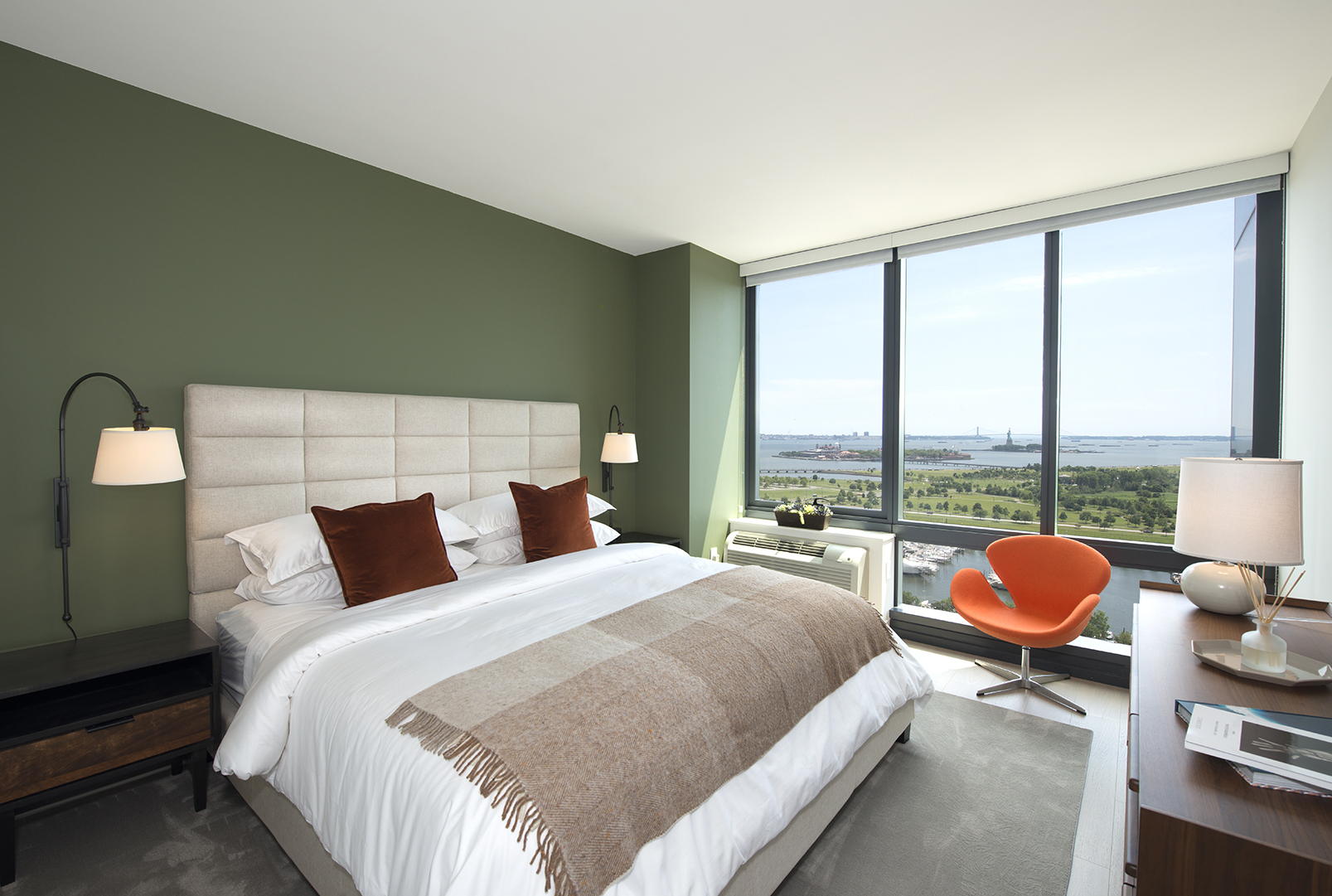 Vantage, southern Jersey City waterfront
This 45-story rental building started leasing this past summer. Situated a few blocks from the Zenith, also on the southern Jersey City waterfront, the building has 448 studio through two-bedroom apartments available. They start at $2,331 a month and range from 550-1,300 square feet, offering views of the Manhattan skyline, the Statue of Liberty, and Liberty Harbor Marina. The units have floor-to-ceiling windows and master bathrooms with double sinks, and the building includes an outdoor deck, a pool, and a basketball court.
It's adjacent to the historic Paulus Hook and Van Vorst Park neighborhoods and one block from the Marin Boulevard Light Rail station. Pictured is a one-bedroom with 790 square feet of space renting for $3,200 a month.
To get renters into the building, the landlord is currently offering one month of rent free.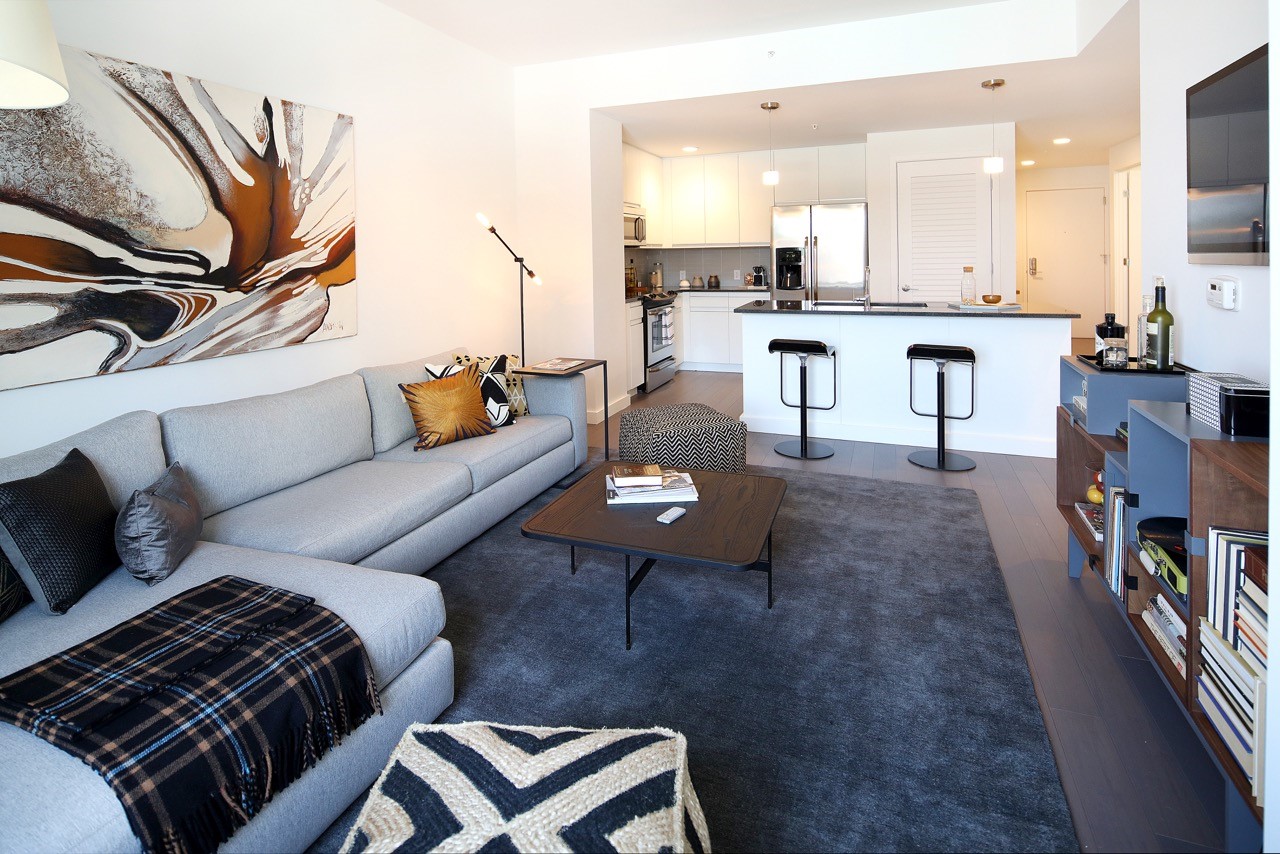 Vine, Hoboken
The western side of Hoboken, along the Palisade hills, is building up and offers a less expensive alternative to the waterfront. Hoboken is small, so people living in this part of the west side west side can walk  to waterfront parks and the shops of Washington Street in just 10-15 minutes. The light rail line snakes along the west side and then down to Hoboken Terminal, where you can catch the PATH train as well as the ferry.
One new rental apartment complex steps from the popular Ninth Street stop is the 11-story Vine at 900 Monroe St., featuring 135 luxury apartments. Besides convenience to the light rail, the building offers a shuttle to the Terminal, for those who'd rather not deal with the light rail for whatever reason.
One bedrooms start at $2,700 and three bedrooms surpass $4,000. The building's developers say it appeals to the "active professional lifestyle," with an outdoor deck area that has a pool and barbecue stations. A daycare is renting space on the lower level and there's a public children's park behind the building. Pictured is a one bedroom.
The trip to Midtown and downtown Manhattan is about 35 minutes by light rail and PATH train.
Brick Underground articles occasionally include the expertise of, or information about, advertising partners when relevant to the story. We will never promote an advertiser's product without making the relationship clear to our readers.