Second Homes
Avoid Penn Station: 5 neighborhoods within 30 minutes of Grand Central on the Metro-North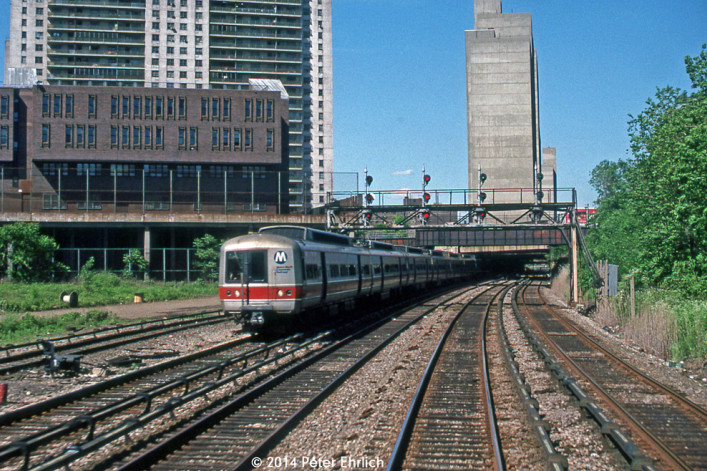 With Penn Station in meltdown (along with its customers) and the L train shutdown looming, the northern 'burbs may be looking pretty good right about now. Enter Metro-North, which despite the MTA's rep is a fairly reliable commuter train, with on-time performance for lines running east of the Hudson River at 95.7 percent and 94 percent for those west of the river (the former reflecting 2.7 percent above MNR's target, while the latter is 1.5% below target). The train serves dozens of communities with dedicated stations around 30 minutes north of Grand Central.
Here we look at five communities—for the fancy and the frugal—along the Harlem line, and one on the New Haven line, chosen for their ease of commute and relative affordability, compared to Manhattan or Brooklyn.
Bronxville (Westchester County)
Developed around the turn of the century by pharmaceutical mogul William Van Duzer Lawrence, who also founded nearby Sarah Lawrence College, Bronxville offers a cross between urban life and genteel English living, thanks to its contained village and cluster of Tudor Revival houses and storefronts. Beyond the village, Colonial Revival and eclectic architecture make up the mix of housing.
Though Lawrence's original intention was to build comfortable, middle-class suburban homes, the 'burb has attracted well-heeled families and professionals. Last year CNBC ranked it the No. 1 most expensive suburb around America's 10 largest cities, with a median home value of $2.33 million. Though single-family homes are the norm here, apartments are available, too: William Pitt/Sotheby's lists several three-bedroom units for less than $400,000.
Seven out of nine schools listed on Greatschools.org received a rating of four stars or higher in user reviews.
Travel time: 31 minutes from Bronxville to Grand Central on select express trains (peak time).
Mode and cost: Metro-North, Harlem line, $239/month for unlimited travel between Bronxville and Grand Central.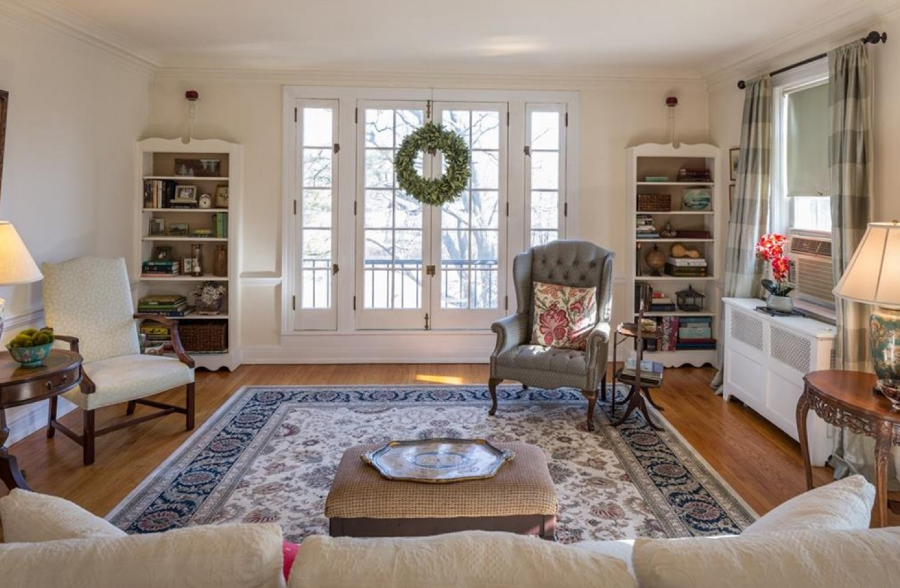 This three-bedroom, two-bath apartment, at $369,000
, could be a good starter apartment for a city expat.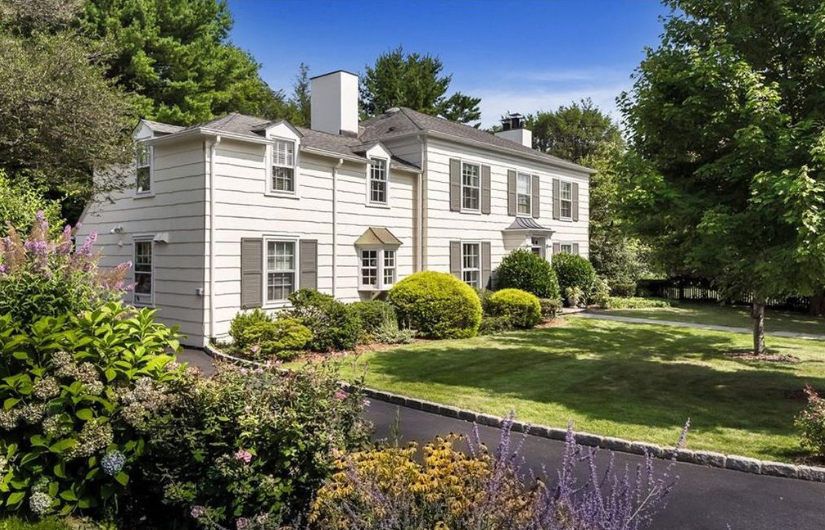 This four-bedroom, three-bath Colonial house, at nearly 3,000 square feet, is asking $2.345 million.
New Rochelle (Westchester County)
New Rochelle sprung into the popular imagination when sprightly '60s couple Rob and Laura Petrie of the "Dick Van Dyke Show" made it their home. It was ranked one of the best places to raise children, by BusinessWeek (2008). And there's plenty of support for that: both coastline and green spaces like Glen Island Park and Jack's Friendship Garden; the Huguenot branch of the New Rochelle Public Library, the only freestanding children's library in the county, and real cultural diversity. The local high school boasts 73 percent minority enrollment, making it once of the most diverse public high schools in the suburbs. User reviews on Greatschools.org give the high school four stars, but test scores fall below the state average.
Jutting up from the coast of Long Island Sound between Mt. Vernon and Larchmont, the town features a mix of housing styles ranging from mid-century to colonials and Victorians. Closer to the train station, housing stock reflects the class of young professionals living here: condos and co-ops in a variety of buildings ranging from new luxury developments to loft-style conversions.
Travel time: 31-35 minutes from New Rochelle to Grand Central.
Mode and cost: Metro-North, New Haven line, $239/month. Amtrak (Northeast Corridor) also stops here.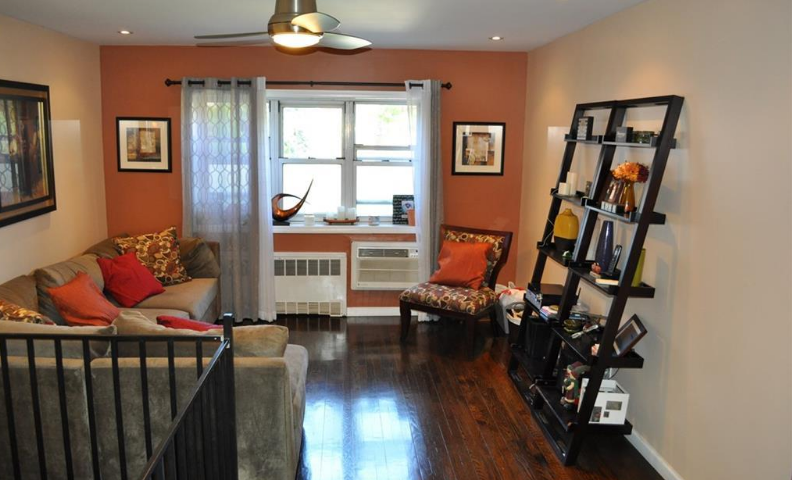 This two-floor four-bedroom, three-bathroom apartment in New Rochelle will cost you $305,000.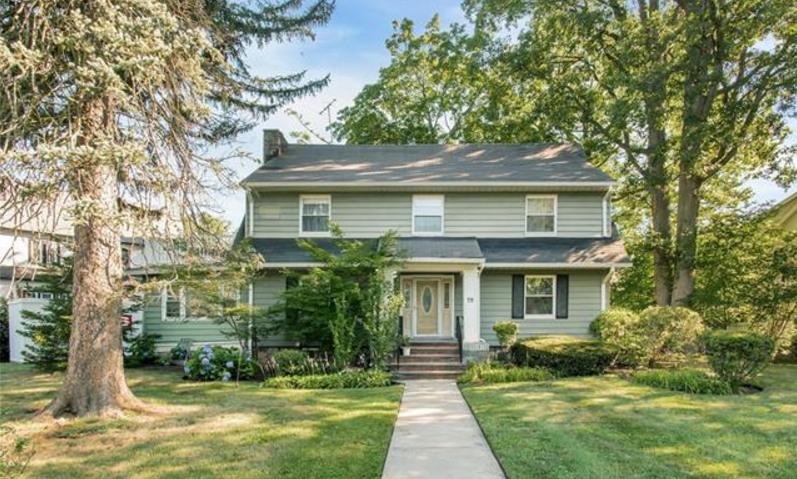 Part of the New Rochelle Historic District, this four-bedroom, three-bath house is asking $649,000.
Fleetwood (Mount Vernon)
About two miles south of Bronxville, and just north of the Bronx, Fleetwood lies on the north side of the larger suburb of Mount Vernon. Westchester magazine named it "The Enclave of Happy Commuters" in 2013 and seemingly people have gotten the memo, as home sales have increased 18 percent in the greater Mount Vernon area over the past year, according to Trulia.
Fleetwood a walkable town where the train station is adjacent to the business district, anchored by Gramatan Avenue's shops and dining options. The station also forms a sort of nucleus of apartment buildings, with single-family homes collared around the village and beyond. Benefits: lower home prices and taxes without sacrificing architectural integrity. Mount Vernon has six elementary and middle schools, and a high school, as well as private schools. Greatschools.org users give them a mix of three and four stars.
Travel time: 29-37 minutes from the Fleetwood station to Grand Central.
Mode and cost: Metro-North, Harlem line, $239/month.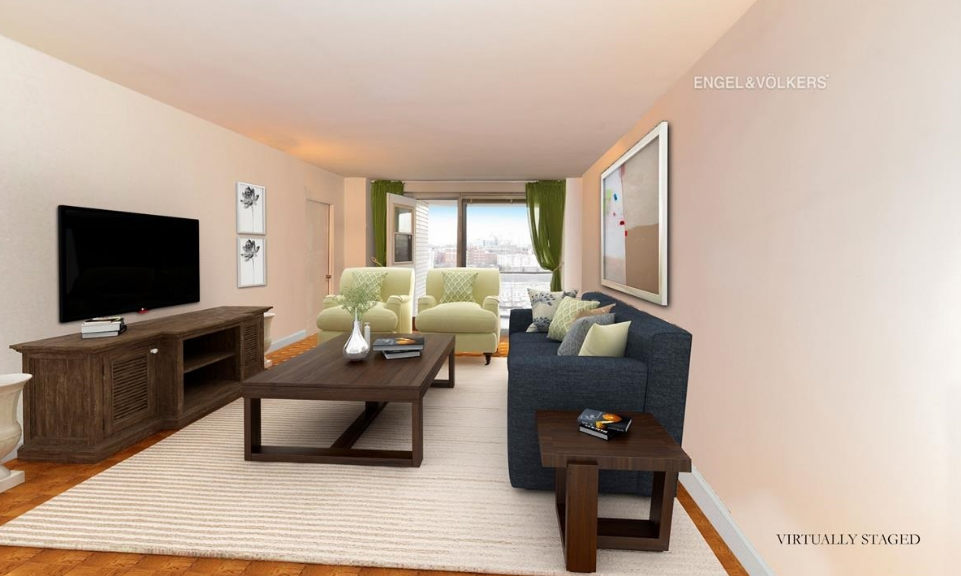 A three-bedroom, two-bath apartment with a balcony is asking $479,999.
Crestwood (Yonkers)
This 415-acre neighborhood straddles two identities, the no-nonsense urbanity of Yonkers and the village vibe of nearby Tuckahoe, across the Bronx River, with which it shares a zip code.
Single-family homes are similar in style to those in more tony neighborhoods: 19th-century styles like Victorians, colonials and Tudor Revivals. Norman Rockwell was so enamored by the town's charms, he painted "Commuters," featuring Crestwood's train station, on a 1946 cover of "The Saturday Evening Post." 
Home sales fell about 11% in the past year, according to Trulia, making the average home price $540,000  (all properties). Luxury development has not hit the neighborhood in large waves yet. Built in 2011, the Monarch at Ridge Hill is the rare development, where a two- bedroom, two-bath condo is listed for $469,000 (see photo below). For the same price, you can get a 1900 Colonial (three bedrooms, two baths) with a back yard, or a charming starter house built in 1928 on a verdant stretch of Van Cortlandt Park Avenue (see photo below).
Crestwood is in the Yonkers school district, but many in the neighborhood send their children to Annunciation School, a parish school serving children through grade eight, and a feeder for other parochial schools. The Paideia School P.S. 15 has a five-star user rating on greatschools.org.
Travel time: 30 minutes from Crestwood to Grand Central.
Mode and cost: Metro-North, Harlem line, $239/month.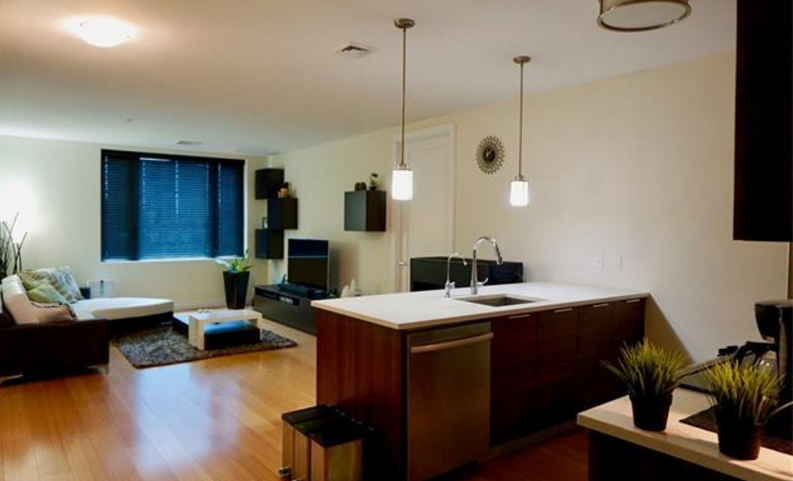 A $469,000 two-bedroom, two-bath condo in Crestwood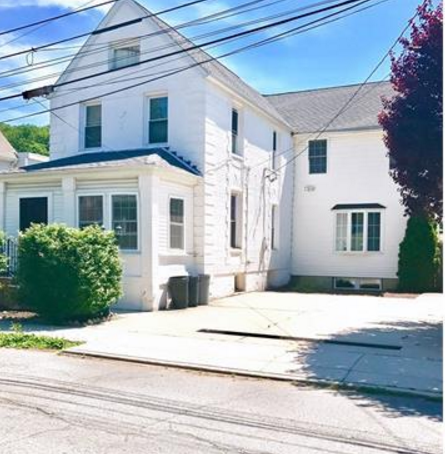 For about the same price, you can get a single-family house in the neighborhood, too.
The neighborhood: Wakefield (Bronx)
This northernmost neighborhood in the Bronx, at the end of the 2 and 5 subway lines, has largely shed its reputation as crime-ravaged, though working-class residents are now struggling with increased housing costs.  The neighborhood is a sleepy-for-the-Bronx enclave of tidy houses, pre- and postwar apartment buildings, and gardens—there are even some picket fences.  
Trulia reports an increase of $74,500 (21%) in median home sales over the past year, with an average price of $429,500 for all properties. A renovated two-bedroom co-op with a pool and Hudson River views in a full-service 1960s-era building lists for $399,000 (pictured below).
The commercial corridors reflect the diversity of the neighborhood with its Caribbean restaurants—a large population hails from Jamaica and the West Indies.
Van Cortlandt Park is nearby, and while there are no public schools in Wakefield, students have parochial-school options such as the all-male Mount Saint Michael Academy serving grades six through 12, and the nearby St. Barnabas High School for girls.
Travel time: 26 minutes to Grand Central from the Wakefield Metro-North station.
Mode and cost: Metro-North's monthly pass costs $208 (Harlem line); about $90 more than an unlimited subway card, but also shaves a good 30 minutes off your subway commute.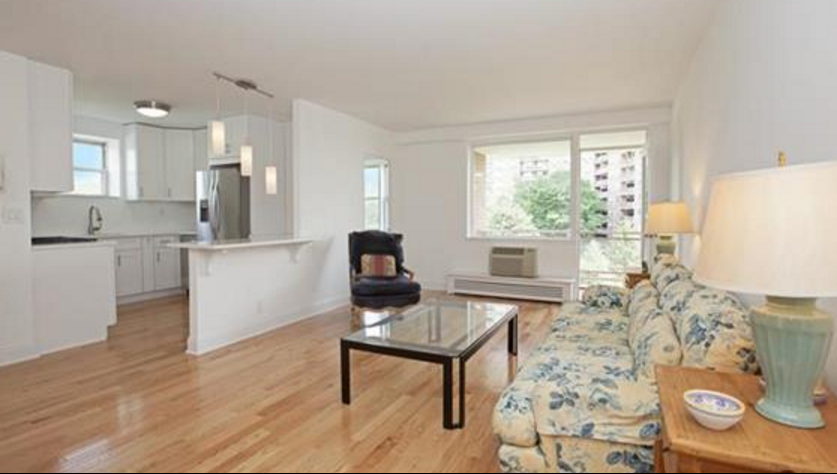 A two-bed, two-bath co-op asking $399,000.
Brick Underground articles occasionally include the expertise of, or information about, advertising partners when relevant to the story. We will never promote an advertiser's product without making the relationship clear to our readers.