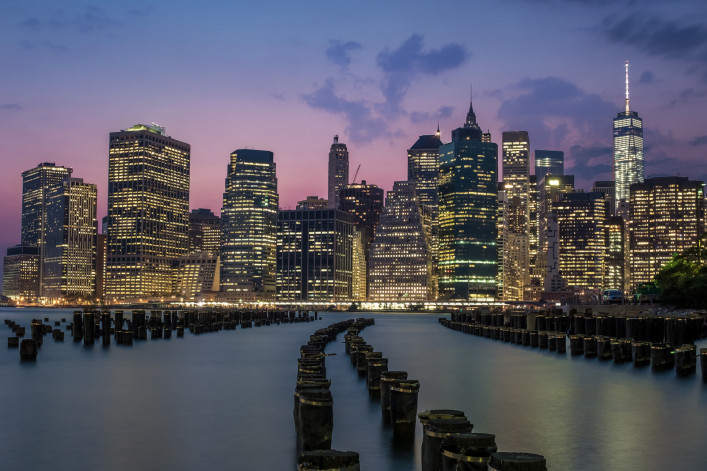 There are many reasons to love living in New York City, but your commute most likely isn't one of them, thanks to near-daily delays, fare increases, and overcrowded trains that will likely worsen with the L train shutdown.
So if your lease is up, or if you are in the market to buy an apartment, it might be time to consider living in a neighborhood that will give you easier access to the office. Brick Underground took a look at neighborhoods that are 30 minutes or less (when the trains are running on time) from the Financial District that might not be on your radar.
Pro Tip:
Did you know you can receive a buyer's rebate from your broker? With Prevu, you'll receive a rebate of two-thirds of the commission paid to the buyer's broker at closing.  On a $1.5 million condo in NYC, you'd pocket up to $30,000. Click here to learn about Prevu's Smart Buyer Rebate.
Obviously, for the quickest commute to Fidi, you would want to live in the neighborhood itself or adjacent neighborhoods like Battery Park City, Tribeca, the South Street Seaport, or LES. But what if you're priced out of those in-demand areas? Read on for some less obvious choices for places with good commutes to the Financial District.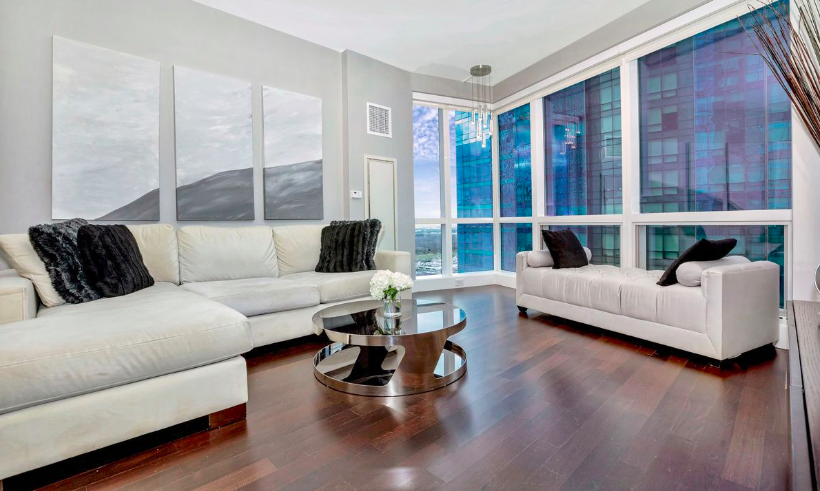 t
Jersey City, New Jersey
The neighborhood: Whether locals like the reference or hate it, Jersey City has been touted as "the sixth borough" because it's so accessible to NYC via mass transit. And, thanks to the large population of financial companies in its Exchange Place district, it's even known as "Wall Street West."
As NYC residents are priced out of Manhattan and Brooklyn, they're moving to Jersey City, where housing is more affordable. The average rent is $2,831, according to RentCafe. The average home costs $474,400, Zillow says.
Aside from stunning views of the Manhattan skyline, Jersey City offers more than 60 parks, art galleries, the Newport Centre Mall, and tons of dining and drinks options, from the farm-to-table fare of Liberty House Restaurant to the Pet Shop, a vegetarian-friendly watering hole that NJ.com named Jersey City's best bar in September.
Travel time: Via the PATH train: The World Trade Center subway station is 13 minutes from Journal Square; nine minutes from Grove Street and Newport; and six minutes from Exchange Place. Wall Street/Pier 11 is 12 minutes by NY Waterway ferry from Liberty Harbor.
Pro Tip:
Looking for an easy commute to Wall Street? Put your search in the hands of The Agency, a tech-savvy real estate brokerage and Brick Underground partner founded by a pair of Yale grads in response to the frustrating apartment search experiences of classmates and colleagues. The Agency will tailor your search to exactly what you need—whether it's a five-star gym in your building, a 20-minute commute, or concierge-level service that liberates you from mundane everyday tasks. If you sign up here, they'll charge a broker's fee of 10 percent of a year's rent instead of the usual 12 to 15 percent on "open" listings. Bonus: The agents at The Agency are a delight to deal with.
Cost: PATH, $2:75 one-way; New York Waterway, $8 one-way.
(Warning if you work weekends: Starting Jan. 5, 2019, the WTC PATH station will be closed most weekends through December 2020 for Hurricane Sandy-related repairs in its tunnel.)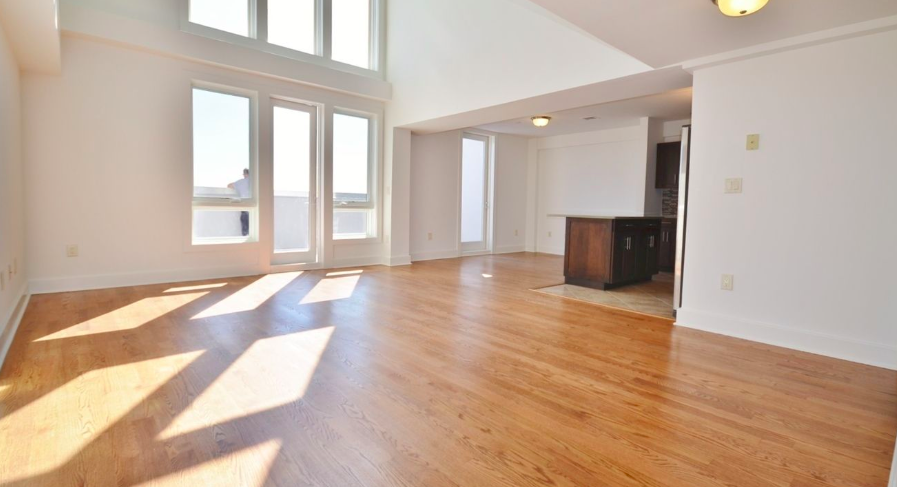 St. George, Staten Island
The neighborhood: For many, Staten Island is often considered off the table and, sadly, even off the map, but for New Yorkers who work in Fidi, it could be one of the city's best-kept secrets—and the only one with a free commute. (Yes, you read that right.)
Plus, it might be one of the most affordable places to live, with a $1,600 median asking rent for a one bedroom in St. George, Staten Island's northernmost neighborhood, and a $499,995 median sales price on StreetEasy.
Empire Outlets is slated to open in April, bringing a shopping complex and outdoor food court (featuring Shake Shack) to the St. George waterfront. (Sadly, the ferris wheel component of this project is no longer going to be built.)
Also in the neighborhood is the historic St. George Theatre, where you can take in a concert, comedy show, or classic film, and the four-year-old Flagship Brewery, which offers tastings and tours. Dining options include Enoteca Maria, which has a world-famous kitchen run by arguably the best chefs on the planet: grandmas.
Travel time: 25 minutes from St. George Terminal to Whitehall Terminal
Mode and cost: Staten Island Ferry, free.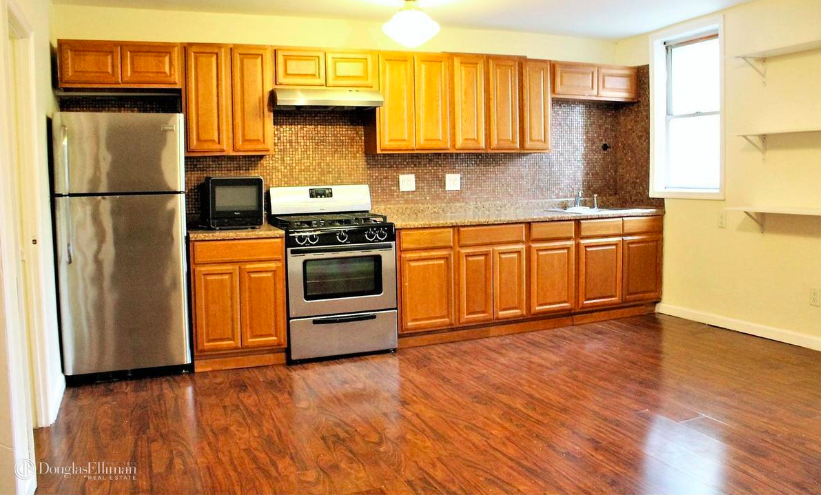 Red Hook, Brooklyn
The neighborhood: This former shipping hub has been relatively untouched by mass development (for now). Red Hook's moody, industrial past, great waterfront views, and the fact that it feels a bit apart from the craze of the rest of the city has long been a draw not just for shoppers at Ikea, which opened in 2008 in a former shipyard, but for New Yorkers who don't mind a hike to the F or G trains or a long bus ride, as well as artists, makers, and tech innovators looking for space to create.
Dotted among those remaining warehouses in Red Hook are neighborhood destinations like the Pioneer Works cultural center; the Waterfront Museum, which honors the area's maritime heritage aboard a 1914 Lehigh Valley barge; and eateries like Red Hook Lobster Pound and Grindhaus, and one of two NYC-based Tesla showrooms.
Median rent in Red Hook is $2,500, StreetEasy says, and its sales inventory is so small it's hard to calculate a median sales price. The dozen or so sales listings in the neighborhood on the site range from $810,000 for a one-bedroom, one-bath condo to $2.6 million for a two-family townhouse.
Though the F and G trains will not get you to Oculus or Fulton Center in Fidi (or even Manhattan on the G) without transferring to another subway line, the South Brooklyn route of the NYC Ferry stops at Clinton Wharf and runs to Wall Street. 
Plus, there's still talk the Brooklyn Queens Connector, aka the BQX streetcar, will be built one day to link waterfront neighborhoods from Astoria to Red Hook.
Travel time: With transfers from the F and G, the subway can take more than 30 minutes, but a ferry ride from Clinton Wharf to Wall Street/Pier 11 is just 21 minutes.
Mode and cost: Subway and NYC Ferry, $2.75 one-way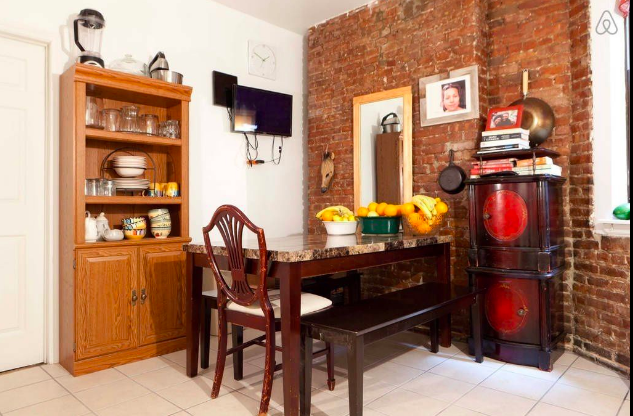 East Village, Manhattan
The neighborhood: While the East Village has shed its punky past for a trendier upscale vibe, it remains a vibrant, diverse neighborhood. Here you can drink one of just two beers offered at historic watering hole McSorely's Old Ale House or savor a hard-to-get meal at Momofuko Ko.
The median sales price is $860,000, while the median rent is $3,150, according to StreetEasy. One downfall of living in the East Village is its older housing inventory, which means apartments can be on the small side—in walk-up buildings. 
But a plus is its proximity to Fidi, which means you might be close enough to walk to the office if you don't want to take one of the more than a dozen bus lines or the 6, N, R, or W downtown.
Travel time: 24 to 29 minutes depending on route. 
Mode and cost: $2.75 one-way on bus or subway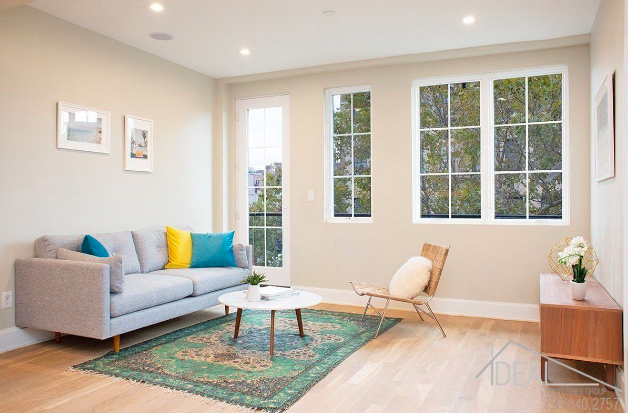 Bedford-Stuyvesant, Brooklyn
The neighborhood: Feast your eyes on plenty of the borough's quintessential brownstones on the tree-lined streets of Bed-Stuy—without paying as much as you would in Park Slope to do so.
Though it has its fair share of places to wine and dine, families especially have been flocking to Bed-Stuy as the sizable neighborhood tends to be quiet and calmer than others. The median sales price is $716,000, while the average rent is $2,300, StreetEasy says.
Travel time: 17 minutes on the A from Kingston-Throop Avenues to Fulton Street, a few minutes longer if you take the C local train.
Mode and cost: A or C train, $2.75 one-way
Brick Underground's
Gross Rent Calculator
What's this?
Some New York City landlords offer a free month (or more) at the beginning or end of a lease. The advertised rent is the net effective rent.  The net effective rent is less than the amount you will actually have to pay --- known as your gross rent --- during your non-free months.
Brick Underground's Gross Rent Calculator enables you to easily calculate your gross rent, make quick apples-to-apples comparisons between apartments and avoid expensive surprises. All you'll need to figure out your gross rent is 1) the net effective rent, 2) the length of your lease, and 3) how many free months your landlord is offering.  [Hint: Bookmark this page for easy reference!]
To learn more about net effective versus gross rents, read What does 'net effective rent' mean?.
Months
If the landlord is offering partial months free, enter it with a decimal point. For example, 6 weeks free rent should be entered as 1.5 months.
---
Editor's note: An earlier version of this post was published in October 2015 and has been updated with new information in January 2019.
---
Related Links:
Neighborhood Secrets: Living in Long Island City
5 Things You Didn't Know about Stuyvesant Heights
10 Best Neighborhoods for new college grads
Is Now the Time to Invest in Staten Island?
Brick Underground articles occasionally include the expertise of, or information about, advertising partners when relevant to the story. We will never promote an advertiser's product without making the relationship clear to our readers.