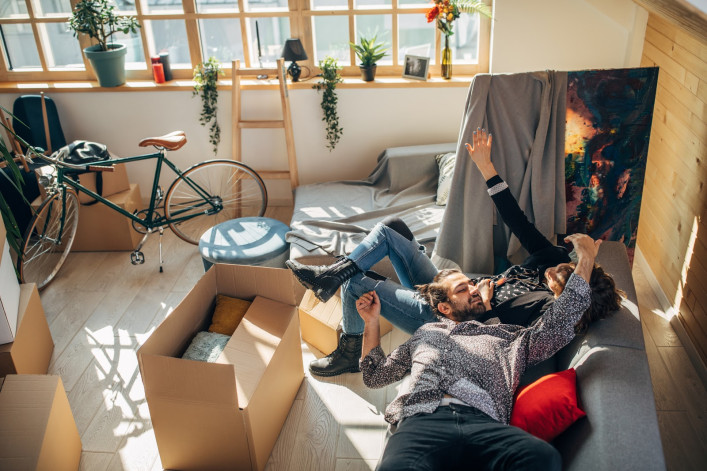 If you're new to the city, or haven't signed a new lease in a long time, the cost of renting in NYC these days may come as a surprise to you. But take heart: If you're renting on a tight budget, and you're crafty and willing to compromise—then you can cut some costs.
Brick Underground has gone through the rental process with a fine-tooth comb to come up with cost-saving hacks like the best websites for no-fee apartments and where to find deals in the outer boroughs. Read on for ways you can (sort-of) rent on the cheap in this city.
Know your rights 
Before you start your apartment hunt, read up on the sweeping rent reforms passed by New York State in June. The new rules apply to both rent-stabilized and market-rate tenants, and knowing your rights can save you some cash and protect you from unscrupulous landlords. According to reports, some tenants are still being charged high application fees despite the rent law cap of $20.
And there's other ways you are protected: You cannot be charged more than one month's rent for a security deposit, late-fees are capped at $50, or 5 percent of the monthly rent, whichever is cheaper, and when you move out, your landlord is required to refund your security deposit within two weeks.
Find a rental without a broker fee
Renting a no-fee apartment will save you a lot because broker fees can run 12 to 15 percent of the annual rent. When there's no broker fee it could mean the the landlord is covering it for you. Some larger rental buildings rent to you directly, so there's no broker (or fee) involved at all. 
Here are some other ways you can find no-fee apartments to save some cash: Ask your friends and family if there's any availability in their (no-fee) building, walk around your desired neighborhoods for buildings advertising "no-fee apartments." And check out Brick Underground's "The 8 best websites for finding a no-fee rental apartment in NYC" and "How to use Google Maps to find a no-fee apartment in NYC."
Search in the right neighborhoods
If you're moving to the city from elsewhere, and you think living in NYC is going to look like Carrie Bradshaw's Upper East Side apartment, guess again. Unless you've got a hefty trust fund or a six-figure salary, you probably can't afford to rent in Manhattan.
But, NYC is more than just Manhattan and you can find apartments with cheap-ish rent in the city's other boroughs. In Queens, check out Long Island City, Jackson Heights, Ridgewood, Rego Park, and Forest Hills. Most of Brooklyn is pricey, but you can find affordable one bedrooms in Bay Ridge, BedStuy, and Bushwick. New developments are going up in South Bronx, where you can score low rent and a short commute into Manhattan via the 6. Also, read Brick Underground's "4 of the best neighborhoods to find a no-fee apartment in NYC now."
Consider a studio instead of a one bedroom 
Opting for a studio rather than a one bedroom can save you hundreds in rent, and studios come in a variety of layouts. You can find large studios with similar square footage to one bedrooms, and there are studios with separate sleeping alcoves. If you're moving in with your partner, there's a lot to learn to make cohabitating in a studio work, but if you're on a tight budget, intimacy can be worth the savings.
Get a roommate 
Lots of New Yorkers have have roommates in order to make the rent. According to a study by Zillow, 40 percent of New Yorkers, ages 23-65, live with roommates. Consider this: According to StreetEasy, in Manhattan, the median asking rent is $2,600 for a studio and $3,445 for a one bedroom. But, the median asking rent for a two bedroom is $4,495, making the split $2,247, a considerable savings. The savings will be greater in the outer boroughs.
If you're new to the city and don't know anyone, there are plenty of online sites where you can find a roommate, or two.
Prepare early and move smart 
The moving process can also be costly, so you can save money on moving supplies by collecting boxes rather than buying them. Use the move as an opportunity to purge things like clothes you've outgrown so you have less to pack and move, which will also save you money.
On average, the cost of a moving company for a one-bedroom apartment within the city ranges from $85 to $100-plus, an hour. But for budget renters, it's cheaper to do a move yourself. 
You'll find that U-Haul rentals can cost over $100. The rates also depend on the season, because they skyrocket during prime moving months. Instead, leverage your own car, or your friend's car, to move boxes and small furniture. If you have large furniture that won't fit in your car, rent a pick-up truck or cargo van for an hour or two.
Brick Underground articles occasionally include the expertise of, or information about, advertising partners when relevant to the story. We will never promote an advertiser's product without making the relationship clear to our readers.