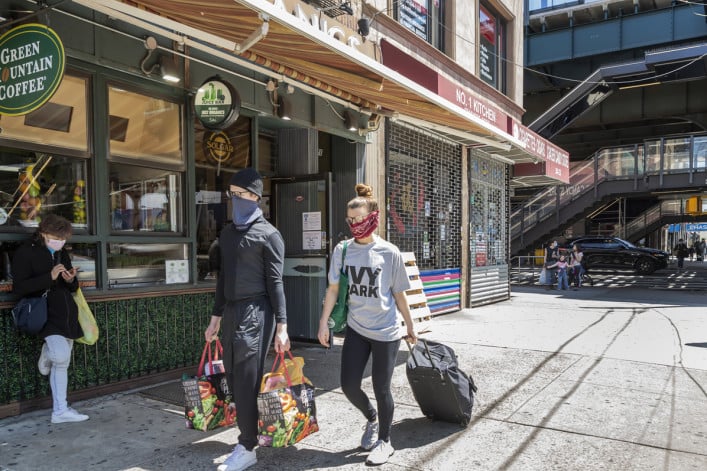 You already know that New York City is unique—that's why you have set your sights on moving here. You may not know—but will quickly discover—that this is also true of the rental market here. Renting in this city is more complicated than in other cities—and NYC is still under shutdown orders, which makes finding an apartment even more complicated than usual—but it's not impossible. 
NYC is also more expensive than other cities—however, the New York State Legislature passed major reforms that give NYC tenants a break, for example, capping security deposits at the equivalent of one month's rent—so no more asking for a security deposit plus last month's rent. Application fees are also capped—they are now $20. You'd be wise to brush up on the changes, so a landlord doesn't try to take advantage of you.
Open houses and in-person showings are still officially banned because of the coronavirus pandemic, although you may find some landlords or brokers willing to let you see an apartment. These days, however, most apartments can be toured virtually so you can get a sense of a place without stepping foot in it. And when you find a place you like, you may want to ask to have some extra riders added to your lease to protect you.
Here are the top five reasons the apartment hunt is different in the Naked City.
---
[Editor's Note: An earlier version of this post was published in July 2019. We are presenting it again with updated information for June 2020.]
---
1. The season matters
Traditionally, there's an annual influx of college grads starting new jobs in the city in the peak spring and summer months, when you'll face steeper rents and more competition for apartments, particularly in the under-$3,500-a-month price range. This year is likely to be very different: Many internships have been canceled and hirings at many companies are frozen, so fewer grads are likely to moving here and you can expect less competition, lower rents, and more flexibility from landlords. 
New York City is on track to open for Phase 1 on June 8th, and Phase 2, which includes the real estate industry, will follow, which may mean rental activity will pick up, just later than usual. If that's the case, consider scheduling moving day for the middle of the month, when moving companies have less business and may offer you a discount. Moving is considered an essential business during the pandemic, however, some buildings have temporarily banned moves. If you find an apartment to rent, find out what the building's rules on moves are now.
2. We have this thing called a broker fee
Unlike most other places, here in New York City, you often pay a broker to find you an apartment—even if it feels like you are doing the finding. So if you see a rental advertised on a listings website like Craigslist or StreetEasy, and it doesn't specifically say "no fee," chances are you'll pay anywhere from an extra month of rent (12 percent) to 15 percent of a year's rent to the broker marketing the apartment. 
It isn't impossible to find a no-fee apartment—especially in brand new luxury rental buildings, where owners have lots of apartments to fill. There are several different ways to find a no fee apartment. Tried-and-true techniques include calling a building's management company directly, looking in new developments, subletting an apartment until the lease runs out and then renewing directly with the landlord, and searching through websites that have a lot of no-fee listings (we've rounded up the best of them here).
3. Listings are full of white lies
"Cozy," invariably means small. A convertible two bedroom can actually be a one bedroom with a tiny office. Apartments touted as next to Hudson Yards are decidedly in Chelsea or Hell's Kitchen. Perhaps listings in Duluth, Minn., bend the truth, too, but the extent of the subterfuge in a pricey market like New York is on a different scale.
To get around the broker hyperbole, put more stock in readily available, objective information. Look at floor plans to get a sense of the layout and size of an apartment, and learn the requirements of a legal bedroom. Look up the address on Google maps—zoom in to check it out on street view—and read up on neighborhood blogs for a clearer picture of what an area is really like. You plug the address into Localize.city to reveal information about building violations, neighborhood nuisances, school quality, bike-friendliness, and more. And you can also look up crime stats on the NYPD's official website. 
You should also be aware that landlords sometimes offer a month or two of "free rent" and then advertise the apartment at a discounted, or "net effective rent." But that's not exactly how it works. You usually get your free month at the beginning or end of the lease, and pay a higher "gross" rent for the rest of the lease. If you find an apartment being advertised with net effective rent, be sure to do the math and figure out the rent you'll actually pay each month.
Brick Underground's
Gross Rent Calculator
What's this?
Some New York City landlords offer a free month (or more) at the beginning or end of a lease. The advertised rent is the net effective rent.  The net effective rent is less than the amount you will actually have to pay --- known as your gross rent --- during your non-free months.
Brick Underground's Gross Rent Calculator enables you to easily calculate your gross rent, make quick apples-to-apples comparisons between apartments and avoid expensive surprises. All you'll need to figure out your gross rent is 1) the net effective rent, 2) the length of your lease, and 3) how many free months your landlord is offering.  [Hint: Bookmark this page for easy reference!]
To learn more about net effective versus gross rents, read What does 'net effective rent' mean?.
Months
If the landlord is offering partial months free, enter it with a decimal point. For example, 6 weeks free rent should be entered as 1.5 months.
4. Don't assume you can build a wall 
Lots of young (and not so young) New Yorkers are able to pay this city's outrageous rents because they split up bedrooms and living rooms with temporary pressurized walls and cram more people in to less space. These types of walls are not permanently affixed to walls or the floor and don't interfere with the ventilation or sprinkler systems, or block exit routes.
But be warned: Adding a temporary pressurized wall can change an apartment's layout, so you or your landlord should get the proper permit from the Department of Buildings. This involves hiring an architect and getting the plans approved—something that has been increasingly enforced over the last several years.
If the only way to make a particular apartment work for you is contingent on creating another bedroom or two, be sure to confirm with the management company before your move if a pressurized wall is allowed (don't just ask your broker). If they're not, many buildings will still allow bookshelf walls (yes, that is a real thing). They're actually considered furniture, and don't require you to jump through as many bureaucratic hoops.
Pro Tip:
Need expert help finding the perfect apartment in the perfect neighborhood? Looking for a landlord who is flexible about guarantors, pets, "flexing" your space with temporary walls—or who won't automatically reject you if you lack work, credit or rental history? Put your search into the capable hands of The Agency, a tech-savvy real estate brokerage founded by a pair of Yale grads in response to the frustrating apartment-search experiences of classmates and colleagues. The Agency will charge a broker's fee of 10 percent of a year's rent on open listings instead of the usual 12 to 15 percent if you sign up here. Bonus: The agents at The Agency t are a delight to deal with.
5. You may need a guarantor 
Most landlords here require that tenants earn an annual salary of 40 to 50 times the monthly rent. If you don't, they'll ask for a guarantor who lives in the tri-state area and makes 80 to 100 times the rent to promise to pay the balance of your lease if you stop paying your rent.
In the past, there was a work around: Some landlords would accept a higher security deposit (say, two to six months of rent) or prepayment of part of the first year's rent, but that is no longer allowed under New York's new rent laws, which cap a security deposit at an amount equal to one month's rent. And, landlords are no longer allowed to collect "last month's rent" in addition to a security deposit.
You may be able to use a service like Insurent (fyi, a Brick Underground sponsor), which acts as a professional guarantor for tenants with clean credit histories. You'll pay about 80 percent of a month's rent if you have U.S. credit and 110 percent of a month's rent if you are foreign with no U.S. credit record.
Related posts:
Moving to NYC? Here's a crash course in finding an apartment here
The 8 best websites for finding a no-fee apartment in New York City
10 commandments of a NYC rental search
Landlords can't ask for 'last month's rent' plus security deposit, thanks to new rent laws
How NYC's new rent reforms affect you even if you're not a stabilized tenant: A blacklist ban, security deposit limit, & more
Brick Underground articles occasionally include the expertise of, or information about, advertising partners when relevant to the story. We will never promote an advertiser's product without making the relationship clear to our readers.