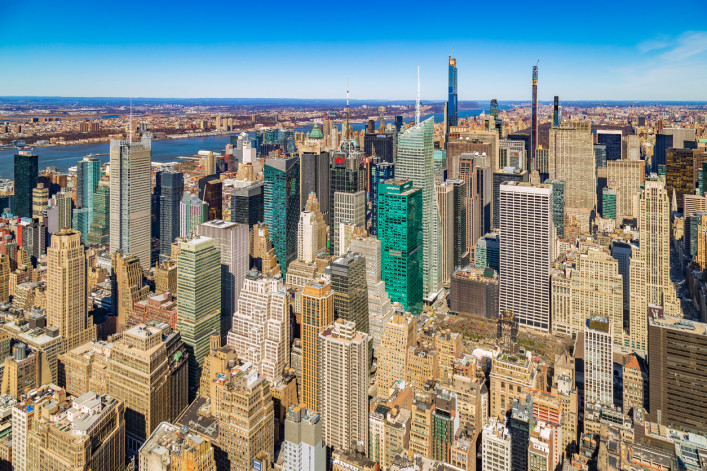 New York City is no stranger to major crises, having weathered the shock of 9/11 and the financial storms of 2008. Now, because of the coronavirus pandemic, non-essential businesses are shutdown, many are out of work and New York City is facing another economic downturn. The question is: What will happen to NYC's sky-high rents?
Most experts agree rents will fall from the record highs reached in recent quarters. As a result, you can expect landlords to prioritize retaining the tenants they have, so a drop in rents can give you an edge when it comes time to negotiate a new lease with your landlord.
---
Editor's note: Click here for more of Brick Underground's coronavirus coverage.
---
The market has been moving in this direction already. Early on in the shutdown, Jonathan Miller, president and CEO of appraisal firm Miller Samuel, predicted a period of "peak lease renewal," as a result of the coronavirus. This has proved accurate. New leases for the first half of April were down about 79 percent year over year, indicating a high-level of lease renewals, according to Miller. 
Lease renewals are not tracked, but something that can be inferred by a drop in new leases. And, there's no way of knowing what the renewal rent rates are, Miller says.
There are other trends that point to New Yorkers in financial distress: There's an increase in tenants looking to sublet their apartments in order to get out of expensive leases. And a drop in new leases could also mask a number of New Yorkers who are leaving the city or are going month to month in advance of leaving.
Read on for other thoughts on what happens next.
Minimal rent increases
Jonathan Woloshin, head of U.S. real estate at UBS Global Wealth Management, anticipates minor rent increases—if at all—and says this crisis is different from those that have happened before because of the sheer scale of the many uncertainties. 
"New York City is clearly a very expensive place to live but it's going to come down to the speed and nature of the recovery. No one knows when we will have a vaccine; how the re-opening of the economy will occur; and [whether some] businesses will ever come back. For those that do come back, what will be the trajectory of rehiring? Will there be a rebasing, downward, of wages? My best judgment is that once we get past the crisis you are going to see minimal rent increases for the foreseeable future. New York has historically operated a very low vacancy rate; if demand drops off and there's a mass exodus or employment is slow to come back you certainly could see pressure on rents.
"I will not be surprised if we come out with a zero increase on rent-regulated units but the flip side to it is the new rent laws have put so much pressure on owners of buildings, if you give them zero increases on top of what has been a challenging situation for people to make their rent payments, plus calls for rent strikes, the risk of building owners really being in a challenging financial position has gone up dramatically. If people don't pay the rent and you get no relief on your taxes and mortgage payments, something breaks."
Declines in asking and effective rents
Sam Chandan, dean of the Schack Institute of Real Estate at NYU, says this crisis can't easily be compared to anything else and rents will likely fall.
"In our baseline scenario, we anticipate measured declines in rents—in asking and effective rents—in the second and third quarters with stabilization in the fourth quarter. We hope that many renters will be able to engage with their landlords on renewal terms. Another factor is that we are all mobility constrained so our ability to look for and move to another apartment is constrained in a way that we've not observed before. 
"There's no good point of comparison with the period following 9/11 or the Great Financial Crisis. A concern for us long term, is for entry-level and relatively more affordable apartments we will become relatively supply-constrained—that's the segment of the market where we will see fewer projects kicking off," he says.
An increase in concessions
Evan Raciti, the executive vice president of listing site RentHop, says the recession brought on by coronavirus pandemic will be unlike anything we've experienced before and its effect on real estate will be similarly unique. 
"The net outflow of residents will put enormous downward pressure on the price of rental apartments in the city. Before gross rental prices drop, we expect landlords to increase their incentives for new tenants, by offering free rent concessions and to pay broker fees. Once concessions fail to draw in enough new tenants to fill vacant inventory we'd expect gross rent prices to meaningfully decline.
"Notably, the city's new restrictions prohibiting landlords from collecting more than one-month's security deposit will likely add fuel to the fire. With unemployment and underemployment spiking, fewer renters will be able to meet the standard income and credit requirements necessary to take on a lease. In the past, additional security deposits and prepaid rent could be used to bridge a requirements gap, but without these tools there will be both a lack of qualified tenants and a mechanism for landlords to bring in otherwise unqualified renters.
"This point is exacerbated by the moratorium on evictions which make it even less likely that landlords would be willing to bear the risk of taking on a non-paying tenant. By the winter, rental prices should see a significant discount as vacant inventory begins to flood the market and qualified renters become more difficult to find. This drop in prices is all but inevitable, if for no other reason than we're coming off a relative high point in NYC rental pricing."
Brick Underground articles occasionally include the expertise of, or information about, advertising partners when relevant to the story. We will never promote an advertiser's product without making the relationship clear to our readers.