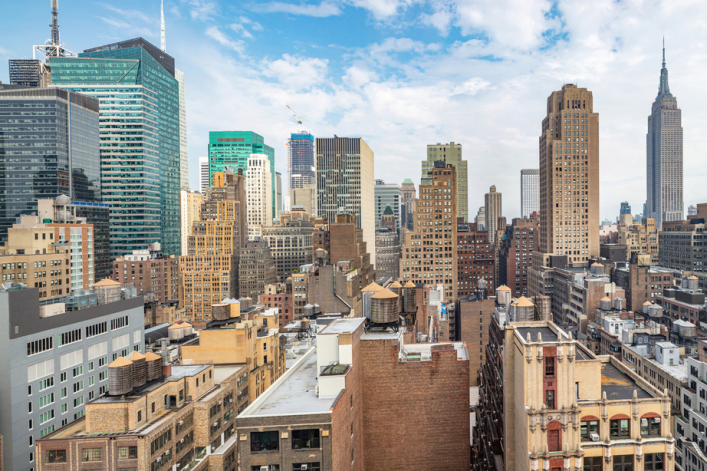 With so much uncertainty about the coronavirus outbreak and its impact on the economy, it seems unconscionable that any landlord would raise the rent in NYC for a tenant who is up for renewal right now. 
Several landlords have told Brick Underground they intend to be flexible if tenants can't pay their rent—and many will likely not ask for serious increases, if at all. However, there are landlords who appear to be trying to exploit tenants, like the owner of a Hell's Kitchen building who asked tenants in a one-bedroom apartment to shoulder a 25 percent hike, claiming the building was in demand from medical professionals because of its proximity to the new temporary coronavirus hospital at the Javits Center.
Even without a rent hike, you may be having trouble paying your rent now because your income has vanished during New York's shutdown. You should know you cannot be thrown out of your apartment for non-payment during this crisis. There is a 90-day moratorium on evictions, so your landlord cannot file a case against you for nonpayment of rent.
In March, momentum seemed to be building to bring some major relief to tenants. State Senate Deputy Leader Michael Gianaris proposed a 90-day suspension of rent for residential and commercial tenants who have lost work or closed workplaces due to the crisis. The legislation has widespread support in Albany but has not yet come to pass. (Governor Andrew Cuomo has not gotten behind the bill.)
---
Click here for more of Brick Underground's coronavirus coverage.
---
For rent-stabilized tenants, Mayor Bill de Blasio wants to suspend this year's Rent Guidelines Board process and freeze rents on the city's nearly 1 million rent-regulated apartments—so landlords would not be able to increase rents at renewal time.
Market-rate tenants, on the other hand, are subject to the forces of supply and demand. That means if you're renting a market-rate apartment, you can be asked to pay more when it's time to renew your lease.
Pro Tip:
Do you need help negotiating your lease, renegotiating it at a rent you can afford, or terminating your lease early? The experienced tenants-rights attorneys at Himmelstein, McConnell, Gribben, Donoghue & Joseph can advocate on your behalf. Call 212-349-3000 or email to schedule a consultation.
If you fall into this category and your landlord tells you he or she is going to raise the rent right now, here's what you should know.
You must be given adequate notice
You're entitled to up to 90 days' notice of a rent increase of more than 5 percent depending on how long you have been living in your apartment: The notice is 30 days for tenants who have lived in the apartment for less than a year, 60 days if you've been there between one and two years, and 90 days for longer-term tenants. 
Leverage your track record
Landlords generally want to keep a well-behaved tenant in an apartment, and that may be even truer now during the pandemic. There are costs associated with getting in a new tenant, especially if renovations or updates are needed. With non-essential businesses closed and New Yorkers asked to stay home to prevent the spread of coronavirus, it is logistically much more difficult for landlords to secure tenants. 
If you have been the tenant who always pays your rent on time, your landlord is more likely to be open to keeping your rent flat rather than slapping on an increase. They may also be more considerate if you have lost your income due to the pandemic and need to structure your payments, especially in the absence of government aid.
Mark Hakim, an attorney with Schwartz Sladkus Reich Greenberg Atlas, says it's "penny wise and pound foolish [of landlords] to be trying to extract an increase from anyone when they have an opportunity to show some kindness and at the very least keep rents the same."
In negotiating the renewal of a lease right now, "tenants should consider asking for a rent freeze or rent reduction," says Catherine Grad, a tenant attorney at Grad and Weintraub. 
Pro Tip:
Your home is your emotional and physical sanctuary, and right now, it's probably doing double or even triple duty. With Zoom meetings, home schooling, virtual happy hours, and other distractions, accidents can happen, like cooking fires, sink overflows, floods from broken dishwashers and other mishaps that could cost you thousands. Now more than ever, protecting your home, possessions and finances with insurance is an affordable necessity, not a luxury. Click here for a quick quote from the apartment insurance experts at Gotham Brokerage. >>
The math can work in a tenant's favor. Jared Antin, director of sales at Elegran, points out if an apartment is vacant for one month, that's 8.3 percent of the year and is comparable to the landlord taking an 8 percent reduction in rent.
"So offering to keep a tenant in good standing in the apartment at the same rent they are paying—or in some cases even a slight reduction—may make more financial sense to the landlord than risking the apartment being vacant, and potentially getting a new tenant at an even lower rent," he says.
Knowing the market
It helps to know something about the current rental market when you negotiate with your landlord but it's difficult to predict what will happen in the coming months. Data from listing site StreetEasy sees rents and prices holding steady for now but the pandemic has not yet peaked in NYC.
"The market is about to reset or is resetting in a way we've never seen before and we don't know how it will play out yet because we don't know the true impact on the economy," says Hakim. What we do know is that the number of New Yorkers filing for unemployment benefit has skyrocketed a result of the pandemic. 
Landlord and tenants are in this together, says Hakim. "Landlords are not immune to suffering. They are aware of what's going on in the market and they would be foolhardy not to consider a legitimate reasonable offer in order to maintain the viability of their apartment or building."
Jonathan Miller, CEO and president of the appraisal firm Miller Samuel, has talked about a period of "peak lease renewal," which means landlords are inclined to do what they can to keep their tenants in place. Understanding this is your landlord's goal can help you negotiate your renewal.
Owner Craig Roche says he recognizes the number of people who can pay a given rent will decrease. He says, "I believe the experience of working from home and telecommuting will inspire a lot more companies to relocate high wage jobs to lower-cost locales."
Keep in mind that the NYC sales market has stalled, which will add new pressure to the rental market—already crowded with would-be buyers renting for the time being.
Try to go month to month
With so many unknowns, you may feel uncomfortable committing to NYC's high rents for another year. 
"The market is so uncertain, what tenants should be trying to do, rather than signing a new lease, is negotiate a month to month at the current rate," says Grad. This will mean you won't be protected by a lease term but won't be locking yourself into a certain rate for the next 12 or 24 months.
"I don't think either side really will want long-term leases for a while, and I expect that there will be plenty of deals," says Roche.  
Negotiate politely
As always, you'll want to be respectful in approaching your lease renewal and negotiating against an increase or for a rent freeze or reduction. 
"You want to approach the landlord in a way that they can see where you are coming from, and that you are not just looking to benefit off the back of your landlord," says Hakim. 
However, he says, landlords should be aware of the optics of increasing rents in the current crisis. "That should be a very important consideration for anyone who does this as a business," Hakim says.
Brick Underground articles occasionally include the expertise of, or information about, advertising partners when relevant to the story. We will never promote an advertiser's product without making the relationship clear to our readers.