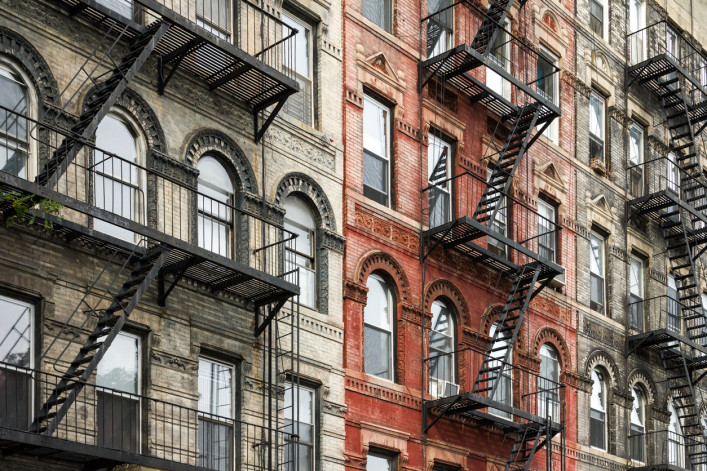 Thousands of New Yorkers are wondering how they'll make rent payments as the coronavirus shutdown continues. By some estimates, more than a third of the city's renters won't be able to meet their rent obligations during the current crisis, which has forced all non-essential businesses to close. If you are among them, you may be wondering whether you should try to negotiate with your landlord or even break your lease to move elsewhere.
You are likely better off sitting tight for now because you have some added protections since evictions during the pandemic are halted. And you have some leverage considering that landlords are more inclined to want to keep you rather than have to fill an empty apartment. Read on for what you should consider before talking to your landlord.
Pro Tip:
Do you need help renegotiating your lease, getting your lease renewed at a rent you can afford, or terminating your lease early? The experienced tenants-rights attorneys at Himmelstein, McConnell, Gribben, Donoghue & Joseph can advocate on your behalf. Call 212-349-3000 or email to schedule a consultation.
Why you should wait to make a move
Keep in mind, all eviction proceedings and pending eviction orders have been suspended, so you cannot be thrown out of your place while non-essential businesses (including housing court) are closed in the city. Public housing residents also have the option of applying for the NYCHA rent hardship program.
"In order to negotiate you have to figure out what your power is," says Catharine Grad, a tenant attorney at Grad and Weintraub. She says appealing to your landlord with "the fact that you may have lost your job is not a successful negotiation strategy."
What you should try to do, Grad says, is sit tight if you can, because state and city officials are thrashing out proposals that could bring tenants some relief.
---
Editor's note: Click here for more of Brick Underground's coronavirus coverage.
---
Working on a rent freeze
Members of the City Council and State Senate have proposed legislation that would freeze rent for affected New Yorkers and other ideas to help renters—like canceling rent increases for the city's rent-stabilized tenants and asking landlords to tap into security deposits for upcoming payments. However, it's not clear yet when these will be enacted. 
The senate proposal, which would waive rent payments for the next three months, has a lot of support in the legislature, but is missing one key backer, Governor Andrew Cuomo, Gothamist reports.
Elizabeth Stone managing agent at Stone Realty Management, says a mandated rent freeze will be "catastrophic" for anyone who manages a building and says a better alternative would be to see state or federal rent assistance. 
Grad also questions whether your security deposit, capped at one month's rent as of last year, can be used as rent. Why, after all, would you offer it up when so much is uncertain? "You can't be evicted and no one knows how long this is going to last," she says. 
Pro Tip:
Your home is your emotional and physical sanctuary, and right now, it's probably doing double or even triple duty. With Zoom meetings, home schooling, virtual happy hours, and other distractions, accidents can happen, like cooking fires, sink overflows, floods from broken dishwashers and other mishaps that could cost you thousands. Now more than ever, protecting your home, possessions and finances with insurance is an affordable necessity, not a luxury. Click here for a quick quote from the apartment insurance experts at Gotham Brokerage. >>
Concessions could rise
New York City's rental and sales market are inextricably entwined. With deals grinding to a halt, would-be buyers are opting to rent, making the rental market even more competitive. 
Jonathan Miller, founder and CEO of appraisal firm Miller Samuel, says he believes landlords will "will work hard to retain tenants," and anticipates a period of "peak lease renewal," for NYC. After all, if landlords and leasing agents can't show apartments, it's more pragmatic to work with the tenants they already have in place. 
Will we see rents drop from their record highs? Miller says it's too early to tell, bearing in mind that falling sales will play a part in keeping the rental market competitive. 
Nancy Wu, an economist at StreetEasy, says, "Under these circumstances, many renters may look farther from the city's center to find financial relief." 
It's possible, however, there may be more incentives for renters to sign leases. Adam Frisch, managing principal at Lee & Associates Residential NYC, says although he won't compromise on the quality of tenants he brings in, he's now offering double concessions and has dropped the rent on several listings.
"The concession could be a month free, it could be the landlord paying the broker fee, it could be two months free, it could be two months free and the landlord paying the broker fee and the base rent 10 or 20 percent below that," he says.
Breaking your lease isn't without risks
If the financial uncertainty has you considering whether you should break your lease, some landlords have been showing flexibility here. However, as it's too soon to gauge the economic impact of the pandemic, breaking a lease is not without risks.
"There may be legal ways to terminate the lease but that is going to be very specific to each person," says Grad. 
When tenants break their leases, landlords have to duty to mitigate their damages—this was a change implemented by last year's rent reforms.  In normal times, re-renting an apartment is relatively easy in a city with a low vacancy rate, says Ellen Davidson, an attorney with the Legal Aid Society. 
However, she points out, "It is not too clear to me how easy it will be for landlords to re-rent apartments under the circumstances. So tenants should understand that breaking their leases may not completely end their obligations to pay rent." She adds any agreement that a tenant gets from their landlord should be in writing.
Brick Underground articles occasionally include the expertise of, or information about, advertising partners when relevant to the story. We will never promote an advertiser's product without making the relationship clear to our readers.