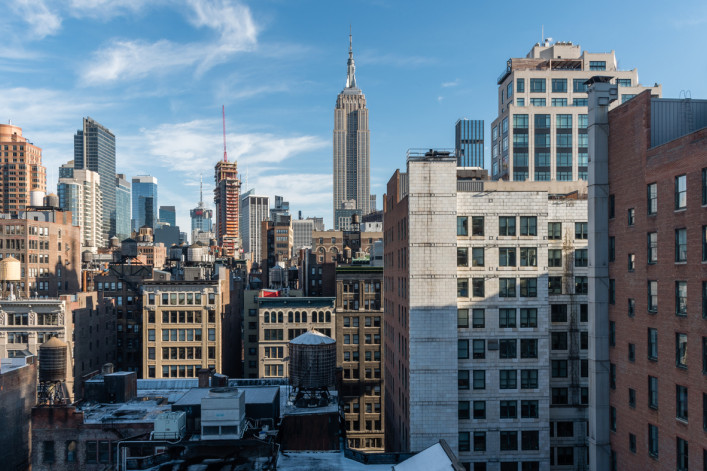 Most New Yorkers are staying put right now because of the coronavirus pandemic, but if you need to get a new rental apartment, there are precautions you should take during your search. It's also a good idea to consider building in some additional protections in your lease as well.
Apartment hunting during the coronavirus pandemic is an entirely new experience as New Yorkers are asked to minimize contact with others. Your search is likely to be pushed almost exclusively online. Brokers and leasing agents are adapting with sophisticated virtual tours and listing language that takes into account the unsettling nature of the current crisis.
Usually, apartment hunters are discouraged from renting places sight unseen but these are not normal times and in some cases, you may be asked to commit to a rental without having physically seen it. If that's the case, or your move is being delayed because a building has banned move-ins while the city is shut down, you may want to negotiate with your landlord and adjust some of the wording in your lease.
---
Editor's note: Click here for more of Brick Underground's coronavirus coverage.
---
The condition of the apartment
The standard lease does not take into account the current circumstances. Mark Hakim, an attorney with Schwartz Sladkus Reich Greenberg Atlas, says in the case of a rental agreement that has been arranged virtually with a 3D tour and no physical inspection, this presents problems. 
"Everything that you would have normally covered by an inspection you now cannot do, so you have to cover it by the written word, guaranteeing it upon the date you move in," Hakim says.
He points out you can either have a "diligence period following the execution of the contract" or you have "certain additional warranties and representations" within the lease. New Yorkers are broadly protected by the Warranty of Habitability, which makes the landlord responsible for keeping your apartment and the building safe and livable at all times but without a physical inspection, you may want to add protections to your lease. 
"Without fail, everything should be in working order and not just in an as-is condition if you haven't had an opportunity to inspect it yourself," he says.
Pro Tip:
Do you need help negotiating your lease, renegotiating it at a rent you can afford, or terminating your lease early? The experienced tenants-rights attorneys at Himmelstein, McConnell, Gribben, Donoghue & Joseph can advocate on your behalf. Call 212-349-3000 or email to schedule a consultation.
Delays to your move
It's highly probable that your move date will be affected by the coronavirus. Some buildings have canceled move-ins and while moving companies have been told they are essential employees and can continue working, there are no guarantees the scheduling won't be subject to change—and we are unlikely to get back to normal any time soon. 
"Make sure the lease contemplates delays," says Hakim.
If you are signing a lease that would begin in a month's time, but the city hasn't opened up by then, you may not be able to move in. Toby M. Cohen, an attorney with the law firm Inglesino, Webster, Wyciskala & Taylor, says you will want to ask your landlord for a clause stating "that parties agree the move-in will be pushed out 30 or 60 days as needed and the tenant will not be obligated to pay the rent if they are not able to move in and are not living there."
Amenity use in your lease
If you are signing a lease for an apartment, you may have prioritized the place because you like the amenities the building offers. Gyms, pools, playrooms and even laundry facilities have been closed to stop the spread of the coronavirus. It's possible you may be able to get some form of credit or reduction in rent while amenities are disrupted. 
"If the amenities are not available, there should be an appropriate reduction in rent. That should be subject to your landlord's agreement, but my philosophy is you don't get what you don't ask for," Cohen says.
The 'force majeure' clause
Some leases may contain a "force majeure" clause that deals with so-called acts of God. Cohen says pandemics have generally not been included in the definition of "force majeure" but thinks they are likely to be included from now on. The clause may address what happens in these types of situations. "A lot of time it is extensions of time to perform, sometimes it allows parties to get out of the deal completely," Cohen says.
Brick Underground articles occasionally include the expertise of, or information about, advertising partners when relevant to the story. We will never promote an advertiser's product without making the relationship clear to our readers.