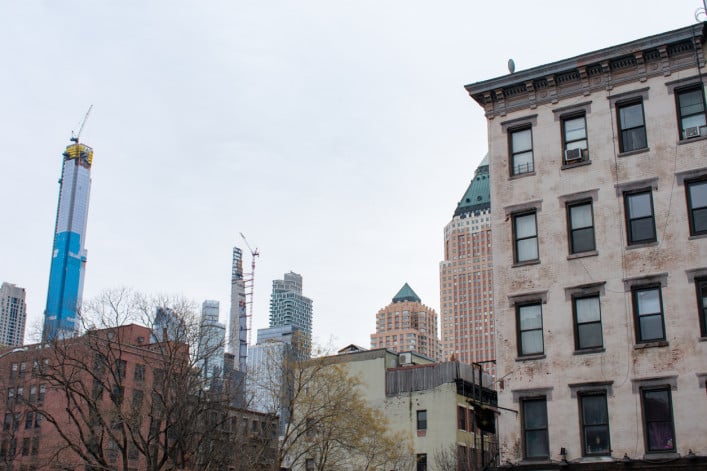 The coronavirus pandemic has upended every aspect of life and that includes renting an apartment. For those looking for an apartment in NYC, like Ranee Soundara, they have to rely on listing photos and 3D video tours to get a sense of a new place before they sign the lease. Soundara starts a new job in advertising technology this week and wants to get out of her sublet arrangement and find a one bedroom where she can work from home. Here's her story.
Looking for an apartment without being able to physically tour it is very tough even though it's for good reasons. Not being able to walk into the space doesn't give you the same feel and sometimes the virtual tour is kind of strange. It doesn't give you a real-life perspective.
I lived in NYC through college, then moved back to Seattle before coming back to New York last year. At the time I chose to live a sublet so that I could get settled into my job. It suited me because I was doing lots of travel and did not have time to look for an apartment. 
---
Editor's Note: Brick Underground's Inside Stories features first-person accounts of dramatic, real-life New York City real estate experiences. Have a story to share? Drop us an email. We respect all requests for anonymity. Click here for more of Brick Underground's coronavirus coverage.
---
My sublet agreement is up next week but the person I sublet from is doing a semester in the UK and because of the travel ban associated with the pandemic, she's not coming back. She's told me I can stay through April but I'm foreseeing this going on for a while and I want to find an apartment as soon as possible because I'm in a super small place—a very tiny sublet—and I'm about to start a new job and could be working from home for months. 
Six weeks ago I was only looking for studios but now, if I'm going to be working from home, I'm thinking maybe I need to push the boundaries and get a larger space. 
When it comes to the virtual tours, I'm making the assumption that there are probably lots of different software companies. There are some virtual tours that are better than others. Most are HD quality but there's also the fact that with some, you can't go all the way to the window or get a real sense of what the square footage feels like. The layout can also play tricks on you. 
Another issue is the height of the person making the video makes a lot of difference. There was one video where the person must have been really tall, or filming with a selfie stick—it was at a higher height than my own point of view so I was seeing the furnishings at six feet tall rather than my own point of view, of about 5 feet, 5 inches. 
Sometimes you spin around the room to get the perspective of the kitchen in the living space and the 360-degree picture will break so that doesn't give you a good point of view.
One broker did a FaceTime call from the apartment and that gave me a better depth perception of the place.  Even though the picture wasn't as good, I got a better perspective of the apartment. 
Pro Tip:
Your home is your emotional and physical sanctuary, and right now, it's probably doing double or even triple duty. With Zoom meetings, home schooling, virtual happy hours, and other distractions, accidents can happen, like cooking fires, sink overflows, floods from broken dishwashers and other mishaps that could cost you thousands. Now more than ever, protecting your home, possessions and finances with insurance is an affordable necessity, not a luxury. Click here for a quick quote from the apartment insurance experts at Gotham Brokerage. >>
The other aspect of all this is that when I've asked if I can see the apartment, three out of four have said they'd prefer me to send in my paperwork to be preapproved before visiting the apartment.  I don't want to put forward all my personal information and have multiple credit checks.  
Luckily I don't have a lot of stuff to move—just a suitcase—but when I do find a new apartment I'm going to have to buy everything new and I'm not sure how that is going to work.
There's also the issue of getting utilities set up and I'm afraid there might be a complete shutdown. In one building I looked at they have cut off all the amenities, including laundry service, and are giving residents credit for two months of a drop and fold laundry service. If I were to sign a 12-month lease I'd get $1,000 in credit and for a 24-month lease, $2,000 credit plus one month free. 
In-unit laundry isn't a priority for me, I'm really looking for something at the right price. I don't want to panic-lease an apartment but I understand there's still a sense of urgency. 
The positive with the virtual tours is that you're not exposing yourself to the virus and with apartments that are duds, you are not wasting your time on. So it's a good way of vet apartments and it's a good step to creating your shortlist but there are limits. But, it is what it is. Yes, it's more difficult in terms of decision making, but I care more about having everyone safe.
Brick Underground articles occasionally include the expertise of, or information about, advertising partners when relevant to the story. We will never promote an advertiser's product without making the relationship clear to our readers.