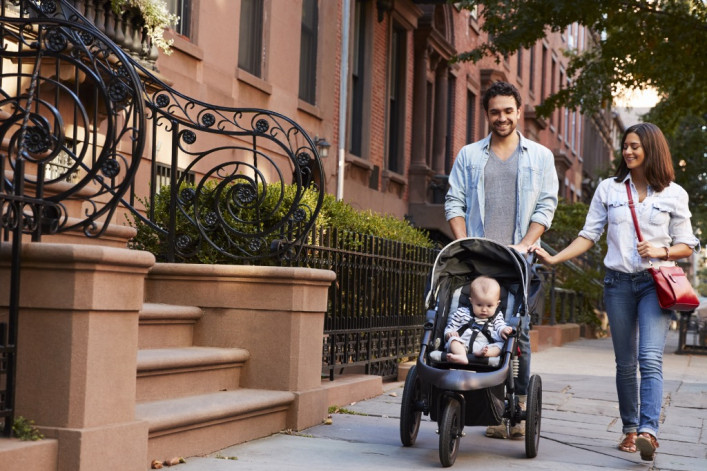 Hey, have you heard? Brooklyn is a great place to raise a family! Hah! Just kidding around! That "secret" went the way of the dodo a long time ago, in fact prices and rents in some of the hot neighborhoods in Kings County rival—or surpass—those in parts of Manhattan.
Of course, people have been raising families in Brooklyn forever, but the modern origins of family-friendly Brooklyn that we know it today—stroller-clogged streets, a "Mommy & Me" class on nearly every corner, stores selling overpriced tiny Beastie Boys and Rolling Stones t-shirts—dates, roughly, to the late 1990s and 2000s. (For a completely arbitrary, but helpful reference point, consider this: Park Slope Parents, the popular parenting website that launched in one of the early, and now famously—to the point of parody—kid-friendly Brooklyn neighborhoods, was founded in 2002.)
What a difference almost two decades makes: While buyers in search of more room, trees, and a slightly slower pace used to be able to snag a full brownstone in Park Slope for about $1 million, now a single, nicely-maintained or renovated apartment in a similar building can often go for much more. 
As the word on Brooklyn's appeal spread, the result has been residents (of all kinds) getting priced out and moving to adjoining neighborhoods along major transit lines. Park Slopers headed to Windsor Terrace, Ditmas Park and Prospect Heights; those in Cobble Hill or Boerum Hill moved south and west to Carroll Gardens, Red Hook, and Gowanus. Some in Fort Greene decamped to Clinton Hill or Bed-Stuy, a neighborhood that had already been experiencing an influx of new residents. 
The hipsters have grown up
The hipsters who colonized Williamsburg grew up and found more space in Greenpoint (or, stayed put in one of the neighborhood's fancy new high rises, which they in part, helped attract). Dumbo, previously a largely industrial area, boomed with development both commercial and residential—much of it luxury—and now bustles with both tourists (many visiting the stellar Brooklyn Bridge Park) and tony residents. Still other people went long and "discovered" the large houses and charming streets of one of the borough's southernmost neighborhoods, Bay Ridge, and hey, you know what?— a lot's happening in Sunset Park.
This is all to say: Brooklyn is bursting with families, and family-friendly neighborhoods, some of which are old standbys, and others more recently established, relatively speaking. However, as mentioned in our first installment of this series, dedicated to Manhattan's best neighborhoods for families, none of these areas are "under-the-radar." That ship has pretty much sailed. 
Number of nabes considered 'family-friendly' on the rise
The good news is that as Brooklyn has become perhaps New York City's most desirable borough for people with kids, the number of neighborhoods touted as family-friendly has increased, as people move farther out in every direction in search of room and lower housing costs. Hence, our list is pretty long, and while there is certainly variation between the neighborhoods on our list of Manhattan's most family-friendly neighborhoods, it's in Brooklyn—which is larger geographically and has more predominantly residential areas—where you'll find diversity in the options, including busy and urbane, grand and stately, to almost sleepy and suburban. (And yes, even so, there are still Brooklyn neighborhoods full of families that aren't even on our list.) As is the case with all of New York, affordability remains an issue throughout the borough. 

As with our guide to family-friendly neighborhoods in Manhattan, for a starting point, we asked real estate data and analytics company Perchwell for stats on where in Brooklyn the most three-bedroom, two-bath apartments for sale and for rent could be found. (Obviously, many families manage with one bathroom well enough.)
Similarly, urban planners at real estate search platform Localize.city provided us with insights on family-friendly features such as park improvements, development projects, and popular area events, and we talked with NYC school experts Laura Zingmond, senior editor at public school information resource Inside Schools, and Alina Adams of NYC School Secrets for intel on educational options, both public and private, throughout the borough. Regarding schools, the "rules" we outlined in our Manhattan installment apply in Brooklyn. (i.e., know your district, visit any school you're considering, and always make sure the address is zoned for a school you want to be in before committing to a place to live.) 
Schools challenged by overcrowding
Similarly, Brooklyn school districts have wrestled with overcrowding, and more rezoning likely will happen as soon as in the coming year. (The highly-rated District 15, where many of our picks are located, is currently evaluating efforts to relieve overcrowding in several schools.) Gentrification and diversity is also an issue in several districts and schools, and plans are being implemented to address this. For example, last year, District 15 removed screens and adopted a district-wide lottery system for middle school admissions. To stay informed on what is happening in any district, identify its Community Education Council, which posts meeting minutes and updates.
Finally, we have thoughts on raising kids in Brooklyn, as well, based on personal experience, that we included here.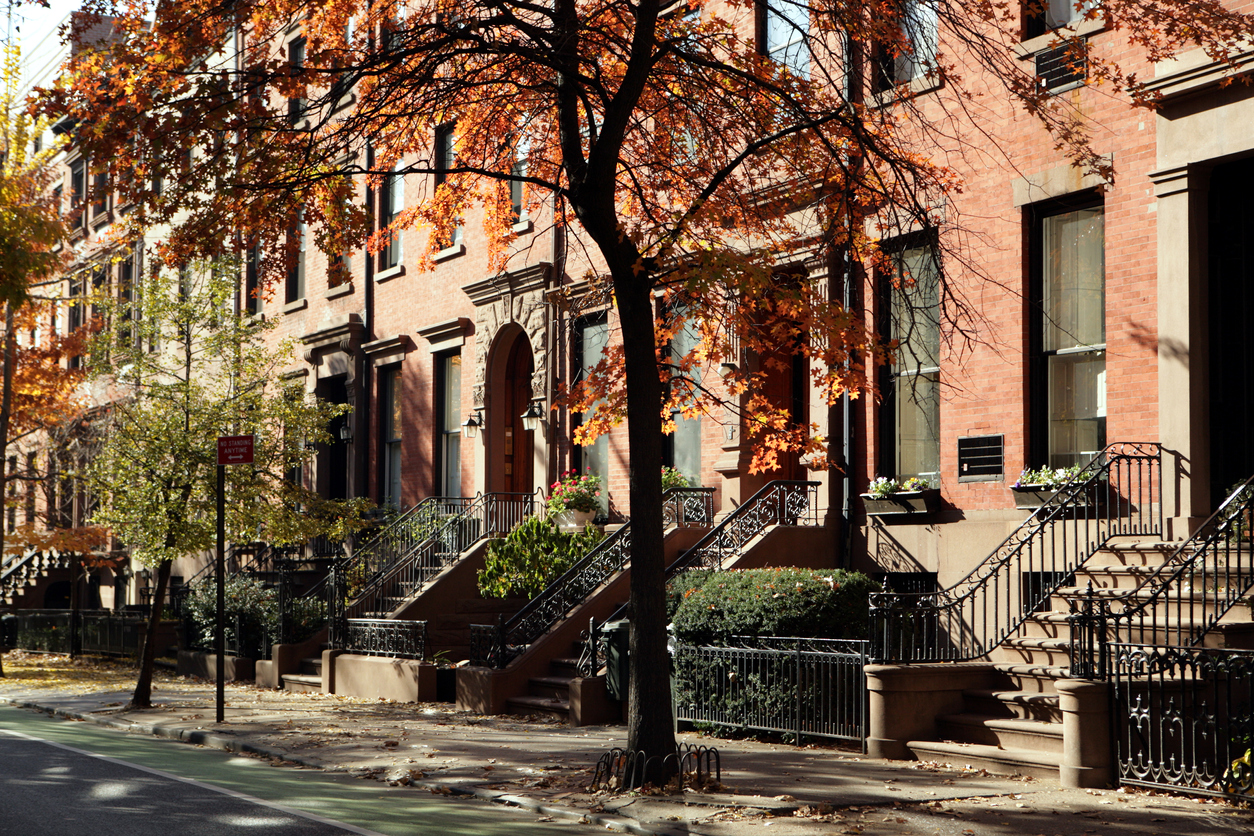 Brooklyn Heights
Historic, absurdly charming, and convenient, Brooklyn Heights is priced accordingly, second only to Dumbo for the most expensive neighborhood to buy. (Median listing price for a three-bedroom, two bath is $3,814,000, compared to Dumbo's $4,400,000; the rents are virtually the same in the two neighborhoods.) 
A major boon to the already popular area was the addition of Brooklyn Bridge Park in 2010, which continued to add more sections through 2018. In addition to nearly year-round programming, incredible playgrounds and facilities, the park will be getting a permanent pool in the coming years. Just above the waterside park is the Brooklyn Promenade, which provides stellar views of lower Manhattan. 
The neighborhood is bracing for a BQE reconstruction plan (which at one time threatened to close the promenade). It is also getting a brand new library that will have child and teen zones, a 70-seat amphitheater, and a 9,000-square-for STEM lab. 
Brooklyn Heights features a few streets with low-profile shops and restaurants, helping to maintain a quaint and neighborhood feel, but the activity and convenience of downtown Brooklyn, its larger retailers, and stroller-friendly transit options are a short stroll away, as is picturesque Dumbo, which is a quick walk downhill—past a top notch dog run. Another family-friendly feature: Parts of this quiet neighborhood are designated as "slow zones" with 20 mph speed limit and speed bumps to discourage drivers from cutting through the area, and make it safer for pedestrians. 
The neighborhood is a hotbed of elite Brooklyn private schools, with the prestigious St. Ann's and the co-ed Packer Collegiate Institute located here, as is the preschool that spawned this New York magazine article. Adams reports that many Manhattan families opt to send children to Brooklyn private schools, which, particularly for people Downtown, offers a shorter commute than Upper East Side schools. "Brooklyn used to be the step-sister. Not anymore," she says.  
The area's public elementary school is P.S. 8, which is high-performing and in-demand, to the point of overcrowding; it was rezoned in 2106.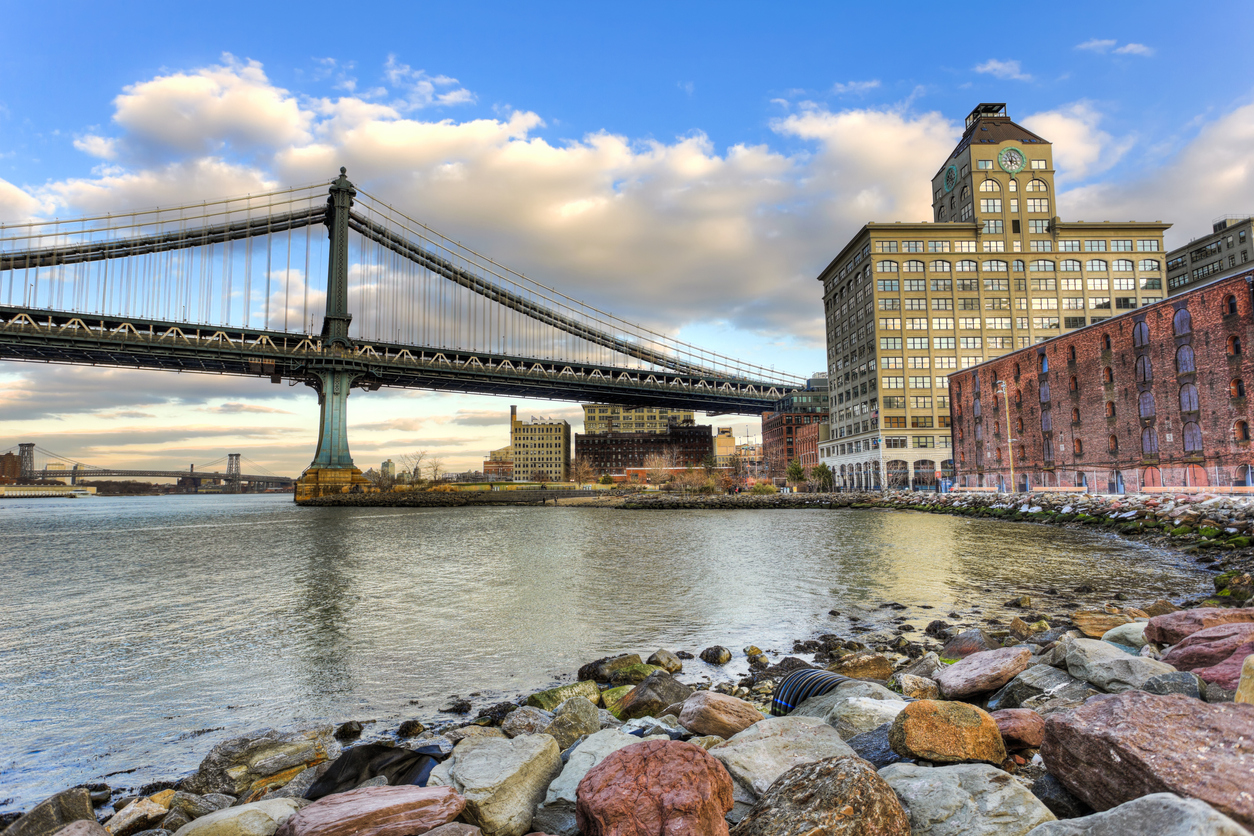 Dumbo
Taking its name from its location (Down Under the Manhattan Bridge Overpass) this formerly industrial riverside neighborhood has attracted new commercial tenants and families alike, as well as lots of businesses to serve both. Dumbo also enjoys proximity to Brooklyn Bridge Park with the glass-enclosed Jane's Carousel for use at all times. According to Localize.city, 2020 will bring the addition of yet another public play space, Bridge Park 2, near the York Street F train station. It will include new play equipment, swings, a spray shower, and multi-purpose synthetic turf field.
A major addition to the area is a library—the neighborhood's first—which is also the first new library in Brooklyn in almost 40 years. 
The Brooklyn Children's Museum has an outpost here, and there's also a popular play space in the neighborhood. Neighborhood fixture The Archway (under the Manhattan Bridge) frequently hosts family-friendly concerts and other events. On the water, a ferry stop makes getting to Williamsburg, Manhattan, and warm weather activity hub Governors Island a breeze. 
Located in District 13, a section of Dumbo is zoned for Brooklyn Heights' P.S. 8, but a controversial rezoning reallocated some parts to the lower-performing P.S. 307.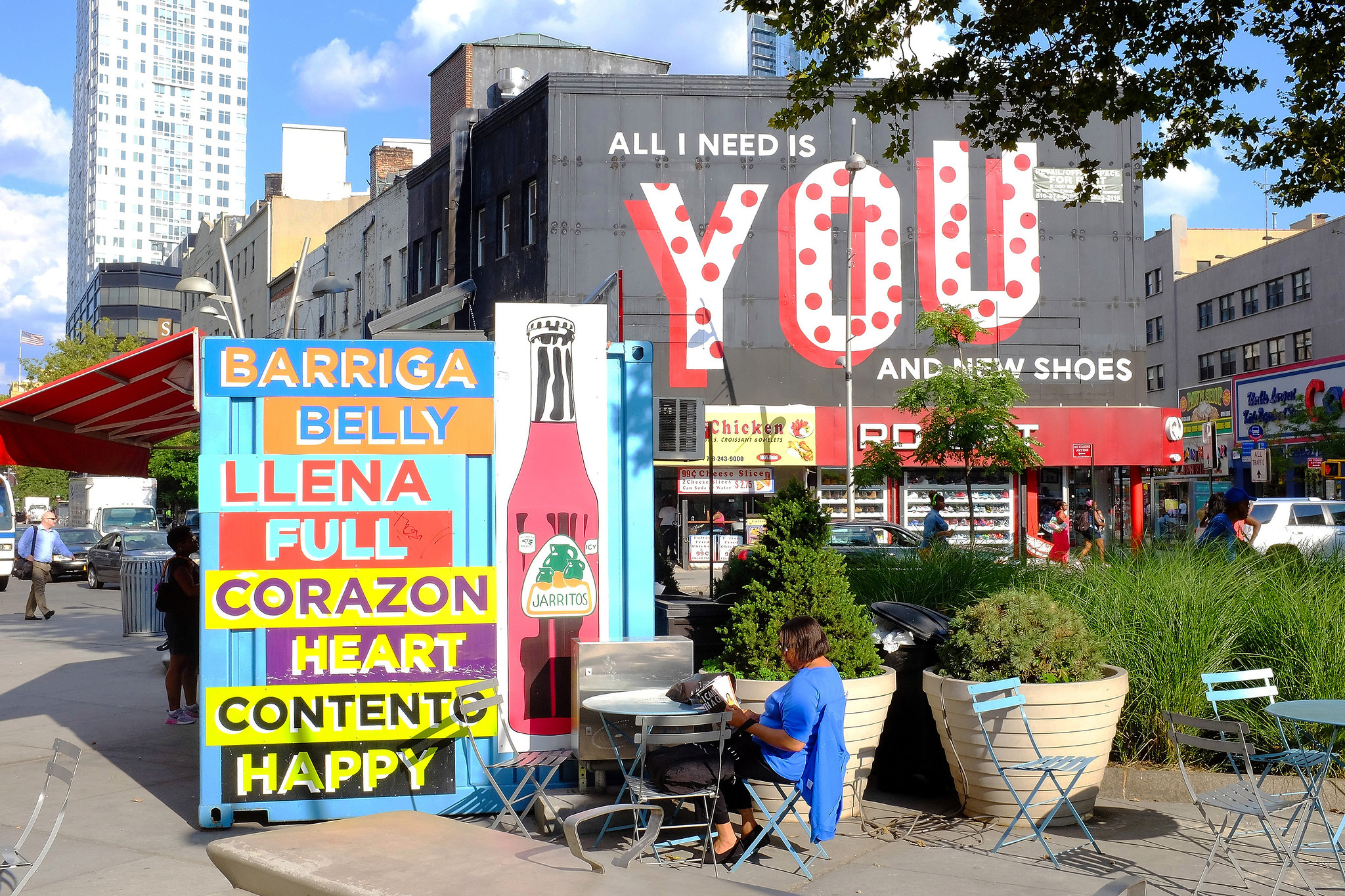 Downtown Brooklyn 
Part of the Brooklyn new development boom, Downtown Brooklyn is one of the neighborhoods on our list with, relatively speaking, more inventory for sale. (Its 27 listings make it fourth behind Brooklyn Heights, Park Slope, and Williamsburg. Renters are less fortunate: we found eight available.) But living in the very convenient "DoBro" will cost you: The median sales price is $2,545,000, and median rent is $7,375. 
Area families do get a lot of bang for their buck, in the form of proximity to all the things that make nearby areas attractive as well: Brooklyn Bridge Park, premier private schools—the in-demand, Quaker Brooklyn Friends School is also here—incredible mass transit options (many accessible), charming and practical retail options. The cultural hot spots of Fort Greene are also nearby. 
With more people moving to the area, community happenings and programming are common at shopping/eating/movie theater complex City Point, media and arts center BRIC, in front of municipal landmark Borough Hall, and in public plaza Albee Square. 
As the name states, the area is downtown, and it has that feel in, with more high-rises and office workers than open green spaces. However, a one-acre public park at Willoughby Square is under construction; there are no plans for a playground, but it will have trees, lawns, fountains and a sitting area. 
Still, a lot of those buildings are loaded with amenities. A Localize.city analysis of homes on the market in the neighborhood found that nearly half of sales listings were in buildings with private pool access. 
The neighborhood spans more than one district (15 and 13), and has schools with mixed performance. P.S. 261, which serves parts of the area as well as Cobble Hill and beyond, is a highly-rated area school; the neighborhood also has a number of charter schools, including the International Charter School of New York. More schools are on the way, such as a new 300-seat elementary school at Willoughby Square's new office tower, scheduled to open in 2021.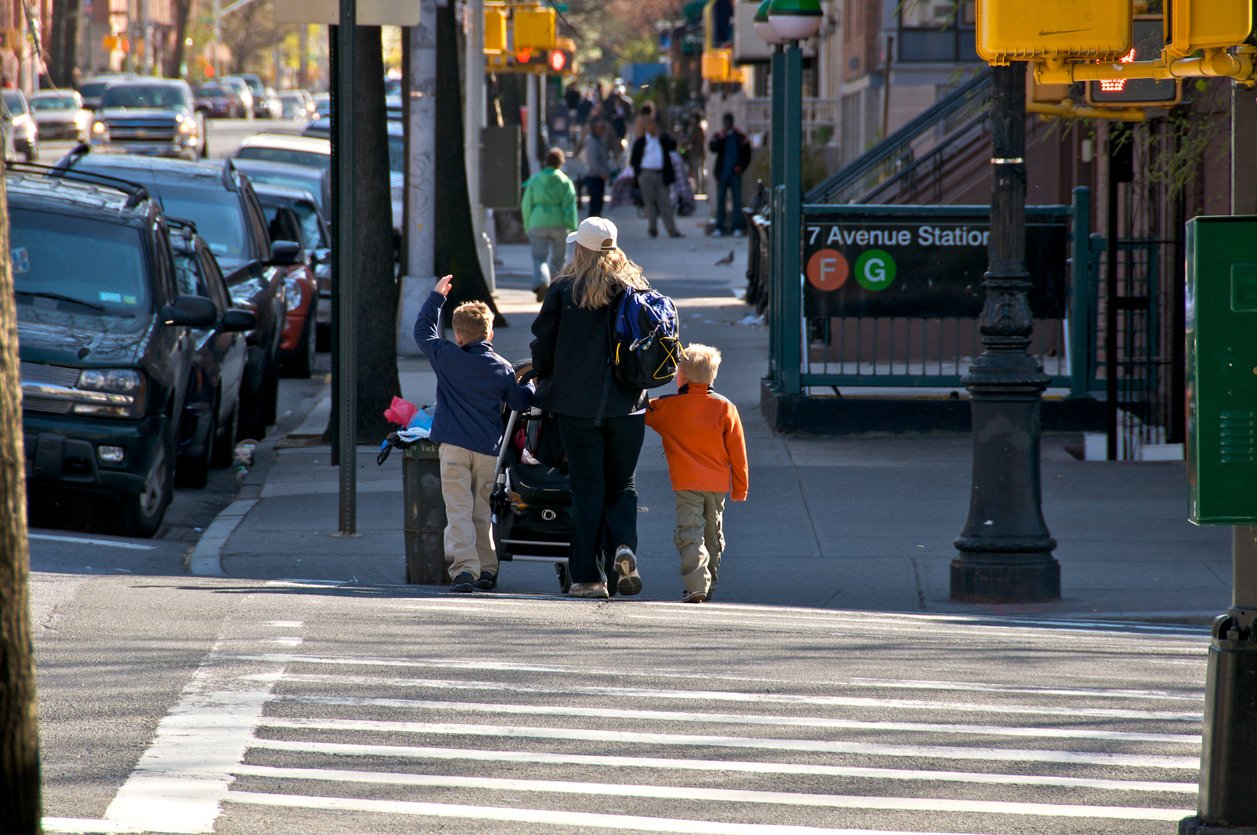 Park Slope 
Ground zero for #BrooklynParent? Maybe. With beautiful brownstones, leafy streets, proximity to Prospect Park (literally up "the slope"), it's easy to see why. Families came for the aesthetics, convenience, and space—and they still do—but now they also come for the family-friendly businesses, amenities, and kid-friendly culture that permeates the neighborhood. 
Perks of the neighborhood include the Prospect Park bandshell, which hosts the popular Celebrate Brooklyn concert series with free and ticketed shows; top notch playgrounds such as Harmony Playground (adjacent to the bandshell), and J.J. Byrne Playground and community hub Old Stone House on the western edge of the neighborhood, and numerous active athletic leagues. The area is well-known for its Halloween Parade, which is accompanied by elaborately-decorated private homes, and there's also Brooklyn Pride parade, a St. Patrick's Day Parade, and a parade to kick off Little League season. (Localize.city reports that this area has the highest number of block parties and street festivals in the city.) 
Families also come for the schools, with local favorite P.S. 321 a big draw. A Localize.city analysis of DOE data that looked at test scores, leadership, teaching, and school climate, identified the elementary school as one of the highest-rated public schools in New York City. Other popular area schools include P.S. 107, and P.S. 39, and on the western edge (towards Gowanus), P.S. 118 The Maurice Sendak Community School, and The Children's School, the last of which is an unzoned school within District 15. 
The area is also home to several popular private schools, including the Berkeley Carroll School and Poly Prep Country Day School.
None of the neighborhood's subway stations are accessible, which makes for a lot of stroller hauling. Lots of people seem to think it's worth it.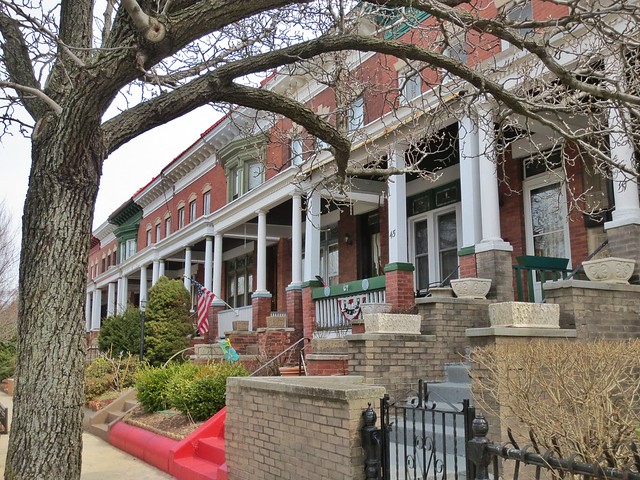 Windsor Terrace 
Just to the south and east of Park Slope—hugging the entirety of Prospect Park's southwest side—Windsor Terrace is the logical area for people who are priced out of Park Slope.
The area is smaller than the Slope, and even more residential, with some pockets being downright sleepy. Still, residents utilize and frequent many of the same business and resources, including the park and all its happenings, YMCAs on Ninth Street and in the Park Slope Armory, a newly-opened Nitehawk Cinema, and shops and restaurants.
Further south into the neighborhood, family-friendly spots include the Kings Bay Y, and the popular Vanderbilt and Greenwood playgrounds. The Prospect Park Parade Grounds are nearby, where teams in leagues of all kinds play. Improvements such as the restoration of turf on its fields and a new dog run are expected to be completed in 2020. Additionally, Gallop NYC, which offers therapeutic horseback riding for children with disabilities and special needs, has an open-air riding ring at the Parade Grounds. (The organization is also getting a covered ring near the Prospect Park Zoo in the future.) Green-Wood Cemetery borders much of the neighborhood on the eastern side, and activities such as family scavenger hunts, stroller tours, historic reenactments (The Battle of Brooklyn) and trolley tours happen here. (This is not as morbid as it sounds; it's actually a very lovely place worth visiting.) 
Another area in District 15, Windsor Terrace is home to one of the biggest (and most touted) of the city's Pre-K centers, K280, as well as the high-performing P.S. 154. Other notable schools nearby include the P.S. 10 and P.S. 130 (on the border of Windsor Terrace and Kensington), known for its community and diversity. 
Due to its size, and its large stock of single- and multi-family houses (and dearth of apartment buildings), as well as the fact that it was an early spot for those priced out of Park Slope, there's a serious inventory issue in Windsor Terrace. Our sample contained no available houses or apartments for sale, and just five rentals; the good news is that those apartments were on the more affordable end of the spectrum, with a median rent of $3,900.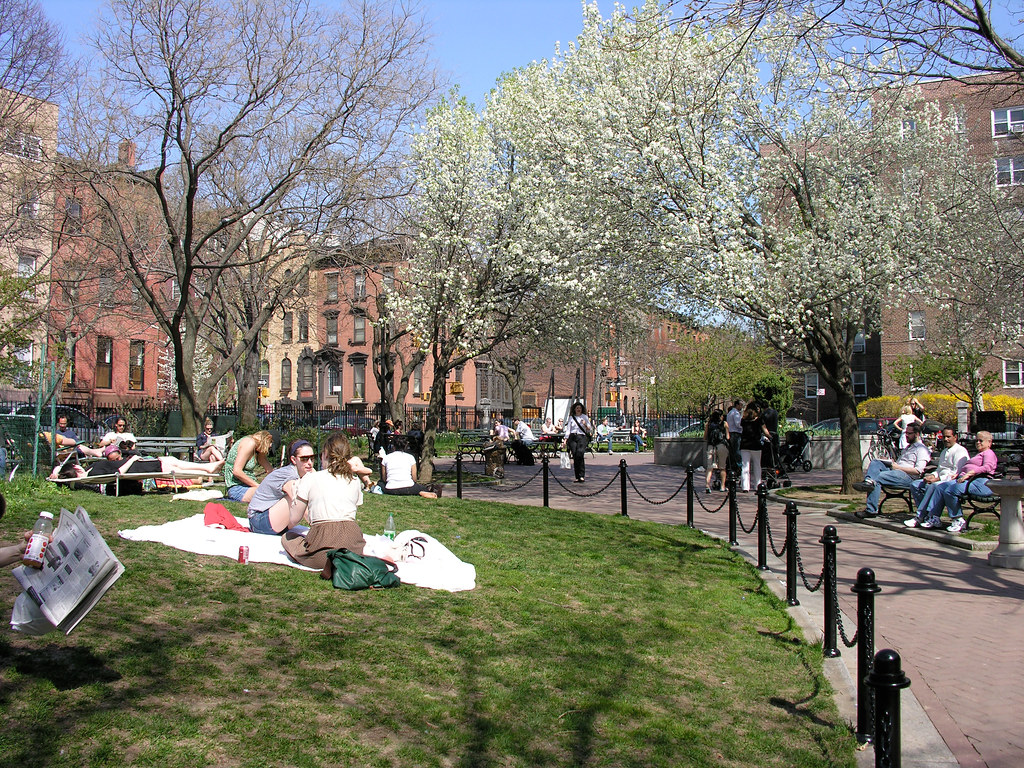 Boerum Hill/Cobble Hill 
Yes, there are slight differences between these two small and distinct adjacent neighborhoods, but they have similar vibes and residents enjoy many of the same amenities and features. 
Another area with lots of Brownstone Brooklyn charm, these neighborhoods also benefit from proximity to downtown Brooklyn and, to the east, retail and entertainment hot spots like the Fulton Mall, City Point and Barclays Center—the latter of which makes for easy escape on the LIRR if you need it. The southernmost part of Brooklyn Bridge Park (the one with the amazing playgrounds and another ferry stop) is at the end of main thoroughfare Atlantic Avenue. 
Additional parks and playgrounds include the quaint Cobble Hill Park, the site of a mobbed Halloween Parade, Boerum Park, and Carroll Park (worth the trip a bit south). Also close by: a popular YMCA, the New York Transit Museum, movie theaters of the indie and multiplex variety, and both boutique and big box shopping opportunities (Trader Joe's, Michael's, and Marshall's) Independent bookstore Books Are Magic picked up the gauntlet when area institution Community Bookstore closed, and holds events and readings for children in its welcoming kids' area. 
P.S. 29 is considered a very high-performing school in the area, and other popular public options include P.S. 261 and P.S. 38. Overcrowding has been an issue, and there is talk of rezoning some schools to address both capacity and diversity challenges. 
Charter school Success Academy has a location in Cobble Hill, which was recently recognized for its success in closing the achievement gap.
The area is home to a significant French-speaking population, and private school International School of Brooklyn in nearby Carroll Gardens offers dual language programs in French and Spanish for pre-k to eighth grade. 
Development is happening on the east and west sides of this area. A multi-use project of four towers on the former Long Island College Hospital site could result in more open space, and three parks on the lots are being renovated as part of the work. To the east, 80 Flatbush, also a multi-use project, is slated to house a new elementary school.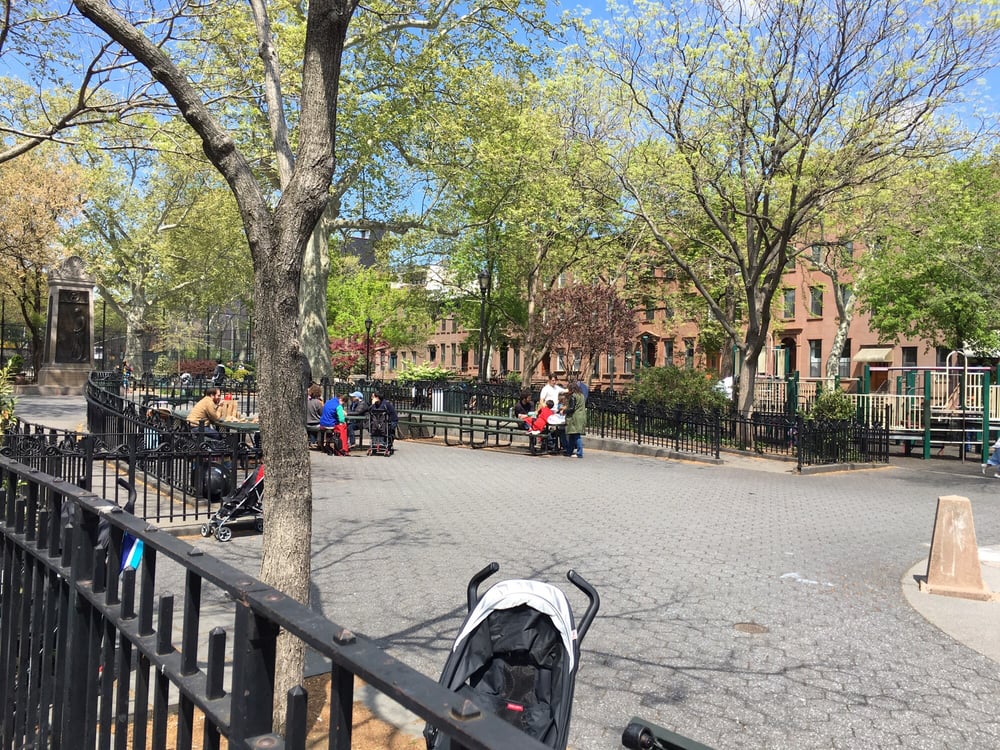 Carroll Gardens
Similar in character to its northern neighbors Cobble and Boerum Hill (with residents patronizing many of the same commercial and public resources) Carroll Gardens has a slightly more expansive feel, thanks to wider streets, and deep lots which give the neighborhood its nature-inspired name. 
Carroll Park is an active and large hub of family happenings, with play areas for both big and little kids. The northern edge of the park is slated for construction later this year to improve drainage, and will also expand the park's baseball diamond. The modern St. Mary's Playground, tucked under the elevated F and G train tracks, recently opened and offers a sheltered spot to play. You'll find many businesses catering to young families in Carroll Gardens, such as dance studios, funky boutiques, the game-focused The Brooklyn Strategist, as well as a Kidville, and a New York Kids Club. 
P.S. 38 is an in-demand public school in the area which may also be rezoned; Localize.city notes that the school had waiting lists for its kindergarten class in 2017 and 2018. Contributing to its popularity is its dual language French program, the first one to be offered in the city. The Brooklyn New School, a popular progressive public school that is unzoned and has lottery admissions is also here; closer to Gowanus, there is P.S. 32, which is zoned and has space issues, and P.S. 372 The Children's School, another unzoned District 15 school. 
Bedford Stuyvesant
Bedford Stuyvesant is another neighborhood with historic Brownstone-lined streets, but it's bigger, and less expensive than areas with similar housing stock to the west. (Median sales price was on the lower end of our samples, at $1,999,999.) And, when it comes to rental inventory and price, it leads the pack, with 86 apartments available at a median cost of $3,169, the lowest rent in our sample. 
Finding green space and playgrounds can be an issue in the neighborhood, and while many have undergone improvements, a recent report from the comptroller found that a quarter of the neighborhood's playgrounds had unsafe or unsanitary conditions. 
"Playgrounds across Bed-Stuy are getting renovated, though parts of this large neighborhood don't have much access to parks or playgrounds. The area's community gardens help fill some gaps for green space. The gardens host family activities, movie nights, fitness classes and farmers markets," said Doneliza Joaquin, lead urban planner at Localize.city.  
 One upgrade that's on the horizon: A renovation of Herbert Von King Park's cultural arts center is expected to be completed by 2020. 
The neighborhood is showing the influence of local families, with the addition of kid-friendly businesses like play spaces, a toy store, and a ceramic studio. There's a popular YMCA here, and CUMBE: Center for African and Diaspora Dance, which offers classes and camps, is at the far south end of the neighborhood. The historic district of Stuyvesant Heights holds an annual trick-or-treat walk complete with map of participating houses, businesses, and community gardens. 
Because of its size, you could live in one of three districts in Bed-Stuy, which includes parts of District 13, District 16, and District 23, the last of which is unzoned, or a "choice district." District 16's Brighter Choice is an Inside School's Noteworthy Pick, and has a dual language program, as is The Brownstone School, an unzoned, more traditional demanding school. There are several popular charter schools in the area, and the progressive Waldorf School is nearby in Clinton Hill.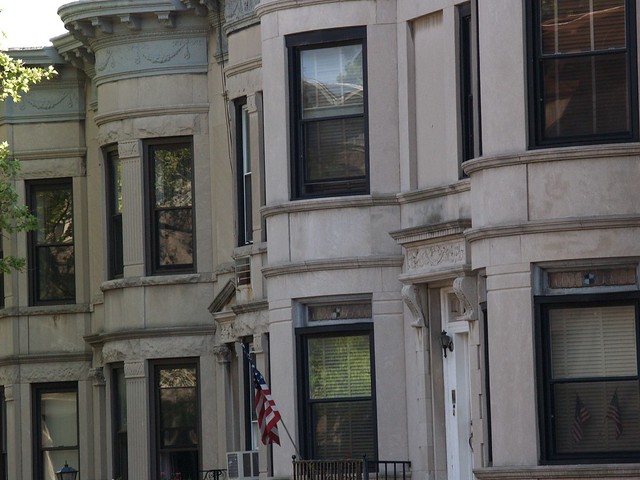 Bay Ridge
It's easy to see why families enjoy Bay Ridge: It's on the water, has a strong neighborhood feel with main thoroughfares like Third and Fifth avenues populated by independent and kid-friendly businesses, and offers real affordability. 
"There a strong sense of community, with lots of family-friendly parades and other events, including the annual Fifth Avenue Festival, which has been going strong for more than two decades," says Jouquin. Also of note: Bay Ridge's political orientation may be shifting: The neighborhood's state congressional district, which it shares with parts of Staten Island, recently flipped from Republican to Democrat with the 2018 election of Max Rose. 
For buying, it's the most affordable of the neighborhoods we looked at, with a median sales price of $899,000; rents were also very competitive (just behind Bed-Stuy), with a median of $3,397. However, this is another neighborhood with low turnover: For the period we sampled, just 11 places were for sale, and six for rent. 
Waterside spot Owl's Head Park is a major hub of play and activities, with a big playground, skatepark, and frequent seasonal happenings, including an annual Viking Fest; additional green spaces include Narrows Botanical Garden and McKinley Park, and the Leif Ericson Playground has, appropriately, ship-shaped climbing structure. The neighborhood also has an eight-screen theater at Alpine Cinema, party and play spaces like Bounce U and Fairy Tale Island, and even its own Century21. 
A potential downside that's obvious from looking at a map: It's far from Manhattan; residents who need to get there via mass transit utilize express buses and combinations of the D, Q, N, and R trains. 
All those families mean the schools can be crowded. According to Localize.city, schools here are among the most crowded in the city, and parents say kids sometimes eat lunch too early or too late because the cafeterias can't accommodate them all. There are efforts to alleviate the problem, such as the addition of new seats at P.S. 127, which is expected to add hundreds of students by 2021. Still, overcrowding may continue to be an issue here. P.S. 102 has a Gifted & Talented program (the school is in District 20), and it is an Inside Schools pick for special education.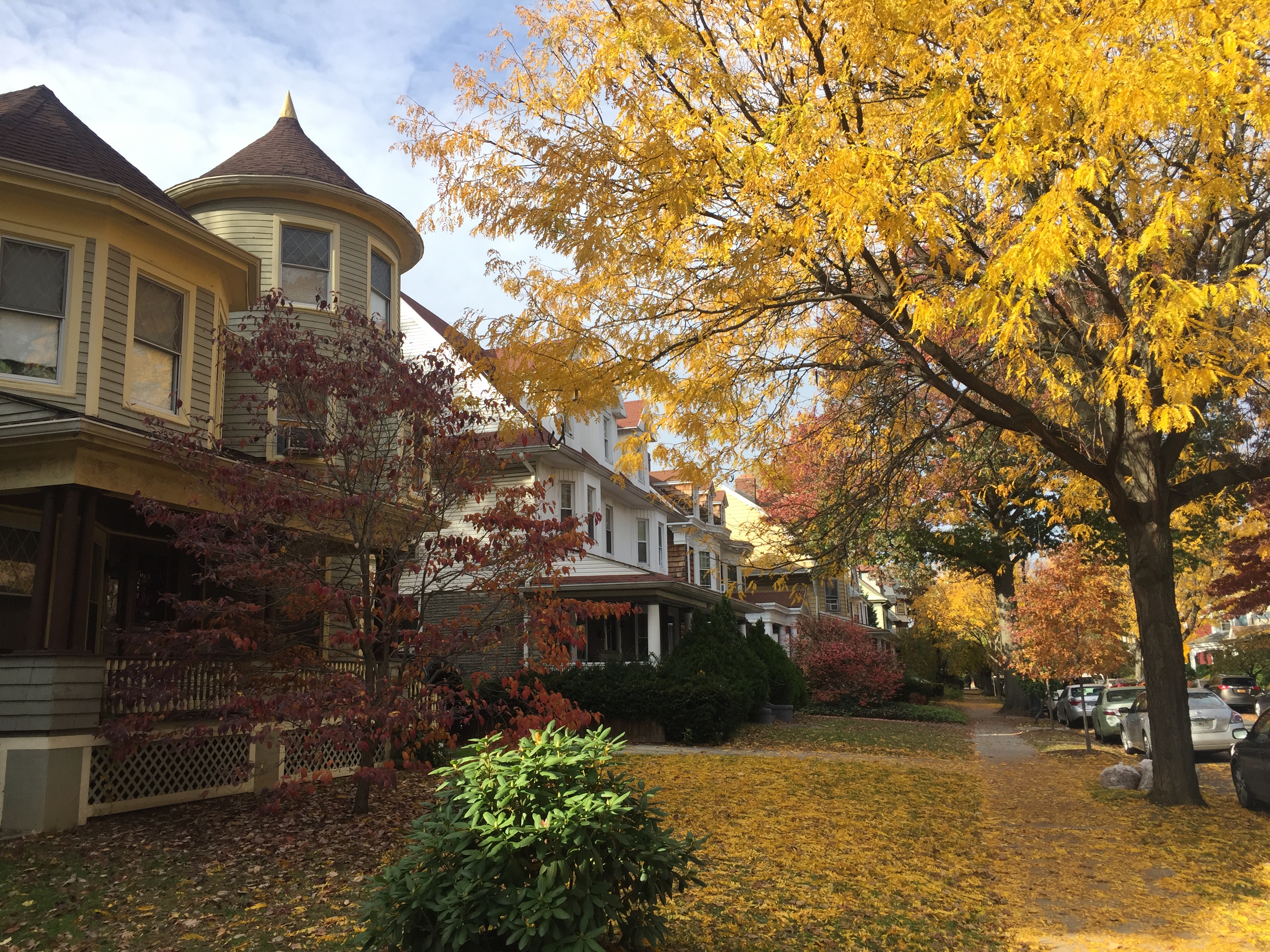 Ditmas Park
Ditmas Park offers the most suburban feel of the neighborhoods on this list. Thanks to its wide, residential streets lined with ancient trees and enormous Victorian houses with porches and landscaped yards, it's hard to believe this is actually Brooklyn. (This is yet another neighborhood in the borough that goes all out for Halloween.) 
The neighborhood, which is also called Flatbush, has Prospect Park and its Parade Grounds and Tennis Center to the north, although as Localize.city notes, not a lot of playgrounds. The Lt. Federico Navarez "tot lot," designed for kids ages two to five is cute, but small, and is being upgraded with new equipment by 2020. 
Area attractions and amenities include small shops and restaurants and a popular food co-op on Cortelyou Road; the restored Kings Theater on Flatbush, where shows for all ages take place; and larger retailers on Church Avenue and Flatbush. Additionally, businesses serving kids and families, such as dance Studio Alden Moves, Prospect Gymnastics, and others can be found along Church Avenue. 
Schools such as P.S. 217, known for a strong arts curriculum and an Inside Schools Staff Pick, serve a diverse population. The neighborhood is in District 22, and class sizes can get large. In September of 2017, a new school, P.S. 889 opened with pre-k and kindergarten classes, and will add a class with each year. 
Williamsburg
Once the epicenter of hipsterdom, Williamsburg is still cool, but it costs a lot more to hang and live here now. Another major hotspot for upscale highrise development, the median sales price here is just under $2.5 million, and median rents for a three bedroom, two bathroom are $5,139. The upside: There is inventory. 
While the neighborhood still caters to a fashionable young crowd, as those hipsters age and have kids, it's also filling up with family-friendly features and businesses, and affluent families move in to take advantage of the now well-established neighborhood. 
McCarren Park is a major center of activity, with a popular pool, skate park, and soccer leagues, as well as festivals and events throughout the year. The recently-opened riverside Domino Park is a big draw, with play structures mimicking the sugar factory that once occupied the site, and water features for cooling off. Localize.city reports that Bushwick Inlet Park will become a major destination over the next two decades, with children's play areas, youth soccer and little league fields and more. 
There are two movie theaters in the neighborhood, one dine-in, one traditional, and Brooklyn Bowl offers bowling, as well as kid-family concerts with Rock and Roll Playhouse. 
Ferry service has been added, providing another commuting option; subway access for the new development along the water is not great, as it's a bit of a long haul—especially with kids or in inclement weather. 
The neighborhood is in District 14, and Adams says that many families opt for the area's charter schools. Notable schools include P.S. 84, P.S. 110, P.S. 147, and P.S. 132, some of which offer gifted & talented and dual language programs. P.S. 319 is a popular pre-k through first grade option. According to Localize.city, the city is anticipating the need for more seats and plans to add more schools to the area. The mixed-use Domino project is slated to house a 300 k-8 school, although a timeline for the project has not been released.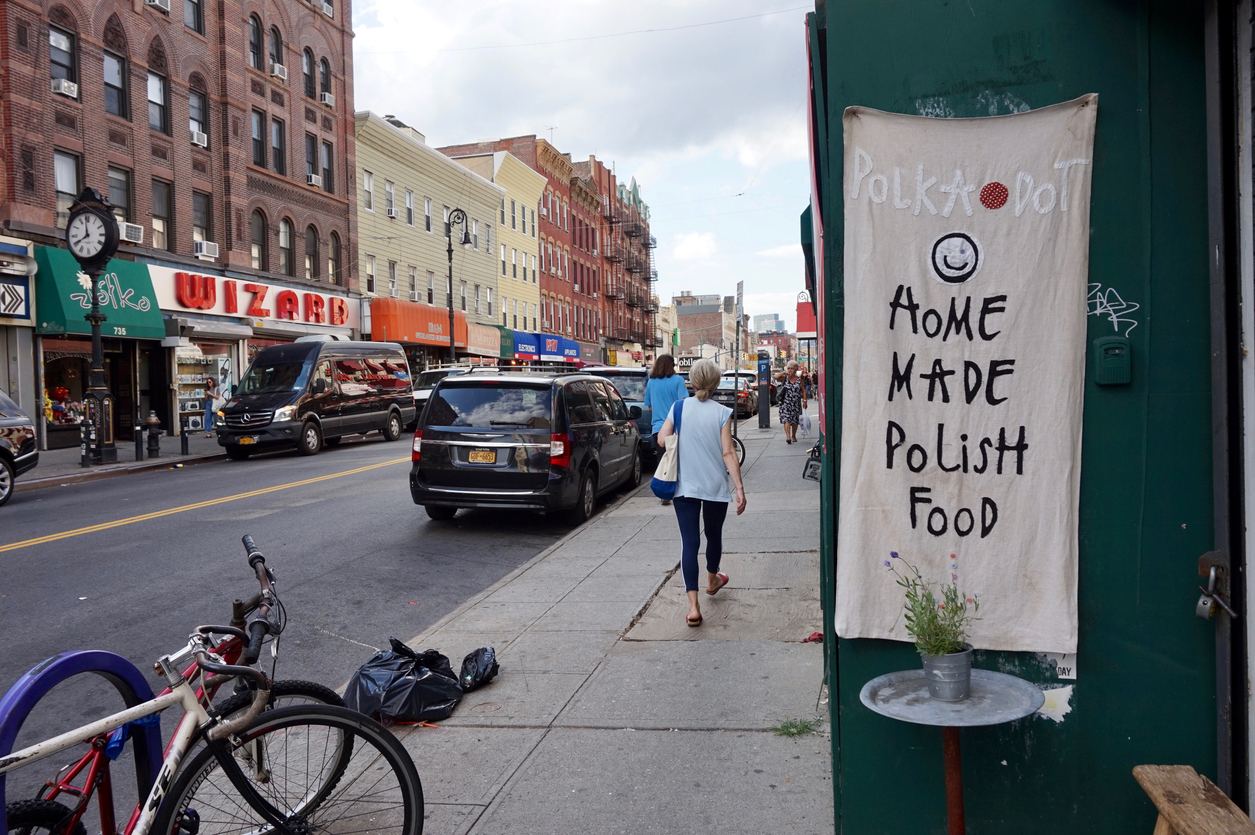 Greenpoint
Williamsburg's neighbor to the north used to be a place to enjoy the vibe and attractions of the booming fashionable area, without paying the steep prices. While Greenpoint isn't quite as expensive as Williamsburg, it's getting up there, with the median price of our sample at $1.5 million; incredibly, it's slightly more expensive to rent in Greenpoint than in Williamsburg. (Supply probably plays a role: there are a total of 23 places for sale or rent combined in Greenpoint.) 
With even more limited subway service (the G runs through the neighborhood, with no accessible stations), fewer high rises, and lots of small businesses, Greenpoint feels quieter and more like an enclave. The area's McGlorick Park is small but leafy and charming, there's a waterfront playground at Transmitter Park, and the neighborhood will benefit from the planned development of Bushwick Inlet Park. Families also make use of McCarren Park's green space and features. 
Also in District 14, area schools P.S. 110, P.S. 34, and P.S. 31 are all Inside Schools staff picks, with 110 and 34 offering dual language programs. 
Crown Heights
This central Brooklyn neighborhood contains or is close to many of the borough's cultural gems, all of them incredible resources for families. Those include the Brooklyn Botanic Garden, the Brooklyn Museum, the Brooklyn Children's Museum, Prospect Park, and the Brooklyn library system's impressive main branch. Barclays Center and the retail hub of Atlantic Center are not far away either. 
The neighborhood scores high for affordability and availability; median rent is at the lower end of our range, at $3,650, and there were 37 apartments for rent. 
Residents will soon have better access to Prospect Park, thanks to new entrances along Flatbush Avenue. The area's Stroud Playground is getting a $4 million renovation, with new play equipment, water features, basketball and handball courts; Lincoln Terrace Park just saw $3 million worth of improvements. 
In addition to significant greenspace, the eastern side of Prospect Park has a zoo, a carousel, the Lefferts Historic House (site of many kid-friendly events), and, a bit to the south, the popular splash pad/ice skating/roller skating destination LeFrak at Lakeside. 
The neighborhood is getting its first luxury apartment building and a street here just won the Brooklyn Botanic Gardens' annual "Greenest Block in Brooklyn" contest. 
Crown Heights is located in District 17, which Zingmond cites as one with engaged and committed parents, and promising schools. One way that community support for local schools can be seen is in the district's "Live Here, Learn Here" program. "We went to all of the schools in District 17, and there is strong leadership and curriculum across all of the schools," she says. Notable schools in the area include P.S. 705, P.S. 316, which has a G&T program, New Bridges Elementary, P.S. 138, and P.S. 241. P.S. 770 is a popular unzoned school in the area which gives priority to those in the district, and there are also a number of charters. As more affluent families move into the area, the socioeconomic profile of schools is changing. In response, P.S. 705 is participating in the DOE's pilot diversity admissions program,  which sets aside a certain percentage of seats for English language learners and students in the child-welfare system.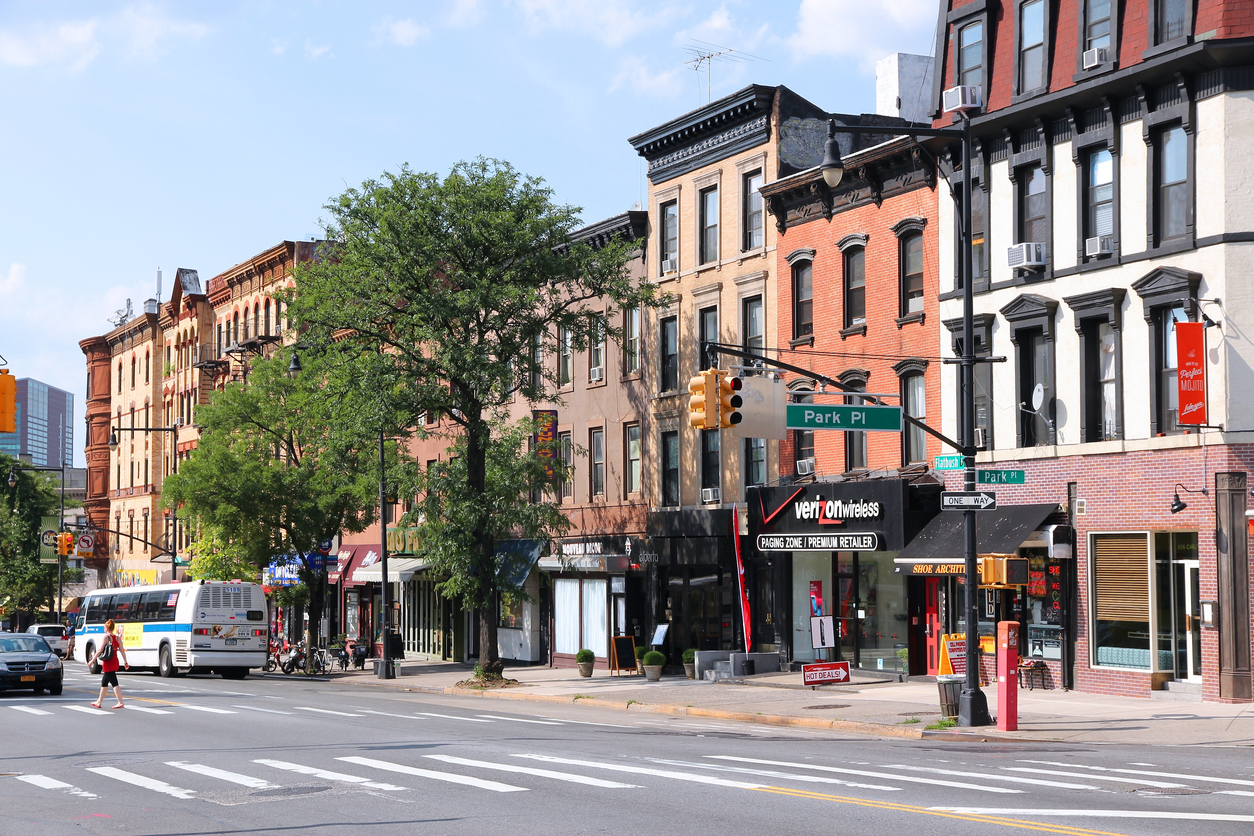 Prospect Heights
Sandwiched between Crown Heights and Park Slope, the small neighborhood of Prospect Heights is well-situated to take advantage of both of those areas' popular features. (Prospect Park, the major cultural institutions, family-friendly businesses, etc.) Additionally, on the north end, it's close to the Brooklyn Academy of Music, Barclays Center, and the Mark Morris Dance Group. 
Mount Prospect Park near the Brooklyn Museum is a shady retreat with a playground, and the neighborhood's Underhill Playground is known for a collection of donated toys to play with; Dean Playground is the spot for sports like soccer and basketball. 
Localize.city notes that even more publicly accessible open space will be coming to the area as part of the mixed use Pacific Park development project, which is estimated to bring 14,000 new residents to the area over the next several years. The first phases of the eight-acre park have already opened, and it's expected to be completed in 2025. A new middle school with 600 seats is also part of the project. 
The majority of the neighborhood is zoned for P.S. 9, a proudly diverse school that recently voted to phase out its G&T program. The school also has a dual language program, and is partnered with Park Slope's high-performing P.S. 321 for school and staff development. Prospect Heights in in District 13,  which as Localize.city reports, recently won a grant from the city to create a community-led plan focused on diversity and integration.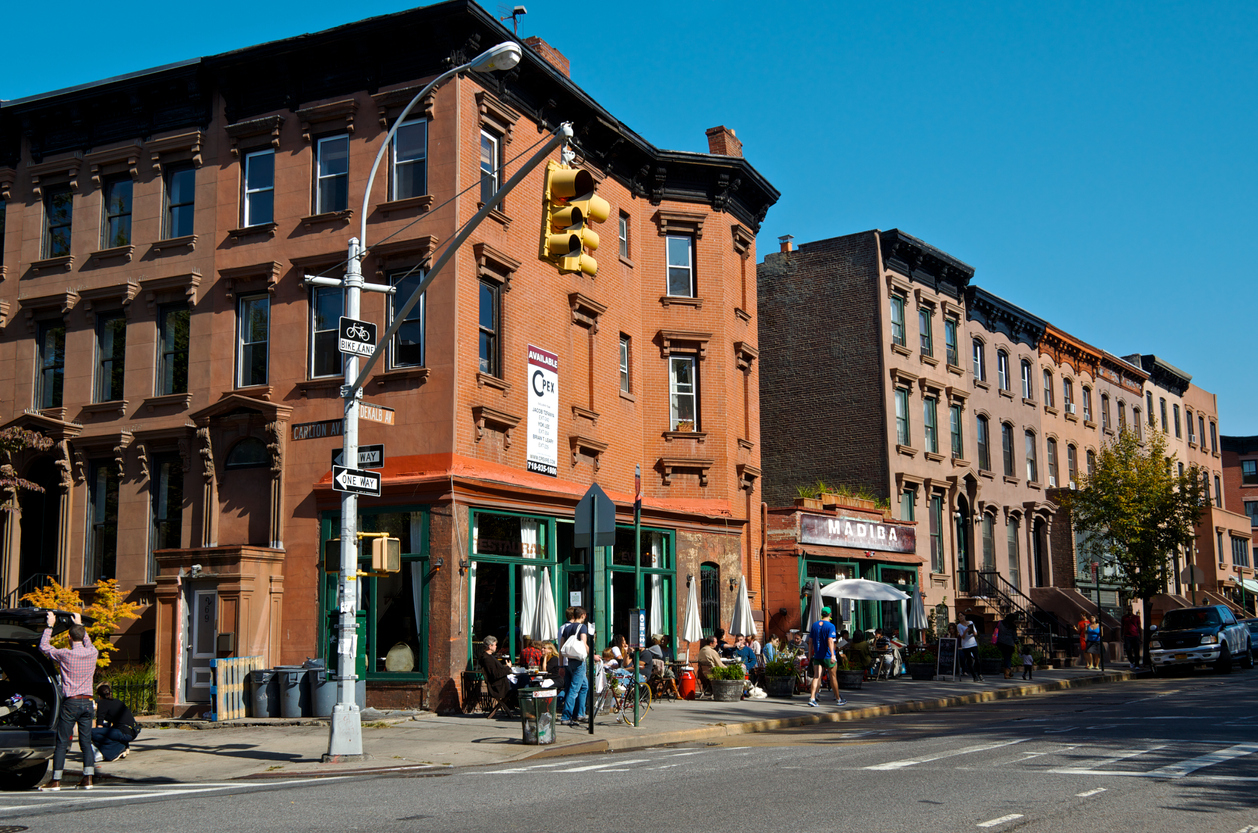 Fort Greene/Clinton Hill
Another set of two separate, but similar small neighborhoods, Fort Greene and Clinton Hill share a border. The green space of Fort Greene Park is a community hub, as are the Brooklyn Academy of Music, and nearby BRIC Arts Center, which feature artistic programming across many disciplines, and hold family-friendly events. Clinton Hill gets into the Halloween Spirit, with a yearly community "Thriller" dance, and the area's Halloween walk, with shows at neighborhood homes and the Pratt Institute, also located here, has been going strong for more than two decades. 
It can be hard, or expensive to buy a place: we found none for sale in Fort Greene, and 11 in Clinton Hill, with a median price of $1,850,000 in Clinton Hill. There's not a lot of rental inventory, either, and the neighborhoods have similar median rents of about $4,500. 
Specialized high school Brooklyn Tech is in Fort Greene, and Greenlight Bookstore is a community hub, hosting readings and events, including storytimes and young readers groups. 
The Academy of Arts and Letters is an in-demand, progressive k though 8 unzoned zone for District 13, which has struggled to maintain diversity and is also participating in the DOE's diversity-based admissions pilot, setting aside a certain percentage of seats for low-income families. The neighborhoods also have charters with diverse student bodies, including Compass and Community Roots. In Clinton Hill, on the Bed-Stuy border, the coveted Brooklyn Prospect Charter recently opened its Clinton Hill Middle School, open to students in districts 13 and 15 by lottery. 
Brick Underground articles occasionally include the expertise of, or information about, advertising partners when relevant to the story. We will never promote an advertiser's product without making the relationship clear to our readers.