New bill would provide relief to some condos and co-ops facing Local Law 97 fines
The legislation would limit fines for older condo and co-op buildings in the outer boroughs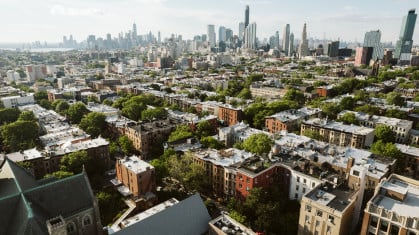 A New York City Council bill would curtail financial penalties some co-op and condo buildings could face if they fail to meet the carbon emission caps under Local Law 97, a 2019 law aimed at reducing greenhouse gas emissions in NYC. 
The bill would raise the emissions limits for condo and co-op properties by changing the formula by which those caps are calculated. It would also heavily reduce penalties through 2045 for condos and co-ops with an average assessed value—a percentage of their market value—below $65,000, according to AMNY. 
Democratic Council members Linda Lee and Sandra Ung introduced the bill last week, with the goal of reducing penalties for older condo and co-ops in the outer boroughs, AMNY reports. (Lee and Ung did not immediately respond to requests for comment). And the proposed bill is not the first effort to limit Local Law 97's penalties.
Mayor Eric Adams announced in September that buildings that make a "good faith effort" to comply with Local Law 97 can score reduced penalties in 2025, the first year fines will be issued. Proof of a good faith effort includes keeping track of lighting upgrades for the building and submitting a decarbonization plan for your building. 
Real estate trade groups have raised concerns that Local Law 97—which caps the carbon emissions of buildings larger than 25,000 square feet—could hit multifamily buildings with steep fines. But only 11 percent of buildings are expected to exceed their carbon caps during the law's first enforcement period, from 2024 to 2029, according to the city. 
Under the newly proposed bill, condos and co-op buildings that go over their carbon emission limits would see zero fines through 2036, penalties reduced by 50 percent from 2036 to 2040, and a 25 percent reduction from 2041 through 2045. The bill would also include a condo and co-ops outdoor space in calculating its emissions cap, essentially raising the amount of carbon a property can emit because the limits are based on the square footage of a building. 
Plus, condo and co-ops buildings could get special permission to emit more carbon dioxide if they've retrofitted or installed solar panels. 
The bill comes as NYC's buildings gear up for Local Law 97's enforcement. While the law aims to reduce NYC's carbon emissions—largely caused by buildings—condo and co-op owners have raised concerns about funding building improvements in order to comply with the law.
"Ultimately the resident shareholder is going to be footing the bill," says Mark Feinberg, the president of a 144-unit co-op at 11th Street and Broadway in Manhattan. "If all these buildings are being driven to comply, then it's going to drive their costs up. They're going to have to find money to do all these capital improvements."
At the same time, climate change has already impacted NYC's weather and residential real estate market. Storms and flooding—expected to grow worse as temperatures rise—have damaged city property and can impact property values.