Renovation
REBNY warns 3,700 buildings could face over $200 million in Local Law 97 fines next year
Beginning in 2024 buildings that fail to limit harmful energy emissions will see penalties
The fine is $268 for every metric ton of carbon dioxide above a building's limit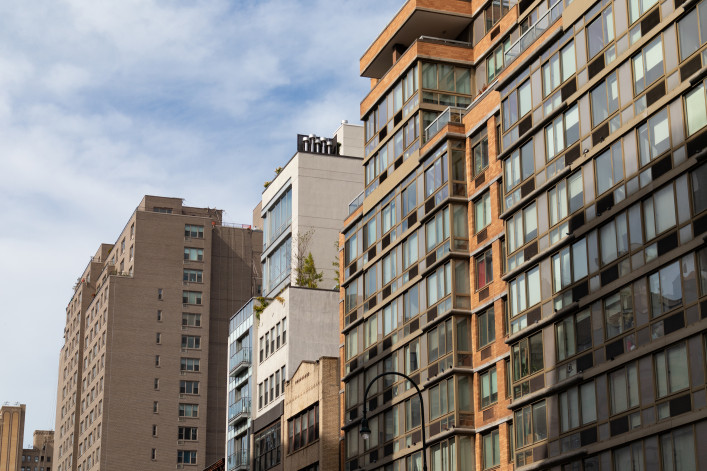 James Andrews/iStock/Getty Images Plus via Getty Images
The Real Estate Board of New York warns that over 3,000 buildings—including approximately 2,000 apartment buildings—could face over $200 million per year in fines next year for failing to comply with Local Law 97.
Under the 2019 law, part of the city's Climate Mobilization Act, buildings 25,000 square feet and larger must limit harmful energy emissions. Starting in 2024, buildings that are not in compliance will face a fine of $268 for every metric ton of carbon dioxide above the building's limit. Stricter limits come into effect in 2030.
The real estate trade association, which represents property owners, management companies, and brokers, among other entities, commissioned a study from Level Infrastructure, an engineering consulting firm, to determine the impact of recently finalized rules to implement Local Law 97.
REBNY says that thousands of properties will likely fail to comply with the law, even if they make significant investments to improve energy efficiency or purchase renewable energy credits. The study found that as soon as next year over 3,700 properties could be out of compliance and confronted with $200 million each year in penalties.
"This study should be a wakeup call that Local Law 97 is not designed to secure the emissions reductions we need," says Zachary Steinberg, REBNY's vice president of policy. "The study's findings demonstrate that even if buildings take meaningful steps to comply and use the tools provided by the law, owners will still be unable to meet the emissions limits and will instead pay hundreds of millions of dollars in annual penalties.
"We hope the city will take action over the next 12 months to avoid damage to our local economy and unfair penalties to property owners in 2024," Steinberg says.
For its part, the city is continuing the path of the previous administration. 
Buildings are the leading source of harmful emissions in NYC, which is why reducing them "is critical to push back against the most damaging effects of climate change," says Andrew Rudansky, Department of Buildings press secretary. "That's why the Adams administration is committed to fully implementing this game-changing sustainability policy with a focus on working with building owners to achieve compliance and reach key targets. We encourage building owners to take advantage of the NYC Accelerator to get the support and guidance they need to make necessary improvements, meet emissions reduction goals, and avoid incurring fines."
According to the REBNY study, by 2030, if every building reduces its energy consumption by 15 percent, over 11,400 buildings will still be out of compliance and owe fines of $576 million each year. In addition, even if every building were to reduce its energy consumption by 30 percent by 2030, over 8,000 buildings will be facing penalties of more than $300 million each year.
However, the report also notes it is relying on 2019 benchmarking data, which comes from before building owners were first made aware that they need to reduce their building emissions and so does not take into account energy efficiency retrofit projects that have been done since the law was enacted.
What actions does REBNY want NYC to take?
In November, REBNY provided testimony to the city detailing its issues with the proposed rules for reporting on and complying with annual greenhouse gas emissions.
In general, according to a spokesperson, the remedies REBNY wants the city to deploy are:
A tax abatement program for greenhouse gas emissions, similar to a bill recently introduced in the New York State Senate
Additional incentive programs to offset the costs of increasing energy efficiency and electrification
Earmark penalty funds for specific purposes related to sustainability or allow owners to make alternative compliance payments to improve the performance of buildings with below market rate units
Avoid further restrictions on the use of renewable energy credits
Residential buildings will be the 'most impacted'
The law covers all types of properties but rental, co-op and condo buildings will be among those most impacted because they lack the resources to fully fund and coordinate compliance, REBNY argues. Over 60 percent of all buildings out of compliance in 2024 are projected to be residential, climbing to nearly 66 percent in 2030.
Indeed, many NYC co-op and condo buildings will likely "face a reckoning" when fines for LL97 non-compliance begin, as Brick Underground has reported. To get ahead, one recommendation is for buildings to undertake a reserve study or an energy audit.
Generally the recommendation from these studies is to build up a reserve fund to address capital improvements, but beware using assessments to do that.
What LL97 resources are available for building owners?
Buildings owners can get help via the city-sponsored NYC Accelerator, which provides free technical assistance to help owners comply with LL97. Case managers can connect owners with service providers, incentives, and information on financing.
In addition, the site offers tools to track your building's energy use and LL97 compliance status, information on local contractors and design professionals, and one-on-one guidance.
Brick Underground articles occasionally include the expertise of, or information about, advertising partners when relevant to the story. We will never promote an advertiser's product without making the relationship clear to our readers.