Best of Brick
Want to switch your NYC apartment or building from gas to electric? Here's what you should know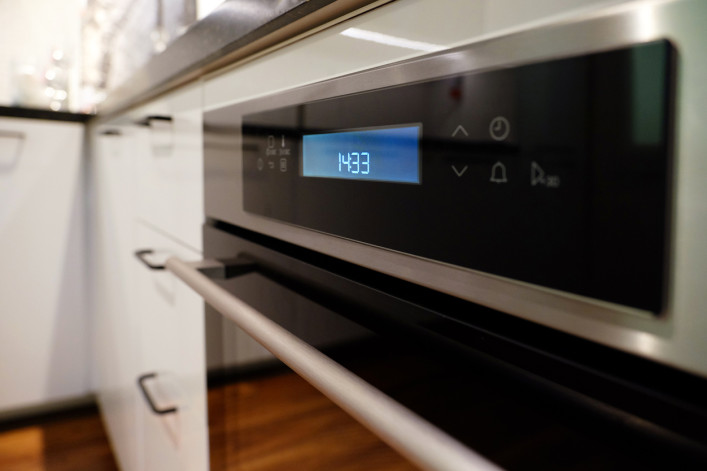 There are several reasons why it might make sense for owners of New York City apartments and even entire buildings to switch from gas to electric energy: Indoor air quality, new emission limits, cost efficiencies, and more frequent gas line inspections, to name a few. The process and cost, however, can feel overwhelming, regardless of whether you're in a small condo building or a large co-op with thousands of apartments. 
In fact the decision to switch from gas to electric is often a response to a crisis, says attorney Steven Kirkpatrick, a partner at Romer Debbas. He says the issue most commonly comes up when there's a leak.
"I get calls when gas gets shut off in a building—people are wondering how long it will last—it could be months, it could be a couple of years," he says. That's because if there's difficulty getting access to a shareholder's apartment, repairs can grind to a halt. 
---
[Editor's note: This article was originally published in February 2022. We are presenting it again here as part of our summer Best of Brick week.]
---
If you're curious about what it would take to switch from gas to electric you'll need to consider exactly what level of conversion makes sense. Heating and cooling systems, as well as water heaters and other major appliances, can all be converted to electric and the cost and efficiencies will depend on the changes you make. 
Replacing gas in a unit
For one condo owner in Brooklyn the decision to replace her gas stove with an induction oven came after she was "spooked" by reports of gas ovens being linked to indoor air pollution. As a board member of her eight-unit condo, she was also looking into ways to make the building more energy efficient, including converting the heating and AC systems to electric. 
For any major changes to your apartment, you'll need to check your building's bylaws and governing documents. The alteration agreement might also address the issue of whether you can swap out your gas appliances.
When Tina Larsson, co-founder of the co-op and condo cost consultancy The Folson Group, wanted to replace her radiators for an electric heat pump, the co-op board approved it, but on a case-by-case basis. "It's not common for boards to get that request," she says. 
Once you've got the relevant board approvals, the first step is to cap and remove the appliance gas line, which can only legally be done by a licensed master plumber. According to the Department of Buildings, the plumber is responsible for filing the correct permits, and once they have them, they can safely cap the existing gas line and request any needed sign-off inspections.
The process would also involve running special capacity electric wiring for your new electric appliances. You'll need a licensed master electrician to determine whether you have the correct outlet and if necessary, file permits for the upgrades.
Expect some resistance from one segment on New Yorkers—the home cooks.
New Yorkers are fiercely attached to their gas stoves for cooking. Many say the cooking capabilities of the alternatives aren't as good. Case in point: Kirkpatrick says he's represented restaurant owners who have fought against gas to electric conversions in court because of the inferior cooking ability of electric. He says residential owners are no less committed to their gas cooking appliances.
Then there's the cost: Radiant electric and induction ovens—the most popular alternatives—are expensive, typically costing in the range of $1,500 to $3,000. 
Options for building-wide changes
Not all residents will be ready to exchange their appliances. But reducing your gas or oil consumption in a building doesn't have to be all-or-nothing. You can swap out heating and cooling systems, or just water heating, or both. With board approval, residents can make individual choices about gas appliances—stoves as well as washer/dryers. 
This doesn't make the decision-making any easier, Larsson says. "The whole menu is what makes it so difficult for boards," she says. 
Systems for cooking and heating will be separate.
"There are buildings that have electrified the heating and AC but they are still working on funding a switch of their hot water system, which needs to be on 365 days a year," Larsson says. In her experience, replacing the heating and cooling system packs the biggest punch in terms of savings and emission reduction. When she replaced three through-wall ACs and the radiators in her own apartment for a modern heat pump, she says her energy use and monthly energy bills were cut in half.
Larsson is working with the board of a 30-unit building that wants to install a heat pump to replace the building's heating and cooling system. The building will still heat their water with the current boiler and continue to use cooking gas. The cost per apartment is $16,000. She estimates this could reduce energy costs for the building by at least 40 percent and as much as 60 percent. 
There are, however, a lot of variables. There are a certain amount of fixed costs involved with a conversion that make it more expensive for a smaller building because the cost is spread across fewer residents. For example, changing the energy supply for the heat and hot water (but not AC) in a building with five apartments came with a price tag of $30,000 per apartment, Larsson says.  
Kirkpatrick points out a board can argue under the business judgement laws that a change from gas to electric makes sense so enacting the change isn't overly complicated. However, if a board makes changes to the supply of cooking gas when the service is promised to residents in the governing documents, he says, "there may be claims."
Incentives and penalties for energy use
Residential buildings with over 25,000 square feet are now required to post signs identifying their energy efficiency rating (called benchmarking) and under Local Law 97, meet new energy efficiency and greenhouse gas emissions limits by 2024 with even stricter limits by 2030.
Larsson estimates that by 2030, 80 percent of buildings will face penalties and she is seeing estimated fines of several hundred thousand dollars if buildings make no changes to their energy consumption. She says, when buildings get their first bill in 2031, it will be a wake-up call.
"We work with buildings that have a $2 million budget, so $200,000 is 10 percent," she says. 
If you're thinking of selling in the next few years, you might feel even more urgency. An analysis last year by The City found nearly 50 percent of buildings had a rating of D or below. "Once buildings start increasing their ratings, who is going to want to buy in a building that has a D?" Larsson asks. 
If a board makes the decision to replace the gas lines, the first consideration is how it will be funded. Larsson says there are currently incentives available via the New York State Energy Research and Development Authority and Con Edison that subsidize approximately 25 percent of the installation costs for greener energy. Depending on the passage of laws at the federal level, it's possible this funding could increase. 
The board then needs to decide how they are going to finance the other 75 percent—whether it is from the building's reserve fund, assessments, or if they require external funding. One option comes from the national financing program Property Assessed Clean Energy, which allows eligible buildings to pay for the cost of installation by rolling the payment into their property taxes for the next decade or more. 
Brick Underground articles occasionally include the expertise of, or information about, advertising partners when relevant to the story. We will never promote an advertiser's product without making the relationship clear to our readers.