Bricktionary
What's an energy audit and how much does it cost?
The comprehensive check of heating and cooling systems provides recommendations to increase efficiency
Depending on the level of your audit and building size, costs run from a few thousand to $20,000 or $30,000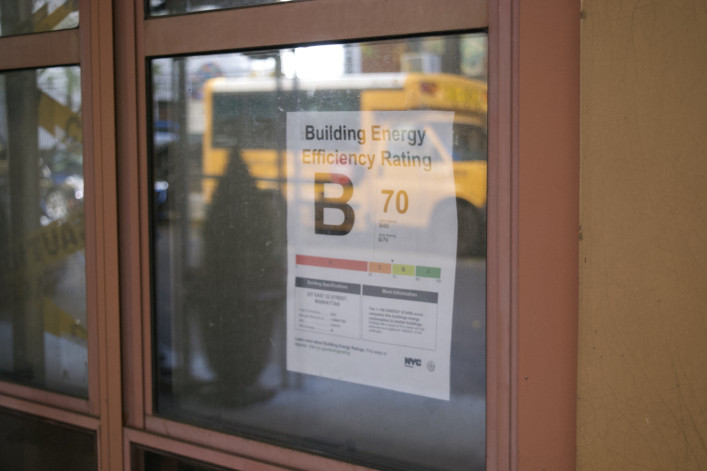 Emily Myers for Brick Underground
An energy audit is a health check on your building and gives you information about its efficiency. Having an energy audit for your building is an important first step as you begin to meet New York City's decarbonization efforts and Local Law 97 requirements. 
The audit will check that the power being used for lighting, heating, and cooling, for example, isn't being wasted or lost because equipment is old, poorly maintained, or at the wrong setting.  The study helps buildings identify ways to conserve energy and reduce carbon emissions over the long term. 
---
[Editor's note: An earlier version of this article was published in February 2022. We are presenting it again with updated information for March 2023.]
---
Understanding energy efficiency grades
You've probably seen energy efficiency grades posted in entryways and lobbies around NYC. All apartment buildings of over 25,000 square feet get these score cards—known as benchmarking—and it is a requirement to have the results on display.
Benchmarking is an analysis of a building's energy use and utility bills based on square footage but you'll get a grade regardless of whether you have an audit. Under Local Law 97, buildings need to meet new energy efficiency goals, so many boards are having to address this and reduce their emissions.
Scheduling an audit means you'll get a comprehensive look at the condition of the heating and cooling systems, you'll have equipment tested, and you'll be given recommendations about how to increase operating efficiencies. Once you know the scope of the changes—what you need to do and why—you can figure out the cost. At that point, you can seek out financing options. 
There are a growing number of loans available to multi-family buildings for energy upgrades but the right product will depend on the type of building, its size, its underlying mortgage, and the scope of the work. 
Different levels of energy audits explained
There are various levels of energy audit. Jordan Dentz is vice president of operations at MaGrann Associates, a company offering energy audits as well as building research and project management in New York. "Typically we do level one or level two energy audits. A level three is really pretty in-depth for a major project," he says.
An initial energy audit will establish if heat is leaking out of the building, whether insulation is property installed, if furnace filters need changing, whether ductwork needs to be resealed, or light bulbs need changing.
For NYC apartment buildings, auditors with MaGrann Associates will document the conditions they find and test the equipment. Dentz says this can include a combustion analysis where the exhaust from a boiler is checked for levels of oxygen, carbon monoxide, and carbon dioxide. The results determine the equipment's operating efficiency. There will also be an assessment of lighting—the type, number, and controls—to see if more energy-efficient fixtures can be installed. Likewise, water flow and ventilation rates for fans will be measured.
Auditors will also speak to building staff. Perhaps there are parts of the building that are always cold or areas that overheat.
"It's not just looking at hardware, it's also about talking to people and understanding how the building works in terms of comfort and drafts," he says. 
Some of this analysis you can obviously do yourself—it's easier to check your attic insulation if you live in a townhouse rather than an apartment building—but an auditor will have sophisticated equipment, like infrared cameras, making it easier to quickly identify places where you might benefit from adding weatherstripping. 
According to the Department of Energy, holes where electric wires have been run to cold attics or crawl spaces can be a problem, as can older furnaces and water heaters. Furnaces also tend to lose efficiency as they get older. 
Auditors will also look at the settings on the boiler and measure the temperature of water coming out of the taps. "They may be set too high because something is not performing well," Dentz says. Buildings that are heated by steam might also have problems with steam traps or situations where pipe insulation has deteriorated and energy is being lost. 
How much do energy audits cost?
Owners of one- to four-family buildings can get a free energy audit through participating local contractors who partner with New York State Energy Research and Development Authority, better known as NYSERDA. Larger, multi-family buildings can also get sizable subsidies up to $500,000 via NYSERDA's Flexible Technical Assistance (FlexTech) program. 
Depending on the level of your audit and the size of your building, auditors can charge anywhere between a few thousand dollars to $20,000 or $30,000. 
As an example, Dentz cites an audit carried out by his team for a 62-unit apartment building in Brooklyn that came with a price tag of $8,000. For a 40-unit apartment building with fewer mechanicals—a walk-up building with no elevator—it was $4,000. 
If your building doesn't qualify for a subsidy, but you plan to finance upgrades with the help of a lender, you may be able to roll this cost into the loan product. 
An energy audit can also be done as part of broader capital needs assessment—where the facade or interior are also checked for repairs.
Efficiency goals from an energy audit
Your energy auditor will give you—or your board—a report documenting the findings as well as giving recommendations.
One set of recommendations involves retro-commissioning and includes, for example, altering settings on a boiler, clearing out filters, and tweaking a building's energy use. The other set of recommendations would be larger investments from installing low-flow fixtures to replacing a boiler or putting in a heat pump. You'll be given an idea of how much this would cost, the savings in energy use, and how that would translate to your utility bills.
Dentz points out the cost benefits depend on the existing conditions of the building. "An older building that has not been maintained or upgraded has more potential than a new building, but even a new building has some potential," he says. 
The Department of Energy suggests upgrading insulation, plugging holes, and upgrading furnaces and hot water tanks can put anywhere from 5 and 30 percent of your energy bill back in your pocket.
In New York, Dentz says his firm can typically identify energy savings from 5 to 25 percent.
"In terms of dollars that depends on the scale of the buildings. For a large building, the energy savings could be anywhere from tens of thousands to hundreds of thousands of dollars a year, depending on the scale," he says. 
Upgrading your NYC apartment building's energy systems
Obviously switching out mechanical systems can be expensive and your return on investment might take many years.
Dentz is seeing more interest in buildings that want to convert from gas to electric systems. He says while the emission savings are dramatic—and the only way the city and state emissions goals can be met—electricity isn't cheap. While energy use goes down, it's possible your utility bills may increase, although of course prices go up and down.
"If you have to replace your boiler because it's at the end of its life or if you are looking at steep fines for emissions that could be a different story," he says.
While an energy audit can identify ways to reduce usage, there are other perks that are harder to quantify—like more comfortable heating and cooling, or better air quality—which Dentz calls the "comfort" of residents.
"There will be costs but the benefits are hopefully not limited to your utility bills but can also pay off in terms of comfort and other service benefits as well," he says.
Brick Underground articles occasionally include the expertise of, or information about, advertising partners when relevant to the story. We will never promote an advertiser's product without making the relationship clear to our readers.