In New York City, not all outdoor spaces are created equal. While any apartment with a backyard, balcony, or roof deck is reason to celebrate in our books, sometimes, especially when it comes to rental apartments, that al fresco area can leave much to be desired. Think small space squeezed between a couple of concrete walls, a backyard with dirt or seen-better-days gravel—if you're lucky. 
So, we asked three experts to offer tips for transforming these less-than-ideal outdoor spaces—from plants to lighting and more. As it turns out, there's plenty you can do to turn a drab slice of the outdoors into a (relative) paradise:
Pick the right plants
Rather than buy a bunch of small planters, Jeffrey Erb of Jeffrey Erb Landscape Design suggests getting a few large and colorful ones, then filling them with plants like aucuba, which do well in spaces that don't draw a lot of light. Other foliage that tends to thrive in low light: astilbe, oakleaf hydrangea, asarum, and hostas. And if you're not buying a lot, they're affordable, too. (Hostas Direct has large starter plants starting at $5.95, for instance.)
Todd Haiman of Todd Haiman Landscape Design is a fan of planting tall, ornamental grass (pictured below) in New York City backyards. Why? "They come in a one-gallon container in a clump," he explains. "You can buy a bunch of them and put them in planters. They're usually between 18 inches and three feet high, and when they blow in the wind, they look great. Plus, you only have to water them about once a week."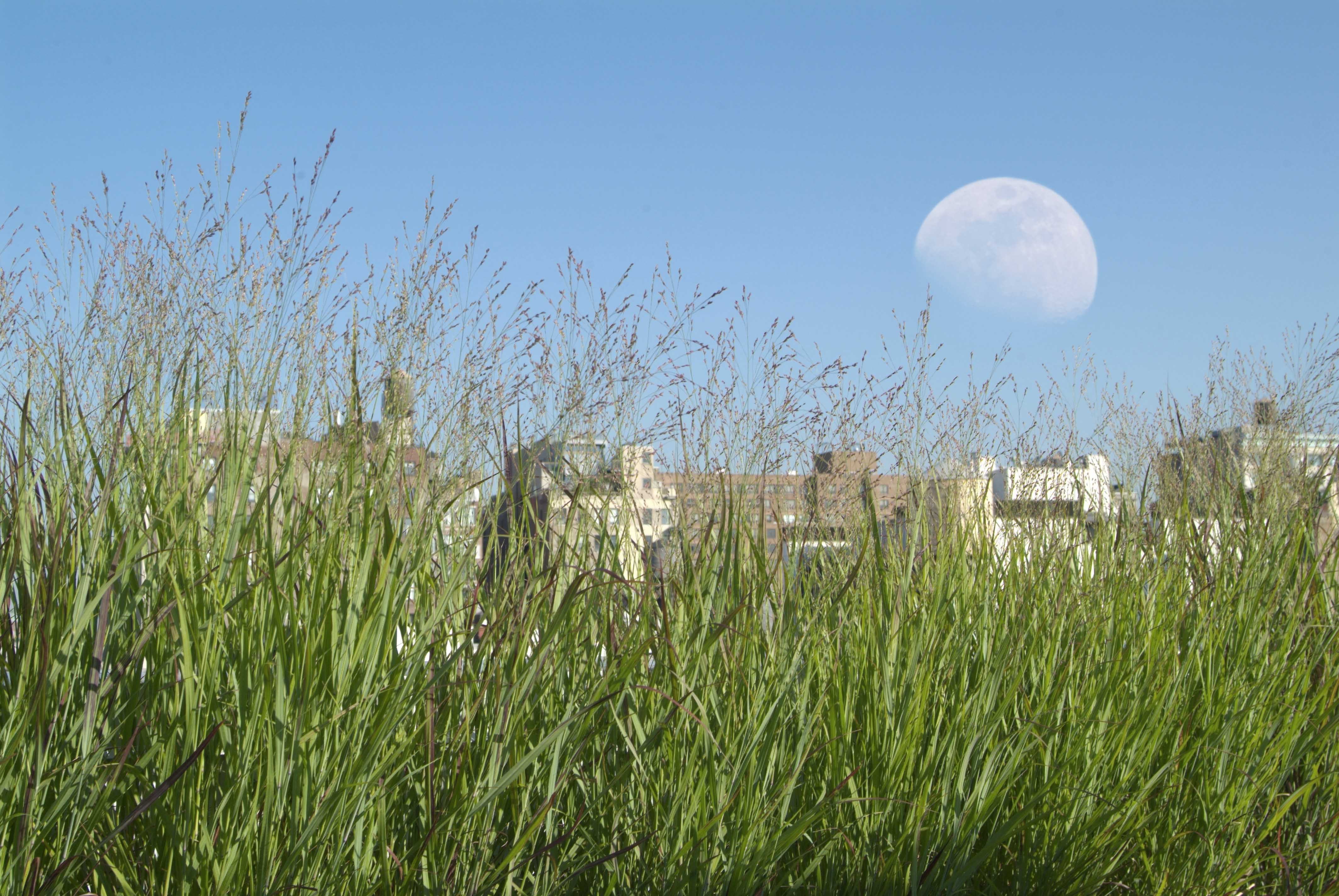 Haiman says the biggest mistake New Yorkers make when it comes to their outdoor space is putting plants in less-than-ideal environments. "If you're on a roof garden, for example, and you put a Japanese maple up there, it can burn." Japanese maple grow under other trees, so "it's not used to being in direct sunlight."
Haiman says it's important to read up on which plants work best well in which conditions, and suggests looking for inspiration in small public parks and other public spaces. "To survive and thrive in a public space, plants have to be resilient."
He recommends the Brooklyn Botanic Garden's website for brushing up on which plants work best for all types of spaces. Haiman also suggests testing your soil, since many backyards in New York have lead or other metals in the soil. And if that's the case, you're not going to want to plant edibles directly into the ground. (You can use planters instead in that case.) 
Brooklyn College also sells a soil testing kit for $45.  "It's helpful to know the PH levels," Haiman explains. "If you have acidic soil, for example, blueberries are great to plant. The bushes make flowers in the spring, fruit in the summer and have this amazing fall color in the autumn."
Haiman is also a fan of creating a trellis with plants that climb in order to cover up ugly walls.
Fix the flooring

Though he says he used to be a "hater," Haiman has come around to synthetic turf. "I often get a sample and have my clients walk on it just to see how nice it is. The truth is that in a small space, especially if you have kids or a dog, grass is going to get ripped up or yellowed," he says. "Synthetic turf is just so much easier to wash and care for."  

Another option for disguising an ugly area under your feet: tiles, which can be placed atop soil or concrete. "Handy Deck has nice ones that click together, so they're easy to install and take off too," says Haiman.
Erb suggests stopping by a stone yard and buying some large pavers.  "Get maybe nine of them and set them into a square," he recommends. "You can put mulch around them, too, and it looks really nice." He also suggests laying down a filter fabric and covering the ground with gravel or pebbles. These are aesthetically pleasing, cover up any ugly ground, and don't have to be maintained—great for renters looking for low-key backyard work. "Pea gravel is a very cost-effective option," he says.
Sometimes, Erb says, he'll simply wash and clean concrete pavers that are already there, and that can make a world of difference. He's also a fan of applying a stain, like Tuff-Crete, which can make ugly pavers look as good as new.
Consider efficient and convenient furniture
"Invest in a small cafe table and chairs that collapse, so that the space can be multi-functional," suggests Alison Murray Winkler of Homepolish. This way, the furniture you have "can be used for al fresco dining when expanded, or allow for room for standing and socializing while collapsed." 
They're also easy to move when the time comes (and as a renter you're likely to move more often, of course), and they won't take up a lot of space inside (or even outside) during the off-season.
She also suggests the Fermob bistro collection (pictured below), which is versatile and  comes in many sizes, shapes, and colors. Another selling point: the fact that the pieces are metal is very convenient. "People love wood outdoor furniture, but because it's organic material, it breaks down over time. You also have to oil it to protect it, and very few people actually do it," says Haiman.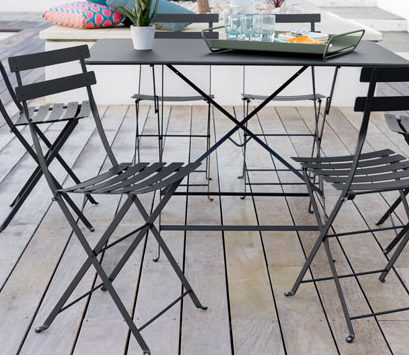 Erb says for rentals—and for small spaces in general—modular furniture is key since it doesn't take up a lot of space, is easy to move around and reconfigure in different spaces, and unlike large pieces, aren't hard to transport in and out of elevators. (One brand he particularly likes: modular furniture at Gloster.)
Note, though, that if you have a terrace or a balcony, the furniture and planters you use are likely going to have to be more restricted than if you have a backyard, as many building management companies limit the amount of "stuff" and weight you can have out there.
One piece of furniture Haiman says is particularly useful in NYC's outdoor spaces: the storage bench (see photo below), because it does double duty (always a plus in NYC), as both storage and seating. "You put a cushion on top or throw pillows on top for added seating," he says. Haiman says he usually has them custom-made for clients, but there are options online, too. And as long as a bench is durable, it's a good place to store those pillows and accessories come winter.

Murray Winkler suggests adding bright accessories to liven up any outdoor furniture. "You can build a vibrant and inviting space with pops of color in outdoor furniture or accent pieces like pillows," she says.
Light up
To ensure you get the most out of your outdoor space and use it as often as possible, lighting is a must. Haiman suggest low-voltage lighting, if you have kids or dogs, which is less likely to catch fire and cause severe injury. Plus, if you go for high voltage, you have to hire an electrician to come in and that would be expensive, and likely prohibitive for renters whose landlords are less than keen on a major makeover.
For any and all budgets, Murray Winkler recommends string lights (pictured below, from 1000bulbs.com) and  hurricane candle holders of different heights (pictured below, from West Elm).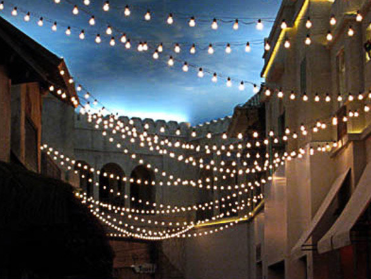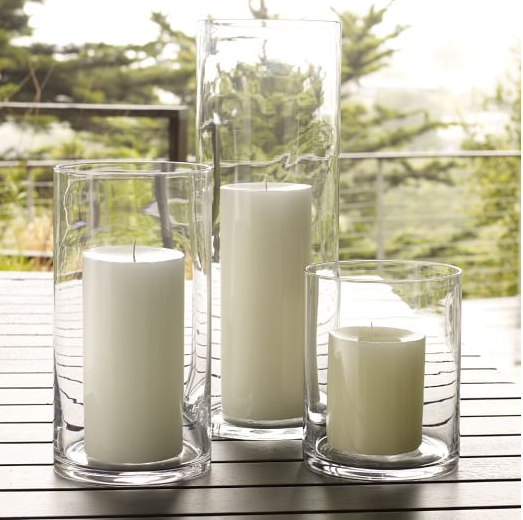 And one more tip: "If you have a small, charcoal barbecue, it doesn't have any lighting. A gooseneck lamp attached to the barbecue can be really helpful when you're grilling at night," says Haiman. "It's a small point, but it's about functionality. You always want to consider that with your outdoor space," he says.
Brick Underground articles occasionally include the expertise of, or information about, advertising partners when relevant to the story. We will never promote an advertiser's product without making the relationship clear to our readers.